Unverified Voracity Trolls The Free Press
Countdown: 8.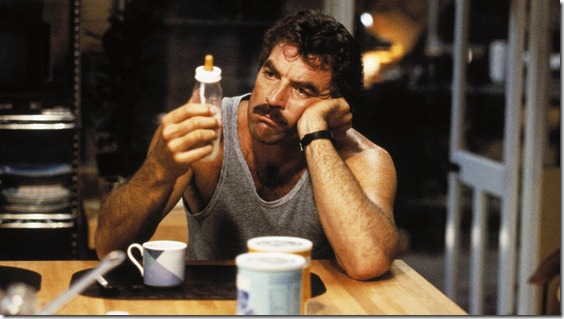 Son, never throw a punch at a redwood.
Tom Selleck
Second amendment say what. Borges:
"We'll be gunning more than we've ever gunned — than I've ever gunned," Borges said. "We use a lot of shotgun, but we're tailoring the gun more to his skills. I'm not going to reveal any trade secrets here, but we're going to use Denard the way he can best exploit the defense."
And there was much rejoicing.
He's done it. Thanks to user Chunkums here's a glimpse of Borges running the speed option at Auburn back in the day. It's at 26 seconds:
Dollars to donuts this is happening.
Are you a woman, a bicyclist, a baby, very sweaty, or all of the above? This is your lucky day if you've been interested in some MGoShirts. Underground has a limited-time store up with women's, kids, and toddler sizes plus wicking shirts, hoodies, and assorted exotics. Check it out. Order by the 30th.
Tomorrow they'll announce Dantonio's hiring. The RCMB had a thread featuring user photoshop mockups of the Pro Combat uniforms everybody will always wear against Michigan forever. One of them featured the RCMB logo on the helmet. So of course this happened the next day at the Free Press:
Someone associated with the "Downtown Coaches Club" emailed it out, so that's obviously happening. I hope the State spokesman was under 40 and therefore far more aware of the RCMB than Steve Schrader.
Chagrined by their mistake, the next day the Free Press reported that TE Evan Jones had committed to State. That's accurate. It also happened three months ago.
This is probably just me. Does Darrell Funk give off kind of a Gary Busey vibe?
Just me? Okay. As far as actual news, Huyge is holding off Schofield; Schofield is actually practicing at RG(?) as well.
Bring out yer dead conferences. The CCHA has ceased to be, or has set a point in the future where it will cease to be:
After two rounds of talks, the WCHA is ready to accept five CCHA schools into the conference, sources have indicated to CHN.

The switch from the CCHA to the WCHA is pending each individual schools' Board of Trustees approving the move. Announcements will thus come piecemeal, with the first ones potentially coming as early as Friday.

The WCHA has given the CCHA schools are 30-day window in which to officially accept the invitation. At least three CCHA schools are certain to accept — Lake Superior State, Ferris State and Alaska.
Bowling Green and Western are both waiting around to see what Notre Dame does. If ND joins the NCHC—we really need a sarcastic nickname for them—Western hopes to tag along. If Notre Dame goes to Hockey East, both BG and WMU hope to get their faces kicked in for all eternity in the NCHC. That latter scenario would mean the powers of the WCHA broke it up so they could add Miami, WMU, and BGSU.
I'm a little disappointed this is the way it's playing out. I would rather have seen the CCHA bolster itself with the four Atlantic Hockey schools that were interested in moving and kept conferences relatively small so expansion would be an attractive option. It's still a lot better than it was before the Big Ten formed.
At least get your lame political cracks right. Via the MZone, here's this guy:
I thought Ann Arbor was supposed to be full of liberal hippies. Apparently it is also really into sharia.
Etc.: Catlab returns. Trippy. I think I'm in love with Dana Holgorsen: "Holgorsen's idea of balance is making sure a bunch of people get the ball, whether by pass or by run, and then get a bunch of yards." Frank the Tank's latest on conference realignment. The Hoover Street rag is irritated that Michigan is phasing out the seal in favor of the block M. Holdin' The Rope explores the file on Nate Brink.