Unverified Voracity Talks Uncertainty
Sponsors with benefits. Hotels: there are none on gameday unless you want to stay in Canada or Ohio. These places are inconvenient. Few people even speak English. Houses: Ann Arbor has many, lots of them right across the street from Michigan Stadium. Money: can be used to convince people in these houses to let you borrow the houses. Thus your crew of 8+ people can stay in the same, convenient place.
You are probably entering URLs that seem likely candidates to host such a service as we speak. Your fingers ache, your keyboard smokes. Well, enter nonexistent website URLs no longer. You can use Money to avoid Hotels at Gameday Housing, which not only benefits you but also the site. A bonus: mention MGoBlog when you sign up (in the "you heard about us from" box) and they'll take 50 bucks off your first rental*. You can lock down accommodations for Michigan State for about what a hotel would run you, except instead of a hotel room you get a house. Doing so also supports the site.
*[Fine print: only valid until the end of 2012, can't combine with another promotion, one per user.]
2011 photo spectacular. Max starts an excellent thread of favorite pictures from last year: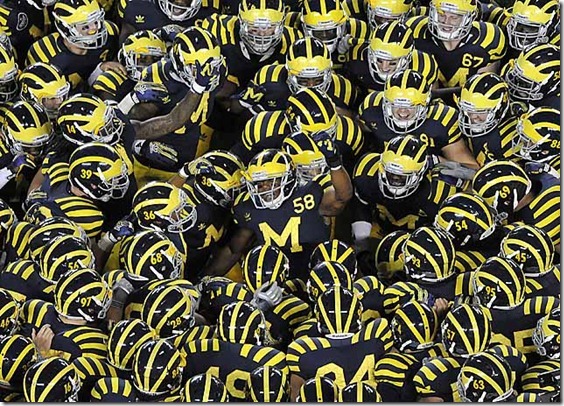 No sources are listed, unfortunately. Everyone should be shoving the metadata in their files so people can credit back if so inclined.
Troubaaaargh. The Daily's Matt Slovin reports that Jacob Trouba has a 200k offer from the OHL sitting on the table and that this is a source of OHL-related optimism in re: guy breaking his commitment to leave. Again. Kitchener denies this because kids in the OHL get 45 bucks a week only. It's not a professional league, man. You have to believe us.
We'll see how that goes. It's a chunk of cash, but for a guy who's likely to sign a max rookie contract in a year or two it's not a life changing amount. Insert usual bits about how Something Must Be Done, but what? It's clear the OHL doesn't care about its own rules, and the NHL is never going to step in, so what can be done?
UPDATE: Trouba has again reiterated he will play at Michigan.
Werner something. You're probably aware that Joe Paterno's legacy is even further tattered after the release of emails that imply the university administration was about to go to some sort of police-type organization that would have put Jerry Sandusky's crimes to an end until Joe intervened on Sandusky's behalf. But are you aware of the contortions many on the Penn State rivals board are willing to undertake to maintain their worship?
I Would Like to Pose a Question to the Board
Reply

---

Let's see who can answer this question.  Bear with me -- I have a point to make.  Here it is:

The human body consists of 99.9% of something.  What is it?
[several posts in which people respond.]
Congratulations! Three of You Got It.
Reply

---

The answer is empty space.  Now, on the face of it, the answer is absurd.  How can the body be empty space?  Well, because atoms are empty space.  Vibrating energy (I think) is what gives things solidity (this is a quantum physics deal, so I can't elaborate).  But, here's the point.  It is absolutely PREPOSTEROUS to claim that the human body is empty space, just as it is preposterous to claim that Joe Paterno was not involved in covering up Jerry Sandusky's child abuse.  Yet, the human body really is empty space; so why can't Joe Paterno not be involved in a cover-up, particularly since no one yet has forwarded any evidence of such?  It is a supposition that Paterno was involved, just as it is a common supposition that the human body is not empty space.
This guy has a future as a noir defense attorney.
Meanwhile, Vijay comes out of retirement to re-evaluate the "Grand Experiment." 
If this really happens… If Wisconsin's nonconference scheduling goes from sad to decent, yes, Virginia, strength of schedule will be a big deal in the new playoff world. Alvarez is talking about it, at least:
"If you want to be a player (in the national championship equation) and strength of schedule is going to be a part of it, then you really have to consider (a different approach)," UW athletic director Barry Alvarez said.

That might explain why UW football coach Bret Bielema disclosed on his Twitter account this week that he's reached out to his Notre Dame counterpart Brian Kelly about a possible series with the high-profile independent. Bielema is targeting openings for 2018 and '19 when Michigan drops off the Irish's schedule.

It might also explain why Alvarez disclosed this week that there were recent discussions, orchestrated by ESPN, about matching the Badgers against defending national champion and Southeastern Conference power Alabama at a neutral site.

Alvarez, who handled scheduling when he coached the Badgers from 1990 to '05, said Bielema countered with an offer to play a home-and-home series with the Crimson Tide — no specific years were discussed — but that Alabama coach Nick Saban declined.
That's all talk now. I have a hard time seeing SOS becoming important enough to overrule our current how-many-losses ranking system except in intraconference instances like last year's Oregon-Stanford hypothetical controversy, and if that's the case Wisconsin will continue its steady diet of cupcakes. Something to keep an eye on, at least.
Mario. He got suspended that one game and was kind of frustrating at other times, but Mario Manningham could play, yo:
In other Wolverine Historian bits, he captures the 1994 Minnesota game.
Big Ten Network programming breakdown. A poster on BSD totaled up a month's worth of BTN programming this summer and came out with these numbers:
A quick breakdown of school and how many hours of programming they have, in order from least to greatest:

Nebraska 27.5 hours
Minnesota 32 hours
Northwestern 40.5 hours
Penn State 47.5 hours
Purdue 49 hours
Illinois 73.5 hours
Iowa 82.5 hours
Indiana 85 hours
Michigan 106 hours
Michigan St 108 hours
Wisconsin 127.5 hours
Ohio State 153 hours
Wisconsin and MSU benefited from frequent replays of the inaugural champinship game. OSU's edge on the rest of the field is a combination of football and basketball prowess that no one else is matching at the moment. The jump from Purdue to Illinois is… odd.
Left tackles can't stand normal bikes. Via a TTB interview with Erik Magnuson:
That is a 6'6", 300 pound man on a unicycle. Maybe we'll see him performing during halftime at Crisler next year.
Etc.: Hardaway, Burke, McGary all second-round-ish NBA prospects at the moment, with Burke in that gray area between the first and second round. The 2013 class rankings are rejiggered: Walton, Donnal up, Irvin down a little.
Sam Mikulak makes the Olympic team. Jeff Porter makes it in the 110M hurdles. Michigan alum Richard Kaplan is mayor of a small Florida town that is way into cricket. Brady Hoke returns to his old stomping grounds to out MANBALL Ball State's new coach.