Unverified Voracity Is The Situation
Here's this. Bobby Loesch made it and is a gentleman and a scholar.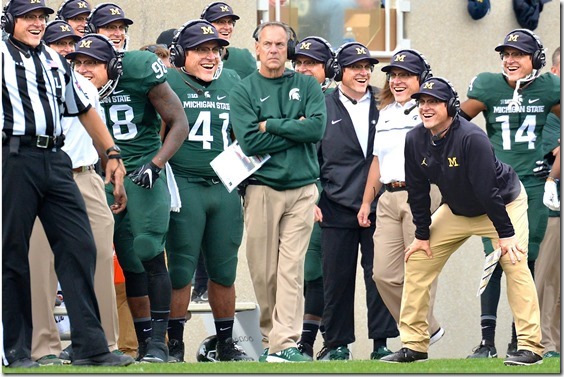 It's time for America's greatest rivalry game. Michigan State. Rutgers. This game is the situation, and they play for America's greatest rivalry trophy.
@sbell021 pic.twitter.com/GgtnrcFiag

— † Wolverine Devotee (@UMichWD) November 7, 2016
One of these teams will leave with a Big Ten win and The Situation. Noon. Probably on television. Check BeIN Sports 2. No? Does QVC have an overflow channel? Well, I'm sure you'll find it. They televise everything these days. I saw Magic: The Gathering once.
At least you've got your vomit-soaked sidewalks. Michigan State may be 2-7 and playing Rutgers to find out which Big Ten team is going winless in conference, but at least the city it's located in has a detailed bill it would like to present the university.
EAST LANSING — East Lansing has determined what it says Michigan State University is costing city residents.

Right down to the vomit removal.

Fire department calls, police overtime and downtown cleanup after student nightlife are among the issues that cost the city about $3.75 million last year, according to a recent study paid for by the city.
I say just leave the vomit—it's not like anyone can tell that you cleaned it up. And the RCMB agrees!
I remember back in the late 80s when I transferred to MSU. I went to WMU for a year and then transferred. K'zoo was a complete dump. Nothing to do. Other than Lafayette Square, it wasn't happening. I couldn't wait to leave K'zoo and I also couldn't wait to leave GR after the summer was over to get back to East Lansing for the fall terms to begin. Now? K'zoo and GR are so much better than East Lansing. And even they aren't the greatest. But it tells you just how far East Lansing has fallen.

I moved back to Lansing from 2009 to 2013. I could not wait to move away from there again in 2013. It was a mistake to move back to Lansing. Lansing is dismal but almost better than East Lansing now. East Lansing is a complete shell of itself. Just terrible. It lacked any of the vitality it once held. It was is of depressing to see.
That's part of a wildly entertaining five-page thread full of Spartans dumping venom on East Lansing's taxes, generic chain restaurants, city leadership, vacant storefronts, and DUI conviction rate. (That latter might not be East Lansing's fault, guys.)  Highly recommended. The Spartans' profession appears to be self-owning.
A bountiful cornucopia in Ann Arbor. NFL scouts have noticed that Michigan appears to be somewhat good this year. ESPN asks which Big Ten players have seen their NFL stock go up and literally every observer starts with something along these lines:
Everybody at Michigan. (laughs) I'll tell you what, Harbaugh, he just brings out the best in all his players. Shoot, every one of those guys has elevated their draft stock.
Amara Darboh, Mason Cole, Channing Stribling, Jabrill Peppers, Ben Gedeon, Delano Hill, De'Veon Smith, Chris Wormley, and Jake Butt all come in for praise. I'm slightly dubious about Cole's NFL potential given the struggles he's had against 3-4 nose tackles this year but hey man whatever. Michigan is set to have a dozen guys drafted, and you'd better believe that'll perk up recruits' ears. That goes double when scouts are praising Harbaugh's development as the direct cause of said draftees.
Best part of this: no Maurice Hurst. Let's keep that on the low for another year, yes please.
An eye for detail. Dan Murphy on the Harbauffense and the idea that it's a stodgy pro-style attack:
The Wolverines' beefy, pro-style offense snapped the ball 34 times in the first half and averaged 11.8 yards per play. They did it with a litany of creative wrinkles cloaked in the feel-good nostalgia of two-tight end sets and fullback dives. They are like a phonograph that can stream your iTunes through Bluetooth.
Stodgy is what Michigan will see this weekend in Iowa City. Michigan's got a new thing every week.
Don Brown, football dude. This is a week old but I must have missed it. The WaPo on Don Brown:
Yes, Brown and Michigan: "It's a perfect place for him," said Compton, whose father was Brown's high school coach and Brown's wife's high school biology teacher. "He looks good in the colors. It's perfect. Perfect! He likes that weather. It's a natural fit for him."

In that passage lies another thing about Brown, 61: Three former players go beyond the normal, fond recollections of former players. They effuse, and say old teammates do likewise. Somehow, this seems like big toughness mixed with big, big love. ...

Ihedigbo said: "That demeanor. That presence. He truly cares about you. It's one of those things where you feel like you're in it together. It's not just trying to get the most out of you."
Michigan has exceeded even the towering expectations placed on them by optimistic folks (hi!) preseason, and looks set for a showdown against Ohio State that could change the shape of the Big Ten for years to come. Still cannot get over what a great hire Brown was.
Old-school playcalling. Great Dr. Sap piece on the evolution of playcalling:
In the 1970's, Bo would talk on the phone with Hanlon who was upstairs in the press box.  After asking, "What do you want, Jerry?" Bo sent in the plays with offensive guards that rotated in and out of the game.  It looked and sounded like this:
In the 1980's, rotating wide receivers became the method of communication.  The clip below can be summed up thusly, "Oh geez, Mo, let me handle this!  AC, you tell Wangs to throw you the damn ball!  Now THAT is how you do it, Gary!"
After a few delay of game penalties in critical situations, a change needed to be made.
Rotating guards bringing the playcall in! That is absolutely insane from a modern perspective. Also don't miss the Bo smirk at the end of the first video. Probably thinking about this going down in the huddle:
BRANDSTATTER: and he says to get your ass in there
RB: what?
BRANDSTATTER: CUT IT IN, he says
RB: in what
BRANDSTATTER: man... just get your ass in there
RB: i will take this under advisement
Etc.: Mike MacIntyre talks to SBN about how Colorado is good now. Marc Tracy on Harbaugh's Heisman push for Jabrill Peppers. A first look at Iowa isn't pretty. More Peppers gushing from NFL scouts. Ibi Watson exists. MSU had a lot of injuries so they lost to Illinois and their third string QB and three of their top four WRs out. Joe Kerridge will make his NFL debut this week.