Unverified Voracity Requires Nose Tackles
Indeed. Plaque up at Crisler.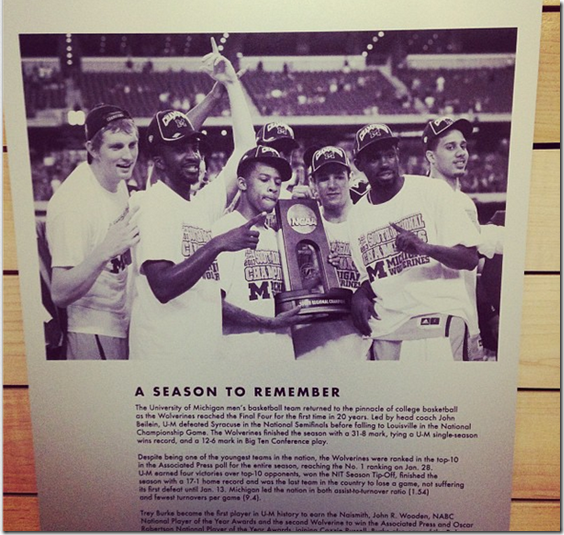 Michigan's started preseason practice, looking less skinny or more skinny as appropriate. Stauskas in particular looks a lot more likely to power through contact this year:
YOU ARE DOING A BAD JOB AT DEFENSE, FOREGROUND
Unfortunately, Mitch McGary's got a lower back thing that's limiting him. A big guy getting a nagging old person injury is a thing that turns out to be chronic unfortunately often, but the noises from Beilein about it are encouraging:
"It's been day-to-day, pretty much all fall, and we're moving forward from there," Michigan coach John Beilein said. "I'm very hopeful it'll be gone before too long.

"He's done some on-and-off things this fall."
McGary blew up various skills camps this summer, so whatever it is it's a recent thing.
Soldier on. Michigan does not change its depth chart on the OL. That probably means nothing; FWIW.
Bo's phone call. Mason relates what happened after the 38-35 Buffalo Stampede game in which Minnesota ran rampant on Michigan:
"We ended up basically being able to run the ball against anybody," Mason said. "When we blew that game against Michigan in '03, after we had a 21-point lead, my secretary took a call on Monday and said, '[Former Michigan coach] Bo Schembechler's on the phone.'

"I picked up and Bo said, 'Mason, I never thought I'd see the day when Notre Dame or Ohio State rushed for 424 yards against Michigan, much less Minnesota,' and then he hung up."
Bo probably threw in some other words that Mason left out.
Also, Glen Mason's take on what Minnesota's doing is relevant to our current interests:
"There are less moving parts with the read option"
Brace for impact. Michigan is currently a whopping 21 point favorite over Minnesota after opening at 16.5. It is unclear whether that projects turnover margin or final score.
Minnesota did look completely terrible against Iowa, losing 23-7 and barely getting across the line of scrimmage on its 27 rushing attempts. For the game they had 27 yards rushing, 135 passing, and threw two picks. The jury's still out on Iowa's defense, which seems improved but ceded 30 to NIU and 21 to Iowa State; Minnesota looks like a product of its schedule.
Yes, even more so than Michigan does, sheesh. Thus the line cited above.
Meanwhile, across the triangle of hate Iowa fans are feeling rather chipper after matching last year's win total in week 5. Highlights:
Iowa's athletic department has figured out how to use the "upload" button on YouTube
Rudock has some decent wheels; Mike Patrick can be boring about a 74-yard touchdown; Michigan's nose tackles watched this game and said "FINALLY WE WILL BE ON THE FIELD" to themselves.
Jacobi points out that Iowa is actually a slight favorite(!) for this weekend's matchup against Michigan State. Projected final score: 1.
You kickstarted this. Martavious Odoms's thing bears fruit (HA!):
Or vegetables.
We have brought you low. Michigan instrumental in midseason firing of Paul Pasqualoni. Yes. That is the ticket. Ignore the 41-12 loss to Buffalo behind the curtain. Also in expectation-dampening sad things: Akron loses by lots, Notre Dame loses by lots, Central Michigan loses by lots. I liked this season better three weeks ago.
Why fire Pasqualoni now?
It's all happening.
60 minutes of unnecessarily rough pass interference somewhere else. Actually, various folks are chattering about Michigan State DC Pat Narduzzi taking the UConn job:
Spoke w some coaches re: UConn. Strong feeling among group I spoke w that Pat Narduzzi will get good look.
This tweet gets a hilarious set of responses that are exactly what you'd expect: MSU fans painting the UConn program as a deathtrap and saying things like…
Unless he gets offered a place like Texas I honestly don't see it happening. His kids love it hear and he is very close
…that.
The opposite of Indiana. In a not good way. Via Chantel Jennings, the dichotomy of Michigan State in stark relief:
Indiana | Oct. 19
Big Ten rank:
Total offense: No. 1
Total defense: No. 11

Michigan State | Nov. 2
Big Ten rank:
Total offense: No. 11
Total defense: No. 1
Who is State ahead of? Purdue, obviously. Obviously Purdue. Indiana is ahead of Nebraska. Think about that when you consider the depths to which Bo Pelini's defense has sunk. #Kiffin4Nebraska
Etc.: Details of the Harmon exhibit at the Bentley. Boy, do I not care about Michigan's spot in the polls right now. Illinois pounds Miami (Not That Miami). I don't understand this thing about a dog named Jake Butt. The history of Michigan decals.