Unverified Voracity Rants Unhingedly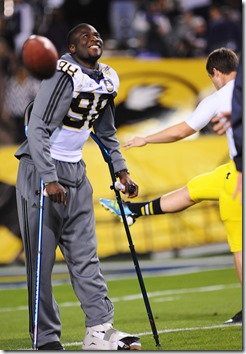 Let's smother this meme in its crib, okay? In the aftermath of Nussmeier's hire you can't throw a rock without hitting an article that broaches the possibility of a QB controversy next year. [Picture at right: Adam Glanzman.]
Gentlemen. Let me first say that you are upstanding writers of things on the internet and I respect you all greatly. That dispensed with:
ARE YOU OUT OF YOUR COTTON-PICKIN' MAIZE AND BLUE MINDS
FOR PANTS SAKE
WHEN IS THE LAST TIME MICHIGAN REPLACED A FIFTH YEAR SENIOR QUARTERBACK WITH A UNDERCLASSMAN VOLUNTARILY
DON'T LOOK IT UP I'LL TELL YOU NEVER
NEVER EVER
WHAT WAS IT ABOUT SHANE MORRIS'S PERFORMANCE IN THE BOWL GAME THAT CONVINCES YOU HE'S THE GUY, EXACTLY
THAT ONE SCREEN PASS HE THREW THAT WENT A LONG WAY
OR THAT OTHER SCREEN PASS HE THREW THAT WENT A LONG WAY
OR THAT END AROUND THAT TECHNICALLY COUNTS AS A PASS
I MEAN
THE DUDE AVERAGED 5.2 YPA, WHICH IS THREET/SHERIDAN PRODUCTION
HE THREW AN INTERCEPTION THE INSTANT MICHIGAN LET HIM THROW DOWNFIELD
MICHIGAN SCORED SIX MEANINGFUL POINTS
DEVIN GARDNER WAS 80% DEAD MOST OF THIS YEAR AND STILL HAD 8.6 YPA
CUMONG MAN
…
…
AHHHHH!
Right. I have high hopes that Morris and his cannon arm will develop nicely, but a senior Gardner coming off a season that's statistically quite promising despite having absolutely zero help from his running game is not getting replaced. Period. Guy was literally playing on a broken foot for most of the OSU game and still put up 41. He smoked Notre Dame. He had a lot of wobbly moments midseason, but when you're getting sacked 21 times in a month that will happen.
I'm sure there will be some rumbles about competition; I will believe each and every one of them just as much as I believed Saban to Texas.
200 pounds of twisted blue steel. Via MVictors, here is an OMG shirtless Bo in 1976 post heart-surgery:
1981 Rose Bowl. Here's all of it. Dick Enberg, not Keith Jackson, unfortunately:
Goodbye, Jeremy. A Gallon tribute:
Goodbye, NCAA. Underclassmen are leaving college for the pro ranks in increasing numbers, with last years record high of 73 already broken. This draft may feature as many as 100 underclassmen. This is partially due to CBA changes in the NFL that have prevented rookies from getting big first contracts, which changes the equation as to whether they should stay or go:
The new system doesn't remove huge contracts.  It delays them.  To get a huge contract, a player must have at least three years in the NFL.  And so it now makes sense to get to the NFL ASAFP, and to put in the time necessary to get the second contract.
The increasing money all around the kids probably isn't helping, either.
While this hasn't affected Michigan or—sigh—Ohio State much (Roby was gone either way), Notre Dame has taken a couple of unexpected hits, first RB/KR George Atkinson then TE Troy Niklas.  Atkinson's departure is firmly on the "nuts" side of the scale since he's unlikely to get drafted at all; Niklas is projected as a second-rounder. ND has also lost WR Davaris Daniels to academics for the upcoming semester, but he should be back for fall as long as he crosses his Ts and dots his Is instead of having someone else do it.
A familiar name. Notre Dame is still looking for an offensive coordinator, and it might be someone you've heard of.
A source told Blue & Gold Illustrated that former Michigan offensive coordinator Al Borges, current Buffalo head coach Jeff Quinn and Quinn's former assistant Don Patterson are on the short list.
Yuuuuup. Unfortunately, twitter is no longer showing the cavalcade of Michigan fans responding to Steve Lorenz's tweet on this topic, otherwise I would count up the AHAHAHAHAHAHAHAHA-variant responses and compare them to the LOL-type responses.
Meanwhile in "really?" Bobby Petrino has swiped Georgia defensive coordinator Todd Grantham for a reported five-year guaranteed contract of one million dollars per year. Louisville is throwing money at their problem like you would not believe, but unlike Doug Nussmeier, Grantham's track record is pretty iffy. Georgia yards per play of late:
2013: 5.4, 54th.
2012: 5.2, 34th.
2011: 4.5, 7th.
2010: 5.2, 39th.
Georgia was in that 30-40 range just before Grantham showed up, so this is a guy with the best coordinator contract in all the land and he's had one legit defense in the past four years.
I wonder what the real numbers are. The GoDaddy bowl reported attendance of 107% of capacity. This may be slightly optimistic.
On the whole, bowl attendance declined marginally this offseason, but with the rampant number-fudging going on attendance could be collapsed and the official numbers would just be bolder and bolder lies.
Sounds familiar. The Seattle Seahawks have a pass defense that is almost unprecedented in the recent history of the NFL. How do they do it?
Quietly, the Seahawks have achieved a 13-3 record and home-field advantage throughout the NFC playoffs by exploiting a loophole: NFL referees are reluctant to throw endless flags for pass interference and defensive holding, even if defenses deserve them.

"They look at it and say, 'We may get called for one but not 10,'" said Mike Pereira, a former NFL vice president of officiating who is now a Fox analyst.

League insiders say this divisional-round matchup between the Seahawks and Saints, the NFC's top passing offense, may be Seattle's rule-bending masterpiece.

"They just seem to not care about the rules," said New York Giants wide receiver Louis Murphy, whose team was routed 23-0 by Seattle this season.
This is also Michigan State's strategy, not that Michigan could protect Devin Gardner long enough for anyone watching that particular game long enough to find out. The Seahawks are masters of the art, trading off less than one pass interference penalty a game (they picked up 13 on the year) for play after play where routes are disrupted and balls fall incomplete.
Since the NFL is the NFL, I'd expect them to come down with some sort of point of emphasis ruling, but college doesn't respond nearly as quickly and the penalties are far less punitive, so the jam-and-grab style with big corners projects to be effective into the future. Jabrill Peppers fits that mold, and once you put a bunch of weight on Channing Stribling he does as well.
Small changes. The NCAA is exploring allowing athletes to do stuff other than athlete, so the Boise State running back whose name I can forget can make hats and rappists can rap, etc.
Etc.: Urban loses Mike Vrabel to BOB's new Texans regime, which is a surprise. Vrabel's supposed to be Urban's ace recruiter; I'm not waiting for OSU's recruiting to fall off a cliff.
I know we no longer have Borges, Hoover Street Rag, but I say you should cram your existing OC-O-Meter philosophy onto whatever OC we currently have. Illinois was ranked, but they just lost to Northwestern so they will no longer be ranked. Probably ever. Meanwhile, Tre Demps is the Big Ten's Marshall Henderson.
Michigan's program is worth as much as an NFL team despite vastly lower revenues. I do not wonder why this is.