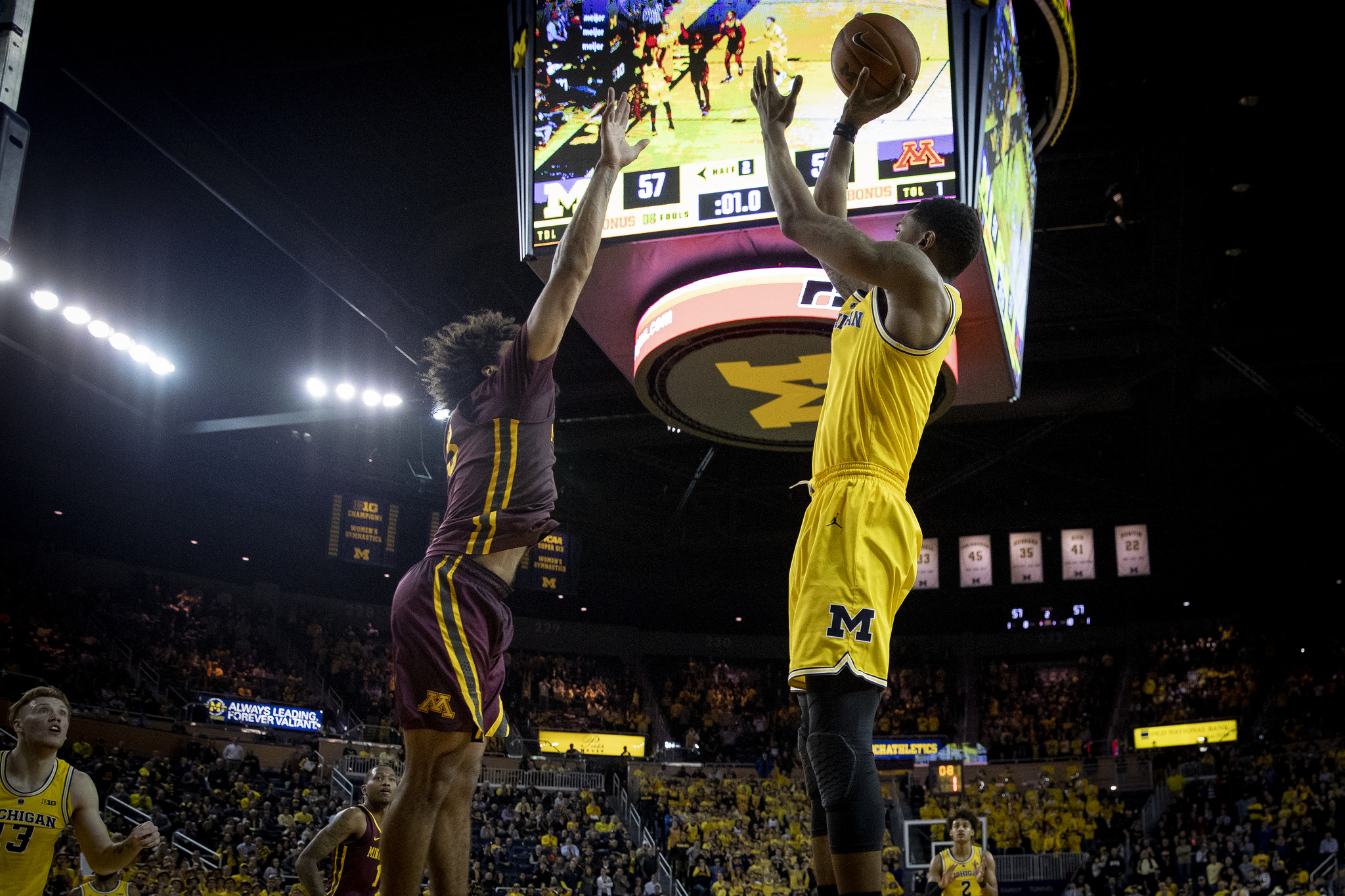 Unverified Voracity Moves To Nowhere Alberta
Matthews on the shot. Via Orion Sang:
Matthews was standing in the left corner. As Brazdeikis had drove past him, Matthews held both hands out, ready to catch and shoot just in case the ball found him.

He was also ready to crash the boards.

"I know Iggy. That's my little brother. He's like a bull in the china shop when he's going to the rim," Matthews told reporters. "So he ain't looking to kick out. So I just said, 'You know what, he might miss this one, let me try to just go get the rebound.'

"And thank God I was in the right position for it. Gotta know your teammates. Know your personnel."

Matthews' eyes – along with every other pair of eyes in Crisler Center – followed his teammates' shot.

As he saw the ball tipped toward him, he darted forward with a couple quick steps. Then he got the ball.

"(Charles is) always around the basket," Beilein said, "and he mopped up."
"You know, he might miss this one" is a good thought when the pronoun in question is 4/17 on the night.
A couple of blips on the freshmen who aren't playing. Andrew Kahn gathers a little data on the three guys who haven't seen much time:
Nuñez is a 6-foot-6 shooting guard who has yet to score on the season in limited action. His teammates talk up his shooting in practice. "Adrien's shot is phenomenal." Livers said recently. "He has the most perfect form I've ever seen out of a shooter."

There have been times this season Michigan could use another shooting threat on the floor, but it seems unlikely Nuñez will get that chance this season.

Castleton is also a year away from contributing. Like the other players unlikely to see the court, he's been hitting the weights hard, even on game days. Strength coach Jon Sanderson said he's put on 17 pounds since arriving on campus, a priority for the 6-foot-11 center.
DeJulius got some mention from Beilein as a guy who's battling Brooks and that "tonight" it was Brooks who got the playing time. With Brooks locked in a pretty gnarly slump I'd like to see DeJulius get a shot.
[After THE JUMP: uh mostly hockey recruiting?]
Man vs zone. Kenpom drills down on the efficacy of zone defense at the Athletic. Upshot:
On average, zone teams have given up two more points per 100 possessions than man teams (adjusted for competition). It might make one wonder why a coach would choose to play zone. While the comparison between man and zone teams reveals some things, what's missing is what the zone teams would look like statistically if they played man.

You'll notice I included the adjusted offensive rating for man and zone teams as well, and the man teams rate out much better. The gap is actually wider for the offense than the defense. This gives us some indication that the man teams have better personnel to begin with. One might assume that the coaches of zone teams believe their personnel would be even worse at man defense.
Zones are getting less popular, having dropped from about 21% of defensive possessions nationwide to 14% over the last five years, as the Steph-ization of college basketball continues and kids get better and better at shooting threes.
Nick Blankenburg profiled. Hockey's breakout freshman is an odd duck: an overage defenseman who converted from forward during his junior year and is currently playing on his off hand. But he's doing stuff and grabbing Daily profiles:
"He was all in, right from the start," Burke said in a phone interview. "Fully committed to just playing. He didn't really hesitate or have any apprehension. He just jumped feet first, went after it and he did a real nice job."

That commitment paid off.

Blankenburg's success on defense with Victory Honda led to him getting a spot with the Okotoks Oilers of the Alberta Junior Hockey League — quite a change for a high-schooler who had spent his whole life playing for metro Detroit-based teams. Suddenly he was moving nearly 2,000 miles northwest to Okotoks, a city just south of Calgary.
Being a junior hockey player is weird.
Glancing down the road. Some hockey recruiting notes:
The midseason CSB rankings have been posted. D Cam York is the #12 North American skater and should be a first rounder even after goalies and Euros get added in. F Johnny Beecher is #53 and is thus projected as a third-rounder. Bob McKenzie's list, which is sourced from NHL GMs and scouts, has York #15 and Beecher #41 in a draft that does have goalies and Euros.
2020 recruits Eric Ciccolini and Austen Swankler are #95 and #115, respectively, in the CSB rankings. It's somewhat unusual for drafted guys to take a D+1 year in junior and Ciccolini in particular is the top-scoring 2001 in the OJHL (and only one guy in front of him is not a '98). He might want to accelerate, whether that's coming to Michigan early or defecting to the OHL.
Swankler was recently included in an OHL trade. That is usually bad news but in this case it seems a little speculative, with the team that originally drafted him calling up Erie because "If anybody has a chance (to sign him), you guys may have an opportunity." There's a conditional second rounder for Erie if Swankler does not sign. (OHL teams may not trade first round picks.) Erie is close to home and they have a former teammate.
Commits continue to come in, usually for the distant future. Michigan's added a couple of guys  since the last time I mentioned hockey recruiting: Kent Johnson is a forward. Johnson's at about 0.8 PPG in the BCHL as a 16 year old (he's the top scorer in his birth year) and has a brother playing at Yale; Jeff Tambellini is his coach. NZ has him a 4.5 star. Nick Bochen is a D out of the same league. He's the #2 scorer amongst 2001 D in the BCHL. Both are supposed to be 2020s. But who knows.
As for 2019, Michigan has three seniors and will definitely lose Quinn Hughes early. Josh Norris is probably gone as well. Lockwood and Martin are all potential signees as well. They've currently got a whopping 12 kids currently listed as 2019 recruits on Heisenberg. Hockey is not a headcount sport so you can split scholarships, but that's obviously… uh… aggressive.
At this point pushing guys back doesn't really work either. Michigan hypothetically has 10 2020 commits. The inescapable fact is that Michigan has at least a few commits that are never going to actually come to Michigan, and not because they're defecting.
It seems likely that Pearson has been relatively up-front about this. When he moved from Tech to Michigan a few of his Tech commits flipped despite having been put off. A couple of guys who were originally scheduled to come in in 2018 were put off and haven't flipped to other schools. And some guys on the commit lists are almost certainly walk-ons promised nothing. (Steve Holtz is regularly a healthy scratch in the USHL, for one.)
Etc.: Don't click here, for this headline is 100% accurate. Speaking of Cam York: profiled. MSU gonna MSU. Brazdeikis profiled by Dan Murphy. Zavier Simpson's recruitment dissected.