Unverified Voracity Likes This Chart
Okay, he's enrolled. Now strike! Devin Gardner finally managing his early enrollment has spurred not one but two columns echoing a theme from this blog. It's "please God, no more freshman quarterbacks." Angelique Chengelis:
So former Inkster star Devin Gardner has enrolled at Michigan, and the potentially next great quarterback will participate in spring practice and compete for the starting job this fall.

Operative word: Compete.
And the Daily's Andy Reid:
So, Devin Gardner is officially on campus — but be careful what you wish for, Wolverine fans. He's not the answer for next season.
I agree with both takes, as is obvious anyone who's been reading this site's annoyingly persistent demand to redshirt Gardner if at all possible. I've read a couple other evaluations of Gardner's recent play that jive with what I though I saw in the later editions of the MGoCreeperVan's Gardner highlight videos: his throwing motion degraded over the course of the year from the very pro-style delivery I saw in Inkster's opener against Pioneer to the shotput pushing motion that was more prevalent in the state championship game. I don't think Gardner got a lot of dedicated QB coaching at Inkster and will probably need a year of constant correction to get his mechanics back to the point they were at when he was the #1 QB in the country to Rivals.
Is it really not that bad? I basically share the same opinion most people seem to have about this Michigan class: it's short on blue chips and—on paper—the worst recruiting class since Kelly Baraka and Reggie Benton were the highlights of the lame 2001 group. In terms of production on the field, Lloyd Carr's last two classes are probably worse for reasons that aren't anyone's fault, but at least when those kids were in high school people thought they were pretty good.
But actually it might not be that big a deal. This was created by a Rivals poster elegantly named "Stinky P1nky" on the 21st. [Update: FWIW, the poster in question first put this chart on The Mainboard.] It is thus a tiny bit dated but the changes since then are small and the resulting chart is an interesting one: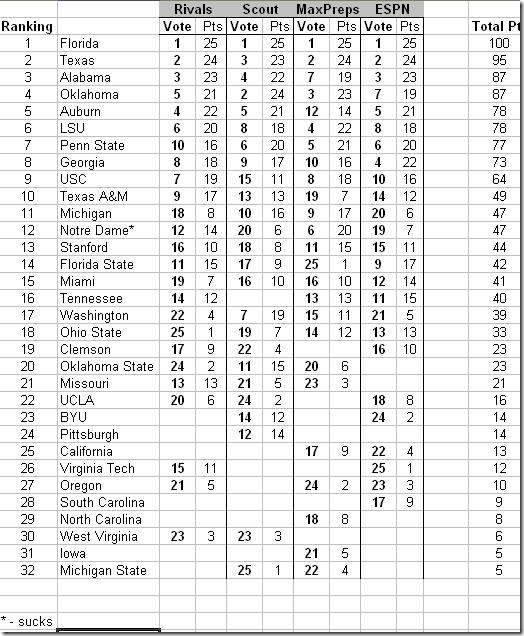 Michigan's class is #11 nationally if you average out the four major services that do these things, though I'm not that familiar with MaxPreps's rankings. (They're probably a little better than that now since the Black commit temporarily bumped them a spot on Scout and Rivals, but then again they'll probably fall by signing day as they're almost full and other teams have more room to add players.) Notre Dame is just behind M and probably dropped after losing a couple of high profile recruits, one of whom is a four-star defensive end from Indiana who goes to a Catholic high school. Harbaugh can recruit a little bit.
This doesn't take class sizes into account very well and thus probably overstates the class quality, but at the very least it's a lot of solid players who will help Michigan solidify the roster, banish walk-ons to the scout team, and put them on a talent footing at or above the Wisconsin-Iowa range in which it's obviously possible to have an excellent team. If and when Michigan gets back there and the maelstrom of negativity surrounding Rodriguez subsides, a recruiting bounce would have them back at their traditional level. And last year's class, the first that Rodriguez was wholly responsible for, certainly indicates that is where Rodriguez would like to go.
The fudge factor. Now to throw some cold water on the above positivity with a seemingly unrelated Notre Dame commitment. A relatively anonymous TE/OT from Kentucky named Tate Nichols is committed to Stanford, but then backs off and switches to Notre Dame. His rankings then:
Two of the three main recruiting sites considered Nichols a tight end recruit and as such didn't slot him very high. Both Scout and Rivals tabbed Nichols as a 2-star tight end recruit with Scout considering him the 52nd overall TE. ESPN did list him as an offensive lineman, giving him 3-stars, a 75 grade rating, and a ranking as the 101st overall offensive tackle recruit.
His rankings now:
Update: These were his rankings on Saturday when he committed. Today, Tuesday morning, Scout has changed him to a 3-star offensive line prospect and the #71 overall OT recruit.
Would this have happened if Nichols switched his commitment to Kentucky? I seriously doubt it. But when it's Notre Dame or Michigan picking up a who-dat type recruit that guy tends to grab stars almost instantly. This year Michigan saw it with Carvin Johnson, Jake Ryan, and, to a lesser extent since he's still two stars on Rivals, Ray Vinopal. All of those guys were unranked or two stars until their Michigan commit prompted a re-evaluation.
That's not to say that the guys who got bumps didn't deserve them, but it's obvious that committing to a primo school causes the sites to re-evaluate your game. San Diego State commits are not afforded this privilege.
Speaking of Jibreel Black. Useful: Touch the Banner has a scouting report in which Brandon Graham gets name-checked. Useless: remember these guys?
Apparently part of the Rodriguez rebuild is getting a couple of defensive linemen whose names combine in a funny way when they're on the bench: Michigan has just recruited guys named "Black" and "Ash." They should go the whole nine yards and invite Ball State running back Brandon Kish to walk on and then have poker pro Tony Ma hang around on the sidelines.
Wait, so now you're mad your guy didn't get hit by an elbow? Via UMHoops on the twitter is this weird incident from the Purdue game:
Kramer was defending on the left wing in front of Michigan's bench when Laval Lucas-Perry swung his elbow high, forcing Kramer to bob out of the way.

Seconds later, Michigan called a timeout and Kramer walked toward Purdue's huddle motioning to his arm and patting his elbow. That was likely directed to the officials.

Apparently, Kramer also told coach Matt Painter. Painter -- spouting mad -- then appeared to go toward Michigan's bench. He was held back by official Steve Olson, who had his hand on Painter's chest. Painter appeared to be jawing at Michigan assistant coach John Mahoney. Mahoney came over to Painter and appeared to pat him on the back and then walk away.
And by "incident" we mean "non-incident." Was this on TV? I don't recall this, though I admit that for a good chunk of the second half I was not paying super-close attention. I imagine a gritty gritadillo like Kramer spends a lot of time dodgy elbows that want to go where his craggy, pore-laden gritface happens to be. A little hissy from your coach about not actually getting hit is a little weird even if he got clocked last year. He's Gritopher Gritmer: he likes elbows in the face. Makes him feel alive.
Side note: Mahoney is the assistant who got T-ed up last year. He's yappy.
It's a matter of national security. The Detroit News reports back on their efforts to FOIA something from MSU about the Posse Roundup & Engineer/Woman Beatdown:
Most details of the altercation at the Rather Hall dormitory, however, were blacked out on the document. Officials cited sections of the FOIA law that protect an individual from unwarranted invasion of privacy and legal proceedings in an ongoing criminal investigation as reasons why most of the information was withheld.

Officials also declined to reveal details of six 911 calls made around the time of the incident, video surveillance footage in the dormitory, results of polygraph tests and taped interviews with players.
This is not surprising given the lengths to which universities go to avoid FOIA compliance, and I said earlier that the four additional departures from Michigan State's team seemed like a stiff price to pay. I do wonder if some of the big names returning to the team (Cunningham and Dell, mostly) might be the beneficiaries of a double standard that Michigan State would not like to see in the public eye.
Also: six 911 calls. !!!
Meanwhile, two more Spartans have been charged. They are DT Oren Wilson and perpetually troubled walk-on Myles White. White 1) was involved in the first PREWB, 2) just plead guilty to public urination, and 3) is now involved in PREWB II. Surely this must be the end for him. He's a walk-on. I track because I fret: Myles White is incoming Michigan tailback Austin White's brother.
Wilson started all last year as the NT, FWIW.
Small disaster apparently averted. Depending on what you believe, 2010 hockey recruit Jacob Fallon either got the boot or voluntarily left the NTDP, thus throwing his immediate future in flux and opening up a possibility he would play in the CHL. That is apparently not going to happen. Fallon has latched on with the Indiana Ice of the USHL and will presumably be in Ann Arbor next year unless Dean Lombardi drafts him and then kidnaps his mom.
Good work, Nike. This kind of stuff is why I'm glad Michigan got away from Nike:
That's a before-and-after of the Michigan State logo. New guy is pissed off because he looks dumb. Might go knock around some electrical engineers for variety.
Michigan State fans are not happy if a poll on The Only Colors is any indication. Opinion is currently 7-86(!!!) against. Required PREWB-related photoshop can be found at The Wolverine Blog.