Unverified Voracity Lifted Into The Heavens
Hi. I would have packed this into yesterday's UV but internet problems + rehab equaled no. So here's the other stuff.
Local news, 1986. Wolverine Historian digs up a gem:
Five dollar parking and the hair, man. The hair. Check out the defector at around 2 minutes. We need a clip of that guy.
Position clarity and dang. In an interview with Touch the Banner, James Ross says he'll start off at the weakside linebacker spot. With Bolden ticketed for the center, I'm guessing Royce Jenkins-Stone is eventually slid to SAM. Where Kaleb Ringer goes is also probably in the middle.
Also:
I played hockey for a long time, and just being in that fast-paced environment helped, being able to see things. Hockey is really fast; you have to be able to move, and I think that really translates well to the football field.
Ross is 6'1", 225, and fast. If he could skate at all he would have been a crunching bodycheck factory had he stuck with the hockey. Video at TTB suggests he could not skate much as of early high school, but leave me to my lethal bodycheck fantasies.
More playoff stuff. I can't find this [freep] anywhere else, nor does this have a direct quote, but um… as far as reason not to have campus playoffs go this is even better than Bill Hancock's:
[Dave] Brandon understands the advantage a Big Ten team would gain from a playoff game on its campus but also realizes it's not fair for schools across the country to play in the cold weather. Brandon also said he polled U-M players, who said they like to go to warm-weather bowl sites.
It's not fair. My brain stopped working. This is where I say something snarky or something about how this is not a good argument. I can't. Logic has been suspended. Get The Picture:
And just to show you how absurd this gets, rather than stand his ground on the more fan-friendly on-campus sites, Michigan State's athletic director hopes instead that the NCAA will help families pay for the travel expense of going to an additional postseason game.
I  give up. The rest of this column will be written by my wife's cat.
THE LARGE HAIRY ONE SAYS THIS NEXT. You're probably expecting this to be in hilarious broken English lolcatese. Typical. I quit.
I do say this is next. Cats: cannot get them to do anything. Anyway, blogosphere old timers may remember Vijay, who ran one of the ur-blogs back in the day. He still hangs out on some message boards and put together a picture of the distance traveled by fans to get to bowl sites last year:
Avg distance traveled for the bowl
Big 10: 1261
Pac 10: 775
Big XII: 701
ACC: 667
SEC: 254
Big 10 travels MUCH further than anyone else. SEC travels much less. No surprise.

Avg miles differential (how far a team had to travel, compared to their opponent: + = traveling further)
Big 10: +812
ACC: -15
Big XII: -137
SEC: -399
Pac 10: -470
Big 10 is the only major conference that is generally playing further from home than their opponents.

# of games within 500 miles of home
Big 10: 1/10
ACC: 2/8
Big XII: 3/8
Pac 10: 3/7
SEC: 9/9
EVERY SINGLE SEC TEAM played within 500 miles of home.

Guess which SEC team was the only one to travel further for their bowl than their opponent. Answer below.

Meanwhile, every single Big 10 team traveled further than their opponent. Even Purdue, which got to play in Michigan, ended up playing Western Michigan.

Trivia answer: Alabama, who played LSU in New Orleans.
Use of the word fair in relation to this makes me want to wear around a horse. I'll say "I'm actually a slide rule, call me the King of Albania." I'll wear a sock on my hand I call Prince Knight who speaks only in riddles. His only riddle is "how are these people in charge?"
The cat does not find this amusing. I'm going to shake him until he does.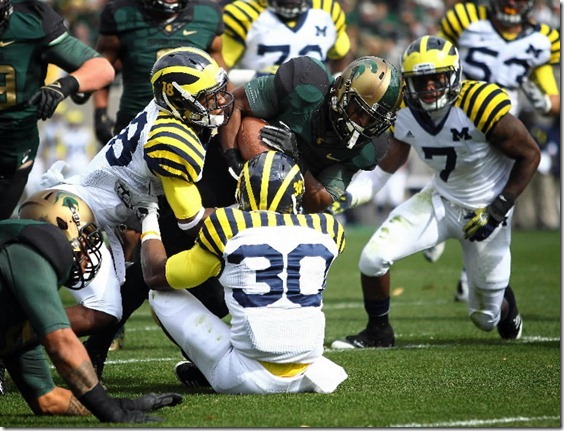 HELP I'M STUCK IN BLADERUNNER
ALSO BONUS BONUS BONUS BONUS. Uniform hijinks are going to be an annual thing now From the above-linked article.
He discussed the heightened attention on U-M's jerseys, particularly in football. He said the school might have done too much with changing them last season and plans to quiet the speculation this fall by having a single rollout of all the game jerseys they'll wear throughout the season. He said coaches, players and recruits enjoy variety.
"School" should be read as "Dave Brandon" and "speculation" should be read as "lack of speculation."
So at least there won't be any horrible, horrible surprises this year, and five different outfits seems off the table. Regular alternate whatnots are here to stay. Embrace it. I want wings on the pants. And the jerseys. I want a uniform that's just one giant wing. Like, when the offense lines up the unit should look like one winged helmet. With claws!
A note on something that happened last week. You know that child-porn-havin' OSU-recruit-creepin' twitter guy from last week? One: if you asked me to draw a composite of all OSU fans it would be him. Two: when you are in photos, keep your head straight.
WHY DOESN'T YOUR NECK WORK, MEDIAN OF ALL OHIO STATE FANS EMBODIED?
Seriously, you should get that checked out or something. Also, thank you for existing.
Better at being in photos than OSU median guy. Jehu Chesson on the track:
Head: straight up and down.
Chesson won the 300 M hurdles at a regionals meet and is working on his 110M skills.
Etc.: Smart Football, the book. Highly recommended. TOC on the ill-founded grad-year transfer panic. Michigan made money, then spent money. They will bid out the MNC final.