Unverified Voracity Leaps Stuff
The other major outrage type thing going on. That would be the bowl system's ticket guarantees that turn bowls from a guaranteed profit to a guaranteed deficit for many. The Wizard of Odds put together a lot of numbers about what's going on with that. Unfortunately he quoted perpetually silly Andrew Zimbalist saying something about a cartel, but whatever. Numbers:
Supporters of the 35-game bowl system argue that the postseason turns a profit. Technically, this is correct, but only because of the BCS, which this season distributed a reported $174.07 million from its five games. Of that amount, 83.4 percent went to the automatic qualifier conferences — the Atlantic Coast, Big East, Big Ten, Big 12, Pacific 10 and Southeastern conferences.

The 30 non-BCS bowl games are, at best, a break-even venture. Without the ticket guarantee, it is likely that half the bowls would not exist.
The Fiesta Bowl's massive chunk of unsold seats is actually economically justifiable since the BCS bowls are a net input into the system. That's not the case when you're UCF, and you're eating nearly a million dollars in unsold Liberty Bowl tickets.
This isn't a playoff argument. The bowl system can continue, but the NCAA is currently transferring money from college students (student fees make up a large portion of the revenue for programs that typically go to rinky-dink bowls) to this guy:
Not literally that guy, but versions of that guy in a different blazer. It's a neat trick to transfer the risk your bowl will be a dud from the organizers to the schools, though. 
File Under The Gets It Files, Part XI. You know who Amani Toomer hates? Everybody. If he was going to have a sitcom it would be titled "Amani Toomer Hates Everybody." Amani Toomer does not like anyone. He hadn't been back to Ann Arbor in 15 years. He came back for one of the thousands of Hoke Hand-holding Socials and…
"It was good to be back, good to see some players and people, and I saw coach (Gary) Moeller, which was special," Toomer said. "I just really felt like a part of the whole Michigan family, more so than I did in the past couple of years.

"I feel more connected than I did before, so that's always a good step forward."
Amani Toomer likes Gary Moeller! And Brady Hoke!
This is the point at which I make a very silly assertion about this proving how excellent of a recruiter Brady Hoke is, which may be silly but is also 1000% true.
Requirement. I will join the horde, as required by law. This is Jalen Rose's General Lee: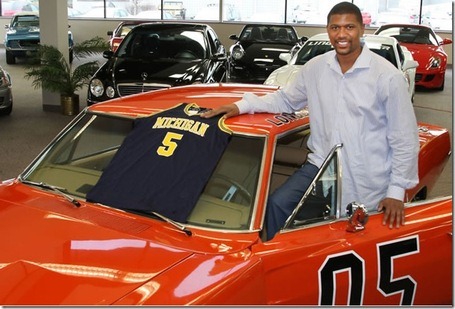 Readers are advised not to attempt a reconciliation between Rose's comments about Duke and what appears to be a massive Dukes of Hazzard fandom. Smoke will come out of your ears.
Readers are advised to bid on the car, though, which is being auctioned off to help fund Rose's charter school in Detroit. Buy it now for 100 grand. Do it now.
Hockey in the boat. As you can see on the sidebar, Michigan hockey officially announced its recruiting class today. The official site's article has stats and a quote from Berenson on each of the signees; Michigan Hockey Net also points out that two guys weren't listed. That's not because they've decommited but because they're preferred walk-ons. Those two are D Mike Szuma and F Andrew Sinelli. Sinelli not counting as a scholarship guy (except when there are extras, which there usually are since someone always leaves the team) helps explain where they're going to get the room to sign these guys the next few years. 
Meta but wow. I can't recall how I got to this article from The Daily (not that Daily: the Rupert Murdoch one) on Lloyd Carr being a nice dude who's in the Hall of Fame hurrah. In thirty seconds the generic newspaperese will fade from my brain, but I'll always remember the time I went to that site to read an article that was a half-meg 768x3072 image and marveled at how random the selection process for executives is. I know it's an iPad app and all but raising a giant middle finger to Google is maybe not the best policy.
How do you short this enterprise?
Etc.: Michigan is two-thirds of the way through its practice reduction. Must have been fairly significant if they could stack it like that. Insert joke about how it all came out of the defense here. Jim Tressel's lawyer, Gene Marsh, was Michigan's lawyer. This time around he's banking on Tressel's body language saving the day. That's the ticket. Ramzy at 11 Warriors appears more enthusiastic about Brady Hoke than most Michigan fans. Also he is also unforgiving of past MGoBlog statements that are now ridiculous. Optimism from Holding The Rope.