Unverified Voracity Hopes To Eat Again
Eatin': taken. One of our new MGoShirts is this: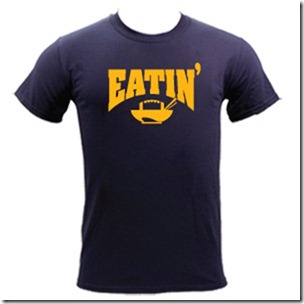 I was sent the usual batch of ideas to thumb up or thumb down and thumbed this one up because I'd either missed or forgotten the fact that Martavious Odoms had put together a charity for a hurting city of Pahokee with a shirt based around the same concept. As the kids who are now about 35 say, my bad.
We've taken the thing down for now and are in the process of reaching out to Hope For Pahokee so we can put it back up and donate the proceeds to them. I'll let you know when we get cleared.
Ufer. A recut version of a Ufer thing I've posted before.
Honor Willis Ward. The Michigan State game marks the 78th anniversary of the Georgia Tech-Michigan game that saw Tech protest the existence of Willis Ward. Gerald Ford had to be talked out of quitting the team after Ward was benched; Michigan won 9-2, defeating racism forever*.
Anyway, the state legislature is making October 20th Willis Ward day and the filmmakers who have been publicizing his story are trying to get something together for the Michigan State game. It seems like this would be one of those things where you talk to someone in the athletic department and he says "of course," but must not be since the guys behind the idea are assembling an online petition to help bolster their case.
Hit it up. More details are available at MVictors.
*[Probably. I haven't done a whole lot of research on this point.]
Oh my God run around in circles yesss. Sunday Morning QB returns. Matt Hinton's still writing for a couple of other outlets, so its glory may not reach the heights of long long ago but at least now there is a place for Hinton to put the things that are 1) very good and 2) not likely to end up on the Yahoo front page because they're not viral™. See: a comprehensive overview of the have-nots. Bookmark/RSS away.
This is more like it. Indiana just announced a student loyalty program that actually seems worthwhile:
Under the new priority seating system, students earn -and have earned– priority points while they are in school by purchasing men's basketball and/or football season tickets each year. To reward the most loyal student fans, the 3900 students with the most priority points heading into the 2012-13 school year will be guaranteed the lower bowl seats for the highly anticipated North Carolina game on November 27, 2012.

IU students earn priority points while they are in school by purchasing men's basketball and football tickets. Students receive 5 points each time they purchase season tickets with a maximum of 10 points per year if they purchase them for both men's basketball and football season. Also new this year, students will have an additional opportunity to earn loyalty points by attending the games for which they have tickets, or making certain their tickets are used by other students. One point will be given for each game attended or each time an individual ticket is scanned at the gate. Only the original ticket holder can earn loyalty points for the use of their tickets. The more loyalty points a student earns, the better chance they have of obtaining the student tickets allocated for post-season tournaments (NCAA, Big Ten Tournament, etc.). Student point totals for purchased season tickets are automatically transferred to alumni point totals following the student's graduation from IU.
They also base ticket availability at certain other premium games on their points. No check-ins, a tangible reward that really matters to the students in question (sweet seats and good tickets) and is not a t-shirt.
Oh, man. The MZone makes a thunderous return by rounding up videos of Alabama fans on Youtube.
I'm not sure about anything anymore.
Yes please. The SEC is loosening their rules for in-stadium video replays, but why did they have this one in the first place?
In the past, the SEC had a one real-time replay policy for all plays in all sports.
These companies that suck up digital rights and try to monetize them are all pretty bad—try explaining fair use to one—but XOS is the worst by far. Anyway, the SEC is now going to allow replays from the TV network broadcasting the game (again, why prohibit this?) during reviews. I'm guessing that decision is to prevent biased home-field folks from ramping up outrage by selectively picking favorable angles. It makes sense.
The stated reason for the change is to keep fans coming to games by making the in-stadium experience not worse than sitting at home. Here's hoping Purdue and other schools that have trouble selling out ram this through in the Big Ten.
Um? Brady Hoke has a much different take on the new kickoff rules than any I'd seen before:
On the new kickoff rules: "I think as it plays out, there will be a little more we all learn. You try to use the NFL model from a year ago the best you can. The one thing you learn from the NFL, guys are taking it out of the end zone 8 yards deep. I think you'll see more of that. Personally, if we can get the ball or give the opponent the ball at the 25, that is something I'll be happy with."
Why would you run the ball out eight yards deep? Because the kick return guys can't get there in time? I'd be surprised if there was that much of a difference. Certainly not enough to justify a KO attempt where you have to make it 33 yards to break even. Touchbacks ho.
Plead down. MLive's Kyle Meinke just tweeted this out:
Michigan RB Fitz Toussaint, facing operating while intoxicated charge, pleads down to operating while visibly impaired
A quick googling turns up a bunch of sketchy law firms, but the Michigan site has the various penalties for these things and OWVI looks almost identical to OWI. Still assume that Toussaint is suspended for Alabama and Hoke is playing silly fun games with Nick Saban, who is totally fooled.
Etc.: Chantel Jennings Mike Rothstein on Desmond Morgan.