Unverified Voracity Holds Secret Tournament
Sitebulletins. We are two weeks away from the Spring Game and the it's hard offseason after. We'll be ramping up the usual stuff—profiles of the incoming freshmen, ranting about offsides in hockey, recaps of our insane predictions—and yes, now is the time when a Sugar Bowl UFR gets done. All timely like.
There are a couple of complicating factors, most prominent: knee surgery. I'm having it. Unfortunately they've moved the date from April 17th—blissfully amidst nothing at all—to April 10th. That's four days before the Spring Game. Glarble. I'll do my best to give you the usual breakdown, but I'm not sure how with-it I'll be. I'm supposed to be able to walk in two weeks, so hopefully I'll be coherent after four days.
The other project, one that I wanted to get started on earlier, is whacking the server in the right spot so it's a bunch faster. This should be doable, but it is going to take some time. Between that and the surgery don't be surprised if my posting frequency drops a bit. I'll get at least one thing up a day; the rest of the time is going to be spent on laying a groundwork for keeping things upright when next season rolls around. Death to the 503.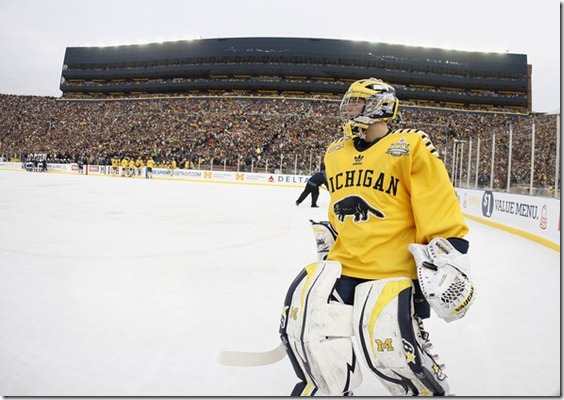 goodnight, sweet prince
Read this. I linked it in the game recap post but really, if you haven't read Zach Helfand's article on the Cornell game you should:
GREEN BAY, Wisc. — The crease is empty now.

The custodians in the Resch Center stands are picking up trash, and with plastic gloves they shove Skittles wrappers and used napkins and programs that show a picture of a 5-foot-6 goaltender that used to play for the Michigan hockey team into a large plastic trash bag.

It is a quarter till midnight.

Below them, on the ice, the crease is empty.

Forty-nine minutes ago, at 10:56 p.m., it wasn't. Forty-nine minutes ago, there was a goaltender named Shawn Hunwick lying on his right side across that crease, and a puck was there, just past the crown of his helmet.
It's one thing to execute a long-form article over weeks and another to bash something really good out on deadline. Helfand has chops. Googling reveals a planned graduation date of 2014. I feel old.
Stephen Nesbitt also has a good column on Hunwick's exit, one in which Hunwick says a blog called him a "waste of space." Doesn't sound like me, but I do like Fawlty Towers… hmmm… phew. No hits except some false positives in which commenters call each other wastes of space.
As long as we're moping about the Cornell game and early exits, the HSR writes on Michigan's last three tourney losses, all of which were 3-2 in OT after a disallowed goal. Ay yi yi. Holdin' The Rope is also attempting to hold its head together with its hands. Center Ice previews the incoming recruits.
We must prevent anyone from attending this event. The NCAA is bound and determined to prevent any hockey regional from selling out, even the best conceivable scenario of Minnesota-North Dakota at the X:
-That said, the NCAA did their best to neutralize any home ice advantage at the XCel Center by making sure no one would attend. Tickets for each session cost $57, and there was no re-entry between the two games on Saturday, meaning fans were pretty much stuck inside the XCel all day if they wanted to see both games. The end result of the blatant price-gouging was an announced crowd of 10,974 for a regional final between Minnesota and North Dakota. That doesn't look terrible, but as Brad Schlossman of the Grand Forks Herald pointed out, last week's WCHA Final Five quarterfinal held at the same building between Denver and Michigan Tech, and played on a Thursday afternoon drew an announced crowd of 11,489. The NCAA ran an event less successfully than the WCHA. This year's regional final was also outdrawn by the 2007 regional final between the same two teams, but held in Denver.
The prices for regionals are so ridiculous they can't even sell out a Minnesota game in Minnesota.
I just don't even know, man. There's a Michigan fan on the USCHO board who rails on this broken playoff system, spawning huge multi-page threads that make me want to find the people who think it's impossible to move back to home regionals and throttle them.
College hockey needs to grow the sport at home, where it's in competition with the CHL, and not in Tampa or St. Louis. Move to two weekends of best two out of three series on home ice and follow it up with a Frozen Four. You bring the game to the people who support it, not hundreds of miles away, and cease the embarrassment of having three thousand people in arenas that seat three times that many. The current system is essentially a giant middle finger to the people who fill arenas during the regular season.
Even when they can get it right, they don't: Michigan is hosting in Grand Rapids next year when there is a Toledo regional available. That's an extra four hours roundtrip so Bowling Green, a school with almost no chance of making the tournament, can host. And WCHA fanbases all get shut out.
A little more Merrill info. Red, at least, expects him back:
As for Merrill, a second-round pick of New Jersey, Berenson said: "Merrill will get some interest, but right now his heart is at Michigan. I don't see him doing anything."
While Red's been wrong before, that's a think in the right direction on my Bayesian Merrill departure meter. The Daily also throws this in an article on Wohlberg's departure for the AHL and other matters:
Sophomore defenseman Jon Merrill is the only Wolverine who hasn't appeared to make a decision regarding his status for next season.
Not sure if that's an assumption or the prospect of losing Brown/Guptill is not on the table. That would be nice, getting everyone back. It's happened. It's rare, but it's happened. Once, I think.
Anonymous surveying. Rothstein took some anonymous survey questions($) when he was giving exit interviews to the 19 seniors and returns with word that Jerald Robinson is the pick for breakout player. One comment on him:
"He obviously hasn't played that much, but he has everything you need to be a great receiver. All he needs is the opportunity, and once he gets that, I know he'll do well. I think he'll definitely have a breakout year this year, because Junior (Hemingway is) leaving and (Darryl) Stonum isn't on the team, so we need him to step up, and I think he will."
Ryan, Toussaint, and Denard(!) are 2-3-4. There is much else of interest behind that paywall, but… yeah, paywall. I can probably tell you that Rothstein asked whether players liked Rodriguez and got generally positive but mixed responses. The responses to the same question about Hoke: "Yes – 19."
These grapes are truly sour. I either missed this or just forgot about posting on this article. Whichever it is, here it is. Possibly again. It's an Andy Staples piece from January on decommitments of top 100 recruits that has a couple of fascinating figures:
Of the 500 players ranked in the Rivals100 for the classes of 2007 through 2011, 73 (14.6 percent) decommitted at some point during their recruitment. Of those, 62 (12.4 percent) ultimately signed with a school other than the one to which they originally committed. …

Of the players who decommitted, 34.2 percent either failed to qualify, transferred or were dismissed. … Of the players who made one commitment and stuck to it, only 18.7 percent either failed to qualify, transferred or were dismissed.
The washout rate for guys who picked more than one school is almost double that of players who stuck with their one true love. So we didn't want Pharaoh Brown anyway. (Yes. Yes, I did want Pharaoh Brown. Fiddlesticks.)
About 15% of players end up switching. That seems higher in the South, FWIW, as some of those switches are involuntary. I'd guess Michigan loses fewer from this class, and going forward in the Hoke era.
Irvin hype clarity. I haven't been entirely sure what to think about Zak Irvin since the recruiting sites have such divergent opinions on him. Scout has him a generic three-star; Rivals thinks he's a top 50-type player. Via UMHoops, here's an indication that local observers lean towards the latter. The Indy Star is commenting on the snub of Bryson Scott, a Purdue commit who was only named to Indiana's second tier junior All-Star team:
Six players are named to the core team and it's pretty clear in my mind that's he's one of the six best players in the junior class. I'd rate him or Hamilton Southeastern's Zak Irvin as the top in-state prospect currently in the 2013 class. Plus, Scott has led his team to the regional each of the last two years and he averaged more than 25 points a game as a sophomore.
Irvin is on the "core" team that will scrimmage the seniors twice in preparation for their annual game against Kentucky.
Etc.: Keith Olbermann eulogizes Bert Sugar, Michigan grad and story fountain. MSU lists 6'7" Tyler Hoover as a starter at DT. Many happy Masseys to him. This would be much more fun if MSU's OL was the shambles it should have been last year. Michigan is back on Monte Morris. Rittenberg goes to Sweet 16, comes back advocating for home sites in CFB playoff.
Illinois is depressed. Wisconsin redshirts everything that moves, which is why their classes have gotten so tiny.