Unverified Voracity Has Pipes
Caris smash. Caris LeVert came to Michigan after a high school career spent as a mizzenmast. I'm saying he's thin, people. That's the joke. Or at least he was thin. This year's edition of Michigan basketball player is all swole now: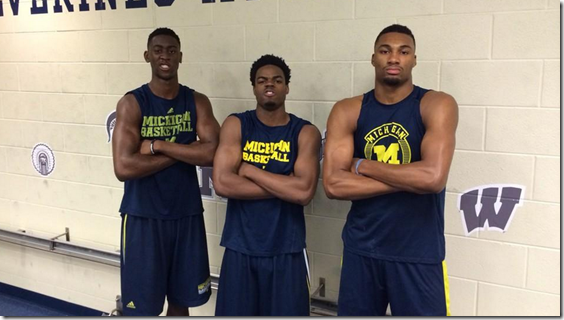 Yes yes, Irvin and Walton are also adding weight (Irvin's up to 215 from 200) but I be like dang Caris. Let's check in with his senior year of high school…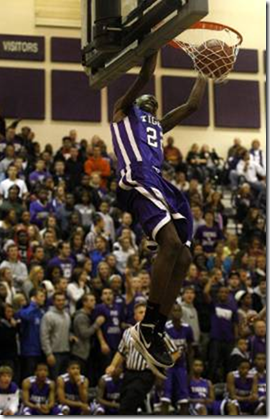 …during which he probably ripped off and reattached his arms nightly. Caris is also a legit 6'7" in shoes, so he is tall and large and is hopefully poised to rip it up this fall. 
Freshman dimensions. Basketball has posted a roster. It lists:
Kam Chatman at 6'7", 210
DJ Wilson at 6'9", 210
Ricky Doyle at 6'10", 250
Aubery Dawkins at 6'6", 190
and MAAR at 6'4", 200.
Doyle's weight is a positive. Michigan's going to need him to bang, and he's now the heaviest guy available—Donnal added ten pounds but only got to 240. Meanwhile, uncertainty about Max Bielfeldt's status for next year is all but gone: they've ceased listing him as a redshirt junior and now have him as a senior.
Fireworks nyet. I'll have a column type thing about this tomorrow, but to recap the most important completely trivial news of the week: the Michigan regents shot down the athletic departments proposed fireworks for the Miami (NTM) and Penn State games despite separating the votes. Mark Bernstein's criticism was the most pointed:
"We are not Comerica Park, Disney World or a circus ... " Bernstein said. "I love Michigan football for what it is ... and for what it is not. It remains and should be an experience, a place that resists the excesses of our culture; intentionally simple.

"The fireworks should be on the field, not above it."
I probably wouldn't have gone with "resists the excesses of our culture" but the overall sentiment is one I can get behind. Mostly I just want Michigan to be like itself, to maintain a separation from other options. Not because those are necessarily worse*, but because a bright line between Them and Us is inherently valuable when you're trying to gin up some fake-ass tribalism.
This is the most fundamental divide between myself and Dave Brandon: he wants to copy the Best In Class Leaders because that's the only thing he's ever been able to do. He could no more start a business than I could be athletic director, because every attempt would be Chipotle 2 or Also Applebees or Pretty Much Still Ponderosa. His one strategy for success is to do the thing that everyone else is doing.
Anyway. The new president is being carefully neutral about the whole situation…
"Personally, I didn't have an opinion," Dr. Mark Schlissel, who started his job this week, said Friday during a press conference with the media. "Having never attended a game there, I didn't have a sense of the cultural aspects of it. The band marching out, I've never seen. I've never seen them at a halftime show. I don't have context to really say whether fireworks matter or not. I didn't really feel like I had a valid opinion."
…but the message sent by the regents is clear. This is an organization that has just been sued because they decide things in private meetings and show up to vote things in unanimously. During the 116 votes previous to the fireworks there were eight instances of a regent voting no. Brandon just exceeded that in a single day.
The opportunity here was to provide a vote of no confidence without shooting something down that's actually important, like the budget. I mentioned that I thought a number of people towards the top were discontent but unlikely to do anything about it in the most recent mailbag; I must have underestimated the disdain.
Is this the beginning of the end? I'm not getting my hopes up just yet.
*[They are of course sometimes worse.]
Back on the market. Onetime Michigan target and temporary SMU commit Matt McQuaid, a shooting guard out of Texas, has reopened his recruitment.
For a second there it looked like McQuaid was very serious about Michigan, so I wouldn't be surprised to see the two parties reconnect. Everyone seems like a backup plan for Jalen Coleman at the moment, but if Coleman does do the weird thing and pick a Notre Dame program that hasn't really gotten off the ground under Mike Brey, Michigan wants to make sure they've got options. McQuaid is a pretty good one:
McQuaid is arguably the best shooter in the class of 2015 -- and he strengthened his case last week at the LeBron James Skills Academy, when he shot lights-out from 3-point range against the best high school players in the country. There were at least two games in Las Vegas where I didn't see McQuaid miss an outside shot. He can make shots from deep and is also capable of knocking down contested shots.
He's 6'5", so visions of Stauskas are dancing in various heads right now.
Old stuff. Wolverine Historian takes on 1986 Iowa:
Straight shooter. I may disagree with a lot of what Bob Bowlsby thinks but I can appreciate that he's not Bill Hancock:
"Enforcement is broken," he said. "The infractions committee hasn't had [an FBS] hearing in almost a year, and I think it's not an understatement to say cheating pays presently. If you seek to conspire to certainly bend the rules, you can do it successfully and probably not get caught in most occasions."
He probably thinks it's possible to fix that, and that's where we differ. I do wish someone in attendance at Big 12 media days had heard this…
"It is hard to justify paying student-athletes in football and men's basketball and not recognizing the significant effort that swimmers and wrestlers and lacrosse players and track athletes all put in," he said. "Football and basketball players don't work any harder than anybody else; they just happen to have the blessing of an adoring public who is willing to pay for the tickets and willing to buy the products on television that come with the high visibility."
…and asked Bowlsby how much harder he was working than the assembled press corps.
Etc.: Scouting Tyus Battle, Jalen Coleman, and Prince Ali at the Peach Jam. The Game will not be at night, because frostbite. CJ Lee looks back at his time at Michigan after taking an assistant spot at Marist. A preview of the band programs this year. I'm not enthralled with the idea of trying the sing-along thing again. Peppers and Funchess feature amongst the most watchable players this year.
I like lists of sports memories that include bad stuff, because bad stuff happens. So props to the Daily Gopher for including Mike Legg (and Holy Cross) on their list of Gopher hockey moments.