Unverified Voracity Has Electrolytes On Its Cereal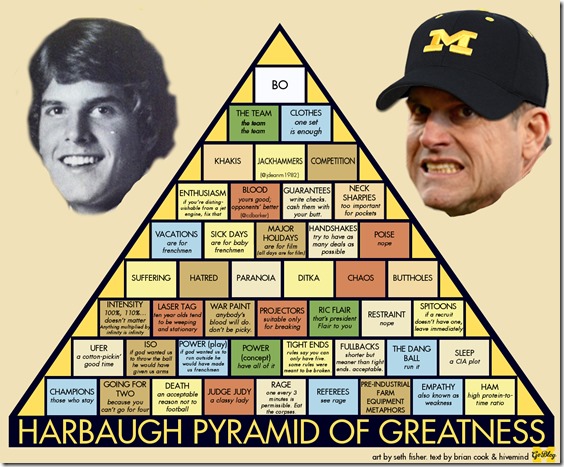 needs updating: "MILK: never heard of it"
I couldn't find the rocket fuel. Add it to the pile:
"This one time I was a kid, we didn't have any milk for cereal," says Jay Harbaugh, 25. "He put Gatorade in the cereal instead of milk. It was the weirdest thing I ever saw.

"I didn't try it. For good reason. That's not where Gatorade goes."
Later that day he poured a Red Bull on his pizza, with powdered sugar donuts for dessert. IF YOU GET MY DRIFT
WINK
WINK
DO YOU GET IT? I have to explain everything.
ANYWAY. It's not the worst idea in the world.
409? 45. When you absolutely need something burned to the ground, you could do a lot worse than calling on Keith Olbermann:
It'll never happen, but if Michigan hockey all wore "45" stickers on their helmets the next time they played Penn State I'd be real happy. 45? The number of counts Sandusky was convicted on.
Snipe. Michael Hurley is some dude in Boston who's confused why Michigan fans are high-fiving him online today. You do the Lord's Work, Mr. Hurley:
"There are well-founded whispers in the NFL that the underlings who supply towels in the visiting locker room sometimes run back to the home locker room to share what they heard."

This is stupid. This is lazy. This is irresponsible "journalism" from Sports Illustrated. This should not be published, period.

"The Patriots supposedly stopped videotaping opponents' defensive signals when they got caught in 2007, but opponents wonder if they are still stealing them."

I wonder every single day if I'm going to get hit by a comet and wiped off the face of the earth. It does not mean it's going to come true. "Reporting" on what opponents wonder is pathetic.
That is an on-point fisk of a pile of not-even-Googled Michael Rosenberg assertions about the Patriots in the wake of slightly-less-inflated-ball-gate. Someone send him an "I Oblierated Michael Rosenberg On The Internet And All I Got Was This Stupid T-Shirt" shirt.
I mean:
"Maybe some of this is overstated."

Yes.
A pattern arises.
JOBS (one of which some of you might be qualified for). A number of jobs have been posted on Michigan's site with which they do that federally-mandated thing, and they're interesting in terms of program direction even if you're not trying to fit in one of the gaps—a number of these are probably already decided upon anyway.
One might not be. There's a "recruiting coordinator" spot that is heavy on the twitter/vine/swipe-right-to-commit end of things:
Responsibilities*

- Create Highlight Tapes that are used on Unofficial and Official Visits
- Create Highlights of Michigan Football that are used for social media
- Create Highlights from Prospects game tape for the coaches to evaluate.
- Handle the logistics for Video Presentation at the Stadium with prospects.
- Create and Coordinate Michigan Vine Video Account
Good to see that they're going to be more out there on the social medias than Hoke was—not that Hoke was particularly hampered by not doing this until his offense died in a hole.
(Note that Chris Singletary's title is "director of player personnel" and that a bunch of these responsibilities are not currently taken care of. Singletary's staying and this spot likely reports to him.)
There's also an "offensive football analyst" spot that sounds a lot like the video coordinator stuff I know they're already doing with extra snitchin':
7) Monitor team curfew during preseason training camp.
8) Lifestyle monitoring of student-athletes. Monitor off-campus student-athlete housing.
And a "player development" spot which also seems like it will report to Singletary and help him do more.
And even though they didn't get Shannon Turley there's no question that's what Harbaugh wants his S&C program to look like. Michigan's posted a "performance manager" post that sounds like it's at the full Turley/Chip Kelly level of sophistication…
1. Clinical application and administration of comprehensive performance analytics and lifetime wellness services for student-athletes as assigned.
2. Collaborate with Student-Athlete Health and Welfare personnel and coaching personnel to assess training loads, neuromuscular fatigue, athlete readiness, and other performance factors.
3. Collaborate with Student-Athlete Health and Welfare personnel and coaching personnel to develop protocols to monitor and enhance rest, recovery, and regeneration, and athlete readiness.
Say goodbye, kids:
- Ability to work long hours, including early mornings, late nights, weekends, holidays, overtime, non-traditional work hours, extended periods of time without days off, travel, and be on-call as a regular part of the position;
They also posted a "performance nutrition" spot two weeks ago. It sounds like they're fleshing out the support staff—IIRC Harbaugh often makes requests for extra resources in these departments.
Midterm CSBs out. The NHL's Central Scouting Bureau provides an official-ish draft ranking around this time of year, and this one features a particularly prominent set of Michigan-affiliated players. (A reminder: the CSB separates Euro and North American skaters, so multiply a player's ranking by about 1.3 to get an approximate draft position.) They are:
#6 Zach Werenski, D, already enrolled
#14 Kyle Connor, F, Youngstown (USHL)
#34 Brendan Warren, F, USA U18 (USHL)
#70 Joe Cecconi, D, Muskegon (USHL)
#176 Nick Boka, D, USA U18 (USHL)
That's two likely first round picks, a second-rounder, a mid-round guy, and a guy who might go late. Goalie Hayden Lavigne and forward Connor Murphy are the only incoming players not ranked. Murphy was ranked last year whilst tearing up Ontario Junior B, but after a move to the USHL's Chicago Steel sees him with a 10-10-20 line in 33 games he's dropped off the radar—as 5'9" kids who aren't murdering the competition tend to do.
FWIW, if Michigan doesn't add anyone before the summer that might be an indication they expect to return just about everyone they are able to next year. The three incoming F and two outgoing D match Michigan's departures (At F: Hyman, Lynch, Sinelli; on D: Serville, Chiasson) precisely.
Michigan is carrying a longer roster than they usually do, but right now I don't think anyone is going to be in a spot where their NHL team would be encouraging a quick signing. Maybe Larkin, if Larkin wasn't a draftee of the very patient Red Wings. Maybe Werenski if he gets picked by an exceptionally jumpy team.
But it's Michigan hockey so don't believe they're there until three weeks into the season.
UPDATE: I didn't look at recruits scheduled to come in for 2016, so I missed #63 Cooper Marody and #192 Sam Miletic, both USHL forwards.
Jedd Fisch background. He's completely out of nowhere:
While most of the members of Harbaugh's staff have an immediate connection to the head coach, Fisch doesn't.

He met Harbaugh for the first time when he got off the plane in Ann Arbor. However, he does have a long-standing coaching relationship with Vic Fangio, Harbaugh's defensive coordinator for four years with the San Francisco 49ers and one year with Stanford.
Fisch does have a knack for getting good jobs, and Harbaugh's hiring history is impeccable. Hopefully that's a bright young mind in a bad situation kind of thing instead of Kiffin 2.0; I'm guessing it's the former until evidence says otherwise.
While we're on the topic, here's MGoVideo has some Jedd Fisch miked up stuff, including a moment where he yells at Denard. Not, like, Rodriguez-yells. He's much more laid back. So are coked-up hyenas. Why am I talking about this?
Etc.: Soccer alum Justin Meram got a start for Iraq at the Asian Championships. Nine caps and counting. You'll never guess where Pat Forde slots Michigan on his list of winners and losers in the coaching carousel. (If you are deliberately obtuse.)
Hello, MAAR. We're going to be seeing a lot more of you. What OSU did to Oregon, specifically.
It's never the best idea to name your blog after the head coach, but I think The Harblaug will be a good idea longer than Hokeamaniac or the late and unlamented Big & Rich Rod, which I just made up.