Unverified Voracity Had Subs. It Was Crazy.
Most Beilein quote ever. This MLive piece starts with the promise of a 'knock down, drag out party' celebrated by John Beilein in the aftermath of his team advancing to the Sweet 16. This invites questions about what Beilein considers a rager. Questions: answered.
"the (grandchildren) came over, we had a heck of a party -- pizza and chicken wings, it was crazy over there. … It was Patrick's (birthday on Sunday), we had subs. It was crazy."
I've been laughing at "We had subs, it was crazy" for 15 solid minutes.
WE HAD SUBS
IT WAS CRAZY
…
i can't breathe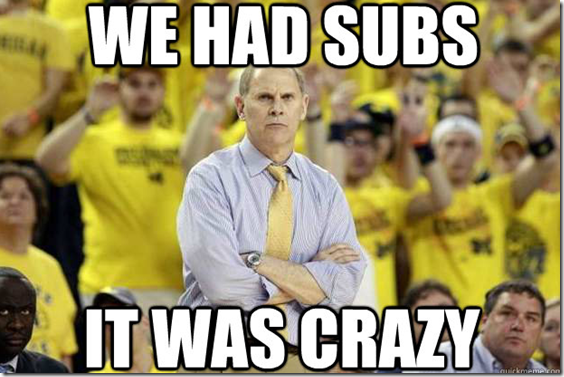 I love this man.
I wish this was more relevant, but it's still a good counterpoint to Brady Hoke's lovely boringness. An already-thin 2012 Notre Dame recruiting class has been veritably gutted over the past few weeks, what with Gunner Kiel, Davonte Neal, and Justin Ferguson heading out of Dodge for various reasons ranging from insufficient chest to excessive baby to whatever Justin Ferguson has going on.
With Tee Shepard's instaflee last spring that hacks out the top four recruits from a 17-member class, something that might be useful if Michigan were to play any of these dinguses as upperclassmen—dollars to donuts Michigan buys out the 2014 game at the last second out of spite.
In any case, Neal's departure gave ESPN cause to recount his bizarre recruiting story:
The Chaparral (Ariz.) High School product waited until 20 days after national signing day to announce his college decision, setting up a morning ceremony at his former elementary school, Kyrene de la Esperanza.

With 600 schoolchildren, friends and family members on hand for the Feb. 21, 2012, announcement, Neal did not show. He made his announcement several hours later in front of a handful of reporters.

Six days later, Neal withdrew from Chaparral and enrolled at Phoenix Central.
In a universe where Michigan was in on this kid's recruitment:
NEAL: [describes setup]
HOKE: You want to do what?
NEAL: [re-describes setup, mentions he's not even going to show]
HOKE: You are under the mistaken impression that we are Tom Haverford. We are Ron Swanson. Enjoy wherever it is you end up, and wherever you end up after that, and wherever you end up after that. Send me your travel memoir.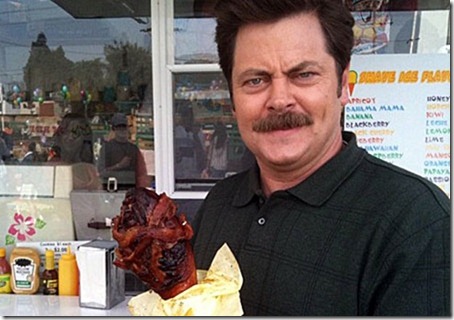 /eats bacon-wrapped turkey leg
Q: Who is the most Swanson? RELATED THING I JUST THOUGHT OF: Brady Hoke has a quality claim to the throne of Most Swanson College Football Coach. Bronco Mendenhall is a contender solely because he is named Bronco, but with Pat Hill and Danny Hope trolling unemployment lines the mustache category is all but moot. Bacon, libertarianism, temperature endurance… a case can be made for Hoke. In retrospect it's surprising that there has not been a Parks and Recreation episode in which a shirt-sleeved Swanson scorns his coworkers during a brutal Pawnee Winterfest blizzard.
I mean, I'm srlsly. From the Pyramid of Greatness:
"Fish, for sport only, not for meat. Fish meat is practically a vegetable."
"Honor: if you need it defined, you don't have it."
"Buffets: Whenever available. Choose quantity over quality."
"Torso: should be thick and impenetrable."
"Frankness: cut the BS"
I'm having difficulty envisioning potential competitors. Orson immediately thought Schnellenberg, who would be a landslide winner if he was still coaching. The only other guy we came up with was Paul Johnson, and while Johnson bests Hoke in certain categories (lack of GAF, old-timeyness, hair helmet) Hoke wins meat hands down.
Oh hello Cincinnati. By 2017 the Bearcats may be a glorified MAC team in a glorified CUSA, but it's still a more interesting matchup than a game against East Nowhere, and Michigan has acquired it for the not-that-princely sum of 1.2 million dollars, and they probably had to throw in a basketball home and home, but I like the idea of that home and home so bully for scheduling.
The UC game continues a new trend in M (and to a somewhat lesser extent OSU) nonconference scheduling where they move past the MAC teams and just buy games against Real Opponents. Michigan's lined up Colorado, Oregon State, and now Cincinnati without offering anything other than cold hard cash. In this case the cash isn't even much more than the going rate for a MAC game—nearing one million dollars at last check. The economics have changed to the point where I expect Michigan will have a one-off home game against a low-level power conference opponent annually.
I WANT TO BELIEVE. Frank Clark has not done all that much so far at Michigan other than get completely lost on basic zone reads and that one fluke interception in the Sugar Bowl, but he's frigging huge now and people are saying mean things about him:
Frank Clark called the 'F'-word, emerges as leader to enter Michigan starting lineup
I feel this is a good thing even if they're not breaking out the swearing. They are apparently not doing so.
Michigan offensive tackles Taylor Lewan and Michael Schofield combine for five years of starting experience. They've seen a lot of football, and can judge talent as well as anyone.

And both, asked open-endedly which defensive lineman provides the most difficult matchup in practice, offered the same answer: Frank Clark.

"He's just so quick. He's got such a quick step, it's hard to handle him. He's a freak," said Schofield, who wasn't the only Michigan player to invoke the F-word.

Added senior defensive lineman Jibreel Black: "Ever since Frank came in here, he's been a freak athlete. It's just a matter of putting it all together."
Yo man let's cut back on the freak talk until the dude accumulates some of those play-type things, but here's hoping. If Clark busts out that'll mitigate a lot of the issues that crop up without Jake Ryan.
Elsewhere in I WANT TO BELIEVE, Michigan is "raving" about Jehu Chesson and Amara Darboh:
Jehu, in one-on-ones, he's just flying by people with his speed," Gallon said. "Doing all these amazing things. You can tell he's learning."

Both are built more in the mold that coordinator Al Borges desires for his pro-style offense: Tall, long and capable of stretching the field.

"Those two have demonstrated in the first few days that they have some big-play ability," Borges said. "They've won a few jump balls -- lost a few, but we haven't lost them all.

"Both of them have really good straight-line speed, particularly Jehu. Amara is fast, too. Amara is feel-fast -- probably more feel-fast than he is time-fast. His time isn't terrible, either."
Well, that's odd. Rothstein has an article about the transition from tackle to guard that quotes Steve Schilling on the challenges:
"When you get in the NFL, you almost have to be able to play, unless you're a starter, you have to be able to play guard and tackle on both sides and a lot of times center also if you want to make it as a backup on the team," said former Michigan lineman Stephen Schilling, who played both guard and tackle. "For me, the switch from tackle to guard wasn't as much as if you were playing the right side the whole time and you switch to left, because you muscle memory gets so used to doing things one way and you have to flip it."
Schilling was on the right his entire career at Michigan. The Hoke regime, meanwhile, has elected to move projected RT Mike Schofield to LG and back and is repeating that progression with Ben Braden. This may be a zone versus power thing: Schilling probably didn't pull more than a handful of times during his playing career. Michigan went to an all-zone system in Carr's last two years; while Rodriguez was considerably less monomaniacal than Mike DeBord, pulling was still a rare occurrence.
Man, everybody is on our jock now. CBS's Matt Norlander previews the South Regional:
Rank the remaining four teams:

1) Michigan

2) Florida

3) Kansas

4) Florida Gulf Coast

Why Michigan will be going to Atlanta ... The Wolverines now have the second-best offense in the nation, scoring 120.9 points per 100 possessions, that number adjusted for tempo. It's really good, second only to Indiana. The Burke factor is huge. I am a sucker for really, undeniably good point guards at this time of the year. Burke doesn't make mistakes as often as Aaron Craft and he's got a better set of tools on his hip than Shane Larkin or Peyton Siva. He'll be huge. …. Overall, the team has as much balance and weaponry as anyone in this tournament. Play a little D, and Atlanta will be the next stop.
That last bit is kind of an issue. He also talks up Stauskas—a bit, anyway. I expect Stauskas to do little against the Jayhawks. While he is Not Just A Shooter™, his midrange game is extremely clunky right now and he won't have a size advantage over the guy checking him. This is a bad matchup for him.
The Michigan chatter has gotten to the point where Bill Self's getting asked about it. Being the sexy upset pick makes me nervous.
It's too bad there is no available solution for this. You may not have noticed but this year's NCAA tourney is heavily regionalized. It's hard to get incensed about this when the pairwise has so much jitter that Notre Dame could have been either a one seed or out of the tournament going into the CCHA championship weekend, but if you're looking for this…
Over the past year, the people that oversee ice hockey within the NCAA, has changed. Last April, Mark Lewis was named "executive vice president for championships and alliances." …

Lewis, among other things, set out to address issues with declining attendance across all NCAA events. Obviously, attendance is relative, but even in men's basketball, there have been more empty seats than there have been in decades.

Essentially, under Lewis, the message coming through is of an emphasis on maximizing attendance at the events. And it's under that atmosphere — whether directly or indirectly — that the men's ice hockey committee operated this year.
…I have one or two ideas about how to make this happen. One: don't put regionals in St. Louis, you twits. Two: home sites for top seeds, you twits. If you decide not to do this, put one (one) regional in or around Michigan every year instead of zero most years and two this one time.
Etc.: LSUfreek gifs the most recent NCAA commercial. Countess confident he'll be back full go. Iowa reaches NIT Final Four by whomping Virginia; conference might have been good this year.
Scoop Jackson still exists! Remember when everyone was so mad about him? Things have changed a lot since then. I know it's not cool to be happy people get fired, but can we make an exception for David Whitley? Not so awesome: congratulations on the soccer story of the year, Brian Straus! Your prize is this letter about COBRA benefits. : (