Unverified Voracity Gets Plunked
Brady Hoke's Pet Viking mgoshirt? Yes, at the WTKA Mott Takeover.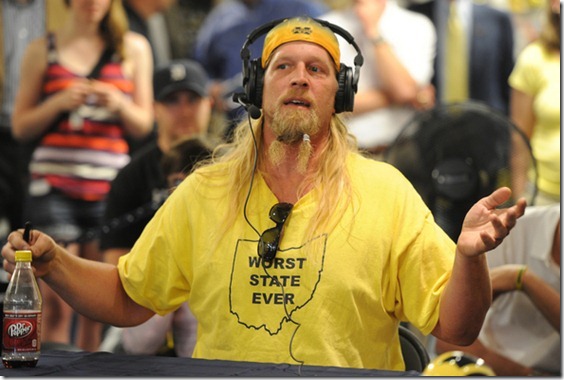 be like Steve Everitt without killing a moose with your bare hands
Steve Everitt forever.
Also, Everitt described bounties surfacing during his long NFL career.
Super-regional ho. Congratulations to the softball team, which dramatically came from behind in their tournament opener, then shut the door on top seed Louisville to win their first road regional in a long, long time. The dramatic finisher in Michigan's second consecutive walk-off win… a hit by pitch. The win that finished the weekend off was a more comfortable 4-0 affair.
They'll initiate what appears to be a series of Michigan-Alabama bragging rights contests in a super-regional in Tuscaloosa next weekend. Winner hits the WCWS.
Yes. Do you believe in improbable sporting outcomes. Go. Go. USA. Pam Ward, deadener of Big Ten noon games since time began, is no longer doing college football on ESPN. This will result in marginal improvement, and probably fewer nasty comments about injured players.
Since ESPN started shoehorning Beth Mowins into college football games she didn't seem to know much about last year, the emphasis is on marginal. Insanely fun things were happening in the Northwestern-Illinois game last year and she busted out "it's a Persa party in Champaign!" I'm pretty sure this is not plain ol' misogyny and I have good reason to think both of the female announcers put on Big Ten games are not so good.
He's pretty fast. That would be Jehu Chesson, the lanky 6'3" wide receiver from Missouri who signed in February. The main knock on Chesson was his speed, something his recent track exploits are bringing into question. Chesson won the 300M hurdles (37.73), 110M hurdles (14.55), and 100M dash (10.79) at his sectionals. As mentioned, he also wears cool sunglasses doing this.
According to the recruiting rankings, Michigan hasn't done as well at wide receiver as they have at just about every other spot on the field, but I wouldn't be surprised if that was not a problem during the careers of Chesson and Amarah Darboh.
Yes, do it. The plausible deniability that saw Butch Davis emerge from the UNC NCAA scandal without a show-cause penalty despite the fact that one of his assistant coaches was operating as a runner for an agent may go away in the near future:
Under the current NCAA bylaw, a head coach is "presumed" to have knowledge of what is occurring in his program and "can be responsible" for the actions of his assistants.

The proposed change would do away with presumption. It would make the head coach responsible for his assistants' actions regardless of his knowledge of them. The penalties would range from 5 to 100 percent of competition in a season.

The NCAA included in the discussion material some examples of behavior for which a head coach would be held accountable, such as in-person, off-campus contacts with a recruit during a dead period, providing team gear to a recruit, or multiple phone calls or contacts when they are not allowed.
This is part of a larger overhaul mentioned a few months ago in this space that could see penalties become predictable and massive, but right now that's a long, long way from becoming reality. It's in the "special committee" stage—ie, a spitballing group throwing stuff at the wall without considering how feasible passing it is.
Not enough data, so everyone makes big. Ex-NFL players are dying at a rate half that of the general population after they retire and are 59 percent less likely to commit suicide. May want to slow down on the concussion panic. Small sample size disclaimers apply to that study, but they apply just as much to the panic side of the equation:
We don't need the CDC numbers to tell us that the national debate over head trauma and suicide has long since outpaced the scientific evidence. Just a handful of cases so far support the notion that repeated head injuries (concussive or otherwise) can lead to drug abuse, aggression, and self-harm. No one knows the baseline rate of chronic traumatic encephalopathy among athletes, let alone the general population. No one knows whether the pathological signs of CTE—microscopic spots in the brain, found after death—relate to behavioral symptoms like dementia and depression. And no one can explain how repeated knocks to the head might produce CTE, or how CTE might produce suicidal thoughts. Yet in spite of our near-total ignorance, a moral panic has taken hold: Elaborate explanations are concocted when simple ones will do. Faced with the regrettable facts—a troubled man dies a lonely death—we resort to hocus-pocus theorizing about tau proteins and fibrillary tangles. It's a form of denial: By obsessing over hidden trauma, we ignore what's right in front of us. Many ex-NFL players have sad and difficult lives.
The concern over concussions is taking the usual route of a moral panic, where some stuff happens and some tenuous data connects things to stuff so things are condemned because stuff is bad. Then some more people look at other data and say things might not be that connected to stuff after all, and everyone moves on to the next thing. See: alar, fat people, etc. This is the phase where the noise overtakes the signal and Something Is Done that may or may not affect a problem that may or may not exist.
BONUS: ex-NFL players are really good at not getting tuberculosis.
We have a second challenger. Patrick Vint of Black Heart Gold Pants takes a swing at defending the Big Ten's retreat from home playoff sites. The argument boils down to "remember the last time we all taunted Jim Delany?"
Everything Jim Delany has done as commissioner of the Big Ten -- especially since the summer of 2007 -- has been in pursuit of long-term advantage to the conference as a whole, and its individual teams only by way of that. The Big Ten Network was supposed to be a money-losing catastrophe that nobody would watch and even fewer would pay to see. After a year and a half of publicly negotiating/ridiculing/screaming at Comcast and Mediacom, Delany had transformed it into a massive cash cow, making the Big Ten schools richer than those in the SEC, the Big 12, the Pac-10, and every other conference. When the SEC responded by signing a big new TV deal with ESPN, it still didn't make the Southern schools as much money as their Northern rivals.

Delany used his newfound financial leverage, and a not-so-subtle call for expanding the conference, to bring the biggest collegiate sports programs in the country to his door. He damn near disemboweled the Big 12 in the process, causing an insurrection that fired Dan Beebe and landed Nebraska within his conference's ranks, all while we were all losing our minds over Rutgers and Pitt. When the Nebraska regents voted unanimously to cut ties with 100 years of tradition because the financial pull of Big Ten membership was too great to deny, Delany was there, emerging from behind the curtain and shaking hands with Osborne and Perlman like Hollywood Hogan joining the Outsiders. A year later, Delany's SEC rival was picking up Big Ten reject Missouri to fill out his own expansion process, an expansion that made his conference exactly zero more dollars and done solely because the Big Ten had done it first.
It's a good point. Vint also notes that the difference here is four Big Ten home games since the inception of the BCS, which is not a big huge deal.
Where he loses me is with the assertion that the Big 12-SEC Never Happening Bowl is the revelation of the master plan:
Delany gave up on four home games in fourteen years, but what he got was hard to understand -- we already had the Rose Bowl, after all -- until the SEC and Big 12 announced their own end-of-season bowl game Friday. With that, Delany's plan became evident. With the conferences poised to create a four-team tournament (as Delany and his athletic directors repeatedly stated this week, the four-team maximum is a deal-breaker) within the confines of the bowl system, Delany, Slive, Larry Scott, and whoever's running the Big 12 now, as heads of the four premiere football conferences, had just effectively locked themselves into the final four. More importantly, Delany had locked out the ACC and Big East (and Notre Dame, for that matter), the other two BCS bowl games, and the distinct possibility of two teams from the same conference making the tournament. There will be four champions in the playoffs, and with the two semifinal bowls effectively set as the Rose and (presumably) SEC-Big 12 Sugar, Delany has ensured that a Big Ten champ will be one of them. That's fourteen spots in fourteen years, with none of them in an opponent's stadium (unless UCLA makes it to the Rose Bowl) (LOL).
Um. The Big 12-SEC game is specifically around in the event that the champions of those conferences aren't in the playoff. There is no bracketed final four that cuts out the ACC or Big East. So… what we're left with is the Big Ten giving up the idea because the… because it's… because the Rose Bowl. There is no way the BCS cuts out smaller conferences, because they'll get sued. Virginia Tech, Miami, and Florida State? Forget it. Notre Dame, if Notre Dame is ever relevant again? Come on.
Protecting the Rose Bowl at all costs is just another example of why the Big Ten finds itself where it is relative to other conferences: richer, but unable to leverage that wealth into on-field success.
Etc.: Get the Picture notes that the Ed O'Bannon lawsuit survived a motion to dismiss and seemingly got some support from the judge for the larger trial in the process. Expect more Gardner this fall. Other Big Ten ADs think playing at home is a good idea. Rob Bolden may finally be exiting Penn State.