Unverified Voracity Found This Too Late
Source needed, but too good to pass up. This image is awesome.
Message board random who posted this only linked to imgur, so it could come from anywhere. UPDATE: Melanie Maxwell of MLive is the photographer.
Burke is of course going WHEEEEEE, and  then the Michigan State folk from L to R are going "welp," "welp," "welp," "I am terrified of all things," and "welp."
All the better to rip your heart out. Burke called his shot with McGary earlier in the game:
Michigan forward Mitch McGary said Appling used a spin move earlier in the game, which Michigan won 58-57, and Burke told him exactly how he was going to swipe the ball.

"He told me whenever (Appling) spins, he puts it in his right hand and it's an easy steal," McGary said. "Tim and I were just hoping he didn't hang on the rim."
Note that if it didn't work Appling would have had a choice between pressing the opportunity presented and giving Michigan a last shot of their own or holding for the final shot—it was an excellent time to go for broke.
Champions are made in the hot tub eating pizza. Greg unearths this great shot of Michigan kicker Bob Bergeron eating pizza in a hot tub that made SI:
He got to keep the pizza. Wild west back then.
CIVILIZATION. This is the end of it. There is nowhere to go but down from this.
Or this.
Gritalanche. It was a gritclone on Saturday. A toughdome.
Michigan's Mitch McGary provides much-needed energy, toughness off bench against Michigan State
It was a tickertocker.
Michigan shows its heart in critical win over MSU
It was a toughygritintestinalblockage.
Michigan finally shows grit, toughness, desperation in gutty win over rival Michigan State
It was a basketforge.
Trey Burke, Michigan show mettle in win over Michigan State
To be fair, John Beilein started it:
"We've had some real pretty wins here, where we did everything right and the ball went in and we just played lights-out," Beilein explained after the win. "Today, it was all about grit."
Michigan allowed Michigan State to rebound half of their misses. Congratulations to Mike Rothstein, who did not play along.
Burke steals a signature win for Michigan
Or at least his headline writer. You never know who does those things these days.
Make sure you use the right block M, as long as it's some shade of blinding yellow. Via Kyle Meinke, Michigan's persnicketiness about the block M: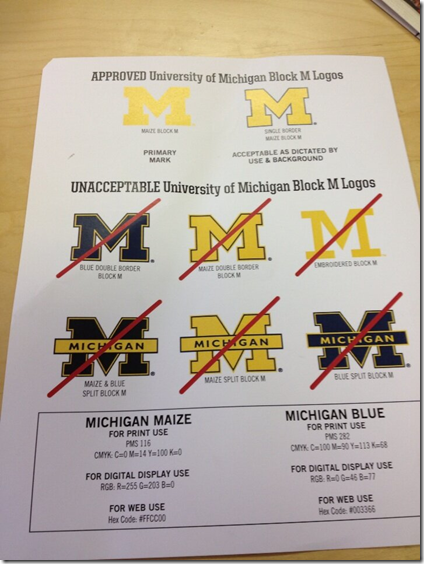 I'm fine with this. Persnicketiness is good with the whole branding thing. but don't try to tell me that that color maize represents the colors Michigan is using on their uniforms these days. Y'all need to get your persnick on more.
BONUS: Hey, #FFCC000 is what I settled on when I was eyeballing what maize was way back in the blogspot days. I was off on the blue, using #000022. This portion of the post brought to you by things no one cares about but me.
Tiebreaker scenarios. The events of last week have caused an enormous hairball in the Big Ten standings below Indiana. Michigan actually has a not-infinitesimal shot at the title since Indiana finishes with Ohio State and Michigan. These teams are still in the hunt:
Indiana: share clinched. Win outright by winning at home versus OSU or @ Michigan.
OSU: win out (@ IU, Illinois), Michigan beats IU
Michigan: win out (@ Purdue, IU), OSU beats IU
Wisconsin/MSU: IU loses out, win UW/MSU game, don't blow last game against low-level opponent.
The chances are not good, but they're not zero. You may shake your fist at the Wisconsin and Penn State games now. In the event that a bunch of teams tie at the same record, Michigan is hurt by going 0-1 against Wisconsin (grrr) and often loses the tiebreaker and gets stuck without a bye in the first round of the Big Ten tourney, playing (grr) Penn State. If Michigan finishes 12-6 in the Big Ten that is at least a 50/50 proposition.
Lolizzo. Classic "my players destroyed the universe, but it's my fault" line:
"We were looking to get Gary a shot at the top of the key or to Keith and we didn't run it right," Izzo said. "We had a couple of freshmen in there that struggled with it. That was my fault."
Izzo : "my fault" :: humans : "just sayin'"
Also.
MINUTES FROM FRESHMEN, M/MSU, 3/3/2013
Michigan: 93
Michigan State: 72
Etc.: Wojo thing. Everett Cook on setting the trap. MSU highlights reveal glorious 57-0 victory for the People's Team. Five Key Plays.