Unverified Voracity Finds Out How Low JoePa Can Go
RC Slocum, man about town. This doesn't have anything to do with anything but here's Joe Paterno doing the limbo: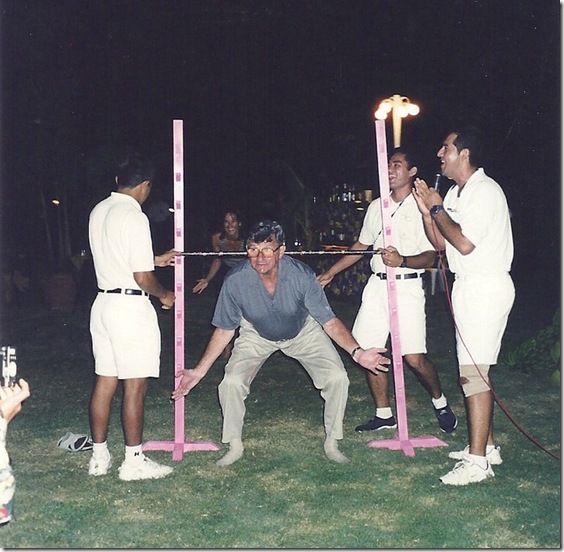 Sort of, anyway. I don't think you're supposed to go that way. Paterno probably thinks going backwards is a Hun affectation. Also prepare for the OBC to burn himself into your retinas: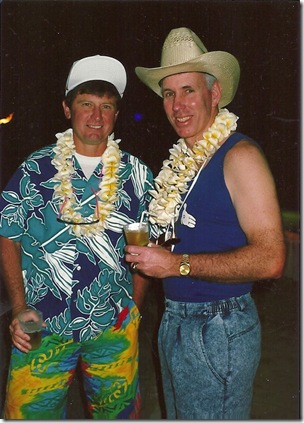 These are from a recently unearthed cache of photos of former Texas A&M coach RC Slocum that features both Gorbachev and Mathew McConaughey, although not in the same picture. Barking Carnival theorizes that Slocum is the most interesting man in the world, and it's hard to disagree. Gorby!
OTL on oversigning. ESPN's put out what's hopefully part one of an extensive series of interviews with college athletes who have been screwed out of scholarships and swept under the rug. It's LSU again:
So Les Miles…
Runs a program that oversigns and cuts players who don't seem useful.
Doesn't bother to tell players they've been cut in a face to face meeting.
Relies on someone else to send a letter to the kid.
Refuses to meet with the kid after he's received the bad news.
Baldly lies about the kid at media day.
Then Elliot Porter shows up and says he had to be a man about getting cut by Miles, demonstrating more maturity than his erstwhile head coach. Unfortunately for those of us making huge "Please Be Our DC, Randy" signs for the bowl game, Randy Shannon's rep as an awesome dude also takes a huge hit.
Not to beat this dead horse for the thousandth time, but this is some bullshit right here and should be a major target for reform. ESPN's doing the Lord's work, and I hope they continue.
The inevitable redshirt. To reiterate something from Tim's presser recap, Devin Gardner's back problems held him out of the last eight games and have set him up to take a (surprise!) redshirt this season:
"His back has been better, and he's been able to do most of the stuff today," Michigan coach Rich Rodriguez said Saturday.

Should a medical redshirt be granted, Gardner would, in theory, have two years to hold the starting quarterback job. Denard Robinson is penciled in as the starter through the 2012 season.
Yes, the nature and timing of Gardner's injury is unbelievably convenient, but if they've got documentation they've got it and the NCAA will have to grant Gardner his redshirt. We should all go back and undo the Great Gardner Non-Redshirt Infighting, since it looks like Michigan's going to have its cake and eat it too… unless Rodriguez gets fired and everyone transfers and we're starting Jack Kennedy next year.
Gwaltney in repose. A Bruce Feldman article on well-travelled former blue chip recruit Jason Gwaltney, who I remember openly campaigning for Rivals to raise his ranking as just another message board plebe, has a random quote about Rich Rodriguez($):
He says he did learn how to practice full-speed from his days at WVU. "They chiseled that into my brain," he said. "Coach [Rich] Rodriguez instilled something in me. I still owe that man a lot."
Gwaltney ended up at a D-III HBCU in New Jersey and is in an upcoming all-star game with fellow spectacular flameout Fred Rouse. His brother Scooter Berry was an afterthought throw-in but developed into an All Big East defensive lineman as Gwaltney toured the lower divisions of college football, so he's got an obvious what-could-have-been in his own family.
Hello Georgia? After UGA's athletic director was pulled over for DUI with a girl in the passenger seat and her panties in is lap, UGA has a new athletic director. His first scheduling actions were cancelling games against actual opponents that the old guy had put in place, so it seemed like Georgia's brief glastnost period wherein they were prepared to end their infamous policy of never leaving the South was over. This, then, is a surprise:
Preliminary discussions have taken place with Michigan, Notre Dame, Ohio State and Penn State about the prospect of one or more of them scheduling a home-and-home series with Georgia in the future, UGA athletics director Greg McGarity confirmed to Dawgs247.

"We'd love to do a home-and-home with a Big Ten or Midwestern school that has a rich tradition," McGarity said. "We're going to work as hard as we can to make that happen.

"Hopefully, within the next year, we'll be able to have something in writing."
Georgia and Clemson have a series that extends until 2014, so any series would have to wait until at least then. McGarity says the series would be "way down the road" so one school or the other would have plenty of time to cancel it.
Would Michigan be interested? I'd hope so. Dave Brandon's already set up a neutral site matchup with Alabama that's slightly cool but also thousands of miles from either campus in a generic, if swanky, corporate stadium. From a fan's perspective having a home and home with Georgia is way cooler than a one-off in Dallas. From a financial perspective not so much—Michigan's getting a home game's worth of revenue from the Jerryworld game—but money isn't everything and Michigan needs something to spruce up the schedule in years when Nebraska, Ohio State, and Notre Dame are all road games. Of course, "sprucing up" the schedule in those years means "making it brutal," so maybe not.
Would they be more interested than the other three schools listed? Probably not. I'd bet Michigan is the least likely of the four to actually land a series with Georgia. Because of their Notre Dame series they have to work in games against actual opponents where they can; Penn State and Ohio State don't have any annual commitments and Notre Dame has to fill twelve games every year.
Limbo update, or backdate, or whatever. Yesterday Tom's recruiting post quoted Darian Cooper saying Tony Dews told him Michigan coaches would "know January first" whether they'd be around next year. Recent commitment Desmond Morgan was told something similar with more confidence but something less than rock-hard certainty:
"I've talked with coach Rodriguez and the rest of the coaches and they're pretty confident he's going to be there after the season," Morgan said. "I'm pretty confident as well. No matter what happens, Michigan's a great football program."
So that's Morgan and Countess in the boat no matter what. Picking up two commits during this time of uncertainty is a nice insurance policy against the uphill battle a January coaching change would see the new guy fight.
Bang-bang. Soony Saad's been called in to the U20 team, whereupon he scored in a dismantling of Canada and essentially announced he'd be back for 2011:
Philadelphia Union striker McInerney scored in the 50th minute while Saad also notched an impressive 25-yard half-volley score in the 34th.

It's nothing new for Saad, one of the top strikers of the ball in the country, who helped lead unsung Michigan to the College Cup as he was named Big Ten Freshman of the Year. "It was nice being in camp. It was kind of a tough adjustment coming off the college season," he said.

When the subject turned to the College Cup, where the Wolverines suffered a semifinal loss to eventual champion Akron, Saad declined to comment.

"Not until we win the College Cup next season," he said.
The usual disclaimers apply.
Etc.: Zac Ciullo comes in for an extensive profile in the News. Random New Yorker poem about Michigan. Jason King drops some positive fluff about the basketball team along the same lines as my column but with far fewer references to the DOS command line. Might want to update that photo, though.