Unverified Voracity Dons Swag Glasses
The great coach smackdown of 2013. Sound Mind, Sound Body—an offseason camp that is set up such that college coaches can go—is too good to be true and will flame out in the near future when sixty other camps imitate it and the NCAA closes the loophole. But for now, we get things like Michigan coaches doing drills right next to Ohio State coaches that can be bothered to show up.
This is the setup for an uncomfortably hilarious moment. Mike Vrabel gets done with his drill segment early, badgers Mattison about finishing his bit when there's still time on the clock before the next rotation, and Mattison Is Not Having That. Via Sam Webb($):
"How about you coach them as hard as you can for as long as you have them?" Mattison yelled back tersely.  "YOU GIVE THEM EVERYTHING YOU'VE GOT!!"
Mattison then donned his swag glasses and told Lawrence Marshall "that's why you don't go to Ohio State, Lawrence."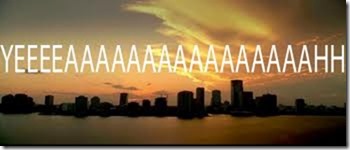 There's a great Greg Robinson story behind that paywall still.
Run, don't walk. Outside of paywall is a terrific article by Mike Rothstein on the basketball program's unique approach to recruiting, in which Michigan offers only after June 15th of a prospect's junior year and maintains a sedulous respect for the process of getting to know kids.
"I'll throw this at people," Jordan said. "'What's your mom's name?' Because there's a curiosity of why haven't you offered. 'How many brothers? How many sisters? What's your family like? Have you considered the fact that we don't really know each other, but there is a desire for a scholarship offer?'

"So now it's like, 'OK.' It's the education."
It does seem like the Michigan offer is now something that means something, unlike a number of other schools.
There's another, almost unintentional, byproduct. By having prospects wait for an offer and go through myriad steps, Michigan has created more perceived value around an offer from the school. Instead of just another scholarship offer on a list, it is one the player had to work for.

"To see that they still wanted to offer me, it meant a lot after recruiting me for a year and seeing how well I developed and saw how much potential I had," Irvin said. "That was really special to me."
Rothstein noticed that Beilein often goes after kids who are young for their grade—Caris LeVert is a recent prominent example—and got shot down when he asked the coaches about it. So he's on to something there.
Brady Hoke problems. ESPN gives Maurice Ways a fourth star, which means the list of current commits eligible for this site's Sleeper of the Year designation reads:
If I have to I'll open it up to kids who got just one four-star ranking, which opens the door to a whopping three guys at the moment: Ways, Chase Winovich, and Wilton Speight.
ESPN also moved Drake Harris up 25 spots to 71st; the rest of Michigan's commits had insignificant drops of a spot or two.
Sense. And sensibility. And zombies. This bowl news is trickling out so gradually it begins to remind me of the Big Ten's realignment, which was announced weekly for two months. But I think one of the priorities fans had was being able to you know, watch the Big Ten's bowl lineup and Delany has confirmed that is something on the docket:
"I think what you'll see is a truly national slate of bowls," Delany said. "I think you'll see us probably stronger on the West Coast than we've been. You'll see us as strong in Florida as we've been, but probably not as much on New Year's [Day]. I think you'll see us in Texas, and you'll see us with some games in our region, some games on the East Coast. I think it's going to be a great slate. We've made a lot of progress."
Also, the league is about to force bowls to take at least five different teams over the next six years, so no Yet Another Orlando Trip. I'm a little leery of that. The impulse behind the idea is a good one but that threatens to screw with bowl matchups.
Finally, a chorus of angels sounds from above!
"We've been trying to create a model that's more realistic," Delany said. "We'll take fewer, better tickets. If that means the payouts have to come down some, that's OK. Because it makes no sense to overpay on tickets, over-commit and find out you're really subsidizing the bowls, financing your own game."
I'm going on six years of bitching about this. No more. Freedom! (Have I told you how terrible the scholarship model is?).
Could make the West more… nahhh. Tim Beckman picks up Oklahoma State transfer Wes Lunt, who started six games as a true freshman for the Cowboys. Michigan won't see him unless Illinois rotates onto the schedule in 2016, but the addition of a quality quarterback could make the Illini the scariest 4-8 team in college football.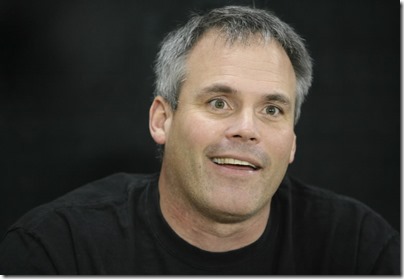 The one time when a coach really could claim to block a player's transfer for their own good, and Gundy doesn't. ¯\_(ツ)_/¯ –edsbs
Just once, Illinois, you could try looking at a photograph of the guy you're hiring before doing so. Then you would not hire the people you hire. I challenge anyone to find a picture of Tim Beckmann that does not beg to be captioned "derp" or "hurrrr durrrr" or "is what how can do?"
NOPE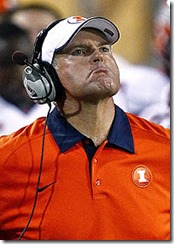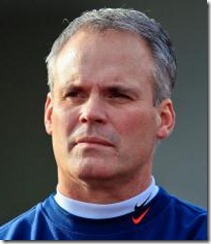 NOPE NOPE NOPE
Okay guy. It must be brutal to write something for a newspaper in June, but uh.
Freep Guest Column: Alternate jerseys and helmets continue to impress recruits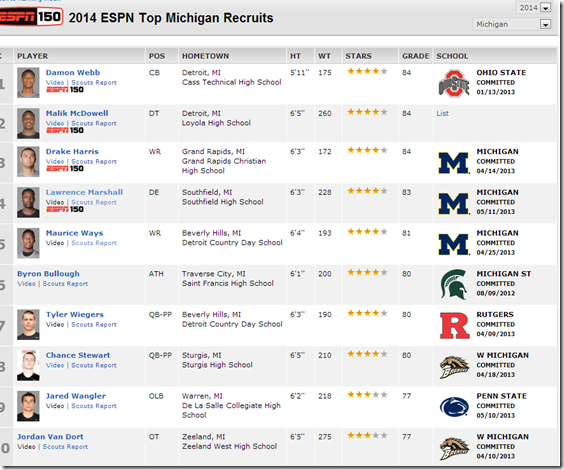 I don't think it's working. Next time put actual fireworks in the helmets?
Gant move confirmed. Brady Hoke confirmed that Allen Gant was now at SAM, stating thusly:
"He's a rangy guy and he's got length to him," Hoke said last week. "His body has the opportunity to put weight on, the structure and the genetics of the body.

"I think that's the biggest part of it."
If he tops out at 230, think Stevie Brown rather than Jake Ryan.
We missed this, but it's a little explosion-y so let's just do it now. Sam Webb puts out a Da'Shawn Hand article about two seconds after I do a final scan through my RSS feed for the recruiting roundup. Well played.
Most of it is stuff you've heard before about Professor Needs A Raise and how the Michigan staff is his favorite staff. But while I think a version of this quote was in a video somewhere this is the first time it's in text:
"My goal is try to make a decision before December," Hand reported. "At first I was going to stretch it out, but then after talking with my pop -- we kind of had a heart to heart -- I kind of have to make up my mind. It's a big decision, but at the same time I kind of have a gist of knowing where I'm going, but I ain't gonna say that."
GO LITTLE GUY GO. RUN IN CIRCLES. YES. GO.
Etc.: Books to read from Smart Football. MC79 on data versus feelingsball.