Unverified Voracity Directs Carving
Pumpkin patterns! Last year, reader Matt Lipshaw sent in a picture of a pair of jack-o-lanterns carved to look like Bo and Lloyd. The picture's a little fuzzy but you get the idea: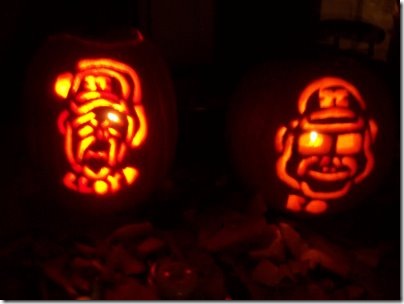 A couple weeks a go I serendipitously ran into this reader whilst waiting in line at the Blind Pig; he introduced himself and mentioned this interaction we had; I suggested he forward along the patterns so that others could have a very Wolverine Halloween, and he kindly obliged. Here they are; click the pictures for mondo original versions. You might have to resize them depending on how mondo your pumpkin is.
Lloyd's a little stressed.
Back in the saddle. Darryl Stonum will play tomorrow:
Freshman Darryl Stonum, out last week for an apparent violation of team rules, will play Saturday, Dews reported. Rodriguez said Wednesday he still wasn't certain whether or not Stonum would go, but the decision to play him was apparently made today.
I don't think we'll see Odoms from the sounds of it.
Run chartin'. GS has your run chart. Michigan checks in with a zero, which
is very disappointing given the shredded cheddar the Illinois defense had been to date.
is pretty high given the run game's output, indicating there were a lot of schematic issues.
includes a +6 from Moundros.
Moosman is your second-best blocker, FWIW.
Drop the puck. Hockey gets it on for real tonight against the St. Lawrence Saints (We're Saints!)*. St. Lawrence was a poor ECAC team last year and Michigan is favored to win both nights.
Yost Built has ten things to know about the Saints. Sounds like we might see a soft goal or two:
Remaining are juniors Kain Tisi and Alex Petizian. Tisi was 1-5-1 last year with a 2.73/.884. Petizian went 4-5-1 with a 3.48/.884. Petizian did play in 29 games as a freshman and went 19-9-1 en route to the NCAA Tournament.
Bork. Bork. Bork. Let's git it awwwn. COMMMME TO PENN SHHHTAAATE!
*(Stolen from Yost Built, but he sort of stole it from me so this is all very recursive.)
Etc.: The WLA notes our rampant domination of the state of Ohio.