Unverified Voracity Catches Up With Kelly Baraka. Yes, Again.
Baraka Obama-a. Remember Kelly Baraka? Unless you're an old-school M recruitnik probably not. If you don't: he was supposed to  be a total ninja RB before a number of high school pot arrests saw him lose his shot at an M scholarship. He never made it anywhere else and has regularly featured in "where are they now?" features end up with the Kalamazoo Xplosion, a minor league football team. Not that you needed me to tell you that with a name like "Xplosion."
Yeah… anyway. About that ninja bit:
LeGarrette Blount ain't got nothing on Kelly Baraka.
Video revamp. Inside Michigan Football sans browser-crippling software:
Schilling's beard is a confidence-building one.
Slings and arrows. The Mathlete takes a look at luck over the past two years in the Big Ten and nationally, re-running last season based on performance-adjusted PPG metrics and slicing out some of the huge swings from random plays like fumbles (he leaves in interceptions). Unsurprisingly, Michigan hasn't been on the kind end of things: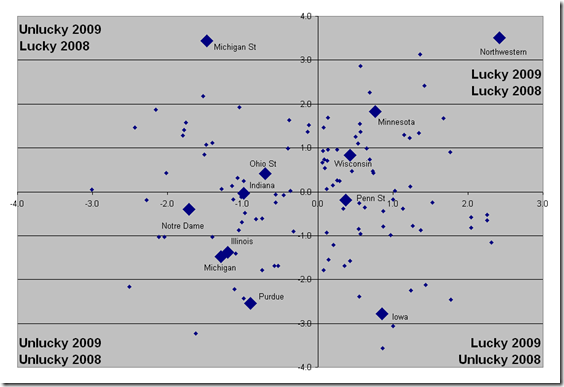 I had some questions about whether this "luck" factor was really luck, but there doesn't appear to be any correlation between excellent teams and good fortune. OSU and Penn State average out to be basically even. Iowa nets out around –2. Michigan State's 9-3 2008 team was the second most-fortunate in the country that year, something that checks out in the statistics. It passes a cursory sanity check.
So, then: Northwestern is your official Big Ten lucksack with Minnesota a distant second. If I'm reading the graph right, the Wildcats have been the luckiest team in the country two years running. The negative outlier for 2009—that dot sitting right at –3.0 on the y axis—is Oklahoma, by the way. Not that you needed to be told that a seven-win Stoops outfit suffered its share of outrageous fortune even beyond the Bradford injury.
One stop scouting. The NTDP moved to the USHL this year, which the NHL scouting community loves. Previously, the development team had puttered along in the NAHL, in which draftable prospects are few and far between. Now they're in the USA's premiere junior league and scouts are going "eeee":
"The whole design of the program has given us the selfish benefactor of comparing the Under-18 team on one weekend against the University of Michigan and older players, and then watching them against their group peers the following weekend. But because this is such a select team, an elite team, we think that the elite 18-year-olds should be able to compete against the 21- and 22-year-olds who were not selected in the draft. Those players are older and more savvy but for some reason were passed over."
This should help the NTDP hold on to some of the elite Americans they've lost in recent years. (Example: Stefan Matteau, son of longtime NHLer Stephane Matteau, has accepted a slot according to Michigan Hockey Net.) The 2011 NTDP is a relatively motley bunch. Michigan hasn't recruited anyone from it, a rarity these days. That will change for 2012, as Michigan will have at least two on next years U17s. Boo Nieves is a holy lock for the team and Heisenberg says Connor Carrick has already accepted an invite.
Anything that helps the USHL get on even footing with major junior—something that point equivalencies and NHL alumni suggest is in the process of happening—is good for college hockey.
More Brandon panting. David Brandon loves America:
"Expanding the tournament, I believe is a bad idea … there are certain things that if they are not broke, don't try to fix 'em. If there is a better, more outstanding platform out there than the NCAA Final Four and basketball tournament, you have to tell me what that is."
Not that this matters as the 96-team tournament becomes a foregone conclusion. I can't wait for that 9-24 matchup that will determine who has the right to face at eight seed. Guh.
While I'm on Brandon, contrast Michigan's hiring process with the fiasco that went down in Eugene after Mike Bellotti was presented a $2.3 million going-away present after accepting a job with ESPN:
[Oregon president Richard] Lariviere made two things clear: that he initiated the change in leadership and that university officials made missteps in dealing with Bellotti's contract that no longer will be tolerated.

"This institution did not follow acceptable business practices in the past," Lariviere said. "That will not be repeated by my administration."
Makes the hundred grand or whatever Michigan spent vetting candidates seem like the chump change it is.
Lariviere fired Bellotti because of an "increasing need for strong financial and business management"; the ESPN job was a late development that seemed to allow all parties to save face. (Then it blew up in their face, but it was a nice try.) The trend in athletic directors is clear: CEO types.
Walk it back. Notre Dame AD Jack Swarbrick has read enough livid emails about Notre Dame's national cachet and the potential damage to Catholicism that would result from Our Lady joining up with those secular hooligans and is now changing tack on Notre Dame's role in Big Ten expansion:
That, Swarbrick insists now, was not a signal that Notre Dame is more open to finding a home for football in the Big Ten or any other league.

"The only things that could make it happen are the sorts of radical change in the industry that would cause upheaval and impact a lot more (schools) than Notre Dame," he says. "You wind up with only three conferences. You wind up with two tiers of conferences. Now, all of a sudden, it's not three divisions in college; it's four. It's the big change.

"I don't see that happening."
Please reduce your ND-to-B10 DEFCON to 85. Swarbrick adds:
"I really do believe strongly that we're sort of uniquely positioned to continue to chart our own course."
Sort of uniquely positioned? DEFCON back to 84!
In other Big Ten expansion news, Barnhardt writes about a 16 team Big Ten, spurring another round of PANIC duly shot down by DocSat, resurrected by the St Louis Post-Dispatch and OSU athletic director Gene Smith:
"I believe that if we expand, you probably ought to look at more than (just adding a 12th school)," Ohio State athletics director Gene Smith said.

Stressing that was his opinion and may not be shared by some colleagues, Smith added that he believed the impact "would be pretty massive."
A sixteen team Big Ten is stupid. I complained earlier that an expansion to 14 would see Michigan play Penn State 29% of the time; going to 16 would drop that to 12% (eight conference games) or 25% (nine). That's not a conference any more. The only way it could work would be to adopt promotion and relegation. Whenever I bring this up people point out that the radical swings in team quality characteristic of college football could doom very good teams to irrelevance, and they're right. But it makes more sense than pretending to be in a conference with a team you play once every eight years.
If you're going to expand like that, I think 15 is the number. My completely bats proposal for a 14-team Big Ten is mathematically unworkable, but if you add a 15th team you can break the conference into three divisions of five that play each other and two (or possibly three) opponents in each of the other divisions, and then you can have relegation/promotion crazytimes at the end of the season. This will never, ever happen.
I'm hoping this is all a game of chicken to convince Notre Dame to sign on the dotted line. Expansion of the Big Ten past twelve teams is an idea on par with a 96 team NCAA tournament.
Reviews of a mixed variety. Local scouting service "Best of the Best" returns from the MSHAA playoffs with impressions of a number of players, three of them relevant to your interests. Isaiah Sykes:
He doesn't have a jump shot to save his life, but you'd be hard pressed to find a better finisher and slasher in the 2010 class statewide. Also drop dimes like a 5'9 PG. Terrific rebounder, and is great at getting the defensive board and starting the fast break and making something positive happen with the basketball. High majors are recruiting him, and it's warranted, would be a good late pick up for any up-tempo college team.
Carlton Brundidge:
He's already committed to Michigan, but I don't know if he'll be successful in that system. In order to succeed at the highest level, picking the right system will be a absolute necessity for him. At the end of the day, he's a SG, and that's the bottom line. He produces and gets the job done, at that's what every team needs. He's a very good finisher for his size at the high school level and he can score in bunches when he gets rolling. All in all, his upside is limited in my opinion.
Decidedly negative, that. Hopefully he can develop a jumper over the next year and a half. Finally, Amir Williams:
A defensive phenom no matter the game because of his length, size, and timing, his effect on the game will be felt no matter what. He is also a hungry rebounder, who attacks the glass. Those are two big positives that you'd like every big man to have in their game, once the offensive part of his game becomes more consistent, we could be looking at another McDonald's All American out of the Country Day program.
Etc.: Rich Rodriguez's most recent presser in youtube form: part one, and part two. TSB unbreaks One Shining Moment. Dienhart surveys the explosion in assistant coaches' salaries.