Tuesday Presser Transcript 10-11-11: Coordinators
Al Borges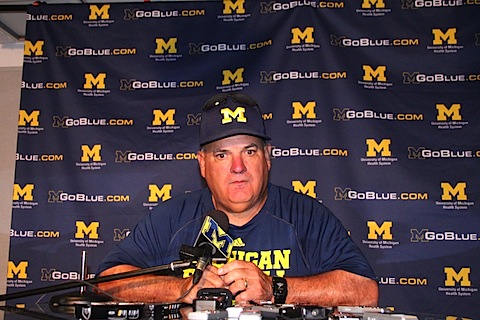 File photo by Tim. Because today was a hat day.
Did you have to make significant adjustments at halftime, or was it more just settling down and refocusing? "Well, yeah, there's some adjustments. There's always some adjustments. But I think for the most part in the second half we kind of stuck with the plan, we just didn't turn the ball over. That's really the difference. When we didn't turn the ball over, we were much better. Everybody is. That's not news. We did a couple things differently, but I think sometimes halftime adjustments can be a little bit overrated. Sometimes they're not. Sometimes they're critical."
Denard said he was just too excited on some of his throws. How much of an issue is that for him in that kind of environment? "Yeah, that can happen to any quarterback. He's not the first guy to have that happen to him. He was fired up. He's coming off a really good game, and he really wanted to show up and kind of pick up where he left off. Eventually he did. Early on, when he had a little bit of early trouble getting into rhythm. Once he did, he was really good. We just have to limit our mistakes to incomplete passes. Because incomplete passes -- you can recover from incomplete passes. But when you turn the ball over that hurts a bit more. He knew every time the mistake he made. We went over the tape and doggone it we beat it up one side and down the other. I think he's getting better. He really is. Other than the turnovers, but in terms of his passing, and his fundamentals were improving. Hence his numbers were gradually going up a little bit."
(a lot more after the jump.)
So these are mistakes things that he can identify immediately coming off the field? "Usually he does. Usually. Most guys are like that. When they throw the ball bad or make a bad decision or step wrong, they can darn near coach themselves. Now I never assume that, because it's my job to make sure it's corrected, but by the same token, a kid that's as prideful as he is, when he makes an error, he already knows what I'm going to tell him."
How have you coached quarterbacks in the past when they get too excited? "Every guy's so different. It's interesting. You can feel it pregame the way the guy's going to go. Basically you want to make sure he understands to keep a good fundamental foundation. Do the things that are right about the position. It's a finesse art, and if you let your emotions override your fundamentals, like any other position, you'll struggle. Once he got a groove, it all changed. You could see it. You could really see it. Second half, he flung one dig on third down, and I could tell he was back. Every quarterback, even great quarterbacks sometimes, they have those kinds of games. Takes a few shots to get in rhythm."
You've had him for half a season now. What's it been like coaching a guy like him with his unique talents? "It's incredible, you know. You just don't get a chance to coach a talent like that. Now I've had some really talented kids at the position, but he brings a completely different skill set to the table. So as coordinator and as an offensive staff, we have to figure out the best way to utilize that talent. He's a good kid to coach. He listens to what you say. Tries to do what you tell him to do, and that's all a coach can ask for. As soon as you know they're listening, they can improve. If you have a guy who thinks he's got it all figured out, they usually deteriorate."
Do you feel like you've worked out how to best use his talents then? "We had a pretty good idea from the beginning. We had to figure out as a total offense how to scheme to his talents. I knew that was going to take longer than I wanted it to take. But we got a pretty good feel for where we are with it right now. I think we do. The offense is ever-evolving, I don't care who the quarterback is. There's always little things and tweaks and nuances and deals that you throw in there to accommodate everybody."
Does it bother you that he accounts for 80% of your yardage? "No, not really. If we didn't get the yardage, then that would bother me. You don't want to be one-man dependent -- don't misunderstand me -- but by the same token if he doesn't and someone asks, 'Well how come you're not using him more?' As long as we can keep him healthy, I don't care where the yards are coming from."
Offensively, is this where you thought you'd be at this point in the season? "I have to be honest with you, I didn't really give that any thought. Where should we be in the middle, where should we be in the end. I will say this: everytime I've taken an offense the first year, and some have been better than others, there's always been some transitional growing pains. Everytime, the first three or four games, people are going, 'Why'd they hire this guy?' But in time, as we became more acquainted with the players' skill level -- and I'm not just talking about Denard, I'm talking about everybody now, how the whole thing works -- it generally came around pretty good. We started a little slow. Every game isn't going to romp and stomp. There are times we'll sputter, probably. That's offensive football. That's defensive football. That's darn near everybody. But for the most part, we're getting better."
Is the game against MSU a game where your offensive line needs to help each other? "Every game's like that. They're really good on defense, and it's going to force the issue. This issue is going to be won up front. I don't think there's going to be any question about that."
In spring, you told Denard, "Make plays and let the good Lord make miracles." How has he done with that philosophy and not forcing plays? "He's been good for the most part. There's a couple times where he's kind of taken it away from the good Lord. But for the most part I think he's understood that. There's only been a couple desperation throws. That's what I call, plays where you're just trying so hard to make a play you do something that you wish you hadn't done. We've had a couple of those. But it hasn't been blatant, and what he's done a good job of -- now this I can say unequivocally -- his recovery skills, once he makes a mistake, and it's one of the reasons I've never believed as a coordinator, and I always talk to head coach about this … Just because a kid throws a couple of picks, pulling him out of the game -- I know a lot of guys who are quick trigger guys and they'll say, 'He's not playing well, we'll get the other guy in there,' or they let the crowd change the quarterback. We're never doing that. They can boo or do whatever. We're going to make the best call based on what we believe is best for the team. But with Denard, because he's so capable of winning you the game in a lot of ways, not just passing … So just remember, just because there's a couple interceptions in there, there are other ways for him to beat you. I bet other quarterbacks, if they couldn't pass, they couldn't do it any other way … You want to stick with that guy, and if you stick with him, you give him a chance to prove that he's your leader, and the team will believe in him. But if you go south on him, I just don't believe that's a good way of doing it. Now I've taken quarterbacks out before, but that's usually because they've lost their confidence."
Last week you busted out the Chargers diamond formation. Where did you come up with the Maryland-I? "The what?" Maryland-I. Three backs? "Maryland-I?" Two fullbacks and a … "You got me. Tell you what, draw it up for me when you're done, okay?" Quarterback's under center. Fullback, another back -- three straight backs behind the quarterback, where you have Steve Watson … "Ooooh. The stack-I. Yeah. That's just a short-yardage deal. We've done that forever. That's not new. I'm sorry. I didn't mean to be condescending. You had me -- the Maryland-I. Did Maryland invent that? They might have."
Assess the play of your receivers the past couple weeks and has their morale picked up? "Oh definitely. They weren't bad before, but they've had a chance to make some plays, and they made them. That's what we need. We got a couple of one-on-one situations and went up and got the ball. Denard threw it when we gave him a chance to when the guy was singled up. That's another thing that gets lost -- when that guy's up there one-on-one, I told you guys a couple weeks ago, you have to give them a chance to make a play, and our kids have done it. I think it's helped the morale of the whole group."
Why was Gallon's tunnel screen more effective this game? "We just blocked it better. There's no more or less to that. We just got out there and Mark Huyge made a hell of a block in the perimeter. And Pat Omameh cut the inside linebacker." Is it better on the right side than the other? "It's six on one and half dozen the other. Both our tackles move pretty good. When I was at San Diego State, we only ran it one way, but here our tackles are good enough to do it both ways."
What was the formation with Denard split out wide? "That's just what we call a fly series type deal. It's very common. A lot of football teams use it. We just wanted to give a fast guy the ball and run. He's plenty fast."
Have you pinpointed any specific technical errors with Denard's interceptions? "Well we fell off a couple throws, no question. Absolutely. The key to throwing the football accurately in a nutshell, and there's a lot of things that go into it, is A -- do you transfer through your throws when you set your hips to throw? If you do that … A lot of guys who have thrown the ball a lot of wacky different ways. I've seen the strangest deliveries in the world, and some really good quarterbacks with strange deliveries. But if you can get your hips set to the target and you can transfer it through your throw, you can do a lot of other things wrong and still complete passes. We didn't do that and that's why we threw a couple of interceptions."
What's Michael Shaw's role? "When we were going through the game, Freddy keeps a close eye on what those guys are doing, and he's coached that position and those guys for quite a while. He's got a pretty good feel for who's feeling it, and we just felt at that point that a good change would be to go with Michael. Michael came in and gave us a little shot in the arm. I don't really like this in-and-out stuff, but because that's the way we are -- that's what we are right now. It takes a few games to realize what you are, and part of it is we're going to be using more than one back. At that time, Fred just felt like Michael would give us a shot in the arm, and he was right."
Have you watched MSU tape from last year, and what did you make of how they defended Denard? "Well, there were some turnovers that hurt [Michigan]. Mostly a lot of the same stuff we did last game. That was pretty much it. There were times when I've watched last year where they looked like they moved the ball pretty good on them, but there were some issues with just not being able to finish drives. That's about it that I could see."
Does it help to have Devin play a couple snaps when Denard was out from a coaching standpoint and from his standpoint? "Oh yeah, absolutely. Because Devin's a highly skilled kid. He is. When he can go in the game and score a touchdown, really not make any tactical or technical errors, he gains confidence, and we gain confidence in his ability to do it. In the last couple games, the role that he's played -- and I knock on wood with this -- he's had very few flaws. He's done a nice job of what we've asked him to do. The touchdown that he ran in was close. He could have thrown that ball because Steve Watson was open. I tell him, 'If you can score, don't throw it,' because as soon as you throw it a lot of things can go wrong. But if he had been cut off, then he would have had to throw the pass, which would have been fine, too, but he saw the goal line. It was close. I probably wouldn't have been happy if he didn't score, but he's got enough speed to get there and [he] made a good decision."
With the clock running out and Denard calling timeout on that one play when both of them were in, is that another reason to have Denard on the field as Devin is still learning? "It helps. Yeah, it helps. That's one thing, when the second quarterback comes in the game, because he's not in the rhythm of the timing of the game, that kind of stuff can happen. He doesn't have a feel for how the clock's running. As much as you tell him, 'You and the center have to be keenly aware of the 40-second clock,' it still can be tough."
Do you feel like Denard has a traditional throwing motion? "It's not that unorthodox." What are some examples of quarterbacks who have wonky throwing motions? "There's been several guys that throw different. Bernie Kosar was unconventional the way he threw the ball, but he hit the guy right in the hands everytime, so you don't want to overcoach that. Philip Rivers -- Philip Rivers kind of changed his motions. A little unorthodox, but always effective. The thing about that stuff -- I recruit throwing motion. I don't try to start kids over with the way they throw the ball at 18 or 19 years old. Unless they're a mess, in which case why would I recruit them, right? So for the most part I work much more from the waist down than I do the throwing action and all that stuff."
Greg Mattison
from file
Opening remarks: "Another week, another game to find out where we're at."
What do you see in your defense in the second half that isn't there in the first half? "I think any little adjustments that have to be made, they are grasping onto it and going out and executing them. The thing that I'm so impressed with is they don't ever lose the fight. There's a lot of times where, that first half at Northwestern, you saw the defense go right in the tank. There were so many things that we weren't doing like we wanted to do, but they kept finding a way to stop them when they had to, or times to not just score all the time. I'm looking for the day where there aren't adjustments that have to be made at halftime, but that's part of football. I'm just so impressed with the way this defense battles and believes and keeps working. That's us. That's Michigan. Now we just have to continue to get better on our technique and continue to do the right things. "
How critical was the first stop to open up the second half? "Really critical. Every stop is critical for our defense. Let's be honest, we've got to get the three-and-outs. The fact that they were 4 out of 11 on third downs was huge. 0 for 2 on fourth down was huge. With the youth and inexperience of some of the guys we have out there, you have to get them off the field. And more importantly when you have an offense like we have, you have to get the ball in D-Rob's hands. You have to. That's kind of what you keep thinking a lot of times when you're making your calls on defense, 'Let's try to get the ball back to him.' Because our offense -- I'm certainly glad we're not playing against our offense. "
Last week you said you simplified the defense. Did you add anything this week? "No. In fact in the first half, there was period in there where I called the same defense about seven or eight times. I knew going into that game that this was going to be a really tough game for us because it exposed some of the things that I thought we had to improve on that hurt us. That speed in the open spaces. That's being able to adjust and play with a lot of experience. That's what you have to do when you play an option team. I thougth going into the game, they had run the ball for 200 yards a game, so we felt, 'Okay, we have to stop the run.' When they spread you out, what you have to do is walk your linebackers out, and that opens up their running lanes. We were kind of playing a chess game where we said, 'Okay, come on, I know you want to run, I know you're going to run.' And they just kept saying, 'No, we're not going to run, we're just going to throw the bubble.' So what we ended up doing is putting bigger guys in there and playing with our big guys the second half because we didn't feel like their wide receivers could block them. That's what was happening in the first half is their wide receivers were blocking our nickel guys and our secondary guys, so we just said, 'Okay, Jake you're going back out there. We're playing big guys.' The first play Jake came in and stoned the guy and made a great play. So that worked, but it's going to always be a chess match with this defense, I think."
How often do you make that drastic a change at the half? "I think every defense does that. The thing that you'd like to do on defense is you'd love to make those adjustments on the sideline, but what you have to have when you do that is you have to have a lot of experience. You have to have a lot of guys that, in the heat of the battle, when the fans are screaming, and the offense is out there and guys are yelling third down, and you're telling a guy you have to do this rather than that, you've got a chance of really having a problem when you go back out there. I don't like making wholesale adjustments on the sideline. We feel like we have enough in our game plan to get us through it and be able to say, 'Okay, guys, sit down. Calm down. Here's what we have to do.' And they did it."
Northwestern ran the veer option with a lot of success against this defense, and there seemed to be some confusion with the assignments. For those plays, whose assignment is the quarterback, and who has the pitch man? "That's why people run the veer option. And again, to play an option team, you have to be very very disciplined. You have to really feel confident in what you're doing, and it's happening really fast. There was a number of times where you might have seen Jake go down and hit the dive. Well, our ends had the quarterback all day, so right away you knew, 'Uh oh," and sure enough, now you have two guys on the dive and nobody on the quarterback, and that's why people run that offense. It taxes young guys. It really does. So your next thought is to stunt it a little bit, move it a little bit, to try to make a play, and that quarterback was pretty good. Fortunately we settled down in the second half and the guys said, 'Okay I got it now.' Every guy that made a mistake like that during the game, they came out, they looked right at you, and they went, 'I know.' I said, 'I know, too! That's 20 yards down the field.' But I was really proud of them."
If you had to defend them again, who would be assigned to whom? "We do the same thing. The only thing we do differently, if we defended it again, is we would play it more honest like you're supposed to and not cheat to take away one part of the game and not the other."
Did Kovacs have the pitch man? "That was his job. When you're playing the option and you're playing man coverage, there's a guy with a blocker on him. A guy who has man coverage and still is supposed to get off and try to make that play. Well if you're stronger, better, faster, you can throw that guy away and make that play. So we had Jordan going through the alley, meaning he would go dive, quarterback, to pitch, and he made some good plays on it."
Containing the edges has been a concern all year. How do you coach Jake Ryan to improve in that? "He gets better everyday. He gets better every day in practice. I wouldn't trade Jake Ryan for anybody. I think he's going to be an outstanding Michigan football player. The fact that he's out there a whole bunch of snaps as a redshirt freshman, that's what we have. That's how it is. Ask that question two years from now and you're going to be saying, 'Boy, Jake Ryan is really something.' The difference is Jake Ryan is going out everyday trying to do what he's supposed to do. He doesn't try to make a mistake. I also say, think about all the great plays he's made. Jake Ryan has made some big time football plays for this defense already. And he will get better and better and better, and we have to keep working with him."
Not just Jake Ryan, but the edge contain in general -- how do you shore that up? "You've got a choice. In that game, for example, there was a lot of times when we could have got to that quarterback, but our rushers were so nervous of losing contain that they didn't rush real hard. Let's just say you're a fan. As a fan, do you want them to go get him and let that quarterback take off running, or do you want to keep him in there and make him beat you throwing it. That's the decision you have to make. There are some pressures that do handle that. The problem with pressures is they're not great against option. A number of times we would call a pressure, an option was coming at you. It was a very good game plan by Northwestern."
What's your assessment of Kirk Cousins? "Yeah I watched some film on him last year. He was good last year. I think he's really good this year. He's a really good quarterback. Anybody that wins as many games as he's won, you're a good quarterback." What does he do well? "He makes good decisions. He's got a good arm. He's got good wide receivers. He's got good running backs. I think he's a very very good quarterback.
Is B.J. Cunningham going to be a difference maker? "Yes. He's a big time wide receiver. He's a huge target. Runs good routes. There's no question he's a big time wide receiver." Is he an NFL player? "I would think. I don't know how fast he is. I don't know what his 40 time is, but I know, watching him on tape, he is."
Does it help that your corners already faced Michael Floyd? "The corners are your corners, so it doesn't matter who's out there, they have to cover them. They have to. I think the fact that we're six games into the season and they've played a lot of football helps them. I would look for them this week to take the next step and the next step. I'm excited to see what our corners do in this game."
A college halftime is longer than an NFL halftime. Does that give you a better opportunity to make adjustments? "What you always do -- you know exactly what's going on when you're on the sideline. You know exactly. So what happens is you come in, and all the coaches come down from upstairs, and you come in and you say, okay, here's what's happening. Here's what we have to do to correct that, this is what we have to get our players to do, then I'll put it on the board and show the whole defense what our adjustments are going to be. And then the positions get down with their position and reinforce individually what they have to do and go from there. I don't believe in a lot of screaming and yelling. Not with this team because I think they're trying so hard. A lot of times those adjustments -- they're coaches. They're me. Maybe I didn't explain it right. Maybe we didn't get enough reps on that defense. So to come in there and just ranting and raving and yelling, not when this defense is trying as hard as they're trying. The whole key is let's give them something they can have success with. That's been our game plan at halftime."
Does your game plan change because they have three capable running backs? "No. No. You just game plan that you know they're going to run the football. They can throw it, too. They've got very good running backs. You're right. They do. But no, you don't game plan any different when this back's in there do this, no."
What does having lost three straight to MSU mean to you and this team? "Yeah I know exactly what they're going through. I know. I feel it just every meeting. I know in my heart what this would mean to these guys because these guys, I keep saying it, and you're not out there, what they have done since Brady's gotten here is amazing. It really is. To see the look in their eye after games like the last one and the one before that and the one before that, you just say, 'God, I want to do a better job of coaching. I want to really really help these guys.' That's how our whole staff feels. I know three years in a row -- I know having been here before and knowing all about that, that would be as big as it could be … up to now, and there's going to be something bigger after that. But up until now, it's going to be as big as it gets. But yeah, I do see it. That's why I want to do a great job of getting that ready."
What do you remember about this rivalry from back in the day? "I remember this game. This was always really really big. And I know, we have to go out there and be ready to play. I think we've done that since the day we've got here. This game is one of those games."
Do you relish the fact that Michigan State's probably going to try to run right at you? "Our deal -- that's what a great defense is built on. You can measure a defense on how they stop the run in my mind. That's where it starts. We'll get challenged. That's what it's going to be. They can throw it, too. It's not like we can put ten guys up there. This is going to be another test. Every week's going to be a test for our defense, and we look forward to it."