Tressel Billboard: Not Our Fault
Remember this?
Everyone assumed that because it showed up on I-94 somewhat near Ann Arbor (it's close to the airport) that Michigan fans were responsible for it. But if you know anything about Paul Reiser-penned billboards in Michigan you know that Michigan State fans love 'em. Example one:
At this point we cannot act like we have been there because we haven't.
Example two: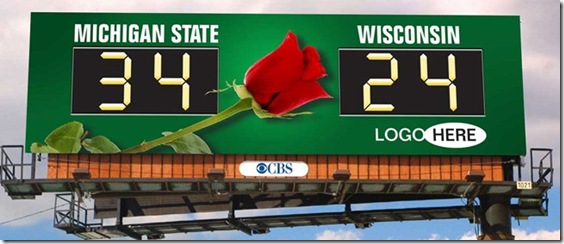 It's almost as if there's some billboard company with spare inventory run by Spartan Paul Reiser. Reader Section 1 finds SPR:
The idea actually came from a Michigan State alum, who also happens to be the local sales manager for CBS Outdoor advertising.

About 10-12 of the boards are expected to be put up around the state, most with sponsor names on them.

Two are already in place -- on northbound I-75, north of I-94, and another in Grand Rapids. There's also one coming to the Lansing area, and the rest will be located in metro-Detroit.

"I have several State alumni and State fans that work for me," said Tom Carroll, vice president of the Michigan Region for CBS Outdoor. "The billboard is our response to Michigan State getting snubbed."
Section 1 went so far as to call up Bob Brown, another Michigan State guy who used the close-your-eyes-and-don't-think-of-Iowa billboard to express "frustration," and ask him who was behind the billboards. They refused to answer, saying only that the buyer was anonymous. Why they'd be so reticent now when they'd embraced their role as the state's key purveyor of stupid sports-themed billboards is unknown. It's probably not the sudden onset of shame. 
Unfortunately for Spartan Paul Reiser, his kid sold him out. An emailer relates:
I put a pic of the billboard up on my Facebook page, and got a response from a [high school] classmate who is a Facebook friend of mine – Brad Carroll.  He said his dad had created the billboard, and had shown him a mock up a couple weeks earlier.  At the time I thought nothing of it, other than that his dad was a Michigan fan.
In the aftermath of the Section 1 post the emailer deduces that Brad is Tom Carroll's son. The googles confirm by turning up a CBS Outdoor Detroit Facebook page that only people with the last name Carroll have bothered to like things on, one of whom is a Brad who matches the biographical information elided above. QED.
As per usual, Michigan State fans are responsible for the stupid billboards. Stay your wakizashi and carefully tell the guy with the katana to go get some ice cream: your honor is restored.