Tim Hardaway Jr., Scouted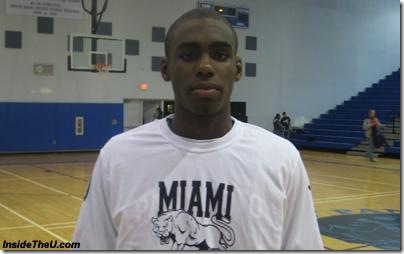 [Editor's note: Hi. The following scouting report is from MHoops1, a respected poster on Michigan message boards across the internets. It's been posted on a premium board and another other place that sees links expire in a matter of hours, so I asked MHoops1 if it was okay to repost here; he said okay.]
I have now watched Tim Hardaway Jr. play four times in the past two weeks. Those who believe that he was coveted because he was riding on the coattails of his NBA father are, in my view, either mistaken or being incorrectly swayed  by his standing outside the Rivals and Scout Top 150s (he's #93 in the ESPN rankings, but I digress). The kid has the ability to be very, very good at the high major college level. He's very raw, which leads to inconsistency, and if you only watch him on a single day where he's missing shots and forcing things, I can see where you might wonder what the fuss is about--hell, after seeing him on the first night of the Elite Camp, I was pretty ambivalent. Two weeks later, after seeing him enough to fully understand where he's at in his development, I'm very excited about getting him.
Much has been made of his ball handling issues (some of it by me), but last night, when he was pressed into service at the point because of an injury to a teammate, he responded by scoring on three separate drives to the hole, once off a between the legs and spin move which left the college coaches sitting nearby saying "Whoa, I hadn't seen that from him before." It appears that when he establishes a dribbling rhythm, such as when he brings the ball up the court or catches it in the open court in transition, he handles very well and can attack the basket or dish off the bounce. He also hit a nice pull-up off penetration.
What he lacks at this time is the confidence to trust his ability to withstand pressure before he's gotten comfortable. That fits with his other major deficiency as well--he's a little too hyper and doesn't always let the game come to him on either end of the court. When things are flowing well, he's great, and I do not mean great lightly--the Illinois friend I watched with was very impressed, and Hardaway played on a team with 5 consensus Top 100 kids (including two top 20 in the class of '11) and two or three other kids who could go high major, and he was the second or third best player out there for long stretches. When things go badly, though, he gets a little frustrated and can disappear, particularly in an AAU/All-Star setting where everyone tends to go one on one (one college coach commented that AAU should stand for All About You). That's where I think the rankings variances come in to play.
One thing no one seems to question is Beilein's ability to develop talent. With coaching and development, Hardaway is going to be very good, and the question, to me, isn't if but when. The length, shooting ability and quick release, passing ability (he's very good in that area) and basketball IQ are there--the consistency and confidence are not yet.
MHoops also answered some follow-up questions from another poster:
How well does he fit in with a player like Morris? Do their talents mesh well (or can be molded to mesh)?
Really well. Morris' ability to attack the rim and pass are going to lead to a lot of open shots for our wings. Hardaway can knock those shots down. In addition, they both have the ability to tip balls and disrupt on defense because of their length, which should lead to turnovers and transition baskets.
How does Hardaway fit in with the likes of Douglass and Novak (I'm assuming Novak won't be a PF his entire career at UM)?
He's different--longer, more athletic, not as confident, better with the ball than Novak but not, at this point, than Douglass (although more upside in terms of penetration), not as good a rebounder as Novak, range and release like Douglass (better than Novak).
Can Hardaway make an impact as a freshman?
I don't know. He's very raw. If they were to get Ziegler, it might be in Hardaway's best interest to redshirt and get stronger.
Lastly, is he good chemistry guy?
Yes. Very good. He plays on an AAU team where everybody else is local and has known and played with each other forever, whereas he's from 1000+ miles away, playing here because his dad's from here and the guy who runs the AAU program is the father of one of his dad's best friends growing up (former NBAer Byron Irvin was the best friend). He clearly fits in well, and is liked and respected by the kids on that team.
[Me again: If you think MHoops is being generous here, note his earlier, mostly recanted skepticism and yesterday's UV, which notes that an observer from the Sun-Times took in the same tourney I believe MHoops was at and raved.]