Thursday Recruitin' Goes To The Source
Chris Hinton Slides Into Your DMs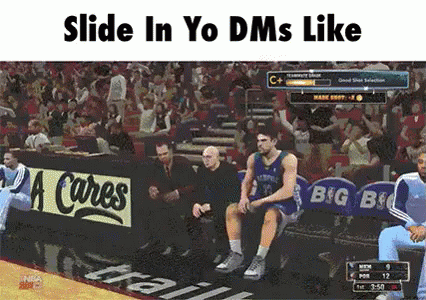 ESPN released their initial Junior 300 for the 2019 class, and they're a major outlier for Michigan's top commit, five-star defensive lineman Chris Hinton. They rank Hinton, who's no lower than 14th overall and 2nd among SDEs on the other three sites, at 97th overall and 9th among DTs, with the rationale that they believe he's a better prospect on the offensive line:
Highly touted Hinton should switch to offense
Defensive tackle Christopher Hinton is the son of a former All-Pro offensive linemen. The younger Hinton should follow in his father's footsteps and switch to OL. The four-star Michigan commit is a stout run-defender, but defensively he would be more of role player and run stopper. As an OL, he possesses good flexibility, feet and a frame that can support more size and on that side of the ball, by contrast he can be an excellent, "full-time" player.
Many prospects would ignore this perceived slight or lash out at the site in question. Hinton chose a different tack and went straight to the source to see how he could improve:
ATTN: All prospects--this is called maturity, perspective, respect & willingness to handle coaching. A top 100 player in ESPNJr300. pic.twitter.com/gucc5brt9a

— Tom Luginbill (@TomLuginbill) August 15, 2017
That's certainly not how High School Me would've handled things.
Meanwhile, Michigan still did well in ESPN's rankings. The rest of the commits:
OH OG Nolan Rumler: #3 OG, #48 overall
KY DE Stephen Herron: #11 DE, #82 overall
IMG ILB Charles Thomas: #3 ILB, #250 overall
Two players in the top three at their position and two more in the top 100 overall. Not too shabby for a four-person class.
[Hit THE JUMP for the rest of the roundup.]
DT Recruiting In Holding Pattern
Michigan's top defensive tackle targets have been relatively quiet about their respective recruitments. That doesn't mean the coaches are fretting about the position, per 247's Isaiah Hole:
While things still have to play out, Michigan is feeling good about all three of their top defensive tackle targets, two of which had recent visits in the past two months.

Michigan feels like they did a good job with Michael Thompson, who's likely the top target at the position, when he visited for the BBQ at the Big House. Though a few months removed from Rick Sandidge's visit, they still feel good about the move they made with him and the family when he did visit. And they still are liking Tyler Friday on their end.
Hole reports Michigan plans to take two or even three DTs in this class.
One of those top targets, four-star NJ DT Tyler Friday, went on the record with Scout's Brian Dohn yesterday to discuss the schools in most frequent contact with him, which he says are UCLA, Ohio State, Michigan, Miami, Penn State, and Rutgers. His coach said in a separate interview with Dohn last week that a few of those schools were standing out early, though he added Friday "isn't close" to narrowing his list:
"I don't think he's been anywhere since Rutgers because he's really been locked in on the season," Don Bosco coach Mike Teel said. "He likes Rutgers, but he likes Ohio State and Michigan a lot, too. I've heard some conversations about Alabama."
Bold prediction: it's not gonna be Rutgers.
While Friday still has a long way to go—he hasn't yet set up official visits—he has high praise for Michigan:
Michigan continues to recruit Friday hard as well, and one of the leaders in the group is former New Jersey prep standout Rashan Gary.

"I talk to Michigan pretty often," Friday said. "Rashan is a good friend of mine. I talk to him as much as I can. The coaches over there are very friendly. I love all the coaches over there. (Defensive line) coach (Greg) Mattison is a great coach, and they also have a Jersey pipeline over there. A lot of the guys are from Jersey, and it would be at home."
Getting him on campus to connect further with those Garden State natives will be a priority.
Michigan is also in solid shape with four-star NC DT Rick Sandidge, who included the Wolverines in his top seven.
Jobe Still a YTM Commit... For Now
While Michigan has already put together a strong four-man group of defensive backs for 2018, they'd happily add a fifth prospect of the caliber of, say, Miami (YTM) commit and top-100 DB Josh Jobe, who as noted last week will move from Miami to Cheshire Academy in Connecticut (which has major Don Brown connections) for his senior season of high school. There were rumors floating around that Jobe had reopened his recruitment; 247's Andrew Ivins reports those are false:
Jobe spoke with Miami's defensive coaches earlier this week and assured them that everything remains status quo with his commitment to the Hurricanes especially after last month's Paradise Camp.

While there's no question that both Alabama and Michigan continue to try and position themselves for a flip, the folks in Coral Gables remain confident about where things stand with Jobe heading into the fall months although the general consensus is that this recruitment is far from over.
SBNation's Alex Kirshner has a nice post on why Bama and Michigan are pushing so hard to flip Jobe; he's another lanky, playmaking defensive back who could fit as either a corner or safety.
In other 2018 news, Michigan made the top five for four-star TX TE Mustapha Muhammad (no surprise there), and they're in the top seven for four-star Canadian TE/WR Michael Ezeike, who plans to visit for The Game this fall.
Etc.
Michigan leads early for four-star 2019 FL OLB Ge'mon Eaford, who in addition to being a NOTY candidate hails from the same high school as Denard Robinson. Florida State, Florida, Ohio State, and Oklahoma round out his top five.
Four-star 2019 CA QB Hank Bachmeier told TMI's Brice Marich that a Michigan offer would be a "game-changer" in his recruitment. He holds early offers from Cal and UCLA, among others.
Fun local news feature on top 2019 DE target George Karlaftis, who was told he sucked at football when he first arrived from Greece a few years ago.
Allen Trieu in the DetNews on 2018 commit Sammy Faustin.