Thursday Recruitin' Gets Orca'd
Just When You Thought It Was Safe...
Jabrill Peppers reaffirmed his commitment this week. So did Shaun Crawford. Michigan had successfully weathered the storm caused by their on-field woes. And then...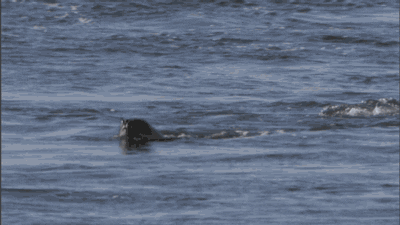 GEORGE CAMPBELL OUTTA NOWHERE.
According to multiple outlets, Campbell actually decided to decommit last week, but waited until this week to inform the coaches of his decision. Steve Lorenz relays the news that Florida, Florida State, and Clemson (ugh) are involved in Campbell's recruitment, and while Michigan isn't out of the picture, they're losing perhaps their biggest edge ($):
Yesterday, I tweeted out that Michigan was still in it for Campbell after his decommitment. I still believe this, but after doing some digging while on the road today, I'm not sure how high the Wolverines are on his list at this point. If you forced me to choose, I believe he ends up somewhere else. Where that is, I don't know. Mason Cole leaving for Michigan within the next two weeks is about the worst thing that could happen in this regard because their friendship was a big part of getting Campbell committed in the first place. Without Cole in his ear and Michigan being a ways away, the excitement about the Wolverines could fade over time.
The Wolverines will continue to pursue Campbell and in-state athlete Brian Cole as their top priorities for receiver in the 2015 class; after being in great shape for both just a few months ago, however, there's a distinct possibility that both end up elsewhere—there's a very good chance Campbell stays in the South, while Cole may be a Michigan State lean and also has interest in Ohio State. Michigan's very strong group of 2014 receivers mitigates some of the hurt from this, but there's no sugarcoating the loss of one of the nation's top prospects, especially when it seems directly tied to uncertainty (real or perceived) regarding the program.
It might not end with Campbell, either. Shortly after that decommitent went public, fellow 2015 blue chip commit Damien Harris tweeted "Here comes the tough decision.." which, well, obviously raised some red flags given the timing. That could very well be nothing, however, as Harris—unlike Campbell, a childhood fan of Florida—grew up rooting for Michigan; he also subsequently retweeted fellow recruit Justin Hilliard questioning why anyone would commit to a school without "110%" certainty, as well as today's news about Michigan scheduling the game against Florida in Dallas in 2017, when he'd be a junior. Since Harris' first tweet has garnered a lot of attention, I figured I'd add some context—for now, at least, it seems early to panic.
This entire sports year post-Final Four can still die in a fire, though.
[Hit THE JUMP for updated Scout rankings, the latest on Vic Enwere and Josh Rosen, and more.]
The Dead Period
Before I go any further, it's worth noting that as of Monday we're in a recruiting dead period until January 15th. Brandon has a board post detailing what that means; in short, coaches can contact recruits via mail or phone but no in-person contact is allowed. Recruiting news may be a bit sparse for the next few weeks until the pre-NSD flurry of activity.
Scout Updates 2014, 2015 Rankings
As usual, Touch The Banner has the full rundown on the updated 2014 Scout300, which saw Freddy Canteen leap all the way from outside the list to #171 overall (#32 WR). Other movement for Michigan commits was either relatively minor (Peppers moved up to #4 from #6) or expected (Drake Harris, who missed this season with a hamstring injury, dropped from #30 to #54).
Scout also revised their 2015 rankings, featuring Shaun Crawford making a healthy 20-spot jump to #65 overall. Damien Harris is the second-ranked running back at #32 overall, while Tyree Kinnel makes the list at #220. Also of potential interest: after previously being unranked, Brother Rice QB Alex Malzone earned his fourth star and the #252 overall spot in the rankings, one place ahead of CA QB Kevin Dillman. With Josh Rosen and David Sills, the two 2015 quarterbacks with Michigan offers, currently regarded as probable longshots, Malzone is certainly one to keep an eye on. Frankly, I'm much more impressed with his film than I am with Sills'.
Etc.
If you missed it, Brandon provided updates on 2014 TX RB Vic Enwere and 2015 CA QB Josh Rosen.
2015 commit Jon Runyan Jr.'s St. Joseph's Prep squad captured the program's first Pennsylvania Class AAAA state title last week.
Notre Dame's coaches really want Nyles Morgan. One intrepid Notre Dame fan is really unclear about who TomVH is.
I'll take that as a 'yes'. The saga of Denzel Ward continues. Bobby Petrino locks down the nation's #1 class (NOTY category).