Three And Out Takes: Carr, Rodriguez, Martin
So. It's out.
I'm impressed with the large numbers of people who seem to have already blazed their way through Three and Out. It took me a while. I stopped for a few days after "Honeymoon from Hell" because it was too depressing; every chapter featuring a game I knew they'd lose spectacularly required a little bit of willpower to start.
But I'm done and a large number of you are done. It is time to talk the turkey.
We've got this document. What does it say about major players in the saga? I was planning one part here but this got long, so today we'll cover Carr, Rodriguez, and Bill Martin, with various players with less prominent roles in the story covered in a post tomorrow.
Lloyd Carr
It says a few things about Lloyd Carr that are not nice, and implies more. Bacon's said he left a lot of things out that he could not get multiple sources on, which is both his responsibility as an actual journalist and horribly frustrating.
The main strikes:
Informing his former players he would sign any transfer papers they wanted at his meeting with them after their bowl game, a marked contrast from the Bo-Bump transition.
Telling Mallett he "needed to leave".
Having zero control over his former players, or—worse—tacitly endorsing their behavior by not jumping down their throats.
Offering something short of the fiery defense Bo would have launched once the program started taking fire.
That's aside from the state of the roster when Rodriguez took over, which wasn't specifically directed at the new man.
Those seem like major strikes. Screw it: those are major strikes, particularly #3. I find it inconceivable that Eric Mayes would made it thirty seconds into the embarrassing "we own this program" speech before Bo burst from his chest like a Xenomorph. Carr does nothing. Multiple former players trash Rodriguez in public. Carr does nothing. The 2009 golf outing that even guys like Chris Balas* come back from disgusted at, naming specific names of players (Marlin Jackson, Dhani Jones) who embarrassed themselves with their behavior. Is Carr even at it? It's worse if he is.
So, like, whatever. Carr doesn't owe anyone anything except the 400k a year he was pulling down as associate AD. But he's no program patriarch. He's just a guy who used to coach here. His loyalty is to an incredibly specific version of Michigan only. The difference between the Bo guys and the Carr guys is obvious. Bo guys organize a weird counterproductive rally for RR; Carr guys go on MNF and state they're from "Lloyd Carr's Michigan" or storm the AD's office to demand RR's firing after every loss**. There are exceptions, obviously. The trend is clear.
I have no sympathy for arguments the guy is being painted unfairly when he was offered the opportunity to tell his side a dozen times. If history is written by the losers here it's because the winners don't care what the public thinks. They can't be surprised when the public thinks they're not Bo.
Carr did a lot of things for the program but his legacy is significantly tarnished by the pit it found itself in immediately after his departure. It was his lack of a coaching tree, lack of serious coordinators, and lack of tolerance for Les Miles that caused Michigan to hire Rodriguez in the first place. It was his lack of a roster—seven scholarship OL!—and lack of support that provided Rodriguez with two strikes before he even coached a game. We can argue about how much is Carr's fault and how much is Rodriguez's, but figuring out the latter is pointless since RR is gone and everyone hates him. The former is "far too much."
*[By this I mean guys who work for publications for whom access is lifeblood. They're naturally more circumspect. The reaction on premium sites to this golf outing was unprecedented, with people moved to call actual former players out by name after years of dark mutterings.]
**[Not in the book; something I got from a good source.]
Rich Rodriguez
via AnnArbor.com
If you left a goat in the locker room after a Michigan loss and then locked Rodriguez in it for five minutes, you would return to find the walls smeared with blood and feta. There would be no trace of the goat.
Rich Rodriguez was obviously not a stoic guy. His sideline tantrums proved that. The extent of his leg-gashing, table-throwing, goat-cheese-making post-loss hissies is probably the thing that Rodriguez is pissed about. They don't make him look like a stable dude. Neither does his descent into J. Edgar Hoover-esque paranoia, no matter how intent the university was on making that paranoia seems reasonable.
By the time I got through it, my reaction to Rodriguez's portrayal was different than that of the media reviewing the book. It doesn't paint Rodriguez as a guy I would want in charge of my football program. I can deal with one goat-annihilating postgame tantrum a year. Rodriguez seemed to have one after every loss.
So why do most neutral accounts play up the Rodriguez sympathy angle? They do not take the truth that the local media is dominated by agenda-laden twits to be self-evident. When Mike Rosenberg—who comes off as a real winner—bombed Rodriguez with a bunch of half-truths and misrepresentations I bombed back, stating that it was obvious the buyout kerfuffle was university-directed. Surprise: it was university-directed as they tried to get out of their 2.5 million dollar hook. Similarly, Free Press Jihad is re-exposed as a bunch of half-truths at best run by a couple of guys who "had countable hours in there at some point" but had it edited out, no doubt because that's not at all important in a discussion about whether Michigan was more than doubling their allotted time on Sundays.
If you go into the book knowing Rosenberg and Snyder published an embarrassing hack-job and that a large part of the media firestorm surrounding Rodriguez was a combination of University incompetence and the tiny lizard brains of certain folk in the local media*, the main takeaway from the book in re: RR is the sheer height of the plumes his emotional volcano shoots up. I mean, Bacon spends pages and pages on Rodriguez playing up the traditions of Michigan to his players. That's an obvious reaction to the Michigan Man business. I assumed Rodriguez was not an idiot when it came to firing up his troops, I guess, and that stuff shot by me. Beating a bleating ungulate against the wall of the Notre Dame locker room until it bursts into a kaleidoscope of viscera… that stays with you.
I feel bad for the guy. I'm glad he's gone.
*[The rest a combo of Rodriguez never winning any games and his remarkable ability to stick his leg into the press conference bear trap.]
Bill Martin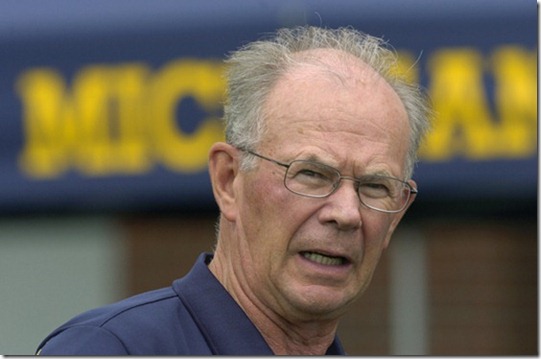 Good Lord, man. I find it hard to believe that a guy who dragged Michigan kicking and screaming into massive financial success and smoothly hired John Beilein (admittedly after making a questionable hire in Tommy Amaker) was really as incompetent as… uh… I believed he was after the sailboat incident. That's Yogi Berra right there but it's also true.
Here's the the story of the post-Carr coaching search from the perspective of this site:
It seemed like a clown show, and behind the scenes… clown show. Martin wants Dungy, has no idea if Dungy—who is a broadcaster and can be contacted by anyone at any time for any reason—will take the job. Wants Ferentz, has no idea that the president of the university will stab him if he hires Ferentz. Wants Miles, has no idea that Lloyd Carr will stab him if he hires Miles. Somehow misses on Schiano, then has Rodriguez fall into his lap and grabs him before anyone can think about it, which sets up the whole buyout fiasco the media will spin for six months. The sailboat incident is even worse since Bacon asserts one of the main problems was Martin had a new cell phone and didn't know how to use it.
Aaaaaaaaaaaaaaargh /dies
Martin himself drops out of the story shortly thereafter, which is another indictment of the guy because what enters is a vast institutional incompetence that starts the Rodriguez media cockroach katamari rolling. Everything from the buyout to the Dorsey situation is mishandled not only by Rodriguez (sometimes not even by Rodriguez, as with the buyout) but by the people who should be telling him what is and is not possible. When Rodriguez went to bat for Dorsey with a guy in admissions the guy in admissions should have looked at the guy's transcript before saying yes, and then when he did look at the transcript he should have said no.
Instead we actually sign the guy—opening us up to the most cynical and loathsome of all the lizard-brain media attacks—only to find out he is nowhere near eligible. And don't get me started on the CARA forms, which was a special brand of idiocy all on its own. Martin did a lot of big picture stuff very well, but he was totally unprepared to fix a department that had started downhill long before he arrived.
For all the crap I give Brandon about his failure on big picture stuff, he cleaned out the deadwood with alacrity.
TOMORROW: Players, reporters, me/us(!?).