There Will Be Bombs
10/19/2013 – Michigan 63, Indiana 47 – 6-1, 2-1 Big Ten
Jake Butt's block gets Devin Funchess cupcake dog eyes. [Eric Upchurch]
Explosions!
MORE EXPLOSIONS
Chris Tucker! Jackie Chan!
YET MORE EXPLOSIONS!
Autobots! Decepticons!
EVERY ATOM IS RAPIDLY RECEDING FROM EVERY OTHER ATOM WITH FLAAAAAMES!
Someone mentions that 67-65 Illinois game!
And he gets thwacked!
This is Michigan!
SORT OF
BOOOOOOOOOOM
-----------------
I have confirmed this with people who do not care about Michigan football that much: that was not a collective fever dream brought on by the stress of the Penn State game. It happened, because Indiana is #1 in Big Ten offense and #546th in total defense. A team that put up 42 on them last week waddled towards their first and only offensive touchdown halfway through the fourth quarter of a game against Purdue. They gave up 35 to Indiana State while torching those guys for 70 points. They walloped Penn State by 20. Adam Jacobi has taken to calling the Hoosiers #CHAOSTEAM because at any moment they will break you or be broken themselves, leaving seven points and a flaming wagon wheel in their wake.
Pick literally any stat about offense you want and laugh. Indiana first downs: 28! Michigan's average gain: 9.0 yards! Indiana time of possession in a third quarter in which they scored 23 points: six minutes! Devin Gardner YPA: 17.3! Number of Indiana receivers with catches of at least 20 yards: 5!
This purports to be the same sport that Michigan played against Minnesota. I say it is not. I say it was a test pilot for TV executives from a dystopian future looking for something that will distract the masses from their slave-like drudgery in the fur mines. It was wildly successful. I barely remember anything about my day to day life in the fur mines.
In the aftermath, no one knows if anything means anything. Our ears are still ringing, shrapnel still falling, ham fragments scattered in the front yard. One of the children is walking with a limp and tilting his head funny in a way that seems worryingly permanent. The oil derrick is on fire.
In these situations it's hard to tease out judgments, especially when last week your offense was a few deep balls to Funchess and pain and your defense seemed rather good. A week later, Michigan's setting program records for total offense and getting eviscerated on the other side of the ball.
We had this debate last week about Raymon Taylor and now it's writ large: can any part of this team decide whether it sucks or it is awesome? Lewan and Gallon excepted, it seems like everything Michigan does is prone to insane swings. On the player level, hey look it's Devin Gardner, who explodes in all directions. Or Taylor, who was repeatedly roasted one game after having an awesome interception and was the primary hand in shutting down Allen Robinson for 3.99 quarters. Or Dennis Norfleet, who had an electric juke-you-out-of-your jock kickoff return and an electric reverse-field-twice-and-get-tackled-at-the-nine kickoff return. Even previously consistent Brendan Gibbons is now two for his last five with two line-drive blocks.
On the unit level, the defense waxes between perforated against Akron to crushing against UConn and Minnesota and most of the Penn State game. The offense nukes Notre Dame, nukes itself against Akron and UConn, reconfigures itself into a dump truck to out-dump-truck Minnesota, is bombs and turnovers and pain against Penn State, and then rewrites the record book this weekend. On a team level… well, you saw the Akron and UConn games. Michigan's quite a CHAOSTEAM itself.
Meanwhile, the opponent. In the second half, Michigan's game plan seemed to be max-protect pass after max-protect pass on which Funchess and Gallon would wander out in different variations of deep routes. Indiana would cover Funchess; Gallon would engage his cloaking device to become improbably open, then catch a ball and run for many yards. At some point in the second half, Gallon had already broken the Big Ten all-time receiving mark and one of these two man routes found him open by literally twenty yards.
Jeremy Gallon has three hundred receiving yards and the defense is blowing a coverage on him.
Blow a coverage on everybody else! Penn State intentionally blew a coverage and got an interception out of it! Are you recent immigrants from Malaysia? Do you think this is… Malaysiaball? I need Michigan to score a touchdown here and I am still slightly angry at you, Indiana. Incompetence so vast is a thing to behold, but how are you supposed to take this performance and extrapolate anything from it? It exists in a different world from football; it is for dystopian future distractions.
I probably shouldn't be looking for life lessons after that in any case. It's my natural inclination to search for What It Means For The Future after playing Indiana, since for my entire life as a Michigan fan Indiana games have been speed bumps on route to games Michigan might actually lose. This is a bad instinct after a game that will be That Indiana Game for the rest of time.
Here we should set those things aside and align ourselves in repose. Whatever just happened has no bearing on the future. Lay back, let your feet flop open, and breathe. Our neck muscles and inner ears could use the rest.
I'M FINISHED [Upchurch]
Highlights
JAM PACKED
Awards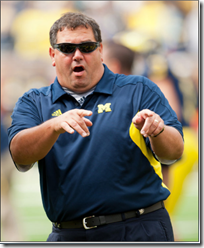 Brady Hoke Epic Double Point Of The Week. That Jeremy Gallon's epic, Michigan and Big Ten record-setting performance has the whisper of a challenge here is testament to the ridiculousness of this game. Even though Devin Gardner set some Michigan records of his own, Gallon's the guy.
Honorable mention: Gardner, obviously. Thomas Gordon's interception was the biggest defensive play of the day, by some distance. The line kept Gardner clean for long stretches.
Epic Double Point Standings.
2.0: Jeremy Gallon (ND, Indiana)
1.0: Devin Gardner (ND), Desmond Morgan(UConn), Devin Funchess(Minnesota), Frank Clark(PSU)
0.5: Cam Gordon (CMU), Brennen Beyer (CMU)
Brady Hoke Epic Double Fist-Pump Of The Week. After a couple weeks during which it was a stretch to pick anything, here the problem is paring it down form an explosion symphony to a quartet. Or singlet. Whatever.  Music things!
But there is a pretty obvious item: Thomas Gordon undercutting a badly-thrown deep ball to intercept moments after Devin Gardner had fumbled a snap on the two yard line. Indiana got to the line instantly, caught Raymon Taylor off guard, seemingly had burned him for yet another immense touchdown, and Sudfeld left it short. A catch and return later, Michigan was once again in position to regain possession of the two-possession lead that was the only thing between Michigan fans and mass chaos. More mass chaos, anyway.
Honorable mention: Gallon catches ball, Gallon catches ball, Gallon catches ball, Gallon catches ball. Etc. Gardner scrambles, gets flipped into the endzone. Funchess leaps damn near out of the stadium to near the endzone in the second half.
Epic Double Fist-Pumps Past.
8/31/2013: Dymonte Thomas introduces himself by blocking a punt.
9/7/2013: Jeremy Gallon spins through four Notre Dame defenders for a 61-yard touchdown.
9/14/2013: Michigan does not lose to Akron. Thanks, Thomas Gordon.
9/21/2013: Desmond Morgan's leaping one-handed spear INT saves Michigan's bacon against UConn.
10/5/2013: Fitzgerald Toussaint runs for ten yards, gets touchdown rather easily.
10/12/2013: Devin Funchess shoots up the middle of the field to catch a 40 yard touchdown, staking Michigan to a ten-point lead they wouldn't relinquish. (Right?)
10/19/2013: Thomas Gordon picks off an Indiana pass to end the Hoosiers' last drive that could have taken the lead.
[After THE JUMP: Gallon catches ball, Gallon catches ball, Gallon catches ball.]
Offense
All is as before. This game had strong 2011 vibes, specifically the aftermath of that ugly loss at Iowa in which Michigan decided they were an I-form team and acquired under 200 yards of offense before chuck and pray time against a Hawkeye outfit that had just gotten beat by a very bad edition of Minnesota. Michigan followed that by reverting to a spread 'n' shred against Illinois in a 31-14 victory featuring 16 passes against 47 runs mostly out of the shotgun. They proceeded to put up 45 and 40 against Nebraska and Ohio State, also with shotgun-oriented running attacks.
This year Michigan reacted to the fact their tight ends couldn't block anyone by installing the ill-fated tackle over stuff. Once that was demonstrated to not work, they again moved more towards spreading the field. With Drew Dileo injured, Jeremy Jackson got a ton of run as a slot receiver. Gardner operated mostly from the shotgun in the first half, and occasional forays into running under center were just testing the water. Still shark-filled. Yep.
In the second half Borges went with all the max protect play action since Indiana wasn't covering any of it. This, too, is a callback to 2011, when ace sets were 80% play action pass.
How this goes down. Our own Bryan Mac has offered up the perfect video clip of how Brady Hoke perceives this development:
Hooray Borges until the next time we forget the lesson herein. I'm less enthused about Michigan's latest Lazarus moment than the first couple times. At this point you have to expect that at some point later this year Michigan will talk itself into another manball gameplan they don't have the personnel to execute yet. It's clear the staff looks at the Indiana gameplan like Ron Swanson above, and only hypnoshock therapy can force them to get the banana down. The clock is ticking once again.
But for now, hooray beer. Downs set on fire were kept to a minimum and probably necessary to provide the slight threat of a run that keeps DL from teeing off on pass immediately. Michigan actually ran actual run plays out of the shotgun. Drew Dileo would have featured heavily if he was not hurt. Etc.
Maybe? Michigan did proceed to go more under center as the game went on, which was less effective in the run game. Not that this is a surprise. Baumgardner has the numbers:
The Wolverines ran 14 times for 92 yards from the shotgun in the first half, but this wasn't strictly a zone-read situation. Under center in the first half, Michigan ran 12 times for 37 yards.

…Toussaint's breakdown for the game was 13 carries for 78 yards from the shotgun, 19 carries for 73 yards from under center -- including a 27-yard touchdown on the final offensive snap.
Michigan got a ton of big plays from under center in the passing game… and also from the shotgun. Again… Indiana.
Line shuffling. If Michigan's offensive line had a band they would be named And You Will Know Us By The Trail Of Guards.
Burzynski started, left a Michigan touchdown drive limping, returned to the field, got a couple of plays blown up, and left. He has torn his ACL and is done for the year, which sucks. This paved the way for Kyle Bosch to burn his redshirt. Magnuson played the whole game at some position or another; Kalis got in on various larger sets, especially in the second half. He went back to right guard while Magnuson bumped out and Schofield or Lewan took on quasi-tight-end duties.
I've got no idea how well Bosch and Magnuson performed in their new roles because I haven't gone over things in detail and they may as well have been playing against air. Even with the air thing, the under center run game still seemed pretty bad. The contrast between it and the shotgun running Michigan used caused people around me to grumble when Michigan went heavy.
But, you know, whatever you have to do to get some production. Bosch makes sense since he's a natural guard and enrolled early. Burning his redshirt is fine by me—with five other guys in his class redshirting Michigan is not likely to have issues similar to the ones they're experiencing now when Bosch is not around for his fifth year.
Funchess! Only four catches for only eighty-four yards is… uh, about two thirds of his production for the entirety of the Big Ten season last year. I think our expectations may be a little distorted. Funchess did do this, though:
Fuller
I think we'll keep him around. I'm not kicking into Jim Mandich watch mode because cumong man dude is a receiver.
Norfleet is a ghost. Kind of alarming that even with Dileo out Michigan gave Norfleet zero touches—zero snaps, IIRC—on offense. That kickoff return showed some of Norfleet's ability to make guys miss in space—electric. Is he really that bad at doing WR things that you have to keep him off the field? Michigan's inability to have him on the field except as a jet screen guy/jet screen fake guy is frustrating.
Exchanges. Third straight game that a Glasgow/Gardner under center exchange has been fumbled. This one was a turnover that could have been a disaster if not for the timely intervention of Thomas Gordon. It is officially an issue.
Defense
Fuller
Tempo'd. I thought Indiana would get some yards, fast but gradually. Instead they discombobulated Michigan's defense early and ripped them apart for more big plays than they'd given up all year. I don't know if safeties or corners are mostly the issue until I look at the film; I do know that without stars who consistently win one-on-one, Michigan's defense is effective because it is organized. Indiana's tempo blew that to smithereens, with results like:
four play 72 yard touchdown drive requiring 1:21
three play 57 yard touchdown drive requiring 1:03
four play, 83 yard touchdown drive requiring 1:10
five play, 75 yard touchdown drive requiring 1:25.
One Indiana touchdown drive took longer than five plays, an eight play, 71 yard drive that still took less than two minutes off the clock. Michigan got shredded.
Why was this so effective? Well, Indiana can score on almost anybody. They put up 28 on the monstrous Michigan State defense, for one. Also Michigan seems unprepared to deal with this sort of light speed offense what with their leisurely strolls to the line. Their flailing two minute attempts speak to a program that's uncomfortable going at any pace other that glacial, and while Michigan had clearly attempted to prepare for Indiana's pace there's only so much you can do in one week when you're a tortoise program.
Many explosions in the secondary. Indiana burned Raymon Taylor, Blake Countess, Channing Stribling, and Jourdan Lewis at points during the game. Those guys are also know as "the entire cornerback corps" since Courtney Avery was used as a safety.
Taylor got tempoed a couple of times; Countess was beat over the top by tiny shifty Shane Wynn; Jourdan Lewis once again suffered an inch-perfect ball over the top of his very good coverage and gave up an ain't-even-mad bomb; Stribling phased out of this reality at the exact wrong time again and an interception turned into another long touchdown.
It could have been worse, too. Taylor was looking at the sideline on Thomas Gordon's first interception and got smoked over the top; a deeper, more outside throw and that might have been an eighty-yarder. Taylor also somehow managed to turn a sure interception into a Jake Ryan dismaying big play:
Fuller
Miscellaneous
Kick it onside man. After the unsportsmanlike penalty on that Gardner rushing touchdown, Michigan should have tried a surprise onside kick of some variety. A conventional attempt costs you 15 yards of field position in a game where field position means nothing, and if you do one of those pop-up things it probably ends up on the 30 at worst. Hoke said he thought about it, at least.
the last touchdown was completely unnecessary [Fuller]
What was with the end of the game? Michigan had the ball with two minutes left; Indiana had no timeouts. Instead of kneeling out the clock, Michigan kept running until Toussaint was in the endzone. Indiana duly launched a drive with far too many plays in the minute left over. Was Hoke pissed off? Was he trying to work on the under-center run game? Did he just not realize he could kneel out the clock?
Going for two. Seeing the some of the usual complaints about a team that's down eight going for two earlier than the last possible second after IU went for it with a lot of time left. Not to single out Sap, but let's single out Sap:
BRENDAN GIBBONS – Gibby extended his school record consecutive PAT streak to 136. Don't think extra points are important? Just ask Indiana. They went for two to try and tie the game instead of going for one and keeping it a one-possession game. Their failure to convert changed the complexion of the game by making it a two possession contest. That's a BIG difference even if your offense can score in 90 seconds.
An eight point game is not a one possession contest. 47% of the time it's a one possession contest and 53% of the time it's a two possession contest. The trailing team should go for it as soon as possible so they know which one of those they're in and adjust accordingly. "As soon as possible" is generally when the game gets short enough that the opponent isn't going to be kicking two field goals, so Indiana could have gone for two on the first possession of the second half and I'd probably have defended it.
This one, on the other hand, was huge. [Upchurch]
Other game theory bit. Pretty standard now, but Michigan's second touchdown drive featured a fourth and one play from the two that Toussaint took into the endzone. Subtract four points from Michigan's score and how are you feeling about most of the second half?
That kind of thing is why I thought some of the stuff about how Hoke was just another Lloyd Carr in this department was massively overblown. The Penn State stuff was an outlier.
Student bitching: the flipside. All things considered I thought the student section was fine. The new GA policy makes the same number of students seem smaller since they're packed in as efficiently as possible instead of spread out. There were probably as many alumni tickets that went unused judging from my section, which was decidedly roomy. This may be a side effect of stadium atmosphere resignation on my part. It is what it is.
Verizon: why do you suck? I'm going to put a poll up later this week to survey stadium wifi/cellular reception, because I'm curious if it's just me or everybody. Before this year I could get out tweets and get them in without problem except for the most jam-packed, OMG-text-worthy events. This year I can't get anything even hours before the game at my tailgate; reception improves late, I assume because thousands of phones that have spent hours straining for signal have given up the ghost. The backslide in coverage seems obvious to me.
The stadium wifi is erratic at best, meanwhile. Not that I'm surprised. At least they're trying. Even if I have to enter [email protected] to log on.
Weird halftime. Halftime was weird. It was a coded ad for having your wedding at Michigan Stadium.
Here
Elsewhere
Blog items. MVictors discovers that one of Indiana's plays is Ladies Of ESPN:
And suggests this might have been a more productive alternative:
Also more Gallon photos.
TRICKED OUT SLED GUY –  Props to the dude who slides this pimped out Denali into the Champions Lot, not far from the tunnel:

Runner-up:  Blue Wacky Wind Tube boy:
I was sure that the blue guy would win with his janky weird homemade nightmare fuel.
Drumline-off:
Hello, Thomas Gordon. Gordon had a weird stat line. It consists of the following: 2 interceptions returned for 41 yards. That's it. No tackles, no pass breakups. And those were his first two picks of the year. Opposing quarterbacks have been testing Michigan's cornerbacks more than the safeties this year, but I've been a little surprised that Gordon hasn't been more involved up to this point.
Maize and Blue Nation. Maize and Brew.
News folks. Postgame pressers from Gardner and Gallon and Hoke. Mike Spath tweets this important photo:
The Daily caught up with that girl who became internet famous after Gardner's fumble on the two. You know, her:
How else are you supposed to react to that game, I ask you.
I like the dude behind her. Shifty-eyed dog, the man.
On what happened on the first Taylor-ceded TD:
On Indiana's second possession, it took just 10 seconds from a first-down play to the next snap. Taylor, Hoke said, was trying to get the call from fifth-year senior safety Thomas Gordon. Meanwhile, wide receiver Cody Latimer streaked past Taylor. The safety help Taylor believed would be there never came. The play went for 59 yards and a touchdown.
That is what it looked like, yes.