Talking With Shaun Crawford And Tyree Kinnel
Brady Hoke and company are recruiting at a crazy level right now and while the 2015 class already has five members, its very possible that it could contain seven by the end of the weekend. 2015 Ohio DBs Shaun Crawford and Tyree Kinnel may both decide they'd like to be Wolverines within the next 48 hours. Crawford is set to decide tomorrow while Kinnel is visiting Michigan on Saturday and a commitment may occur while he's in Ann Arbor. I was able to talk with both young men to get a vibe on how they are feeling as their big weekend approaches.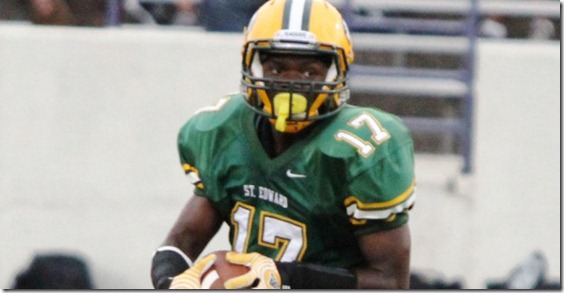 Most people feel pretty confident that Crawford is a Michigan lock at this point and he didn't tell me anything to make me think otherwise. He told me that he was very excited to make his decision tomorrow and did not deny that Michigan was still his leader, he just sort of said he wasn't ready to make anything public until Friday.
One bit of information that I found promising for Michigan was that Kinnel has actually been texting him to talk about Michigan. Kinnel filled Crawford in on how he was feeling about Michigan and told him his plans for his visit. Crawford said this about Kinnel: "He's really excited! Says he's always been a fan growing up. I'm not really sure about a commitment though, he didn't tell me that."
I finished up our conversation with a statement that it sounded like good things were coming for Michigan and he agreed.
When Michigan offered Tyree Kinnel I reached out to him to see where the Wolverines ranked and that same day he told me they were definitely his leader with Arkansas in a close second. A couple of days ago I talked with Tyree again to see if Michigan was still his leader and he, like Crawford, didn't deny it, but instead answered with the fact that he will be visiting Michigan on Saturday.
I asked him if a commitment was possible on Saturday during his visit. He said he didn't know if he'd commit or not, but it seemed like the thought had crossed his mind. I followed my question with a text: "I'm getting a vibe from you that you'll be a Wolverine on Saturday." He replied with "Haha lol".
Two ways to express laughter via text message may be redundant, but the point was made.