Spring Stuff, 2015: Offense
Podcast? Yes. We couldn't record it yesterday because of Easter obligations. We will tape it this evening. It should go up tomorrow.
Missed it? It's on the tubes.
Ours got more attention than normal because it was so early.

The Michigan offense in one picture [Patrick Barron]
Rome was not rebuilt from atomized dust in a day. It was not good, obviously. People will tell you that the defense is supposed to be in front of the offense at this juncture… but not that far in front. When they say that they mean something like "it was a little ugly and they only ran for like three yards a carry." They mean that the final score was 17-10 or thereabouts.
They do not mean that the only offense of the day will be Amara Darboh catching fades against Poor Damn Dennis Norfleet, a 5'7" guy who hadn't played defense in college until being tested there this spring. The overall feel was reminiscent of the legendarily terrible 2008 spring game, which I didn't even go to because it was held at a high school to facilitate Michigan Stadium's renovations and still remember as the first "oh shiiiii" moment in the Rodriguez era.
To some extent this was all expected. Michigan fans have been debating between a true freshman, a guy who had 3.2 YPA last year, and a redshirt freshman who did not play. They were going up against a defense that has been pretty good the last couple years (until collapsing in exhaustion at the end of games). It was never going to be pretty.
But did it have to be that ugly? Bler!
Quarterbacks: come on down Joliet Jake. Morris was anointed the #1 QB coming out of spring by none other than Harbaugh himself, and that seemed about right after the spring game. That it did so after Morris went 11 of 24 for 5.6 YPA would have me purchasing bags of dehydrated food, water purifiers, and shotguns if not for the 99% official transfer of Iowa starter Jake Rudock to Michigan. Rudock may not be a conquering hero… but he will probably feel like one.
Malzone, the great (if vague) hope going into spring, did not look ready to challenge for the throne. I'm not on board with the arm strength complaints just yet, as those seemed to be generated by a wide receiver screen Lewis tried to jump but did not, giving up a first down on 2nd and 19 (in this game the equivalent of 2nd and Canada).
I may come around in the near future. The constant short stuff was disappointing: even his attempt at a game-saving two minute drill featured five yard hitch after five yard hitch. He did have one nice dart downfield that Chase Winovich dropped…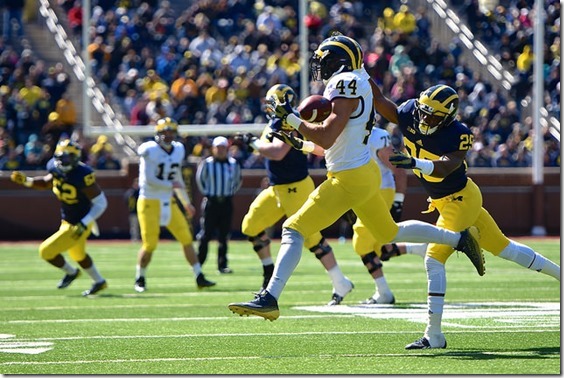 a linebacker linebacks even when he tight ends [Bryan Fuller]
…but that stands out as just about the only attempt Malzone made to get the ball down the field. There were a lot of doomed WR screens in there. And that two minute drill… oy. They got about 20 yards before time ran out. This is a tradition I would like to leave in the past.
One thing I'll say in Morris's favor. He's got that fade down pat. One got intercepted because Darboh didn't wall off and extend away from a defensive back and a couple more got dropped; the rest save one were completions, and I think Morris ended up leaving that one short because he got hit. The rest were on the money, in that space outside the numbers and inside the sideline where the receiver has space to play with and can detach from the DB.
That's a good location to have down, by the way. It's tough to throw and thus tough to get to for a lot of defenses. Deep outs, smash routes, corners, and those fades all end up in that general area. It's the location on the field that is the reason NFL teams go cuckoo for cocoa puffs when they find a Mallett type. Morris can buy himself a lot of leeway if that throw is as consistently accurate as it felt like on Saturday.
a lot of this [Eric Upchurch]
Run game: I don't know. Ty Isaac was all but out (he's credited for one carry I don't remember), so the Malzone team's tailback was Wyatt Shallman (12 carries, 22 yards) with spot duty from Ross Taylor-Douglas*. Shallman is more of an H-back in college and it showed.
Meanwhile, both Ace and I assumed that Derrick Green had been mostly held out with an injury of his own only to find out that he and De'Veon Smith apparently split carries down the middle. It's just that Green's 7 went for 8 yards and Smith's 7 went for 50.
Smith had a sequence early in the second half where he ran tough and his offense started getting some actual time on the field. That ended with a fumbled exchange, because of course it did. Smith never fumbled in high school and hasn't done so in college yet so that issue is probably a freshman-QB thing more than anything Smith did wrong.
If Michigan knew Isaac was going to be limited they should have swapped Green over to the Blue team to get a better feel for the competition between those guys. Either way it was a good day for Drake Johnson.
*[who has now completed his tour of all the positions you can play on a football field and can turn in his punch card for a free bag of Combos.]
The one good run. Cole gets a good push on Henry, Kugler seals away, RJS and AJ Williams battle to a stalemate, Cole gets to the second level, and Smith makes a nice out-in cut to put the other linebacker on the wrong side of the hole:
gif via Ace
If Michigan develops holes on the regular I think Smith has an advantage because his ability to grind out another two or three yards will be valuable in the Harbaughffense.
L to R: back, under threat, trying out [Bryan Fuller]
OL depth chart hints. Glasgow was back and playing center as if he had not violated his probation; the program said he'd gotten through whatever punishment the program had deployed for him. If he keeps his nose clean that should clear him to resume playing center this fall.
Meanwhile Michigan tried out Logan Tuley-Tillman as the left tackle on the blue team, bumping Ben Braden inside to guard. LTT picked up three legit holding calls; even so that implies that he's getting a serious look and Braden may move or lose his job. Erik Magnuson playing right tackle for the Maize team is another indication that the tackle jobs are not secure.
A scholarship guy who might be looking at some writing on the wall is Dan Samuelson, who was healthy enough to make the roster but IIRC did not play much, if at all. With a couple walk-ons seemingly ahead of them they might be down for the count. Bars (who I omitted from the rosters post by accident did play, at guard:
He is 62 next to Kugler [Fuller]
If you made me guess right now I'd say that Erik Magnuson is Michigan's starting right tackle this fall and that guard slot opened up by the various line shifts is the most heated competition out there. But that's firmly in wild guess territory.
Wide receivers: do we have a problem? There were a number of ugly drops, none more so than Jaron Dukes batting a ball in his facemask directly skyward for an interception. Morris zinged it with unnecessary force, yes. That's still a worst case scenario for a receiver. Dukes had another sorta drop later and doesn't seem like he'll be pushing past the established guys this year.
Elsewhere: Darboh had a drop and a fade wrested away from him but recovered late to be the Blue team offense. Going up against Dennis Norfleet significantly compromises that accomplishment, especially since most of the plays were "throw it over that guy's head," but Darboh did display strong hands and an ability to track the ball in flight in a difficult situation. Some people can do that (Junior Hemingway), and some cannot (Darryl Stonum). Darboh is in the former category. Can he get separation from the likes of Jourdan Lewis? I don't know—one downside of this format.
Receivers other than Dukes and Darboh were playing with Malzone and barely got targeted on anything notable. This year's spring hype machine, Brian Cole, was not a factor until deep into the second half; Freddy Canteen made a couple of nice catches on balls outside the frame of his body. There was not a whole lot else to talk about.
There was a notable lack of separation for receivers going up against actual defensive backs. That could be bad; it could be an indicator that the secondary is going to be as lights out as we all hope. As per usual, we'll find out abruptly in fall.
Poor Damn Norfleet. In the aftermath Harbaugh talked Norfleet up as a guy who could contribute in all three phases. Nope. The act of moving a guy his size to cornerback is waving a white flag on his career.
I mean… maybe not. Harbaugh is weird and one of the specific ways in which he is weird is his predilection for flipping guys from one side of the ball to the other. This could be a Harbaugh whim that doesn't mean much about playing time down the line. But it probably means that Norfleet is kaput. We'll always have that punt return touchdown to seal the Maryland game inane irrelevant block in the back by someone far away from you.
BEARD. This is not Elliott, right? This is some other spectacular beard just hanging out on the sideline?
[Barron]
This is one Brady Hoke tradition I'm glad we're keeping.