Spring Position Battles: Defense
Roh is certain. Everything else is chaos.
This is going to be extensive. It would be much, much quicker to rattle off a list of positions we know are set this fall:
Craig Roh at quick defensive end.
That is literally all. We do know that a few other guys are guaranteed starters, but Ryan Van Bergen, Mike Martin, and Troy Woolfolk could all switch positions. I should have thought of that before I did the offense. Now I'm stuck with this format.
Anyway. On with show:
Not Brandon Graham
The Departed
Three defensive line starters return, but the best defensive lineman in the country does not.  Normally you'd be looking at Brandon Graham's platoon of ready-to-go backups for an inadequate but functional replacement. Since this is the 2009 Michigan defense we're talking about that platoon is walk-on Will Heininger. The other options at his spot are freshmen.
So it's time to get creative, maybe…
The Candidates
Count me amongst the chorus suggesting that Ryan Van Bergen might move outside. Dubbing this position "Not Brandon Graham" is a clever way to not write "Ryan Van Bergen might move" at three different spots.
Michigan has three veteran backups at defensive tackle in sophomore Will Campbell and seniors Renaldo Sagesse and Greg Banks. All played last year, the latter two decently. Campbell was raw as hell but was one of them OMG SHIRTLESS recruits and can be expected to make a major jump his sophomore year. Putting one of those guys in the starting lineup seems less likely to result in disaster than dropping an underweight freshman into the starting lineup. Craig Roh did okay last year, but Michigan isn't bringing in anyone as touted as Roh was this time around. Also, Mike Martin is more of a penetrating three-technique tackle than a leviathan space-eater and moving him to RVB's old spot figures to get more production out of him.
If RVB doesn't move, then you're going to choose from Heininger, redshirt junior Brandon Herron,—Roh's backup at quick last year—redshirt freshman Anthony LaLota, or true freshmen. Herron was a linebacker a year ago and is likely to still be undersized and LaLota showed up two inches and thirty pounds lighter than people expected him to. He probably needs another year.
The thing to watch for this spring is the RVB move. Past that, the developmental paths of Campbell, Roh, and LaLota are the main points of interest.
Hoping for… as the guy that is not Brandon Graham? Will Campbell. This assumes RVB ends up at DE and Martin moves over to RVBs spot. Moving RVB gets a bunch of veterans and a five-star sophomore more playing time. It puts Mike Martin in a position to be seriously disruptive. And it doesn't force a freshman into the starting lineup. So this is a hope for the move and a hope for Campbell to explode.
Expecting… RVB moves, Sagesse and Campbell platoon. I was puzzled by Michigan's periodic attempts to give Campbell playing time over Sagesse last year. Campbell got sealed on a number of successful runs against Iowa; Sagesse wasn't Alan Branch but usually ended up with a +1 in UFR. I assume Campbell will show considerable progress but I'm also betting that Sagesse is basically a co-starter.
Spinner
The Departed
Over the course of a year, Stevie Brown went from whipping boy to reliable outpost on a defense of chaos. Was it a position move? Greg Robinson's Just For Men magic?
The Candidates
They're young but they're not totally green. Michigan got both Brandin Hawthorne and Mike Jones in early last year and put them through their paces; by the UConn game next year they'll have been on campus for almost two years. Both saw special teams action only. Hawthorne will apply for a medical redshirt. Jones played too much for one. That's him burning his redshirt on the right.
Those two will be the main competitors in spring since I believe Isaiah Bell, who redshirted, is moving inside to ROL. This fall brings crazy athletic Josh Furman into the mix. He of the 4.3 electronic 40 is probably even faster than Brown and could press for playing time later in the season if Hawthorne and Jones aren't working out. He's unlikely to win the job outright immediately.
Hoping for… Hawthorne or Jones doesn't seem like it makes a difference since they have near-identical recruiting profiles and experience. I guess I'm pulling for Hawthorne since he's got a redshirt on him and I like the Pahokee kids.
Expecting… Again, Hawthorne and Jones have almost nothing separating them. One of those guys.
Regular Ol' Linebacker
The Departed
No one.
The Candidates
These two positions are here despite featuring two fifth-year seniors returning for their third years of starting because both Obi Ezeh and Jonas Mouton were yanked for performance reasons late last season. Indecision ruled the day:
No… seriously.
Mouton was pulled for JB Fitzgerald, a touted recruit entering his third year in the program. Ezeh was pulled for Kevin Leach, another walk-on. Both eventually won their jobs back when the replacements weren't much better.
Jay Hopson left to become the defensive coordinator at Memphis, and whether it was voluntary or not it's welcome. Ezeh went nowhere in two years under Hopson's tutelage and Mouton went backwards. If Greg Robinson can pull the same career revival magic he did with Stevie Brown on the two inside guys, he'll put to rest a large chunk of the skepticism at his hire and go a long way towards making the defense respectable again.
If he can't, then Fitzgerald and Leach will figure into the plans again, with potential assists from Kenny Demens and various freshmen. Demens hasn't gotten off special teams in his time at Michigan and got passed by a walk-on. That seems like a kiss of death there.
Ezeh and Mouton will be the main focus here.
Hoping for… I'd like Fitzgerald to emerge as a starter but in the place of Ezeh; last year the guy replacing Ezeh was Leach. Really I'd just like whoever plays at linebacker to look like he's got a clue. Obi-Wan Greg Robinson, you're our only hope.
Expecting… Ezeh and Mouton. They'll be better. Linebackers are the guys most screwed by Michigan's revolving door of defensive coordinators because they are almost always reading a play and executing a complicated assignment based on that. Also they've got a new coach who happens to be the defensive coordinator and thus knows exactly what he wants the guys to be doing.
Cornerback
The Departed
Donovan Warren took his budding skills and five-star hype to the middle rounds of the NFL draft. Boubacar Cissoko couldn't keep it together off the field and is no longer on the team.
The Candidates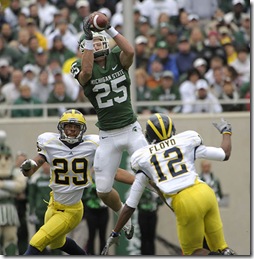 I'm assuming both spots are open because of the possibility Troy Woolfolk moves back to deep safety in spring. The defense started imploding for serious once he was moved to corner and Michigan's safety tandem became Kovacs and Williams
Outside of Woolfolk, the one guy with any experience is JT Floyd. Floyd was the guy the coaching staff turned to to replace Cissoko when he proved dreadful early in the year. He wasn't much better and Woolfolk eventually had to move despite the other options at safety being a freshman student-body walk-on and Mike Williams. In his brief time as a starter, Floyd played ten yards off wide receivers and looked totally overmatched. Maybe that's a mental thing, but he seemed just too slow for the Big Ten.
So… yeah. It's more freshmen, then. Super-hyped recruit Justin Turner got in late because of some difficulties with the Ohio Graduation Test and ended up out of shape and unprepared to play. He redshirted. Even if he came in looking like Will Campbell, if Turner couldn't play in that secondary by the end of the year people are right to be at least slightly concerned he may not pan out.
And then there's the flood of true freshmen. With Demar Dorsey starting out at corner, Michigan has four in the 2010 class: Dorsey, Courtney Avery, Cullen Christian, and Terry Talbott. None enrolled early—unfortunately, all of Michigan's early enrollees were on the offensive side of the ball—and they will be just rumors this spring.
We won't get a read on this position at all unless walk-on Floyd Simmons is ahead of someone on the depth chart. We will get a first look at Turner, the team's most important redshirt freshman.
Hoping for… Justin Turner and either Dorsey or Christian. No Woolfolk == considerably reduced panic at safety. One freshman is as good as any other at the other spot, I guess, but I'd rather have the higher-rated guys off to fast starts. No offense to Floyd, but he obviously wasn't ready last year and I'd be surprised if he was this year. Maybe 2011.
Expecting… Turner and Woolfolk.
Box Safety
The Departed
Brandon Smith transferred to Temple.
The Candidates
It's clear that this is going to be another hybrid safety/LB type player. Early in the year, it was Mike Williams. A little later it was Jordan Kovacs. When Woolfolk moved to corner it was Williams again, and when Williams played poorly Michigan moved Brandon Smith and threw him in the starting lineup; Smith liked it so much he immediately transferred.
Of the two returners, Kovacs was by far the superior option despite being a walk-on. He's got the proverbial nose for the ball and was the only guy at the spot last year to turn in enough good plays to offset his poor ones. And he did this as a freshman walk-on. (He was technically a redshirt freshman but since he was not on the team last year he is much closer to a true freshman.) He showed himself way too slow to play deep safety, but the grit fantastic he is possession of should keep him in the mix despite a couple of athletes pushing him hard.
Athlete the first is incoming freshman Marvin Robinson, who everyone thinks is destined for linebacker except Robinson. At Michigan he may be a linebacker in spirit if not in name. This is a spot he's a superior fit for athletically but it may require some adjustment.
Athlete the second is hypothetical, but Rodriguez mentioned in a Signing Day press conference: they're looking at moving wide receiver Cam Gordon to defense, but to safety. [Update: YEAH THAT HAPPENED.] That's another indicator that Michigan's base set is going to be an eight-man front, as Gordon is a strapping 6'2" fellow who everyone expected would end up at… wait for it… linebacker. If Gordon makes the move it will give Kovacs and Williams some competition from an NFL-sized guy right away.
This is also where Carvin Johnson goes, but I'm guessing he'll redshirt.
Hoping for… I don't really know, actually. I guess I'd like Robinson to win the starting job, but a true freshman over Kovacs and Gordon could bode unwell for immediate production. Maybe Kovacs to start and eventually giving way to Robinson.
Expecting… I have no idea. Truly.
Deep Safety
The Departed
No one.
The Candidates
As discussed above, if this is Kovacs Michigan is at least kind of screwed. I mean no offense to the guy, but…
…he is not a deep safety*. In an ideal world, two of the young corners would establish themselves quickly enough for Michigan to boot Troy Woolfolk back here. That world is much easier to envision if any of those guys had enrolled early.
If Woolfolk doesn't make the move back, Michigan has a couple options not fresh off the turnip truck. Vlad Emilien and Thomas Gordon are redshirt freshmen who will be given a shot at the job. Emilien was more highly touted and actually held the starting free safety job in spring until late, when Woolfolk took over and he was relegated to backup duty. He saw some special teams time in fall but will apply for an injury redshirt. Gordon was primarily a high school quarterback at Cass Tech—he only started playing DB as a senior-year audition for a Michigan scholarship—and never threatened to see the field last year.
Freshman Ray Vinopal will reinforce in fall, but as the lowest-rated player in the class he will probably redshirt.
Hoping for… Woolfolk. I'd rather have the freshmen playing at corner, where Woolfolk can tackle their mistakes.
Expecting… Emilien. I'm a little hesitant about him since he enrolled early last year and still wasn't good enough to crack last year's secondary, but maybe he had a lingering injury issue.
*(RVB owned up to a botched line check on that touchdown but it was a lack of footspeed from Kovacs and, more disturbingly, Floyd, that turned that play from 20 yards into 90.)
Others
What others? Apparently Teric Jones might stick on defense, apparently at box safety. I think I've mentioned every other scholarship defensive player on campus except Steve Watson and James Rogers.