Spring Football Bits: Prove to Me that You're Divine
you can't throw a rock at Schembechler Hall without hitting someone talking up Bush and Dwumfour [Patrick Barron]
We got a lot of good stuff from over the weekend so let's do another one of these. Depending on what's leaking the rest of the week I may or may not get another out before the spring game, so I'll try to make this one pretty comprehensive.
--------------------
Quarterback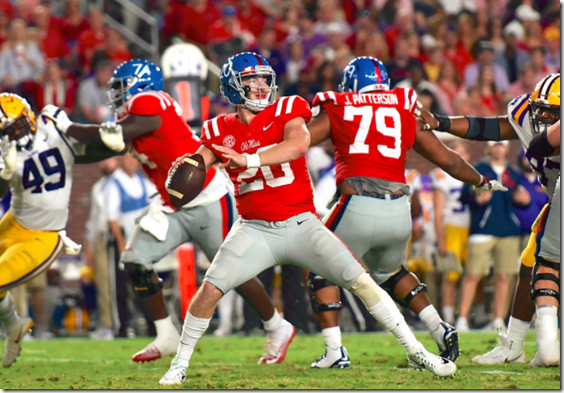 Do you know what people say you are? [Bryan Fuller]
What we want to hear: Hosanna, hey-sanna, sanna sanna ho, sanna hey, sanna ho, sanna!
What we're hearing: Multiple practice observers believe Patterson is well ahead of the other two, and the gap between him and Peters/McCaffrey is about equal to the gap between those two right now and where they were last year.
First the scouting. Harbaugh on his podcast said Shea Patterson has the best release and that he really shines when going off-script. Insiders are spitting out super-foobally platitudes: He's "a leader." He "makes plays." That jives with his seat-of-the-pants film at Ole Miss and the general "Tate Forcier Except Goes to Class" impression we got from that. The insiders are way more bullish. The "he's a leader" thing got emphasized by all three of my "SOURCES", with one saying he's probably the best offensive juice guy Michigan's had since Harbaugh got here.
Brandon Peters throws the best ball, which is again something we knew. The biggest mover is Dylan McCaffrey, last year's scout team player of the year, who benefited the most from Herbert in the offseason, and who gets rave reviews about his pocket command.
As for eligibility, Brian discussed it depth earlier this afternoon. The short version is it's no surprise that Ole Miss opposed these waivers because the only way to avoid significant sanctions is casting Ohio State* and beating the NCAA's wisdom throw.
*
What it means: The first episode of the Amazon thing was a good reminder that nobody outside of the quarterback room knows the real status of the quarterback battle, so this is guesswork based on lay observations. But nothing can be done to stop the shouting; if every tongue were stilled the noise would still continue—the rocks and stone themselves would start to sing. Unless the NCAA (and again, we're talking about the NCAA, not some group of responsible, potty-trained adults) buys Ole Miss's innocence act, Patterson is your presumptive starter. For now.
There's another clue that this is where the coaches are leaning: one of the points insiders made about is Pep is putting more emphasis on scramble drills. We all noticed last year how, with the notable exception of Grant Perry, Michigan's receivers would end up standing around after running their routes instead of working back to the QB. If there's a greater emphasis for the QBs on checking down and improvisation, and a greater emphasis for the WRs on providing those outlets, that kinda sounds like they're shaping the offense to Shea's strengths.
--------------------
[After THE JUMP: My two offensive lines theory, did you hear about Dwumfour?]
Offensive Line
a Stueber has appeared [Brandon Justice]
What we want to hear: See, now I'm afraid if I tell you you'll just say it.
What we're hearing: I said last week that the Herbert Effect is noticeable, and this week there's enough of that to make a "more physical" drinking game out of Michigan pressers. Most every individual is mentioned positively.
The inside now seems to be down to one battle. Ruiz and Bredeson are Michigan's best two linemen, while Onwenu is still just barely holding off Spanellis for right guard.
The outside has little separation between the ones—Juwann Bushell-Beatty and Jon Runyan—and three redshirt freshmen: James Hudson, Chuck Filiaga, and Andrew Stueber. Depending who you ask Hudson or Stueber is the most likely to push JBB out of the left tackle spot and Runyan out of the starting five: "Warinner likes Stuebs," "Hudson is Michigan's next NFL left tackle." Filiaga might be as good as those guys but appears to be among the runny-but-assy-at-passy-blocky types. Everyone agrees JBB is currently the best OT right now, and everyone agrees the battles will extend well into fall camp.
Ulizio remains a ghost.
What it means: I'm going to present my theory here but it's a crackpot one, and it's highly likely I'm reading too far into reports that tell us less than we think.
Anyway I think the pickle Michigan's in with the offensive line is they have some guys who can mash who aren't capable pass blockers, and some capable pass blockers who can't mash. That would explain why they're winning reps but three spots are still up in the air.
There is a likely offensive line configuration that can run power-O ("Drake" they called it last year I think) pretty well. That is JBB-Bredeson-Ruiz-Onwenu-Filiaga. Line that up against an undersized defensive line and it's the Minnesota game again. The problem is that line can't pass pro.
If keeping the quarterback upright so he can win some games against decent defenses is the goal, your line is ???-Bredeson-Ruiz-Spanellis-Runyan, where ??? is which ever RS freshman can keep the quarterback clean.
That could be Stueber, with James Hudson giving you a shot at cake and eating cake. Maybe Filiaga does too. The redshirt freshmen are what's probably holding the coaches back from picking a style and rolling with it. If, say, Hudson pops, or Stueber is consistent enough that they can trust him at left tackle and move JBB back to right, that whittles down the conversation to a single position battle. If none of those things happen soon enough they'll have to go into the season with JBB at the blindside, despite how that's gone previously.
Remember though, it's super rare for a second-year left tackle to be that good—Taylor Lewan spent most of his RS freshman year behind Mark Huyge, QED. The list outside of Michigan are five-star freaks born with left tackle bodies, and Michigan failed to reel in any of the few they've had a shot at. The list at Michigan is Jake Long, Grant Newsome, and Jeff Backus. The first overall pick, a literal genius, and a 15-year NFL starter. Not saying Michigan doesn't have another of those guys; I'm saying it's rare.
--------------------
Running Back & Fullback
cut. [Patrick Barron]
What we want to hear: BESIDES Higdon and Evans…
What we're hearing: Higdon 1, Evans 2, and though the offensive line (and Indiana-Rutgers-Minnesota-Maryland) didn't get enough credit for the Higdon segment of the Amazon show, Michigan feels like they've got two of the best backs in the conference.
The battle for third—and with 35-40 carries a game they definitely need a Ty Isaac—rages on. Sam interviewed JayHarbs recently and got us a checkmark for the MGo-O'Maury Samuels scout:
There's a big difference between being short and being small. He's rocked up, super quick, great long speed, so if he does get an opportunity to bounce a ball or break one he's going to be tough to catch.

His growth has been tremendous. I think transitioning last year high school to college he's grown a lot more comfortable just feeling the defense, feeling the runs, making the appropriate cuts, not being in a hurry. A lot of times super fast guys can have a harder time being patient; he doesn't struggle with that at all.
nailedit.gif
I think he's a very tentative leader for the third back out of a group that includes Kareem Walker and Kurt Taylor—Tru Wilson and Joe Hewlett were mentioned a little after. That can change by the day and insiders think that means there's room for at least one of the freshmen to contribute this year. The staff thinks they were all critically underrated by the services, especially Michael Barrett, who could be a Chris Evans type guy as soon as this fall. 
Ben Mason violent metaphor of the week: My new feature this week is I'm going to start Google image searching these and rating them based on the % of pics in the first two rows that seem dangerous. This week's Ben Mason metaphor is "Bruising man-crusher."
So 30%, but I'll hear your Last Jedi arguments in the comments.
The bad news Mason tore his meniscus this week. That probably puts an end to the two-way talk and unfortunately ruins our bloodsport. The good news is he'll be back by fall:
"As spring ball was going, he complained a little bit about his knee. His knee just didn't feel right," Harbaugh mentioned regarding the injury. "It'd be better to go in and have surgery on the (meniscus) tear than to keep playing on it," Harbaugh said. "So, he's going to get a meniscus surgery."

Right now, Mason is expected to miss six weeks, meaning he would be back well within time for the 2018 season in September.
What it means: If you watched the Amazon thing and didn't get excited for Karan and Chris again you're probably still gazing at Mike Weber's stars and can't be helped. Mason will be fine, VanSumeren will probably be his backup, but now's a good time to see if they can find another backup among Ice Sculpture, Bruised Toe, and whatever clawed that dude's arm.
--------------------
Wide Receivers
[Barron]
What we want to hear: Huge leaps, more huge leaps.
What we're hearing: Roundtree is playing a big role in the position coaching, though McElwain is very much involved. My read on the offensive staff is Harbaugh and Pep are the Bo (design, direction) and Hanlon (coordination execution), with McElwain drawing passing coordinator duties and Warinner taking over Drevno's running game duties.
Anyway nothing's changed from last time except Tarik Black is now healthy and back where he should've been if last year wasn't a wash. That was good enough to be Michigan's best receiver last year but Donovan Peoples-Jones was coming from further behind on route running and has made more progress. Those two are getting the most mention and I believe are the starters, with DPJ leading. After that I don't know where Nico Collins is relative to Crawford and Schoenle because the latter two don't get mentioned. It could be they'll battle all year again, or that it'll be a situational thing.
Slot is still treated like its own position. Grant Perry is dealing with an injury, but they say Oliver Martin now has a good shot of occupying that position when Perry returns.
What it means: Okay I'm not going to fight it. If an NFL beat writer out there wants to get a jump on some 2024 content, "Four of the NFL's most productive wide receivers were all in the same recruiting class AT THE SAME SCHOOL!" is sure to generate clicks from humans and robot overlords alike.
--------------------
Tight Ends
What we want to hear: The TEs were such a big part of the passing game last year—and with Butt before that—it's not like practice chatter is going to change opinions. Only thing I really wanted out of spring was progress in blocking—a thing they say about tight ends every year anyway—and that Tyrone Wheatley Jr. was really coming on, but he's hurt. I guess gimme some Moore love and Eubanks hype.
What we're hearing: TE coach Sherrone Moore talked to Ira this week and had a press conference today. Things from that: Wheatley was having a good offseason before his injury. Eubanks missed part of last year with injury but he's going to be a weapon on this team. Gentry is taking the next step, may lead the group. A lot of diversity at the position but no Jake Butt.
Via insiders they're lining up TEs in the slot more, which is another obvious move given the receiverishness of Gentry and Eubanks. NFL offenses these days do this a lot because a big tight end who can run like a receiver is a major matchup problem for the 6'0"/210 lb safeties everyone uses these days to cover slot guys in space and whatnot. Think Tyler Eifert.
We're not hearing much about blocking, which is weird but not yet alarming.
What it means: A dedicated TE coach is a good development for an offense that relies a lot on its tight ends. Even if they're trying fewer TRAIN stuff in camp
The Offense in General
What we want to hear: Not losing 9 reps out of 10 to the defense anymore.
What we're hearing: Balas posted an ITF today with a bunch of tidbits from a practice insider that echoed the meagre stuff I get. I actually saw the original email from the insider Rivals got most of that post from, and since the insider was a bit clearer I'll just use his words:
Last comment---a yr ago---if UM offense had a successful play against our defense 1 play out of 10 it was a good practice---this yr it is closer to 5 out of 10---although I still think our defense is ahead----but nowhere compared to a yr ago
That's particularly encouraging considering everyone thinks the defense is going to be better than last year's.
Also in that email is a thing about how they're running more power, less "finesse" (read: outside zone), which is to be expected since they replaced an outside zone guy—Frey—with Warinner, and that's what Harbaugh's run in the past, and that's what kind of line Herbert has built at Wisconsin and Arkansas, and that's what they recruited guys like Mike Onewenu and Cesar Ruiz to do. File under "duh."
What it means: We didn't ask how much they win by. I think this supports the picture we get from the position notes. Michigan returns some B+ offensive players in DPJ, Black, Higdon, Evans, Gentry, and McKeon, with Shea Patterson, Ben Mason, Oliver Martin, Nico Collins, Cesar Ruiz, Ben Bredeson, and Nick Eubanks emerging into that level. Add to that a few specialists: McDoom is worthy of a jet package, and they have enough maulers on the offensive line to put six of them out there together a few times a game.
Against weaker defenses—like the Minnesota/Maryland/Rutgers stretch last year—the power running game ought to be more than sufficient. I think what we don't have yet is an offense that can find other ways to move the ball against defenses with the ability to play our Manball game straight up. If they're winning half of their reps against Dr. Blitz with a platoon, that's not enough to sustain drives against other good defenses. You have to win passing reps with the running group, or vice versa. And everyone agrees that will be a work in progress through August.
--------------------
Defensive Tackles
They haven't said Dwumfour can play linebacker yet but at this point I wouldn't be entirely surprised if they did [Barron]
What we want to hear: Why are you so hype for Dwumfour really?
What we're hearing: DWUMFOUR DWUMFOUR DWUMFOUR DWUMFOUR. Also Mone and Solomon but mostly Michael "Not Just Gary's Friend" Dwumfour. Almost every coach to stand before the media has voluntarily offered Michael Dwumfour as the guy having the best spring, who's most improved, if they had to single out one guy who's impressed, or what's your favorite way to open a type of nut? Ira sat in on Harbaugh's podcast (that should go up tonight) and got the head coach's take on why:
Awful tough to block

Mo Hurst-like

It's Michael's time.
That's 3-tech. Nose might be a bigger battle than we realized—the coaches aren't just talking up Bryan Mone as a good run-stuffer; they're saying he's an awesome run-stuffer. Via Sam Webb, Mone has been carrying a lot more muscle and a lot less bad weight.
Also the Aubrey Solomon hype has shifted perceptively from "we want him to…" to "he's doing…" which is a great sign.
Nothing lately on Carlo Kemp, who's been playing SDE and DT, or Lo Marshall, who's the backup at DT. I think that's the end of guys they expect to be in the rotation.
What it means: Again, nose is a position that requires rotation, so having two guys with different skills is an excellent sign. The coaches are talking in terms of having two deep they can trust like in 2016, and you remember what "like in 2016" is like.
--------------------
Defensive Ends
What we want to hear: The best defensive end duo in the country's backups are the best defensive end backups duo in the country.
What we're hearing: Gary and Winovich are so good it's boring, and you're already aware of the offensive tackle situation, so we are getting more about their team leadership. Nothing new this week on the backups for now because we got all that stuff from Mattison last week. Here's an MLive link from that which I missed earlier.
What it means: Injuries to the younger guys are probably holding back competition behind the starters, so we'll have to wait for fall camp to see if there's a fight for rotation spots. Kemp and Paye have already made it in. And you know about the starters.
--------------------
Linebackers
What we want to hear: Something.
What we're hearing: Nothing. Been quiet on the LB front all of a sudden, though there was plenty last week. The insiders say it doesn't matter because they're all good and they'll play in the rotation. Devin Bush Jr. could make a run at all-American. The race for McCray's job might come down to Ross or Gil, and Singleton is going to play somewhere.
What it means: Nothing except linebacker is fine so nobody's keying on it.
--------------------
Safety
What we want to hear: Is it Metellus or…
What we're hearing: It's been awhile since we got an update on this—last we heard JKP was securing the 2nd free safety spot on the depth chart and Metellus was trying to fend off a serious challenge from J'Marick Woods. Metellus was made available but we only got some stuff about leadership:
The only update recently is I think Brad Hawkins is out of that conversation for now, not for lack of upside but he's coming from too far behind the guys who got to play there last year.
I did get something on the freshmen: if you guessed they had Sammy Faustin pegged for safety you're now 2/2 on a "Guess where they put the long and limby DB recruits" trivia, with three questions to go.
Also Khaleke Hudson is ripped and ready for a breakout year.
What it means: Probably fine.
--------------------
Cornerbacks
What do you call something that's longer than Long
with more vert than Vert? [Fuller]
What we want to hear: More good things about the starters and a certain challenger
What we're hearing: Sure, that. Sam got into the CBs a bit on his show a few days ago and shared that David Long has improved the most but Hill is a dog, and starting to do Jourdan Lewis things beyond the "he looks like Jourdan Lewis out there" things. Practice insiders agree but add that Ambry Thomas looks to have moved up from a battle with Watson to siphoning first team snaps. "Neither starter can relax."
What it means: Ambry is a bigger deal than we're crediting. You can't get through a whole season with two corners for one, and between the comments last offseason from Zordich and the waving about effort this year I think either Hill and Long were acting like their jobs were set in stone, or perhaps the coaches just worried they thought that. Anyway a hard challenge from a borderline five star a year younger is insurance and a kick in the ass to get better, where better is taking care of that one inch that opposing quarterbacks put a ball once or twice last year (don't tell Hill and Long you guys but they're really good!)