Season Review: Context in the Beilein Era
Barron
PREVIOUSLY: Zak Irvin, Muhammad-Ali Abdur-Rahkman, Duncan Robinson, Mark Donnal, The Departed, Derrick Walton
Last season, Michigan overcame the loss of a pretty-close-to-All-American level player (in addition to a good sixth man) and barely made it into the NCAA Tournament with a conference efficiency margin of about zero. Fortunately the Wolverines found themselves on the right side of the bubble, but it took a Big Ten Tournament upset over Indiana, the conference champ, in a de facto road environment to sneak into the dance. That win – that shot – was definitely the highlight of the season. Michigan acquitted themselves decently enough in the NCAA Tournament, but familiar defensive woes doomed them in the second half against Notre Dame – a team that made the Elite Eight without facing anything higher than a seven-seed.
On the whole, it was a largely disappointing season. Michigan finished ranked 58th nationally in Kenpom – and the preseason projection for them was 17th. While injuries doubtlessly played a big role in underachieving, the Wolverines didn't play well, even early in the season at full strength. The season divides into two distinct periods: with Caris LeVert, and without him. Even with him, U-M only split two games in the Bahamas against tournament teams and were clobbered by Xavier (at home) and SMU. Caris looked bigger, stronger, quicker, and more aggressive, but even a herculean effort against Xavier couldn't keep Michigan in the game. LeVert couldn't mitigate the team's glaring weakness inside, though he usually did have Michigan's offense running pretty smoothly.
Without him, Michigan made it to 9-8 (so, in addition to the first win over Illinois, Michigan was 10-8) in the Big Ten without suffering any would-be devastating upsets at the hands of the lesser half of the conference. Routs at the hands of Indiana and Michigan State at home within the span of a week were two more no-shows against top-tier competition. Wins over two physically imposing squads in Maryland and Purdue were the bright spots in conference play. Outside of those, the best thing you could say is that the Wolverines avoided losing games they really shouldn't have lost and while that's a good thing to be able to say, it's not that great when that's one of your top bullet points on the positive side of the resume.
Still, Michigan made the tournament, if just barely. Extenuating circumstances – Spike's hips and Caris's foot, namely – thinned the backcourt rotation and limited the team's true potential, but at least they were playing better ball in March. The Indiana upset (truly a joy to watch in person at the Big Ten Tournament) got U-M in: clinging to a spot on the bubble felt like a deserving outcome. It was good experience for a team that was still pretty young – and has plenty of room to grow together.
While it was certainly a better season than 2015 (though similarly star-crossed), it was the second rough campaign in a row after the Big Ten Title / Elite Eight year. Shaking up the program felt necessary, and Michigan will have two new assistants, four outgoing transfers, and four new freshmen, two of whom need to play early. We'll see if John Beilein –  soon to be coaching his tenth(!) season in Ann Arbor – can make a jump after changing assistants like he did in 2011.
[some #tepid #Beilein #takes after the JUMP]
When you have the same guy running a program for a decade, you get to know that guy pretty well. Judging by how Beilein's tenure has gone thus far, we can make some educated guesses about the future.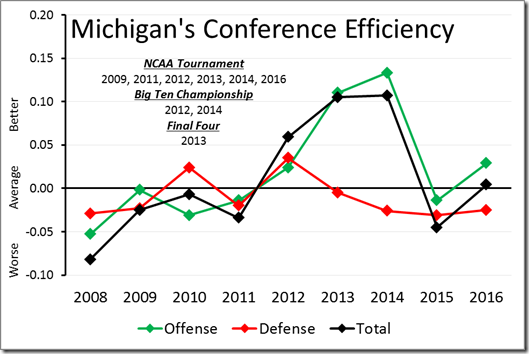 It's worth noting that conference efficiency margin isn't the best stat to tell exactly how good a team is (for example, Michigan ranked 26th nationally in Kenpom in 2011 and 58th nationally in 2016, even though there was actually a worse efficiency margin in 2011) but it is the best way to break things down visually into offense and defense.
Anyways, this bulleted list got kind of long and sort of rambles, but here are some thoughts:
Michigan got into the tournament with a negative Big Ten efficiency margin twice under Beilein and made it in with a close-to-even EM this past year. For how luckless Tommy Amaker was on the bubble in Ann Arbor, this is a nice upgrade. In each of those three seasons – 2009, 2011, 2016 – Michigan won a game in the dance after getting in from the middle of the pack in the Big Ten.
After the mulligan year transitioning from Amaker with freshmen, Michigan has been average or slightly below in conference play five times. In 2012, Michigan was the worst of three Big Ten co-champs (and outperformed their efficiency in terms of W / L results), but 2013 and 2014 were a cut above. Built by high-powered offenses, those two teams were great in tough league competition and won eight tournament games between them.
The downward slope in defense from 2012 on would be no surprise to people who have paid close attention to Michigan basketball, but it's kind of a surprise that the 2015 defense wasn't statistically worse – I mean, it felt worse, right? Oh, and who would have guessed that 2016 would be the fourth-best Big Ten EM under Beilein? The league was down but it's still a surprise.
Obviously there was going to be some sort of a drop-off after Stauskas, Robinson, and McGary made their way to the NBA, but the 2014 class – now pretty much just MAAR – didn't really provide adequate reinforcements. Of course, injuries made the decline more precipitous than it should have been.
It's worth remembering that Michigan was a top-tier program there for a hot second. Despite the failures of the last two seasons, Beilein had the Wolverines near the peak not long ago. Yes, it's unlikely that he'll be coaching in the national championship game again. Yes, it's very possible that his best teams are behind him. Are those reasons to get rid of him? Of course not. Do programs – especially programs like Michigan, which hasn't been #1 in its state for like two decades – get rid of coaches so soon after they built up some really great and extremely fun teams? No.
Fear of plateauing from here is valid. Though Michigan did recently sit among some of the best teams in the Big Ten, they still seem to be several rungs below the class of the conference on the ladder as of right now. Another year or two in the middle of the pack as a team that's not a serious threat to make the Sweet 16 isn't great, and further distances us from the heights of the Beilein era. If Michigan misses the tournament again, this time with ostensible veteran talent, the mutterings about job security will have gained validity.
After a disappointing year in 2010, Beilein fired his assistants and hired new ones: in their second year together, they won Michigan's first Big Ten title in three decades. Maybe things had grown stale since, so LaVall Jordan and Bacari Alexander getting new jobs could be a blessing in disguise. Beilein seemed to understand that defense was a fundamental and comprehensive issue, so he hired Billy Donlon, a pack-line acolyte. If Donlon turns things around (a big if, but definitely possible) to go with what's probably going to be a pretty dang good Beilein offense, we could be cooking with gas.
Expecting an improvement on offense is reasonable. In college basketball, teams grow together – and in most cases, the good ones have only a year or at most two to develop chemistry with one another. Often, you see huge strides from November to March as players develop into their roles and begin to play more cohesively. Michigan – unlike any other at-large NCAA Tournament team – returns all of its starters into a famously complex offense. Many of these guys have played together for a while. If Michigan can replicate the crispness and surgical effectiveness of the late West Virginia Beilein teams (which was something derived from their experience together) with the pick-and-roll smarts of LaVall Jordan's products, they'll be really dangerous on offense. With Xavier Simpson and Moritz Wagner as breakout candidates, there's hope for reinforcement from the bench, which will feel relatively new.
At this point, we're acutely aware of some of the drawbacks that come with Beilein: the auto-bench, poor defense, some debatable recruiting methods (though on the whole, his recruiting is pretty good and if Moritz winds up being what I think he can be, the whole "Beilein can't recruit big men" thing will go away. But then again: Jordan Morgan. Mitch McGary.) It's worth overlooking the weaknesses in favor of the strengths with Beilein – just because there are some fair criticisms of him and just because he's not in that top tier of elite coaches doesn't mean that his seat should be getting warm or that his job's not secure.
Anyways, put me on the record as saying that the 2017 team will exceed expectations and talk of a coaching change will evaporate as quickly as it did in the latter half of the 2011 season.