Rows Of Teeth
8/31/2013 – Michigan 59, Central Michigan 9 – 1-0
oh yeah Kalis and Magnuson beardin' it up yo [Upchurch]
You may not remember this because of the recent history of Michigan football, but often after one-sided blowouts not against Notre Dame this space will throw up its hands at the idea of crafting an actual column and skip straight to bullets and highlights and whatnot. It's tough to narrate the emotional tenor of a humid August day against a team that never had a chance.
MY COLUMN ABOUT THIS FIFTY POINT WIN THAT MADE MY WIFE MAD BECAUSE SHE FELT BAD FOR THE OPPONENT
It was kind of boring, but on the other hand it was nice not to be terrified. It was hot and Dave Brandon smells like pee.
/column
But, you know, at some point in the third quarter Michigan threw a second team offense out there, and it was thrilling. I know this is basically me saying "hello, I am freak. Freak talk now. Freak talk." But there it is. I actually felt excited when the second-team OL came out, possibly more excited than I had been for anything that was not Dennis Norfleet all day. Ben Braden was out there. Chris Bryant. Blake Bars. Erik Magnuson. Joey Burzynski. One walk-on (not four); no upperclassmen. The future. Magnuson even got in on the goal line and did well for himself.
Michigan loses Lewan and Schofield; they also get six more bullets in their chamber as the 2013 OL class comes off redshirts, chomping at the bit. The days when Michigan's depth chart reads "three to five guys, then a bottomless pit" are close to over. Might already be over.
On the other side of the ball the equivalent moment came too soon to even think about it: the second drive. Michigan threw four guys out there who hadn't played on the first drive, and switched up some linebackers, and I'm not sure fans who don't obsessively track the numbers of everyone in the game would even notice. They'd go three deep at many spots by halftime.
They'll graduate three of the 20 players in the front seven who saw the field, and nobody from the secondary. Because of suspension and injury in the safety corps, yeah. But still.
Take this depth chart. Stack the 2014 depth chart behind it. Put 2015 behind that. You can even go to 2016, probably, what with Michigan's 2015 class approaching halfway done already. What do you get?
An infinite conveyor belt of shark teeth. It's coming. Might be here already.
Highlights
Via Parkinggod:
There's also a shorter BTN reel.
Photos
Eric and Bryan posted their galleries on Sunday. A season-opening reminder: all photos on the mgoblog photostream are Creative Commons licensed and can be used on your blog or twitter or facebook or whatever (just not sold). We just ask for a link back.
Meanwhile Roy Roundtree is pretty great y'all:
Fuller
Awards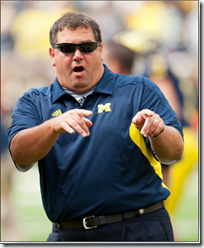 Brady Hoke Epic Double Point Of The Week. Difficult to pick any one person here since no one had more than four catches or 14 rushing attempts and Gardner threw two ugly picks in 15 attempts. Meanwhile on defense, the heavy rotation meant no one except Desmond Morgan had more than five tackles.
But… Cam Gordon looked good and his two sacks are the most statistically impressive achievement on the day. And Brennen Beyer only got credited for one sack but really had two, a sack/strip and then a plain ol' sack, both of which appear in the highlights above. On both he beat blockers. Gordon got his on (well timed, effective, finished) blitzes. Since everyone is feeling much, much better about Not Jake Ryan, Not Jake Ryan gets the nod.
Honorable Mention. Jarrod Wilson (for a guy who supposedly lost his job to Courtney Avery he was lights out); Jeremy Gallon (a couple tough catches amongst his four, and two touchdowns); Devin Gardner (okay, yeah, but Vince Young); Fitz Toussaint (looked goooood despite lack of stats); AJ Williams (provisional based on possibility he was caving in the outside of the CMU defense.)
Epic Double Point Standings.
0.5: Cam Gordon (CMU), Brennen Beyer (CMU)
Brady Hoke Epic Double Fist-Pump Of The Week. The blocked punt touchdown set the tone, showed us the crazy explosiveness of Dymonte Thomas (Heiko and Ace point out that he blocked it before it even hit the punter's foot), gave us some faith that special teams might be a real asset this season, and was a Heartwarming Moment when former walk-on Joe Reynolds scored his first touchdown. So that.
Honorable mention: Desmond Morgan embodies his description in the season preview with a textbook stick of Zurlon Tipton; Cam Gordon invades the backfield to make us all feel better about Not Jake Ryan; ditto Beyer; Derrick Green rips off a 30-yarder; Reynolds brings in a tough 50-yard catch.
Epic Double Fist-Pumps Past.
N/A
Burned redshirt watch
A first-game thing to do.
On offense: De'Veon Smith, Derrick Green, Csont'e York, Jake Butt, and Shane Morris.
All of these make sense to me. Playing one of the freshmen wideouts makes sense, one or both running backs could help Michigan win a game this year, ditto Butt, and Morris needs blooding.
On defense: Delano Hill, Jourdan Lewis, Channing Stribling, Dymonte Thomas, Taco Charlton, Ben Gedeon.
Despite previous complaints about burning either LB redshirt, if Gedeon is the backup WLB I'm fine with it. He appears to be. Everyone else is obvious save Jourdan Lewis, and even if that's a debatable decision M is still redshirting two corners this year and brings in Jabrill Peppers next year. I don't think they'll be moaning about a lack of a fifth year for Lewis.
Probably redshirting: All OL, Wyatt Shallman, Jaron Dukes, Khalid Hill, Da'Mario Jones, Reon Dawson, Ross Douglas,  Henry Poggi, Maurice Hurst,  Mike McCray. McCray is a bit of a surprise after the number change seemingly designed to get him on special teams with Dileo. I'm very much in favor of a redshirt to get some separation here. Everyone else is obvious save maybe Hill.
[Rest after the jump]
Offense
IGNORE THIS AND EVERYTHING IS AWESOME (EXCEPT THAT ONE THING) [Upchurch]
The man at quarterback. I'm not sure whether to dial back the enthusiasm or not after that performance. The downside: two bad interceptions, a number of balls that were tougher on receivers than they had to be, and a case of happy feet not unlike the bowl game. Gardner ended up running around a lot when he didn't think he had anything that the play called for. This was spectacularly successful, but I'd rather see him step up and throw in the context of the offense against a tomato can like central Michigan.
The upside: man did he seem like Vince Young out there when he dropped to pass. Senior Vince Young. Michigan got a taste of that in the 2005 Rose Bowl when Young completed two-thirds of his passes and was also Vince Young. That was the beginning of his transformation from erratic to threatening, and that combination proved deadly for Texas the next year. Large chunks of their offense turned into sending guys deep and having Young scramble if it wasn't there; the play that sealed the next year's championship game was Young casually loping into the corner of the endzone from ten yards out. When Gardner strolled to a twenty-two yard TD on which he barely seemed to be exerting effort, that comparison locked itself into my brain. Then Gardner did it again later, outdistancing a linebacker easily to convert a red-zone opportunity.
Gardner's efficiency in said redzone is still outlandish:
With Gardner at quarterback last season, Michigan scored on all 18 of its trips inside their opponents' red zone, including 15 TDs. Against the Chippewas, the Wolverines scored on all seven red zone trips, with six touchdowns.
That last one may have been Michigan deciding they were going to get Gibbons an attempt in the opener.
Meanwhile, when not throwing interceptions Gardner was 10/13 for 162 yards. Add in the other two attempts and he checks in at 10.8 YPA. Chicks dig the long ball, man. Gardner's career passing number remains over that 10.0 mark.
The man at running back. Despite some mediocre numbers (4.1 yards a carry), Fitzgerald Toussaint certainly looked all the way back. He was quick through holes, kept his legs churning on contact, and made a couple of lovely cuts. Michigan's still figuring out their blocking somewhat and Fitz isn't entirely sure what he's seeing on every run, but that looked better from everybody.
Hidden key. AJ Williams. I was… uh… unstinting in my evaluations of him last year; he appears to have taken a major leap forward. There are a couple of great blocks in the above highlight tape. He was the guy who bashed in the edge on the Green run.
[UPDATE: this isn't going to the play. It's just after 7 minutes.]
That's a great block; not only does he blow the guy inside, he quickly hands him off to Lewan and goes looking for trouble downfield. On this snap he does not find any, but that's a tantalizing glimpse into an impact blocker. On Rawl's touchdown he did something similar, first helping combo a defensive lineman and then popping out to get a second player—on the goal line, even.
Highlights necessarily exclude potential downers; I even so I bet Williams had his best day at M.
"Call me 'pretty boy' now, Devin Funchess" –Devin Funchess. Also looking much improved in his blocking was Devin Funchess. There was of course the decleater…
…but more than that, Funchess was getting a bit of motion on linebackers. He doesn't need to be as good as Williams to start getting open down those seams.
Gallon Gallon Gallon Gallon. Devin locked onto Gallon too much in this game, which led to the second interception and probably a number of scrambles when Gallon wasn't open and Gardner wasn't coming off his read. That's not really on him; neither is that INT. Michigan hadn't really set up the hitches enough with him to that point.
I am a bit worried about WR depth after game one. Chesson didn't get a target. Jeremy Jackson had one reception on a waggle when CMU tripled the tight end; Reynolds had a very nice long completion to go with his punt return touchdown but got maybe one other target and may be hurt. (Michigan radio said he was fine at some point during the game but there are conflicting reports on that.) I wonder if that's on the WRs, the playcalling, or Gardner's long-time partnership with Gallon.
Interior OL check-in. The real answer is I don't know yet; the certainly seemed improved. It felt like they were getting a lot of push. I did not think "poor damn Toussaint." Hilariously bendy pulls were the domain of Taylor Lewan, weirdly. Not bad for a first start.
One of the things I'll be looking for is how Glasgow in particular played. There are two ways to perceive his placement in the lineup:
Walk-on! We gonna die!
Glasgow was all over the place in spring and was the fireman whenever a position looked shaky. Glasgow has passed many scholarship players and is going to be just fine.
The tentative response from Michigan folks including yrs truly after game one is #2, which would be huge for a number of different reasons. It adds a sophomore lineman to Miller and Bryant; it gives Michigan a starter at a position of need; it pisses Ohio State off.
It's a trick play. Michigan almost refused to pull Kalis, leading to the podcast crew theorizing that power over Taylor Lewan is a trick play for Saturday.
Note to Al. Do not call the fourth-down Gardner bootleg run against Michigan State. They are already dissecting the CMU tape. That's what their quarterbacks do with countable hours.
Upchurch
Shane Morris: eh, would probably start at State. Morris had 4/6 debut with a fifth pass a long one that was high that Norfleet probably should have caught anyway, plus no points at which you put your fingers to your temples and massage. That exceeds expectations. No one wants to see him get real playing time this year for many reasons, but maybe the cliff won't be as extreme as previously thought.
SAT analogy of the week: Gardner : Gallon :: Morris : Norfleet. Morris looked for his li'l buddy quite a bit. Those two spent a ton of time ripping up 7-on-7s when they were recruits, and if Morris is the quarterback next year, Norfleet could have major numbers.
Defense
Pass rush: extant? [Upchurch]
Earn the right to rush four… or three. Jibreel Black impressed with a quick swim, split of a double-team, and sack from a three-man line. While there are still questions about his ability to have an impact in the run game, there can be no question that he's a massive upgrade on Will Campbell when it comes to getting to the quarterback. With Michigan lifting their nose tackle in the pure nickel you're going to see defensive lines that read something like Beyer/Black/Clark/Wormley, with Ryan, Gordon, and Ojemudia factoring in at points.
I wonder if they'd go so far as to yank both the nose and the three tech and just go nuts with three SAM/WDE types and Black. Plausible with Clark pushing 280, no? And if you can't get to the QB with that lineup, I don't know what you can do.
Returns here were excellent. Michigan had four sacks and seems to have been shorted credit for a fifth
The Canonical Desmond Morgan. A tip of the hat to Desmond Morgan for turning in a tackle that will forever be the "this is Desmond Morgan" tackle. It's a first quarter stuff of Zurlon Tipton on which Morgan stops a very good running back dead in his tracks with a form tackle:
via Ace.
Morgan saw time at both linebacker spots as Bolden rotated through the lineup and looked decisive and mean; Michigan thinks enough of his athleticism to send him into deep third zones in a Tampa two package that I don't think I've seen Mattison run since early in his first year here. He was quickly dissuaded when the guys he tried to send back there were not exactly Ray Lewis. To see that re-emerge now is a statement of confidence in Morgan.
The polymorphic spree. Greg Mattison was not kidding when he said he felt he had multiple starters basically everywhere in the front seven. As soon as the second drive he'd replaced the entire defensive line and inserted Joe Bolden. As the game progressed it became impossible to identify who was actually starting anywhere. Bolden probably got as many snaps as either of the starters on the depth chart; Beyer and Gordon seemed to switch off 50/50; Ojemudia got as much run as Clark; Pipkins probably got more than Washington.
I think we'll see roles become more defined next week, as it's going to be tough to go away from the guys you trust the most against the Irish. But dang, man, depth.
Frank Clark check-in. I am provisionally disappointed. I'm wary of confirmation bias on my part and will wait to UFR the thing before I say anything definitive, but to my eyes Clark remained erratic against the run and not much better when it comes to beating blocks. He had one impressive quarterback flattening when he was unblocked; other than the MGoCrew remembers one quarterback hurry on which he beat a block.
It seemed to me that not only Mario Ojemudia but Brennen Beyer showed more as a pass-rusher. Ojemudia had a sack on which he was flagrantly held and still took the quarterback down; Beyer bulled up the middle for a sack/strip and got an edge rush for a second sack, both from a nickel DE spot. Taco Charlton also bulled his way into the backfield to string out a QB run late; all of these folks seemed to have more impact on the game than Clark.
One game, Clowney didn't have a sack in game one, provisional, etc. Sunny side: hey, Michigan has three defensive ends who might be better than Frank Clark!
Wilson can get up [Fuller]
On the confirmation bias flipside. I got y'all all panicked about the safety spot and then Jarrod Wilson has a game that was either great or more than acceptable depending on his culpability on one of the long CMU completions. That play was the one on which the quarterback had eons to to throw and Furman tracked a guy down after he'd broken open over the top, so even that is the kind of bust that is understandable.
Other than that play, Wilson got involved by crushing a screen, playing impressive center-field defense on a post (he probably would have intercepted it if Countess hadn't banged into him), and getting out on a corner route the CMU QB missed. That corner route stood in stark contrast to the third and twenty CMU converted on the same route on the other side of the field when Furman didn't get over; the screen displayed some really impressive lateral agility and upfield explosion; the post route was perfectly high-pointed and demonstrated that Jarrod Wilson's high point is high indeed. Hoke mentioned he'd had a couple of really good weeks of practice and previous issues seemed to be freshman understanding stuff; this performance hinted that if he can be relied upon to do the things he's asked to he might do them really well. This stock is majorly up.
Reiterating at SAM. The two Not Jake Ryans were discussed in the awards section because dang, they were good. Beyer may have generated more pass rush himself than the entire WDE spot did last year, and while just Central and all that the first step to becoming a good rushing team is whacking Central Michigan. Mission accomplished.
While Beyer was getting tradition rush, Gordon was demonstrating skills as a blitzer, as he timed both of his sacks perfectly and roared through gaps to pound the quarterback. Blitzing is also a skill. Gordon looked athletic and confident. Those who stay, man.
Channing Stribling. As the first guy off the bench when Michigan went to a nickel he is kind of a starter. Last summer he was a guy with Charlotte and SWAC offers who went to Michigan's camp hoping the MAC would take notice. And now he's starting-ish for Michigan as a true freshman. What a find.
Special Teams
Do we usually have a special teams section? I think we just fold it into "miscellaneous" most of the time. This game warrants its own section.
Hello, Dymonte. As introductions to Michigan football go, Dymonte Thomas's wasn't quite the Denardening but it wasn't far off. As Ace and Heiko pointed out, Thomas got to the punter so fast on the blocked punt that he got to the ball before the punter(!!!):
Via Ace
Since the only foot that went off of was Dymonte's I think we should have seen the world's first offensive roughing the kicker penalty. Also, If Dymonte hadn't gotten it Gedeon probably would have. That is punt pwnage.
Thomas was quarantined from the first-team defense for now, but I don't know how you keep that off the field very long. I wouldn't be surprised to see two distinct nickel packages, one more of a 4-2-5 base with regular personnel that subs out a linebacker for Thomas, the other the pure nickel we saw against Central.
Hello, Kenny Allen. Tough to tell if he's won the starting punter job from Matt Wile since the first time Michigan punted it was deep into the fourth quarter of a game Michigan led by fifty. If he hasn't won it yet, he's put his name in after a 51-yarder with no return. Allen was booming them in spring and insiders have consistently mentioned him bashing punts off the roof of Oosterbaan. It's possible Michigan will give him a shot over the steady but not obliterating Wile.
Speaking of Wile. Even if he's limited to kickoffs and pooch punting, he's a valuable guy. His pooch punts were excellent a year ago; against Central he put the ball in the same spot on every one of Michigan's infinite kickoffs. Some were touchbacks (50%, in fact); others were just short enough to convince central to make a bad decision to take the ball out to not the 25. It seemed like Michigan actually wanted him to shorten it up, and then after the Drake Johnson injury decided they were done fielding kickoffs. How about that.
And now we're done talking about special teams. Yup. Done.
Seriously. Go away.
I don't know why you're stil—NORFLEEEEEEEEET
Yeah, a rather bad decision on his first punt attempt and then another bad decision not to field a rugby punt on one hop later. That second decision was no doubt a reaction to the first, and it is a concern. But at least we know that the upside when Norfleet does grab a punt is much larger than it was when Gallon did. This got called back because of a penalty, but I don't care yo, this is some Breaston business here, down to frustratingly getting tackled inside the five:
It's that moment where he realizes he's about to be Vincent Smith what with this CMU guy about to crush him that gets me. He stops, gets hit glancingly, keeps his feet, and then has the agility to arc around a couple more defenders, then the speed to get the corner. Michigan should always have a dude like this on the roster.
If he can work out the fielding hijinks, weapon.
One last thing. After the first rugby punt, Michigan threw a three-returner formation out there with Gallon and Dileo also back. CMU called timeout and then launched a conventional punt.
Miscellaneous
General admission: yes. General admission worked in game one. First, sniffles.
Michigan students not thrilled, but show up for kickoff under new general admission policy
The beatings will continue, because the beatings are effective.
The bowl below the handicapped section was full 30 minutes to gametime and it looked like it was completely full by kickoff. It looked like they hacked the section size down a few thousand seats. Hopefully making it more of a pain in the ass for latecomers convinced the worst students not to bother this year. Downside: I had a lot of trouble getting reception whereas I had no problems except for huge games last year. I now support students never showing up.
Intro video: yes. After a bit of a dud last year, this year's entrance video is back to being great. Last year's was just highlight and dramatic music until the very end; this one incorporates people talking in exhilarating ways. Unfortunately, Old Hat hasn't posted it yet.
Jet pack: no. For one, this is the third or fourth time a jetpack guy has been around. For two, jetpack guy was right over the stadium this time, and it was so loud my entire section winced and tried to put their hands over their ears. I can't even imagine what it was like for the endzone people flown over directly. It hurt. On top of being lame. No more jetpack guy.
General stadium experience: meh. First game of every year is a reminder that no one will leave you in peace for even 30 seconds of a commercial break. It is what it is.
Fourth down: still going. XOXO, Brady Hoke.
Halftime: posted. Nice.
Elsewhere
Multimedia. "Gonna get a concussion if we keep scoring like this."
MVictors has photos. The reverse angle of the punt block:
I be like dang
Also:
More miscellaneous shots also exist.
Here is dubstep Michigan replay:
MLive has a stadium-prep photoshoot. Maize and Blue News has interviews with Raymon Taylor, Cam Gordon, Michael Schofield, and Toussaint/Gardner.
Blog folks. TTB:
Cameron Gordon looked very good. I thought Gordon was Michigan's best defensive player on Saturday. He had 4 tackles, 2.5 tackles for loss, 2 sacks, and 1 pass breakup, which he deflected in the backfield and almost caught it in the endzone for a defensive touchdown. His added size in the offseason makes him a more imposing figure, and his athleticism for a linebacker is well above average. When Jake Ryan returns from injury, Michigan needs to find a way to get both Ryan and Gordon on the field at the same time.
FITZ TOUSSAINT – It was good to see #28 dancing in the endzone instead of showing off his dance moves in the locker room. Two touchdowns had to feel sweet after all that rehab work. Fitz has gotta be the Fitz of old to keep this offense strong & balanced against stronger competition in November.
What does it all mean for the Notre Dame game? I don't know.
Also: The Big House Report,
Media folks. Baumgardner:
-- Gardner's improv skills were on full display once again. He escaped danger to find Drew Dileo on a 36-yard pass play before evading tacklers with ease one play later, resulting in his first touchdown run of the game. He's not conventional, but he's effective.
Wojo:
As warm-ups go, this was as ideal as it gets, and not just because of the bloated score. There were more than enough stirring plays to get heads spinning, and just enough blips to keep feet grounded.

This is how good raw talent can look, at least when contrasted against an outmanned opponent. Devin Gardner opened his first full season as Michigan's starting quarterback and showed all facets of his multi-dimensional game in a 59-9 thumping of Central Michigan Saturday. It was brutal and mostly efficient, and we'll find out soon how much it actually means.
Hoke on the Gordon suspension:
Gordon's suspension will be one game.

"It is important that our 115 sons represent this university and program to the high standards we hold," Michigan coach Brady Hoke said. "But at times, like in society, our kids make poor decisions, and when they do, it breaks your heart.

"With those choices come consequences. Thomas was not accountable to his teammates, and he has learned a valuable lesson from this situation."
Stormtroopers and helmets and other tailgating hoohaw. On the other side of the tracks, students put together the saddest tailgate ever:
noooooobody knows the trouble I've seen
Baumgardner on Gardner and Kalis. Slagter on Not Jake Ryan. Helmet stickers from Jennings. Also, what was learned. Grades. This article stars Steve Carrell. Angelique on Gardner and the OL.