Recruits In Retrospect: 2010 Defense
Previously: 2008 Offense, 2008 Defense, 2009 Defense, 2009 Quarterbacks, 2009 Offense, 2010 Offense
The series continues with a look back at the defensive prospects in Michigan's 2010 recruiting class. Rich Rodriguez took 16 defenders in the class; more of them failed to make it to the opening kickoff of their freshman year (four) than advanced all the way to Senior Day (three).
I apologize in advance.
Those Who Stayed

Obi Ezeh!
Especially in retrospect, Jake Ryan's recruitment was bizarre. Ryan was the most productive defender on a state-title-winning Cleveland St. Ignatius squad that got plenty of exposure; he played next to Ohio State commit Scott McVey; his highlight tape provided more than a glimpse of what he'd become at Michigan. He looked a whole lot like Jake MF Ryan, minus the flowing locks.
Yet Ryan went unranked for much of the process, and even after a strong senior season only earned middling three-star rankings. Michigan didn't offer Ryan until he took an official visit a couple weeks before Signing Day. Ryan, holding only MAC offers, committed the next day. Reading his profile today makes me wonder if I unwittingly ingested all of the drugs:
Why Obi Ezeh? Ryan is a big, slightly clunky middle linebacker who will easily reach Ezeh's current 245 pounds and may outgrow the position entirely. As a recruit Ezeh was an anonymous three-star in about the same range Ryan is; he was also a sleeper-type pickup who had not been on anyone's radar before Michigan grabbed him. Ryan is praised for his vertical attacking and dogged for his ability to cut through the trash sideline-to-sideline or effectively cover zones; Ezeh's career is ably summed up by those critiques.

Ryan has some assets Ezeh doesn't: a high school career at linebacker (Ezeh was mostly a running back), a head start on the system he'll be playing in, and Greg Robinson as a position coach. Hopefully he'll have some consistency in coaching as well.
Notably, Greg Robinson as a position coach was listed as a positive. Greg Robinson as a defensive coordinator was... not.
Jibreel Black's profile spent a lot of time hoping he'd become at least a poor man's Brandon Graham. While Black didn't come close to Graham's heights, he was a solid contributor his last three years, and he could've been more productive if Michigan's issues with D-line depth didn't force him into a role as a 275-pound nose tackle for much of his senior season. Black is one of many players from the Rodriguez/Hoke era whose career would've benefited from a redshirt year he wasn't afforded.
The career of Courtney Avery saw him go from promising freshman corner to clearly undersized spot starter to senior utility man—he'd finish his time at Michigan with 19 starts, five of them at safety in 2013. Avery was also a two-time Academic All-Big Ten selection, which shouldn't come as a surprise since he flipped his commitment from Stanford to Michigan; his high school coach thought very highly of him:
"He's the type of kid that if he wants to be president of the United States one day, he will be. I got two compliments I could give him. That's the first, and the second is if my daughter was 18, she could date him."
"Thanks, Coach. I'm deeply uncomfortable."
[Hit THE JUMP, if you dare.]
Those Who Basically Stayed
You hit the jump, eh? Welcome, gluttons for punishment and fans of rival programs.
A few defenders from this class almost made it, and given the context that counts for something.
Josh Furman came to Michigan as a spectacular athlete in search of a position. He was one of two recruits in the class to get the "cheetah in a porsche strapped to a jet engine and dropped out of a plane" tag; though ticketed for defense at the college level, he once ran for 414 yards in a single high school game:
The hope was that, with a good deal of coaching up, Furman would become the prototype "spur" hybrid defender on the Rodriguez/Robinson defense. Read and cringe!
General Excitement Level: Daddy needs a new pair of shoes. Roll them dice and hope Greg Robinson and Adam Braithwaite are the savants they're reputed to be.
Nope. Furman mostly saw special teams action after taking a redshirt year, then was randomly inserted to the lineup at safety for three starts in 2013 for reasons still a mystery to anyone not named Brady Hoke or Greg Mattison. Those didn't go so well, and Furman decided to spend his final year of eligibility as a hybrid space player at Oklahoma State, where he thrived—tallying 14 TFLs, 7 sacks, and a pick—because of course he did. The Denver Broncos took him in the seventh round of this year's draft and inked him to a four-year deal.
The first word in Jordan Paskorz's recruiting profile is "workmanlike," and the generic three-star defensive end never rose above that label. He moved from linebacker to tight end after two years on campus, and eventually earned a lone start in 2013 when the coaches were searching for any TE-like substance willing and able to block a soul. He elected not to return for his final year of eligibility.
The last member of the Pahokee pipeline, defensive tackle Richard Ash, saw infrequent time as a reserve during his four years on campus. Brian labeled him a boom-or-bust prospect out of high school because of questions about his work ethic and ability to keep his weight in check, and unfortunately he ended up more Jason Kates than Fat Elvis Brandon Graham. Ash did find a nice role during his fifth year, having a reasonably productive season... for Western Michigan.
Those Who Played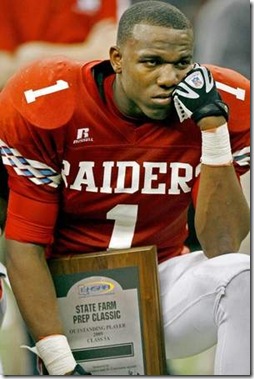 Left: Carvin Robinson hated losing. Right: Marvin Robinson, OMG Half-Shirtless
Due to the dilapidated state of Michigan's secondary to end RichRod's tenure and begin Hoke's, several 2010 recruits were thrust into early playing time, and most of them ended up leaving Michigan well before exhausting their eligibility.
Carvin Johnson earned major pre-enrollment points for the incredible photograph posted above, taken after he was named his team's most outstanding player while losing the state title game, as well as his attitude towards the recruiting process:
What did you like least about the process? 
• Carvin Johnson: "I didn't like anything about it. I don't like all that, I really don't. I don't like recruiting, I don't like going to the recruiting camps. I don't like all that, I just like to play, pretty much. You want to watch me play, come and watch me play."
Johnson saw the field right away, getting three starts at hybrid linebacker—please don't make me look up the difference between "spur," "bandit," and "spinner" in 2015—but fell behind Jordan Kovacs and Thomas Gordon when he moved to safety. He departed late in the 2011 season and wound up at Hampton.
Marvin Robinson, much like Ricardo Miller, proved the classic example of a high school player who develops early, gets a ton of hype, and plateaus when he's nearly maxed out his physical ability before he can legally vote. Brian still thought highly of him, mostly because a linebacker-sized safety with coverage issues had an ideal fit in the 3-3-5 we thought Michigan would run. Instead, Robinson started just one game at Michigan—the first ND night game, in which Theo Riddick scored the go-ahead TD when Mattison rolled Robinson, playing safety, all the way up to the line in a cover zero look—and transferred to Ferris State after playing mostly special teams in 2012.
Yet another safety, Ray Vinopal, was the target of the most ire from the three-star mafia, to the point that Rodriguez addressed the situation directly in the Signing Day presser; the Youngstown product was a two-star on two of the three recruiting services. I doubt even Rodriguez expected Vinopal would be needed on the field his freshman year, but there he was, making the first of his six starts that season in the disastrous Penn State game*, which you may remember for such things as "why is Kenny Demens a foot behind the nose tackle?" and "does JT Floyd need a compass?" Vinopal looked the part of an overmatched two-star freshman, and he transferred to Pitt following that season. The twist ending: Vinopal turned out to be pretty good. C'est la vie.
[*DON'T CLICK THIS UNLESS YOU'RE ARMED WITH ALCOHOL.]
Cullen Christian's Michigan career is best remembered for his interminable press conference to announce his college decision, which inspired a T-shirt:
He was thrown into the fire in the Michigan State game his freshman year, struggled like one would expect of a true freshman in such a situation, and transferred to Pitt. He's now transferring again, this time to West Virginia—he's following Tony Gibson around.
That 2010 secondary was such an unholy mess I have zero recollection of Terrence Talbott's 11 appearances at cornerback that season, but MGoBlue claims they happened, and I defer to the official record-keepers. His playing time vanished in 2011, and he left the program the next summer. A quick Google search doesn't show if he continued his career elsewhere.
Talbott's big brother in both age and size, defensive tackle Terry Talbott, was in the same class. His profile is most notable for his mother's story of why his younger brother ended up with such a similar name:
"I was crazy in the hospital. They had me medicated up when they asked me for a name. Terrence just came out."
The elder Talbott redshirted while trying to add some much-needed size, but his career came to a close due to injury, and he was placed on medical scholarship before the 2011 season.
Kenny Wilkins came to campus as a linebacker-sized defensive end, didn't see game action in three years—he was even left off the fall camp roster entering 2012—and exited when spring practice opened in 2013.
Those Who Didn't Make It In The First Place

¯\_(._.)_/¯
One of the main reasons this class became infamously bad is that a decent chunk of it never got so far as to suit up for a game. I noted Austin White's departure in the offense section, and because he didn't have a recruiting profile, I forgot to note that quarterback Conelius Jones couldn't get the test scores to pass admissions.
Jones wasn't alone in that regard. Linebacker Antonio Kinard's status was so obviously in question Brian didn't write a profile for him, either. He didn't qualify, took a prep year, tried and failed to qualify at Miami (YTM), went to a JuCo in Arizona, and this fall will (hopefully) suit up for Cincinnati.
Linebacker Davion Rogers, who somehow was a skinnier version of Shawn Crable, left the program a couple weeks into the 2010 season. He had a standout year at Youngstown State in 2011, but departed the program after the season.
Finally, there's Demar Dorsey, the other cheetah in a Porsche strapped to a jet engine and dropped out of a plane. Dorsey provided the biggest shock of Signing Day when he chose Michigan over Florida and FSU. His commitment immediately came under fire because of a checkered legal history, as well as academic question marks. The latter prevented him from passing admissions. Despite multiple attempts to transfer to D-I schools—namely, Louisville and Hawaii—from JuCos, Dorsey couldn't get admitted by the schools or the NCAA. He was last spotted playing in the Arena League in 2014.
I'M SO SORRY
Here is a GIF of Denard Robinson laughing:
I'll spend the weekend thinking about what I've done.