Radish Talk
10/28/2017 – Michigan 35, Rutgers 14 – 6-2, 3-2 Big Ten
LET RAIN MAN BALL [Marc-Gregor Campredon]
Arizona quarterback Khalil Tate is doing this:
Last 4 games:

Khalil Tate has 743 yards and is averaging 12.8 yards/play on pass plays and 840 yards and is 14.2 yards/play on run plays.

— Football Perspective (@fbgchase) October 30, 2017
Arizona is ranked for the first time in a minute after four straight Pac-12 wins. Tate watched Arizona's first four games from the sideline. Last year he completed 40% of his 45 passes and rushed for under 5 yards a carry.
A bit further north in that same conference, Stanford barely escaped an awful Oregon State team as QB Keller Chryst averaged 4.3 yards an attempt. Sophomore KJ Costello played the vast majority of previous high-scoring wins over UCLA and Arizona State. Twitter was rife with bitching about Chryst and stupefaction at what it would take for Costello to enter the game as the Cardinal labored towards a win over the 1-7 Beavers. You may remember that Michigan's first choice at QB two years ago was Costello; it was only after he committed to Stanford that Michigan started looking around.
A bit further south in that same conference, Sam Darnold watched USC start 1-2 under Max Browne last year before emerging as a 67%, 3000-yard, 31-9 TD-INT flamethrower and Rose Bowl winner.
A bit closer to home, Michigan State quarterback Brian Lewerke spent most of the 2016 season watching Tyler O'Connor bork it before getting a chance midway through the year. A few years back MSU also spent a brief, wonderful period as the worst offense on the planet under Andrew Maxwell before pulling the trigger on the Connor Cook era. Wisconsin left Alex Hornibrook, the conference's #2 QB by passer rating, on the bench early last year, and then benched him for their final two games.
Nobody knows! Even coaches. Coaches think things. They have the limited amount of data that practice provides, and then there is game data, and all of this information pales in comparison to a giant, looming Fear Of The Unknown. Some decisions make themselves; others have to wait until there's literally no way a second-year player is worse.
There is a moment when even if the backup sometimes seems like a semi-sentient radish in a human suit, he's the man, man. Welcome to that moment.
----------------------------------------
John O'Korn's struggles after Purdue sent the Michigan internet down a fairly appalling rabbit hole of speculation about Brandon Peters. "Promising young player stuck on bench for bad reasons" is such a trope that everyone knows the name of an otherwise obscure baseball player who Lou Gehrig replaced: Wally Pipp. The hundred-year persistence of this pattern was not good enough.
Nor were a plethora of recent examples at Michigan itself: Mike Hart behind David Underwood. Ben Gedeon behind Joe Bolden. Heck, even this very year Michigan went with Nolan Ulizio despite the fact Juwann Bushell-Beatty is older and apparently better. Sometimes the wrong guy is playing.
None of this mattered. O'Korn was bad so something had to be wrong with his backup.
So the last few weeks you couldn't throw a rock on a Michigan message board without hitting someone either implying or directly stating that Peters was a weird aspie with a fidget spinner and no future, Rain Man in a helmet. It's one thing when this comes from anonymous insider wannabes and entirely another when Rivals's Chris Balas calls a redshirt freshman a "big recruiting mistake" and says he "wouldn't be surprised" if Peters transferred.
Gasoline on the whisper fire, based on nothing. And this the second time Rivals has fueled baseless Peters transfer rumors that had to be debunked. The first time it was by Peters's father. This time Peters did it himself.
----------------------
easy [Campredon]
It turns out Brandon Peters is at least as plausible a second-year quarterback as anyone else suspected of being a sentient radish. Never in the history of Michigan Stadium has a soft toss in the flat or a fullback checkdown been met with more rapture, because everyone was worried that there was a good reason Peters was behind O'Korn, and that meant doom both now and later. Rutgers guys were annoyed at it, for some reason:
"It seemed like the crowd was kind of obnoxiously cheering," Rutgers redshirt senior Dorian Miller said with a smile. "(Peters) completed a 10-yard ball and the crowd belted out. Football is football, so I'm sure you could apply that to any team and the fans would respond like that. It's not a knock on them."
Just when folks who haven't seen Peters in action started wondering if this guy's arm strength was substandard, Peters stepped up in the pocket and ripped a laser at a receiver just in front of a safety. The ball got in a half second before the safety arrived, and the absurdity of the whisper campaign really settled in.
Brandon Peters is a quarterback in 2017, which means he was scouted to death in high school. And the thing that really leapt out to both Ace and I was that slow build to a ripping throw. Peters has the natural ability to vary his throws so they're catchable when they can be and darts when they have to be. That featured in his recruiting profile:
He varies trajectory and speed based on the situation. My favorite throws in the Brownsburg game above are two high-arc, low speed passes to his tight end that are the exact right throws in those situations. That's the definition of a "catchable ball."
Peters seemed like a savant, especially in the aftermath of Shane Morris's approach to the game. He had no QB guru, like most quarterbacks do these days. He ripped through high school football. This wasn't a guy completing half his passes who might be moldable into a guy down the road. Personality issues didn't prevent Peters from impressing the entire recruiting industry and flying up rankings after a senior year ending at the Army game.
So what are we doing when we search for some personality flaw when a second year player can't get into the game just yet? Why is a mountain of evidence from across college football not enough? And so what if the dude is more engineer than prom king?
Even if Brandon Peters isn't George Clooney—and I'm not saying he is or is not—has anyone actually seen Rain Man? Placed in his element, Rain Man is a baller.
HIGHLIGHTS
AWARDS
this guy's mustache got an HM [Barron]
Known Friends And Trusted Agents Of The Week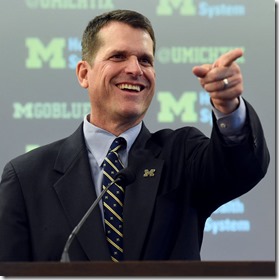 you're the man now, dog
#1 Rashan Gary. Gary was rampant, consistently blowing around the corner to sack and/or terrify the quarterback. The Rutgers LT gets some NFL hype; Gary, and Chase Winovich to a slightly less rampant extent, made that guy look like a walk-on.
#2(t) Mason Cole and Mike Onwenu. Cole and Onwenu tentatively seemed like Michigan's most mauling OL on a rewatch, but probably I could have given this to any member of the blocking crew and not been particularly off.
#3 Sean McKeon. McKeon was able to dig out a throw low and behind him to convert a third and long; he was the only guy to pull in multiple passes. He probably would have scored on that fourth down if Peters put it on him. In addition, McKeon's blocking was excellent for a second consecutive week.
Honorable mention: That guy's mustache. Poggi, Hill, Kugler, JBB, and Bredeson all chipped in on a dominating ground game. Isaac and Higdon made the most out of the blocking. Winovich, Hurst, and Bush were all their usual selves.
KFaTAotW Standings.
8: Devin Bush (#1 Florida, T2 Cincinnati, T2 Air Force, #1 Purdue)
5: Chase Winovich(#1 Air Force, #2a Purdue), Mo Hurst (#1 MSU, #2(T), Indiana), Karan Higdon (#1 Indiana, #2 PSU), Rashan Gary(T2 Indiana, #1 Rutgers), Mason Cole (#1 Cincinnati, T2 Rutgers).
4: David Long (T3 Indiana, #1 PSU)
3: Ty Isaac (#2, Florida, #3 Cincinnati), Lavert Hill(#2 MSU, T3 Indiana))
2: Quinn Nordin (#3 Florida, #3 Air Force), John O'Korn (#2 Purdue), Khaleke Hudson (T2 Cincinnati, #3 PSU), Sean McKeon(T3 Purdue, #3 Rutgers), Mike Onwenu(T2 Rutgers).
1: Tyree Kinnel (T2 Cincinnati), Mike McCray(T2 Air Force), Zach Gentry (T3 Purdue), Brad Robbins(#3 MSU), Brandon Watson (T3 Indiana).
Who's Got It Better Than Us Of The Week
Brandon Peters completes a short waggle pass to Ty Wheatley for a first down.
Honorable mention: Peters completes another soft toss to Poggi on his next opportunity. Higdon breaks free for a game-sealing long touchdown. Kareem Walker scores. Various annihilations of the Rutgers quarterback. Various annihilations of the Rutgers front seven.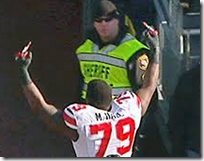 MARCUS HALL EPIC DOUBLE BIRD OF THE WEEK.
Michigan misses a run fit against a wildcat formation, ceding a long touchdown that tied the score at 7. At the time it felt like that was the start of a very long day indeed. Also long wildcat touchdowns remind me of the Penn State game.
Honorable mention: O'Korn throws a pick in the direction of Gentry when he's covered by a 5'9" guy; O'Korn fumbles the snap and Michigan eats a 14 yard loss; Rutgers uses the same damn screen play MSU scored on to get down to the two.
[After the JUMP: hamblasting the hamblasted]
OFFENSE
Higdon checking the board to see if he's got a trailer [Campredon]
A hamblasting. Rutgers's rush defense has a pulse this year. They've held most opponents under the national average of 5.1 sack-adjusted YPC, with one notable exception and one weird one:
Washington: 4.3 YPC
EMU: 3.8 YPC
OSU: 8.6 YPC
Nebraska: 4.5 YPC
Illinois: 3.5 YPC
Purdue: 6.8 YPC
It's not great but neither is it last year's 95th-ranked outfit. So Michigan putting it on these guys is legitimately encouraging, especially given the context. Michigan had 13 yards passing a third of the way through the game when O'Korn was replaced and ran almost three-quarters of the time even when Peters was in.
To average 7.6 YPC* given the above helps redeem all the stuff I've been saying the past few weeks about the run blocking's improvement. There were far fewer One Guy plays, and many of the Zero Guy plays featured Michigan blockers hammering their opposition. On a rewatch of the game I saw McKeon, Onwenu, Cole, JBB, Bredeson, Mason, Hill, and Wheatley all rack up dominating blocks that'll probably end up being +2s in UFR. There are probably some others lurking out there as well.
A game against Rutgers isn't proof of anything but I do think Michigan's been building to this and should continue on more in this vein than the rough first half of the season. Michigan has two more weeks of iffy run defenses remaining before the stretch double-header against Wisconsin and Ohio State. Prior to this weekend Minnesota and Maryland were 89th and 50th, respectively, in S&P+ rush defense. If Michigan can approach what they did in this game the next two weeks you could maybe have some optimism heading into Madison.
*[FWIW: I deleted two John O'Korn fumbles, one Brandon Peters broken play, and the three O'Maury Samuels rushes behind the backup OL from the official box score to arrive at this number. I'm pretty sure those also won't make the S&P+ box score numbers since those omit garbage time and sacks and sack-type substances.]
New items. Michigan debuted a couple of run plays that befuddled Rutgers, including a few runs that superficially looked like power but were designed to cut back into the gap that the "pulling" guard had vacated. There was also an odd play on which the backside tackle pulled and buried himself in the line on which the POA was off tackle the other way.
Michigan managed to keep Rutgers off balance with a bunch of key-breaking reads, and I was maybe going to fuss up about how they did all this against Rutgers against Penn State before remembering that Michigan's ground game was set up for success there, too, except for One Guy.
wheel route remains undefeated [Campredon]
Preseason hype: redeemed! It only took seven games but heyyyyyy someone else got to be Mike McCray versus a wheel route. Chris Evans's touchdown looked fairly easy, as wheel routes by super quick running backs against linebackers are wont to. Evans brings sufficient run chops to not be a tip when he enters, so an expanded role for him in the passing game should remain efficient even if and when Michigan puts it on film. Let's keep doing that, it looked real good.
McKeon arrives. This is the second consecutive game in which Sean McKeon's blocking was a clear positive. I'm still slightly skeptical this will last since McKeon isn't the kind of burly terror that Wheatley promises to be, but the thing I'm skeptical of is "Sean McKeon will continue paving the opposition flat."
He's established himself as a good blocker, and his receiving chops—while still in the low sample size realm—are also likely to be a B or B+ or worse. PFF details:
McKeon's 83.0 grade was tops on the team at the tight end spot and he continues to pace the other players at the position in the run block category (82.2) was nearly in the "elite" category. Zach Gentry is the other tight end who is seeing a ton of snaps (McKeon 34, Gentry 36), with McKeon consistently looking like the top all-around player at the position this year.
McKeon is a redshirt freshman out of who-dat ball in New England. Jim Harbaugh could take a broken toaster at tight end and I'd be like "this is probably fine." Luke Schoonmaker, who's a quarterback in Massachusetts? I'm in.
Peters set up fullback YAC [Campredon]
Assets and liabilities. Peters went 10/14. The four incompletions:
Throws a fade at DPJ out of bounds on a questionable read; DPJ was already in the sideline, more or less, and Gentry was breaking open elsewhere.
Near-INT immediately before the Evans wheel route. Peters has Perry open on a slant on a three step drop but hesitates a beat; if that's in rhythm it's a completion.
Slightly overthrows Wheatley on a deep crossing route; Wheatley has a shot but it's high and hard and goes through his hands.
Fourth down pass to McKeon that's well short.
In addition there were two running plays on which things looked goofy. On one Peters failed to make a handoff and just slid to the ground near the LOS; on the second he did successful get the ball to Evans but it was a near thing.
Against those negatives: 8.6 yards an attempt with a long of just 20 and a lot of successful handoffs. Like the run game it's not proof of anything but it's a solid start.
also easy [Barron]
Walker scores. Kareem Walker looked like a pretty tough out on his half-dozen carries, except for the one pictured above where he ripped into t the endzone untouched. The team's reaction to this was touching. Walker was very publicly on the edge of transferring because of early academic issues, and the team went nuts in response to his first touchdown. He's clearly a popular guy who everyone is glad to have around.
Collins contributed. It was just a hitch but he's playing and targeted so sure let's run him out there. At this juncture the next three years is way more important than a hypothetical fourth for the WR corps. Strange that of all the receivers the one guy who appears headed for a voluntary redshirt is Oliver Martin.
DEFENSE
poor damn Insert Quarterback Here [Barron]
Back to the usual. Michigan once again had a tense fourth quarter drive were they were trying to keep the opposition under 200 yards. They succeeded.
This performance wasn't quite to the previous standard, as Michigan only faced 10 Rutgers drives instead of the 14 or 15 previous (non-PSU) games had required to get across the finish line. Nor did any of the Rutgers points come on a short field; the Cable Subscribers' best field position was their own 31.
It was still more or less what you'd expect an elite defense to do against a very bad offense, give or take a big ol' bust. That bust came on the long Janarion Grant touchdown, which was a wildcat play on which Kinnel started booking for the outside as Hudson close it off; I haven't taken a detailed look yet but I am a bit cheesed off at Kinnel's starting position against a wildcat. Sliding him down into the 8-10 yard range changes the complexion of that play dramatically, and should be a relatively easy adjustment.
Other than that it was a parade of three-and-outs leavened by the occasional first down, and one legitimate, 11-play, 75-yard touchdown drive. Kinnel featured there too, but in a freshman Jourdan Lewis fashion: he was in excellent coverage and removed one of the WRs hands from the equation; it was just his luck that that dude only needed the one available.
poor damn Insert Wildcat Quarterback Here [Barron]
Solomon emerging. Freshman Aubrey Solomon got a majority of Michigan's bonus DT snaps in this game, somewhat supplanting Bryan Mone. 247 is now utilizing PFF data—I hope this clears up that situation, BTW—and had him for 30 snaps in which he did well:
Solomon scored out at a 81.4 on Saturday. This was a season high for him and was also sixth overall on the defense and fourth on the defensive line as the Wolverines dominated up front.
That was almost triple his previous high of 11 snaps.
Mone had a bit of a rough go against Penn State and Solomon offers a lot more upside against anything except short yardage. There's not a ton of separation in their play right now and he's obviously going to improve more quickly as a true freshman.
a fan favorite [Barron]
Jump up and down. Mike Dwumfour picked up a late sack and hoo boy Rashan Gary, his childhood friend, and Mo Hurst, his mentor, were excited. I glanced over to the sideline and both those guys were way too far off the ground for gentlemen of their size.
The perfect cornerback game. Tackles between Hill, Watson, and Long: zero. They do not show in the box score at all. When they do show up on the field PFF has Hill performing at an All-American level:
With Hill, he's currently mislabeled as a safety, but his 89.4 season grade would be good for 7th in the country at the cornerback position and his 92.4 cover grade would be good for fifth. It's funny to look back at the worries regarding the cornerback spot during the spring and summer knowing now it's another strength of this team, led by Hill.
Mike Zordich should say more things are bad and watch them magically become not bad at all.
SPECIAL TEAMS
Got away with one. Janarion Grant was an ankle tackle away from a monster kickoff return, as James "Doug" Foug did not quite warrant a fake Dean Koontz novel title in this one.
Merph. Quinn Nordin missed a 37-yarder, which followed on from a missed XP last week. Allen Trieu is reporting that Nordin is injured and might miss some time coming up, which is Not Great. At least Michigan's backups here showed well in spring. 70 yarders are probably out of their reckoning.
MISCELLANEOUS
So there were some guys hangin' around. Patrick got some environment shots that are rather doozies. Meet Khalid Hill's immediate family:
[Campredon]
And these guys with their uncanny Harbaugh impressions:
[Barron]
And drum major Kevin Zhang:
[Barron]
I COUNTED. Between 1:03 left in the third quarter and 5:46 left in the fourth quarter there were SIX commercial breaks. SIX. More than one per every two minutes of game time. At one point there was a timeout before a Michigan drive, during it, and after it.
Where was the halftime show? Y'all can celebrate the 200th anniversary of Michigan's founding next week against Minnesota. At homecoming, if I don't get War Chant and Temptation baby gets into rattle-throwing mode. At least there were a bunch of awesome old guys.
[Barron]
But seriously War Chant/Temptation are not optional.
HERE
Worst: Pumping the Brakes...Again

I'm going to crib a lot of my earlier comments when it came to O'Korn's great performance against Purdue and how, well, everybody should maybe take a step back before proclaiming it a repeatable performance. Against Purdue I noted:

And let it be noted that Purdue had, by far, the worst defense Michigan has played this year. Coming into the game, they had a defensive efficiency of 60th; Florida was 42nd, Cincy 29th, and Air Force at 21, and in the case of Florida, that number is a bit depressed because they had only played 2 teams (Michigan and Tennessee). Last year, Purdue's defense was ranked well into the 100's in both fancy stats and raw defensive numbers. It is not a good defense, even if they are more aggressive and (I'm assuming) getting coached up by whatever screaming ball of blood vessels and sunburn that was tromping along that sideline...This is a long-winded way of saying that some of Michigan's improvements offensively are opponent-dependent.

Well, Rutgers and Purdue are ranked 33rd and 34th, respectively, in defensive S&P ratings at the time I wrote this diary. Both are inexplicably decent at stopping the pass despite having sack rates in the 100s, and both are middling in terms of creating turnovers. But, and this is so weird to say when talking about either of these clubs, they are both competent enough against the pass that you can't totally discount both O'Korn's and Peters's performances against them out of hand. Given the context, both of them played very well against defenses that weren't the 2016 vintage we all expected. At the same time, I'd argue that neither opponent probably spent much time preparing for either guy at QB, and at least Minnesota has a frisky enough defense that Peters will be tested by a unit capable of game planning for him. Still, this is slightly more encouraging than I expected.
Wolverines in Japan. Fan satisfaction index.
ELSEWHERE
[Barron]
It has long been the opinion of many that follow the program closely (myself included) that Peters is the most talented quarterback on Michigan's roster. No other Maize & Blue signal caller possesses his combination of size, mobility, and arm strength. But the best talent doesn't always equate to the most ready. That was the case for Peters who Jim Harbaugh said needed to improve his "command."

I've come (a long way) since camp," said Peters. "As far as communication goes to the O-line to all the players on the team. The biggest step I made was my communication so far."

"I've definitely gotten a lot better at it," he later added. "That's something I've really focused on. It's been my weakness ever since I've gotten to Michigan. I've really focused on it. And it makes a big difference for sure."

Peters has a quiet, unassuming way. Those that don't know him often mistake his temperament for stoicism for aloofness. Those that do know him know he is nothing if not a competitor. His teammates have taken note of that. They've witnessed the significant growth in his command of the playbook and his communication on the field.
"Brandon is a quiet guy, but as you (saw) today, once he gets going he starts talking," Rashan Gary said. "He was like, can you get me back the ball?! When we were all about to go out on defense…'can I get the ball back?' Once he got in his groove everybody was like, 'alright BP, let's go!'"

"From spring ball to now it's two completely different quarterbacks," Gary later added. "You see it in practice. He is talking more (and) checking down more. It's crazy to see. (From) not seeing that too much in spring ball to now checking things down and making good passes. It's unbelievable."

It's pretty clear that the recent rumors of Peters being a malcontent, the recurring rumors about him being a likely transfer, and the talk that he had already been passed up by freshman Dylan McCaffrey were all unfair and unfounded. (A topic which we focused on a few weeks ago). It appears that many fans were willing to believe those things because they found those explanations more palatable than the one being offered by Jim Harbaugh.
Long excerpt because I think it's important to get this across. Stop talking personal shit about someone you don't know, especially if you purport to be a journalist.
more mashing [Barron]
U-M, by my unofficial count, created 210 yards for its ball carriers (and that includes John O'Korn's two lost fumbles) before contact Saturday, good for an average of 4.2 yards before contact per rushing attempt.

It's as simple as it sounds: On average, Michigan's backs were rushing four yards before getting hit Saturday. Karan Higdon, Ty Isaac, Kareem Walker and Chris Evans all did a fine job of finishing their runs and hitting proper cut lanes. But the offensive line was the star of the day.
Also on Peters. Brad Hawkins is now a viper. Speight's father says there's a "good chance" he can return this year. Maize N Brew. Maize and Blue Nation. MGoFish.
HSR:
Homecoming is an odd duck when you attend football games on the regular with your college roommate is that it should feel like a chance to be nostalgic, but, I mean, literally, I'm sitting with the same person I sat with for four years of games as a student.  We have all the same in-jokes, all the same reference points, and so on.  It's not a blast from the past, it's Season 21 of the same show (and like The Simpsons the first 11 seasons were much more fondly remembered by the masses.)
Sap:
DEFENSIVE CHAMPION – We all know that Maurice Hurst is a beast up front and his quickness is amazing, so…should we start talking about #73 as the best player in country? I know he just ate an under-manned Rutgers O-Line for lunch (Get in my Belly!), but this is not the first or second time Mo Hurst has been THE dominant player on the field. So, should Hurst get an invite to NYC come the first week of December? I think so!
Michigan opens –14.5 versus Minnesota.