Puck Preview: Minnesota-Duluth, National Championship Game
PLAYOFF TIME IS HOCKEY BEAR TIME
The Essentials 
| | |
| --- | --- |
| WHAT | Michigan vs Minnesota-Duluth |
| WHERE | XCel Center, St. Paul, Minnesota |
| WHEN | 7 PM |
| THE LINE | Come on |
| TELEVISION | ESPN |
Minnesota-Duluth
Record. 25-10-6, 15-8-5 WCHA.  Duluth is necessarily less terrifying than North Dakota. They're approximately as terrifying as UNO: they finished a point behind the Mavericks in the WCHA and were +28 in goal differential (UNO was +35). Their nonconference performance was a bit better than UNO's, but other than a weird nonconference matchup with North Dakota the opponents were not strong. KRACH—which stopped updating before tournament results came in—has them 7th. Michigan is 6th. (North Dakota was an easy #1.)
The Bulldogs spent time earlier in the year at #1 but struggled late in their conference schedule. After a sweep of Michigan Tech in late January they finished the regular season 3-4-3; their best opponents were CC (one point) and UNO (split). In the WCHA playoffs they beat St. Cloud in the first round, then lost to Bemidji in the quarterfinals.
In the tournament they were fortunate to be the only non-AH/ECAC team in Yale's regional. They beat Union 2-0 despite getting outshot 32-26 by scoring two power play goals. Against Yale they jumped out to a 3-0 lead. After Yale got one back, Brian O'Neill, the goalscorer and Yale's best player, was kicked out of the game on a clean open-ice hit. UMD scored twice on the ensuing five-minute power play and that was all she wrote; Yale did add two PP goals of their own in the third. Yesterday they fell behind in the first period twice but bounced back quickly; their power play scored three more goals. An ND shortie closed the gap but not all the way.
If you're scoring at home, Duluth has two even strength goals in three NCAA tournament games. They've been outshot by 6, 7, and 13.
Previous meetings. None. How about…
Common opponents. Chart? Chart.
 
Minnesota-Duluth
Michigan
 
Wins
Losses
Ties
Wins
Losses
Ties
LSSU
-
-
6-6
7-2, 3-2
 
 
Northern Michigan
3-2
-
-
3-2, 5-0
 
 
Notre Dame
4-3
-
-
5-3, 4-2
1-3
 
Wisconsin
2-0, 6-5, 3-2
2-3
-
 
 
4-4
Nebraska-Omaha
4-1
2-5
-
6-1, 3-2
2-4
 
Minnesota
6-4
2-3
2-2, 2-2
 
1-3
 
Colorado College
-
4-5
3-3
6-5, 2-1
 
 
North Dakota
3-2
0-5, 2-4
-
1-0(!)
 
 
Duluth is 7-6-4 with a –1 goal differential; Michigan is 11-3-1 with a +19 goal differential. Woot? Well, here the schedule strength is not close at all since Michigan's only got the one game against North Dakota and four against meh CCHA teams like LSSU and Northern. On the other hand, Minnesota was pretty bad this year and Michigan only got one crack at them—they lost, but if they played four they might have done better than 1-1-2.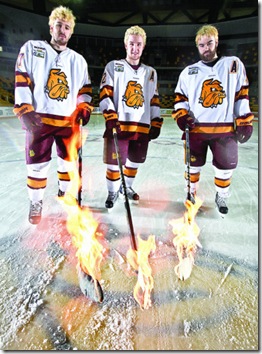 Yes, everyone on UMD dyed their hair blond.
Yes, this makes everyone look like eurotrash except the guys with beards.
Yes, the guys with beards just look amazing.
Clint Austin/Duluth News
Dangermen. Also way less terrifying than North Dakota's. Closer to CC's with a stronger second line and much worse depth. CC has six forwards with more than 20 points; four are on a PPG-ish pace. From Michigan's perspective, that's better than UND's six. Their top line is outstanding—brothers Mike (28-26-54) and Jack Connolly (18-41-59) team with Justin Fontaine (22-36-58) to create a line on par with CC's Schwartz/Schultz combo and not far off UND's Frattin/Malone/Trupp. Their even strength numbers are a bit less impressive, as 26 of the line's 68 goals came with an advantage. Scooter actually has more ES goals than Jack Connolly and Fontaine. That's not to say scoring on the PP lots is bad thing—it's just that they're two different phases. North Dakota's even strength scoring was far more intimidating.
The second line is pretty strong as well, with JT Brown's 16-20-36 leading the way and a couple others not far behind. After that scoring collapses. One guy has thirteen points and then it's a bunch of nothing—this should be a game in which Michigan's third and fourth lines dominate.
Defense and goalie and whatnot. Junior Kenny Reiter is a step back from UND's Aaron Dell but is better than the  goalies for either of Michigan's regional opponents. He has a slightly above average .914 save percentage. Tiny Jesus is up to .925 after blanking North Dakota.
Faulk has played Michigan before. Mark Bialik/AnnArbor.com.
The UMD defense has one ultra-star in freshman Justin Faulk, a second round pick of the Hurricanes in last year's draft. Faulk has 8-25-33 and is hyped up by many as the best freshman defenseman in the country. Jon Merrill might have something to say about that, but he's very good. The United States of Hockey scouts him:
As I mentioned, a big reason UMD's power play works so well is because of the threat Faulk provides from the top of the point. Teams don't want him to unleash his accurate and heavy shot without someone in his face. Due to that, there's more room down low and on the half walls for the Connollys, Brown and Fontaine.

The other thing about Faulk, as friend of the blog Corey Pronman pointed out, is that he doesn't shoot if he doesn't have a lane and is far more than an offense-only defenseman. I think that's why he's probably the best pro prospect playing.
People in the NHL think he has "50 point upside."
Six of his eight goals are on the PP, and no other UMD defenseman has more than a few goals with token assists—they're a stay at home bunch. UMD radio guy Bruce Ciskie on the D corps:
UMD was hit with the mid-season departure of former Chicago first-rounder Dylan Olsen, who was going to be academically ineligible for the second half of the season. An injury to junior Brady Lamb made them quite thin for a time in February. They're better now, with senior captain Mike Montgomery and freshman sensation Justin Faulk (2010 second-round pick by Carolina) taking most of the big minutes. Lamb and sophomore Wade Bergman will see plenty of ice time. Sophomore Drew Olson needs to be more consistent, but he's been better while paired with fifth-year senior Trent Palm.
Sounds like the third pairing is a bit of an issue.
Special teams. Your power plays per game:
|   | Duluth | Michigan |
| --- | --- | --- |
| PP For / G | 5.1 | 4.2 |
| PP Ag / G | 4.8 | 4.5 |
Duluth is slightly less likely to draw and more likely to commit an infraction. Michigan can't buy a call.
This is the same story as the previous two games: UMD, CC, and North Dakota are 7-8-9 in power play effectiveness, which means they're very very good and you are playing with fire every time you go to the box. The only power conference teams in front of that trio are BC and Miami. UMD's given up only three shorthanded goals compared to CC's 11 and UND's 7, so they're even a bit better than the numbers suggest.
Michigan's mediocre play earlier in the season gave way to an outstanding penalty kill in the tournament. North Dakota could hardly get set up on their five opportunities and CC was shut down. They're still languishing in the 20s; they're playing much, much better than that.
On the flipside it's a matchup between the #27 PP and the #27 PK that will be won or lost by the accuracy of Michigan point shots.
Michigan Vs Those Guys
Rust Annihilation Co. Again Michigan comes across a team vulnerable to the incredible shutdown line they've iced since the three-game slide at the three-quarters pole. With last change Michigan will throw Rust, Glendening, and Winnett out there against the Connollys and hope to outscore with their other three lines. (Yes, three. I take it all back, fourth line.) If Rust and company can do what they did to the Schwartzes Michigan is halfway home.
STAY OUT OF THE BOX. I realize this can be difficult when refs think your shoulder is your elbow and ignore boarding and charging from the other team, but seriously: UMD has two even strength goals in the tourney. That's not very many. While Michigan doesn't have many more they are a different sort of team. Michigan is 6th in goals allowed, UMD 17th. If Michigan keeps the penalties in check and kills them the way they did against UND they're three quarters of the way home, leaving…
Scooter, Caporusso, Moffatt, Treais, someone: score. Hagelin and Caporusso will draw the second UMD scoring line, leaving a bunch of mugs up against Michigan's third and fourth lines. With UMD's third defensive pairing also a little shaky, those lines need to be at least +1 collectively. We can't bank on the Annihilation Co actually outscoring the opposition's mad awesome line again.
How likely is this? At least somewhat. UMD's been significantly outshot in the tournament despite a wicked power play; if Michigan can play the game five on five they should have a territorial advantage. They bombed a team with a similar lack of depth in the regional final and only scored two because Joe Howe went Hunwick and Joe Howe's posts did too.
Burlon? I was surprised Burlon wasn't ready to go. Actually, I'm not sure he wasn't. It sounds like the reason he was scratched was Red wanting to leave the regionals lineup intact. That's very strange to me because Clare does not get a whole lot of run—certainly not as much as Burlon would—and there's at least one shift a game where the speed of these good WCHA teams clearly overwhelms his ability to get rid of the puck in an effective fashion. I'm guessing we'll see Clare out there again, but there's a case that you can hide Burlon against these iffy UMD lines, especially with last change. Having him out there for his offense seems like a benefit.
You can make the same case for Sparks over Rohrkemper but that's definitely not happening. /shakes fist
HUNWIIIIIIIIICK. From the North Dakota preview:
Hunwick has done it before this year and while my past self is inventing a time machine just so he can show up right after I type this to slap some sense into me, most win scenarios involve Hunwick setting up halfway to the blue line and stopping every first shot and then doing some crazy stuff you can't even believe is happening.
He probably won't have to do that in this game—shots figure to be at least even—but if he's on like that it's party time. He can't possibly be again, but this is hockey so yeah he could.
Pray like hell. Seriously, yo.
The Big Picture
Win or die.
Elsewhere
i just did one of these but in the meantime there has been a TWB post on Shawn Hunwick…
Jon Merrill rang an almost-perfect shot off the crossbar, and with 13:26 remaining in the first period Ben Winnett — a player who had scored all of three goals this season — eventually corralled the rebound and buried it to give Michigan the all-important 1-0 lead. A North Dakota fan flashed his middle finger, one of those derogatory gestures meant to say, "Enjoy it while you can," in expectation of the inevitable comeback. The Sioux battled back with increased intensity, turning up the pressure on the Wolverines and turning the game into one of those Hockey Games That Take Years Off Your Life. Watching North Dakota play, it was hard not to agree with Middle Finger Guy: This was far from over.
…and a torrent.