11/14/2015 – Michigan 48, Indiana 41 (2OT) – 8-2, 5-1 Big Ten
[Bryan Fuller]
Other things happened on Saturday.
Florida played South Carolina, for one. As of 11 AM on November 14th Florida is 8-1, already the SEC East champions, and a fringe playoff contender. South Carolina is 3-6 and has already seen Steve Spurrier bolt for the golf course midseason. An ESPN reporter catches up with first-year Florida head coach Jim McElwain for an interview. He asks McElwain if Florida plans on beating South Carolina's head in so that the playoff committee will like them more.
This is a dumb question for a lot of reasons. For one, if Florida wins out the only thing that will keep them out of the playoff is the apocalypse. For two, only one coach is going to respond "oh sure, definitely" when asked he is going to beat a noble opponent until they look like Jared Leto in Fight Club. Unfortunately Spurrier is that man, and he is now a pro-am golfer. For three, Florida just beat Vanderbilt 9-7.
Anyway McElwain gives this reporter an eyebrow cock and laughs out an answer. It's a good answer: "we're not at the point in this program where we can think like that."
Three hours later the Gamecocks fire in two quick touchdowns to pull within 17-14. Florida fends off further scoring from an Ichabod Crane program and rips off a big run while they're trying to kill the clock; 24-14 is the final but a bounce here or there and, well, you know.
----------------------------------------------
Michigan isn't at the point in their program where they can take much of anything for granted. This goes both ways. Suddenly the defense's fiery dominance is very much in question, but as compensation Jake Rudock is accounting for 500 yards of total offense. Jake Rudock is throwing the ball well downfield and it is going swimmingly. Jake Rudock is saying "eff it" and punting it up to Jehu Chesson to get Michigan down to the one. Jake Rudock has sweet nunchucks, and he is no longer hitting himself in the face with them.
Meanwhile, Michigan has finally run out of people to throw at opponents on the defensive line. Michigan has a very good starting 22 but the defense goes about 16 guys deep before a cliff. Michigan has three ILBs and then… uh. They have four CBs and then nah. They have eight… seven… six… five DL, and if there is ever a wrong time to be short-handed on the defensive line it is against high-tempo, crazy-ass Indiana when they have a healthy Jordan Howard.
pictured: anime Jordan Howard
So Kevin Wilson had a plan, or at least half of a plan. The plan: be on the field forever going fast and get Michigan tired out and then get guys who had never played before locked on the field. Sometimes the other half of the plan consisted of watching Michigan score quick touchdowns, but this quickly devolved into a replay of that one Denard-vs-Indiana game. You know, the one where Indiana went on Ishtar-length scoring drives. After those drives Michigan would get the ball back and Denard would immediately run 75 yards. Repeat until dizzy. Continue repeating until vomiting. Implement yet further repeating until unconscious.
Michigan did have a ten play touchdown drive at the beginning of the second quarter, but the rest of their drives before the one-minute drill lasted 4, 3, 2, and 3 plays. Two of those were touchdowns, so hooray for that, but as that was going on this is what Indiana was doing:
9 plays, 29 yards
11 plays, 53 yards
17(!) plays, 71 yards
8 plays, 41 yards
5 plays, 24 yards
7 plays, 61 yards
None of those drives took as long as the Michigan 10 plays drive; Indiana got that 17 play drive off in just 5:22 of clock time.
The pace and inability to get off the field murdered the beat-up Michigan defensive line. Wilson's decision to go for three separate fourth down attempts, two of which succeeded, contributed to the downward spiral of the Michigan defense and directly led to Michigan's punch-drunk second half. On the third, Wilson threw a screen on third and ten with every intention of going for it on the ensuing fourth and short.
Fire Kevin Wilson immediately, please.
-------------------------------------
Michigan came out the other end of that game, shook up but unscathed. Indiana does this to everyone. OSU was fortunate to not get hit with a pass interference penalty on a thirty-yard heave that would have tied that game. Indiana was driving for the lead halfway through the fourth quarter against MSU. Indiana lost to Rutgers.
Even if I don't think it's going to happen this time, I am now thoroughly used to the mid-game shift from "this is a football game against Indiana" to "this is a METH BENDER against THE CRAZED RACCOON MAFIA." By the end of the first quarter I was holding onto my butts. By the fourth quarter I had chewed a small hole in the earth's crust. Overtime was spent peeking through split fingers.
Michigan eventually held, though, demonstrating why it's better to have a struggling defense than a notional one. And here we are again: for Michigan, exhausted and victorious. For Indiana, heartbroken and half-blind.
Indiana should definitely never stop doing this, but they should stop doing this. Fire Kevin Wilson. Replace him with Gerry DiNardo. Have the same record but lose by 30 points every game. For your heart, Indiana, and mine.
HIGHLIGHTS
Michigan-centric from Parking God:
This one has some things Indiana did if you can stand the buttrock soundtrack:
AWARDS
hoofin' it [Fuller]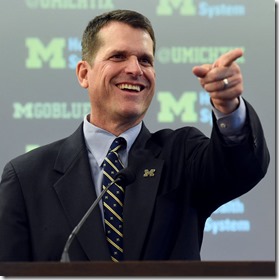 Known Friends And Trusted Agents Of The Week
you're the man now, dog
#1 Jake Rudock set an (overtime-aided) Michigan record for touchdown passes, and just about hit 10 YPA on a 46-attempt, 440 yard day, and added in 64 rushing yards for good measure. The interception was unfortunate but other than that he crushed it.
#2 Jehu Chesson was Rudock's favorite target, grabbing a deep in route on the fly and taking it to the house for a 64 yard touchdown. Rudock hit him twice on the touchdown drive that ended regulation, once on the kind of floated ball he's had trouble adjusting to so far in his career. No problems there and none on the subsequent fourth-and-five catch where two different guys blew him up.
#3 Delano Hill couldn't be held responsible for most of the bad things that happened to the defense because he wasn't out there for a lot of it, but after Dymonte Thomas was knocked out he entered to make 10 tackles, 8 of them solo. He made the plays that stopped Indiana in double over time, first blitzing to tackle Howard on second down, then tackling Sudfeld in space on third down, and finally winning man press coverage against a slot guy for the win.
Honorable mention: Amara Darboh and Jake Butt also racked up piles of yards on the receiving end of Rudock passes; Jourdan Lewis just about had two interceptions and was very difficult to beat as per usual; the offensive line couldn't get much push on the ground but they were great in pass protection.
KFaTAotW Standings.
9: Jourdan Lewis (#1 UNLV, #1 Northwestern, #1 MSU), Jabrill Peppers(#2 BYU, #2 Northwestern, #2 MSU, #1 Minnesota)
7: Jake Rudock (#3 Northwestern, #1 Rutgers, #1 Indiana)
6: Chris Wormley(#2 Utah, #1 Oregon State, #3 Rutgers)
5: Jake Butt(#1 Utah, #2 Rutgers)
4: Maurice Hurst (#2 Maryland, #2 Minnesota),
3: De'Veon Smith(#2 Oregon State, #3 BYU), Ryan Glasgow (#1 BYU), Desmond Morgan (#1 Maryland),
2: Ty Isaac(#2 UNLV), Willie Henry(#3 Utah, #3 MSU), Jehu Chesson(#2 Indiana)
1: AJ Williams (#3 Oregon State), Channing Stribling(#3 UNLV), Blake O'Neill(#3 Maryland), Drake Johnson(#3 Minnesota), Delano Hill(#3 Indiana).
Who's Got It Better Than Us Of The Week
This week's best thing ever.
Last play wins tend to have the last play feature in this section.
Honorable mention: Any number of Jake Rudock passing TDs—six to be specific. A looping pass to Butt gets Michigan into a manageable third down after second and twenty nine.
WGIBTUs Past.
Utah: Crazy #buttdown.
Oregon State: #tacopunts.
UNLV: Ty Isaac's 76 yard touchdown.
BYU: De'Veon Smith's illicit teleporter run.
Maryland: Jehu Chesson jet sweeps past you.
Northwestern: Chesson opening KO TD.
MSU: the bit where they won until they didn't.
Minnesota: form a f-ing wall.
Rutgers: Peppers as Denard.
Indiana: Delano Hill seals it with a PBU.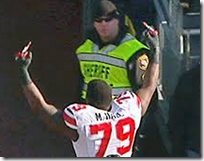 MARCUS HALL EPIC DOUBLE BIRD OF THE WEEK.
This week's worst thing ever.
Indiana has nineteen straight runs in the second half, reminding everyone of that RichRod game against Wisconsin, which is the last game I ever expected to be reminded of this week.
Honorable mention: Channing Stribling's very bad tackle attempt leads to a PR TD; Rudock throws an INT at an inopportune moment.
PREVIOUS EDBs
Utah: circle route pick six.
Oregon State: Rudock fumbles after blitz bust.
UNLV: Rudock matches 2014 INT total in game 3.
BYU: BYU manages to get to triple digit yards in the last minutes of the game.
Maryland: Slog extended by deflected interception at Houma.
Northwestern: KLINSMANN OUT
MSU: Obvious.
Minnesota: The bit where the lost it until they didn't.
Rutgers: KO return given up.
Indiana: run run run run run run run run run run run run.
[After THE JUMP: if bad Rudock is Ruddock how do you subtract more Ds from his name than one]
OFFENSE
[Fuller]
The instrument is frickin' righteous. Theory: two weeks ago Jim Harbaugh and some flunkies bundled Jake Rudock into an unmarked van, took him to a secure location, and hypnotized him by repeating "you are an NFL quarterback" over and over again. Rudock rode to the rescue as the defense disintegrated. The numbers are bonkers (440 yards on 46 attempts, 6 TD, 1 INT) and that's without an inch-perfect 55-yard post on which Amara Darboh lost the ball when he hit the ground. Oh, and he ran for 71 yards.
After weeks and weeks and weeks on which Rudock couldn't hit anything longer than about 20 yards he finally made this summer's UFRs of his 2014 look like they had any relationship to reality. He nailed Jehu Chesson on a freebie fade…
…to open his deep ball account on the season and did not look back. A few drives later he threw Jehu Chesson open on a 64-yard touchdown that Tom Brady would have high-fived himself about:
That is a 20 yard dig on which Chesson has not even gotten in his break when Rudock decides to throw it.
Rudock was very confident in his reads. He again punted one up into the #buttzone where only Jake Butt can get the ball. He threw back shoulder fades—I have never seen him attempt those before. On the final drive a blitzer had him dead to rights and he chucked one up in the general direction of Chesson, who adjusted and caught the ball. The fourth and five touchdown was also a #buttzone throw, even though it was to Chesson.
[Fuller]
Basically every complaint I've had about him this year was fixed.
The opponent, you say? Well, yes. When you leave a guy wide open on a 20-yard corner route that's going to help things out. But also no. A number of #buttzone throws were indefensible and accuracy is accuracy.
Penn State will be a much stiffer test. I kind of think he might pass it now.
A couple of blips to the negative. Rudock absolutely had Grant Perry on a little angle route on Michigan's shot at the endzone just before halftime. He hesitated, got pressured, and then tried to Mallet it in there. I'm pretty sure he knew he'd screwed up as he attempted that; that's the kind of regret throw you make when you belatedly realized your primary read was open.
And then the interception. He should not have thrown that ball. But also…
this guy ain't there on first and ten [Fuller]
The ghost of Borges possessed the offensive staff. That interception came from a big set. Michigan ran play action. It was second and twenty. If it's first and ten I bet Williams is open. On second and twenty with just one wideout on the field nobody is buying that play action. It's one thing if the PA is just there to slow the pass rush a little or whatever play action on passing downs is supposed to do; it's another when the primary read on the play is supposed to be open because someone's going to bite.
That's the first play all year where I was completely baffled. A bunch of stuff hasn't worked but mostly it made sense. That made no damn sense.
Frippery: not so much. Michigan attempted tight end screens to Jake Butt that lost 8 and 10 yards; a Jabrill Peppers end-around also ended up losing ten as Peppers tried to get around a corner that was full of Hoosiers. As I said on twitter, against a D like Indiana the best trick play is running a route. I'd rather save the fancy business for teams that it's tougher to move the ball against without some misdirection.
Michigan did get a first down on a Jabrill Peppers screen, but that wasn't frippery so much as running a basic play with your superfreak.
[Fuller]
#Buttzone. Jake Butt has an even 500 yards receiving, which is the most in the country for a Power 5 TE. (The NCAA's website lists UCLA's Thomas Duarte as a TE, which caused me to do a double-take and google him since I've seen a fair number of UCLA games this year—dude is 225.) There are a few guys from South Alabama and the like slightly ahead of him, but he's really picked up the pace the last couple weeks.
It is time for an appreciation of Butt's skills. He has dropped exactly one pass that was reasonably catchable and his frame and leaping ability mean that he's great in contested or semi-contested situations. Back when Devin Funchess was posited as a tight end I kept an eye on Michigan's all-time TE receiving record, which is currently in the hands of Jim Mandich. Butt is around 300 yards away from breaking that record. That is a dead certainty should he return for his senior season… and he might even do it this year if things break right.
(Just sayin' but Georgia's top tight end has fewer yards than AJ Williams.)
Cannot run. Michigan hit 5 YPA in this game thanks in large part to the two long Rudock scrambles. De'Veon Smith managed 4.8; everything else was pretty bleak. I dunno, man. Indiana is not a good run defense at all and Michigan mostly struggled.
One particular De'Veon Smith run featured him spinning out of a tackle attempt for a good gain; on replay that's pretty much his year. There was a huge cutback lane that he didn't take until the defense literally forced him into it. But he did spin through that tackle.
There were a couple of other Smith carries that looked promising on the edge on which he was chopped down meekly; get him going side to side and you're going to have a good time as a defense. His lack of raw speed, running ability, and terrific blocking makes me wonder if he might be a candidate for fullback next year. Michigan would have to find some confidence in someone, anyone else as a primary ball carrier, though.
On the other hand. Indiana was weirdly aggressive against the run for such a bad secondary. They constantly had eight in the box with a safety rolled up maybe eight or ten yards deep. The Indiana D never really broke that run first mentality even when Michigan had gone to almost all passing in the second half.
Receivers are suddenly fine. Questions about the receivers were rife going into the year and I think they've been answered pretty well. Chesson isn't the most polished guy yet but he is getting there; he has been very tough for anyone to cover deep. Michigan hadn't hit him before this game. It isn't hard to envision an alternate universe in which Chesson is nearing a thousand yards and is drawing piles of Manningham comparisons.
Meanwhile Darboh had the unfortunate drop on a long ball but was otherwise the tough chain-moving underneath receiver he was promised as. Twice in this game he ended up short of the sticks on third and long only to carry a tackler past them. He doesn't have A+ hands like Avant but he is a reasonable facsimile.
Add Butt and you've got a troika that is solidly above average. Next year's QB will have a veteran group to work with.
DEFENSE
On the other hand. So that went not well at all. But, uh, Michigan's defense only gave up 20 points in regulation? That's not actually that bad.
Yesterday I was watching one of the Big 12 point explosions. In that game the PBP guy related one of the conversations they'd had with the head coach or DC of one of the schools in the game. The gist was that these days he doesn't care about yards, only points. To some extent I agree—Michigan got bled down the field but forced 4 FGAs and only gave up a touchdown on the last drive.
To some extent I don't, because when you're supposed to be elite that doesn't happen to you. But, I mean…
NOT GREAT, BOB [Fuller]
The worst game in which to lose Glasgow. Michigan was forced to move Tom Strobel for the nth time in his career. He saw his first meaningful playing time in this game, as a nose tackle against a potential All-American in Dan Feeney. Maurice Hurst and Willie Henry both struggled to cope with the Indiana line; Strobel and a still-wonky Matt Godin got blown up, and when they got out there Indiana could lock them on the field by not substituting.
This was in fact exactly like that OSU game a few years ago when Michigan was down to scraps at DT. In my cursory rewatch of the game Strobel got handled on every snap he was in for, and Godin wasn't much better.
This is the way to think about it: since NTs rotate so much, Michigan didn't replace Glasgow with Hurst. They replaced him with Strobel. That is a massive, massive hit.
Indiana kind of does this to everyone. Howard went off against Iowa last week; Zander Diamont played big chunks of a game in which OSU's defense gave up 27 points. The only game in which Indiana's offense got clunked was Penn State. Sudfeld didn't play and Diamont was knocked out with a concussion. (Now consider what Michigan's offense would look like with the third-string quarterback.)
Slight hold there. [Fuller]
Holding? For a rule that is so fuzzy I think holding is actually something refs get right almost all the time. I've been reviewing games for ten or so years and the number of material holds that I think the refs get wrong is very low. Holding is the thing with the lowest justified to unjustified complaint ratio in sports.
I haven't looked at in detail  but I understand why Harbaugh was constantly badgering the refs about holding in this one; there are a ton of arms outside the shoulder pads. To some extent rubbin' is racin' when it comes to holding. If they're not calling it then it ain't a hold. I do think it got a little out of hand here.
O Delano, my Delano. We've given Delano Hill a bit of stick here of late for blowing some things. The coaching staff agreed, pulling him from the starting lineup in favor of Dymonte Thomas. But man, when Thomas went out with an odd injury* and Hill was called back into duty he did about as well as could be expected. This came into sharp focus in the second overtime, when Hill made the play on each of the last three downs, as described in the Awards section above.
Meanwhile Thomas didn't have time to do that much but he did have one impressive close and tackle on a short pass.
*[He left in considerable pain with what looked like a significant injury only to return later in the game.]
SPECIAL TEAMS
[Fuller]
Dorf. The above was the missed 42-yarder on which the snap came in on the ground; you can see that Allen has been thrown off stride and is not kicking the ball at all naturally. That's not on him. O'Neill did rescue another iffy snap on an extra point.
It should be mentioned that Scott Sypniewski has a broken finger sustained when MSU blew him up on the final play of that game.
On the other hand in re: refs. Thanks for the quick whistle on the Jourdan Lewis KO return fumble. Refs +3.
Punt return TD. Barking Carnival's Scipio Tex summed up how I felt about that as he discussed Texas's TO-heavy loss to West Virginia:
Our problem was largely rooted in bad outcomes, not necessarily bad play calls or tactical preparation.
Michigan had that returner penned in after a directional punt nearly to the sideline, whereupon Channing Stribling tried to tackle a 5'7" guy above the shoulders and RJS completely lost the edge. Tackling is not under the purview of Baxter.
MISCELLANEOUS
No reason. But here is a photo.
[Fuller]
Very aggressive. Harbaugh has shown zero inclination to treat an opportunity late in the first half as anything other than a full-fledged possession, whether it's bombing it deep even when up multiple scores in obviously uncompetitive games or trying out that intent to deceive play against Rutgers.
That impulse served Michigan well in this game. Given under a minute after Indiana scored to draw within 21-16, Michigan bombed downfield for a field goal. That field goal would get Michigan to overtime and save them from a loss. It could have been a touchdown if Rudock had read that angle route right.
Harbaugh's made just about all the right decisions so far. Some of the fourth and short punts are calls I normally wouldn't like, but O'Neill's ability to punt directionally and the defense's general excellence (while not playing Indiana) change the math there; those are at least defensible.
Disallowing the same drive from the opposition. Michigan completed a pass down to the one on the touchdown drive that got them to overtime, whereupon they ran Sione Houma into the line for no gain. Then they waited. That drained the clock from over a minute to around 20 seconds; at that point Michigan three downs and two timeouts. They could run whatever they wanted; Indiana would have no time for a riposte.
While I'd rather Michigan was able to punch it in on three runs from the one against Indiana than make sure you drain the very last seconds, the clock management there was on point.
Better to die quickly and have time to rise from the dead. Michigan had three minutes on the clock to start that drive mostly because they gave up a 20-some yard touchdown just as Indiana was settling into chip-shot field goal range with an unstoppable run game. It's not hard to see that playing out with Indiana kicking a virtual extra point to win.
Michigan had one more set of downs to try to stop Indiana when that play started. Once Howard busted past the initial resistance, such as it was, I immediately flipped to "please score."
Well done, various stony Michigan fans in the crowd. Boy, the video guys really really wanted to get some shots of Michigan fans losing their religion. What they universally got was a kind of frozen nothingness surrounded by IU fans going bonkers. This guy and his Christmas sweater is a prime example:
I don't remember any crowd shots of pissed off Indiana fans.
Announcers: woof. The Bob Wischusen and Brock Huard team that got this game was brutally bad. I get that announcers tend to pull for the underdog because they want a chance to let their inner Gus Johnson fly, but Huard was way over the top. Meanwhile Wischusen spent most of the game repeating the same statistics about the Michigan defense over and over.
this was not interference because ¯\_(ツ)_/¯ [Fuller]
Pass interference is whatever too. The Big Ten Ref Random Number Generator took when it extended an Indiana drive on what looked like a perfect PBU by Jarrod Wilson, and then it gave when a very slight pushoff negated a big downfield completion. The net result was negative for Michigan since Indiana would have had to punt (I mean, probably) if neither refereeing catastrophe happens; instead they hit a 51-yard field goal.
Then the above thing happened. That was right at the end of the first half and wouldn't have changed much—Michigan would have had one play from the 2 instead of the 4 before it was FG time, but Chesson is straight up getting mugged there.
HERE
Worst:  Owners of a [Broken] Heart

I want to take a minute to, I don't know, empathize with the IU fans for another heart-breaking loss in a season marked by an absurd number of them.  Yes, I recognize that virtually all of the losses are due to fundamental weaknesses of the Hoosiers, namely on defense; as the announcers kept pointing out, IU has one of the best scoring margins in the 3rd quarter (something like +7 points) and the worst in the 4th (a bit over –8 points).  Coming into the game, IU's defense gave up about 500 yards of total offense a game, and their advanced stats aren't much better.  But still, to lose games to UM, Rutgers, OSU, MSU, and Iowa that you were definitely in a position to win late in the 4th quarter has to be dispiriting.  And at least in this game, it wasn't some massive brain fart or self-inflicted wound that did them in, unless you consider "defense" being that injury.  They ran the ball about as well as possible against an undermanned-but-still-game UM defense, threw the ball decently enough, and even picked up a punt return to start the comeback in the second half.
The Two Jakes
* Indiana's QB threw for 220 yards and their running back ran for 238 yards.
* Jake Rudock threw for 440 yards.
* Jake Rudock ran for 64 yards.
* Jake Rudock gained more yards than Indiana's prolific tandem of Sudfeld and Howard. Jake Rudock gained 504 yards running and throwing. Those are Denard Robinson numbers.
* Jake Buttttttt caught seven passes for 82 yards. He could have approached 100 yards if Rudock had turfed a couple obvious negative plays instead of throwing to Butt with a man all over him. This is a minor quibble considering the, you know, 504 yards and 6 touchdowns.
Impressions from a gentleman who took the trip down:
4. Their PA announcer is the most egregiously irritating person I have ever heard. Each time they got a first down he shouted "First down HOOOOOSIERS!" The fans all echo him when he says "Hoosiers." When they are on defense he would excitedly say "stand up fans! It's THIRD DOWN!!!"

5. Canadian Cowbell Girl Michigan fan. Has anyone else tailgated near this group? They are apparently from Canada, and one of their group is a girl who appears to be about 20-25 years old. She wears striped maize and blue pants and a maize cape with a blue maple leaf on it. She can hold an insane amount of alcohol. During the game she ran all around the stadium with her cowbell tapping out the bit before everyone says "Go Blue!" I was fascinated, horrified, and inspired by her. Does she go to all the games? It seems she must. I thought she would be passed out in a pool of her own vomit by halftime, but she was going strong the whole game with that cowbell.
ELSEWHERE
OFFENSIVE CHAMPION – When things start to click, your game becomes one with your teammates.  Plays that weren't being made before, suddenly look like old hat.  Jake Rudock is starting to click, but more importantly, he's clicking with Jehu Chesson.  That deep threat wasn't there earlier in the season, but in these last two games, especially against Indiana, Jake Rudock to Jehu Chesson has been money.  The two had record-setting performances Saturday night and it's a perfect time in the season for this to happen.  The threat of a deep passing game can only help the Michigan offense these next two games.  Jake to Jehu – sounds much like another great Michigan QB to WR combination: Benny (Friedman) to Bennie (Oosterbaan).
HSR:
Popular history books, or at least a certain genre of them, make a living on people who survive seemingly insurmountable odds and survive to recount the story.  There's a logic to this that makes sense.  The old nautical saying "Dead men tell no tales" applies.  We don't know how well someone fought, even unto death, unless someone else can emerge on the other side to tell the circumstances.

In three of Michigan's last four games, the ending has been in doubt up to and including the final play. 
MVictors. Talking with Drake Johnson and Desmond Morgan. Actually those previous links are more like giving them a piece of paper to write on and then putting that paper on the internet. Touch the Banner.
Two terrific individual efforts for a defense that appeared gassed, and in desperate need of one big moment.

"Find a way, find one stop," Michigan coach Jim Harbaugh said. "We found it. I saw the quarterback look over at the slot and he had what he wanted, he had the matchup he wanted against Delano Hill. I knew that's where it was going.

"But Delano really competed for the ball, contested it the whole way. Looked like he slapped it away. Really, really happy for Delano Hill. And us. All of us."
I want a name. I bet it is "Doyel":
Saturday night, moments after Michigan scored a 48-41 double-overtime victory over the Hoosiers, an Indiana-based reporter asked Harbaugh a question about the Indianapolis Colts.

Specifically, if Harbaugh would ever consider taking the Colts head coaching job, should it come back open again.

The reporter never had a chance to finish the question.

As Harbaugh put his hand up and cut him off midway through a sentence.

"Stop. Just stop yourself," Harbaugh said. "No comment."
Radio call. PSU at noon.