Professional Polishers
10/29/2016 – Michigan 32, Michigan State 23 – 8-0, 4-0 Big Ten
stop #7 [Patrick Barron]
Do not be deceived. Michigan delivered an ass-kicking to Michigan State on Saturday. Nobody in the media buys the comeback narrative from MSU. ESPN:
Michigan took the first punch against desperate rival Michigan State and then fired back with haymakers, essentially putting the game out of reach at halftime.
CBS:
...the Wolverines ran away to a comfortable win. ...Michigan looked really good and gets out of a rivalry game with a two-possession road win that was probably better than the final score indicates.
The only people who care about the particular game theory state that resulted in Saturday's fourth quarter are the perpetually unhappy wing of Michigan fans and desperate Michigan State fans. I regret it mostly because I have to spend time in this column talking about a comeback so cosmetic Joe Tiller would be proud of it.
So I shake my fist at that interception. Michigan's up 27-10, they've ground up a few minutes of the third quarter on their opening drive of the second half, and the floodgates are poised to open. Michigan tries a throwback that is not there; Speight throws his worst pass in a month; Michigan gives up negative yards on seven goal-to-go plays. Then they're on their own four and go get a field goal. Suddenly it is the fourth quarter.
At this juncture Michigan found itself in a position where only a colossal disaster could let Michigan State back into the game. If they just drained clock and made MSU do the same as it tried to score they would win. The game wasn't out of hand to the point where Michigan could run their triple-reverse flea-flicker as a middle finger; it was out of hand sufficiently that putting away the scoring offense made sense. After Michigan went up 20, their final three drives were a Lloydball spectacular:
run run pass punt
pass to fullback in the flat, run, pass, run run run punt
run run run punt
Unlike many applications of Lloydball under its namesake, this made total sense. Michigan's fourth quarter went as badly as possible without a catastrophic mistake and their win percentage never dropped under 92 or 98%, depending on which system you're checking.
The other side was fervently attempting to save face. Their first drive of the fourth quarter 1) featured their running quarterback running, 2) drained the playclock down to ten seconds when the game clock was running, and 3) ended in a field goal attempt.
Michigan State's only goal was to make it look good. Michigan's goal was to win. These two goals combined with some galactically incompetent officiating to get Michigan State very technically within one score, and then Mark Dantonio's attempt to run up the score in a loss backfired spectacularly.
You will reap what you sow.
-----------------------------------------
In the aftermath, Michigan State is resorting to making stuff up. Mark Dantonio explained his decision to go for a fourth-quarter field goal down twenty by saying he wanted to make it a two possession game. He's not dumb enough to believe that or he'd be Tim Beckman, so he's just making his making-it-look-good look good. Meanwhile his quarterback got hit so hard he thinks he plays for Michigan now:
In looking at positives, Tyler O'Connor said a Michigan DL told him, "You guys might not have won the game, but you guys kicked our ass."

— Luke Srodulski (@lsrodulski) October 29, 2016
Sure he did, buddy. This was right after Khalid Hill got his ass kicked by Montae Nicholson.
— Ace Anbender (@AceAnbender) October 30, 2016
And Devin Bush got his ass kicked by Chris Frey.
When manballers had to manball their manballiest in this game, Michigan dominated. Fourth and short was a turnover on downs. Back to back goal line stands on the same drive weren't even difficult. Those snaps collectively gained negative yardage.
And what is it about Jim Harbaugh's track record that makes you think this is going to change any time soon? Your best bet is for the Michigan fanbase to collectively become Jed York. Good luck with that.
But, yeah, you've got that punt. Congratulations. Maybe this year you can name the meaningless touchdown with a second left to make it look vaguely competitive. I've got a suggestion: "The Future."
HIGHLIGHTS
Parkinggod:
There was a Peppers feature on Gameday:
As always, extensive selection at MGoVideo.
AWARDS
[Bryan Fuller]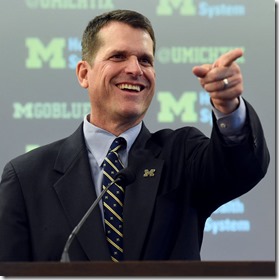 Known Friends And Trusted Agents Of The Week
you're the man now, dog
#1 Amara Darboh caught virtually everything that came his way, including a bomb down the sideline on which he was interfered on without a call. He speared a ball Speight sailed for a first down early in the third quarter and generally had his way with anyone MSU sent in his direction.
#2 Jabrill Peppers played virtually every position; he had a rushing touchdown, opened up holes for his teammates as MSU overreacted to him incessantly, and had two TFLs, a sack, and two fourth-down stops on defense. He is totally overrated.
#3 Wilton Speight continued his Rudock trajectory. The interception on the wheel route was real bad and he made some easy things look a bit harder than they should have been by holding on to the ball too long, but he offset those issues with a 10 YPA day.
Honorable mention: Taco Charlton was unblockable until they started tackling him; Khalid Hill had some thumpers; Jake Butt had a couple of nice catches in the #buttzone; Jourdan Lewis is Jourdan Lewis.
KFaTAotW Standings.
9: Jabrill Peppers(T2, Hawaii; #3 UCF, #1 Colorado, #2 Rutgers, #2 MSU)
7: Wilton Speight (#1 UCF, #1 Illinois, #3 MSU)
5: Ryan Glasgow(#2 UCF, #1 UW).
3: Mike McCray(#1, Hawaii), Ben Gedeon(#3 Colorado, #3 PSU, three-way T1 Rutgers), Amara Darboh(#1 MSU).
2.5: Karan Higdon(four-way T2, PSU, #2 Illinois).
2: Jake Butt(#2 Colorado), Kyle Kalis (#2 UW), Chris Wormley (three-way T1, PSU, same vs Rutgers), Taco Charlton(three-way T1, PSU, same vs Rutgers).
1: Delano Hill (T2, Hawaii), Chris Evans (T3, Hawaii, four-way T2, PSU),  Maurice Hurst (three-way T1, PSU), Jourdan Lewis (#3 UW), Devin Asiasi(#3 Rutgers), Ben Braden (#3 Illinois).
0.5: Mason Cole(T3, Hawaii), De'Veon Smith (four-way T2, PSU), Ty Isaac (four-way T2, PSU).
Who's Got It Better Than Us Of The Week
This week's best thing ever.
Michigan State's attempt to run it up in a loss backfires spectacularly, giving Jabrill Peppers a chance to demonstrate his 100 M speed.
Thanks for the meaningless points and Heisman boost.
Honorable mention: Khalid Hill thunders Montae Nicholson into the ground; Charlton nails O'Connor and forces an interception at the end of the half; Speight spins away from a sack and nails Darboh downfield; Darboh spears a third-down conversion one-handed; Darboh fights through hella interference to grab a bomb down the sideline.
WGIBTUs Past.
Hawaii: Laughter-inducing Peppers punt return.
UCF: Speight opens his Rex Grossman account.
Colorado: Peppers cashes it in.
PSU: Wormley's sack establishes a theme.
UW: Darboh puts Michigan ahead for good.
Rutgers: Peppers presses "on".
Illinois: TRAIN 2.0.
MSU: lol, two points.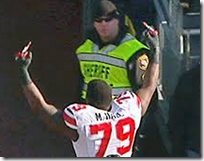 MARCUS HALL EPIC DOUBLE BIRD OF THE WEEK.
This week's worst thing ever.
Michigan State rolling right down the field for a 75-yard TD on their opening drive made me feel rather bad, as if I had just been dropped in a wormhole and came out the other side in the Brady Hoke era.
Honorable mention: Wilton Speight shuts the door on a blowout with that INT, various horrendous calls in the fourth quarter, Stribling getting beat for MSU's first make-it-look-good TD.
PREVIOUS EPIC DOUBLE BIRDs
Hawaii: Not Mone again.
UCF: Uh, Dymonte, you may want to either tackle or at least lightly brush that guy.
Colorado: Speight blindsided.
PSU: Clark's noncontact ACL injury.
UW: Newsome joins the ranks of the injured.
Rutgers: you can't call back the Mona Lisa of punt returns, man.
Illinois: They scored a what now? On Michigan? A touchdown?
Michigan State: a terrifying first drive momentarily makes you think you're in the mirror universe.
[After THE JUMP: Nobody has ever attended Michigan. Strange but true.]
OFFENSE
the Denardening does not proceedeth [Barron]
The Rudockening proceedeth. The interception was terrible and there were a couple of other throws that were either iffy—Darboh bailed him out once or twice—or late. Even so this was another strong game from Speight. PFF:
Speight's progression is one of the stories of the season for Michigan and the college football playoff, and it was another strong outing. He hit 9-of-16 passes thrown at least 10 yards in the air for 186 yards as he made big plays in Michigan's play action game while also getting some help from his playmakers down the field. Speight did force a bad interception on a wheel play as he threw it blind and late, but if he continues to develop as he has the last two weeks, Michigan will be all the more dangerous as they head into November.
Just like last year, if you check the S&P+ rankings Michigan's passing game is suddenly and somewhat inexplicably real good. As of this week they've cracked the top ten at #9. I would refer you to the season preview now:
On one level, "who is the starting quarterback?" is the single most critical question about the 2016 Michigan Wolverines. On another level, eh, it'll be fine.
The most important thing Michigan can show in the run up to the Ohio State game is continued strong play from Speight against a slate of pass defenses that are better than you think. Maryland is 31st in S&P+, Iowa 57th, Indiana 49th. Continuing to have 10-ish YPA days against them does mean something.
Okay, now I believe you. Amara Darboh had a day:
I am now on board with the "Darboh is our best receiver" chatter. He's currently at an insane 11.5 yards per target.
Nastiest play of the day. The end around to McDoom on Michigan's second drive saw MSU completely befuddled, as there was a playfake to the right, then Chesson and Peppers both went left as if they were running speed option. Zero MSU players failed to bite on this.
McDoom made the most of it and Kekoa Crawford continued his midseason blocking renaissance by kicking Montae Nicholson's ass 30 yards downfield.
Permanent decoy. Michigan must have been frustrated when a tunnel screen to Peppers in the third quarter was swarmed. They'd used him as a decoy a ton in this game, and in previous games, and all MSU was thinking about when Peppers was in the slot was that they would run a screen. It got buried.
Mason Cole versus Malik McDowell did not go well. I don't think I really expected it to. I don't think I expected Cole to be put in the backfield like the guards in last year's Utah game.
Mason Cole.

Oooof. pic.twitter.com/aST5DuXjS5

— Due (@JDue51) October 30, 2016
He and Butt and "others" were "really sick" last week, which is a mitigating factor. If this was a one game thing I'd be willing to dismiss it; it is an unfortunate trend. MSU lined McDowell up right over Cole's facemask because they didn't want him to get a double; they knew he'd dominate the one on one matchup and he did.
Enough with the Morris stuff. It's one thing to more or less tell the opposition you're running when you insert Jabrill Peppers, because Peppers is an extraordinary runner. It's another to do it with Shane Morris, who is not an extraordinary runner or blocker. Michigan tried to play off the QB lead blocker sweep stuff with some counters to it and still got stuffed; it's time to shelve it.
JBB as #95. Michigan issued Juwann Bushell-Beatty #95, which is an eligible number. I guess they can't be that down on him if they want to roll him out as an extra OL when you've got Asiasi available.
Michigan did miss Grant Perry. A third and goal from the five ended up incomplete as Michigan put it all on one route: Chesson didn't even come off the line, so it was up to a Darboh out route; Darboh did not win it and Speight missed a really narrow window against Khari Willis. Given what we've seen from Perry I bet he wins that against a safety.
DEFENSE
[Fuller]
Come at the king. Go ahead.
It'll be fun.
What was up with that first drive? A lot of it was RPS. MSU got a chunk play on a cool end-around that was more of a WR sweep, and their constant motioning got Michigan in some bad spots. Peppers got caught at an ILB spot on a chunk run for Scott; M slanted and he stood still when he should have been repositioning himself into the hole. The touchdown saw Michigan fail to respond to more motion. MSU ended up with a super easy angle to block on the sweep outside. MSU also got a chunk because their big formations ended up with Jourdan Lewis having to take on a lead block inside the tackles, which went about as well as you'd expect.
You may be wondering why MSU would save such a package for a game they were almost certain to lose, and you would be forgetting that Little Brother stings because it's true. You're not alone: I overlooked that factor in my game preview, which definitely should have predicted a quick TD drive from MSU until they had to go off script.
immediately post-Stribling whiff [Barron]
LJ Scott, man. In the period between the opening drive and the final eight minutes MSU got half of their yardage when Michigan players missed tackles on LJ Scott. Ben Gedeon ceded 29 on a play that should have gotten zilch; an ugly high tackle attempt from Stribling turned a few into 37. He's good, but neither of those were in the open field. Both plays should have been made. If they do get made Scott's line is 22 carries for 80-ish yards: the DL did quite well for itself even if you include that first drive.
Earlier in the game Jourdan Lewis demonstrated the proper way to go at Scott when you're a defensive back: fling yourself at his legs. He got the fourth down stop near the goal line by going low.
Wake-up calls for a couple backup DL. Another source of MSU yards early: Chase Winovich and Bryan Mone. Winovich got blown out on the first drive once; Mone got tossed out of the middle by double teams with some frequency. Mone limped off in the first quarter and did not return; Winovich saw his playing time limited to passing downs.
Hurst reclaims his job. After some early injury issues for Maurice Hurst, Matt Godin surged into the starting lineup and held that spot for the first seven games. If he keeps it for game eight I'd be surprised. Godin had some struggles reminiscent of last year; Hurst was inserted into the starting lineup midway through the second and mostly maintained that through the game. He was a key actor on Michigan's goal line stand after the interception, which was the highest-leverage moment of the second half.
Stribling had an up and down day [Fuller]
Meanwhile, the fourth quarter. I can't get too upset when they're out there getting tackled without a call and have a fourth and fifteen turn into fourth and short because a ball that clearly bounced was ruled a catch. Two huge plays came when Taco Charlton burst past blockers only to get yanked back in full view of the ref without so much as a twitch from that guy. Ryan Glasgow was bear-hugged on a third-down conversion moments after an MSU false start went uncalled. And don't get me started on the cavalcade of pass interference calls.
The Terry drive was the most game-theory-driven one. At that point if they want to have a 12 play touchdown drive and huddle, Michigan should be fine with it; play deep and tackle in bounds and bleed the clock.
The only truly concerning thing was Stribling getting beat for the touchdown. PFF still had him as one of Michigan's best defenders, which will be interesting when I do the UFR. The two plays that stand out from him during this game were the Madaris TD and that missed tackle against Scott.
The jet. Your surprise fourth-and-one hero: Jabrill Peppers. He shot through a backside gap with his typically insane burst and robbed Holmes of all momentum, allowing Gedeon and company to bang him down short. He also finished off Lewerke in the fourth quarter, though that was more of a collective effort.
But, sure, he's overrated.
Mmmhmmm.
SPECIAL TEAMS
Eh. Michigan made its field goals and there was vanishingly little punting from either team. With Geiger balancing out his long make with a short miss, nothing on special teams made a significant impact on the final score. Ask again next week.
MISCELLANEOUS
Awful refereeing is becoming a trend in this game. The early fourth down on which they brought out the chains was a bad sign. That ball was a yard short of the marker. In severe issues outside of the last eight minutes:
The refs ignored Josiah Price punching Delano Hill in the head on what should have been a three-and-out on MSU's second drive; instead Hill got a lone unsportsmanlike penalty.
Jabrill Peppers picked up an absurdly weak PI call when RJ Shelton pushed off of him on a ball that was uncatchable.
Darboh was interfered with on his long catch when Michigan was backed up; no call.
Ditto Chesson on a third and goal from the 26 after a (legit) OPI call; he was hit way early on a dig route that would have got it down to the ten for an easier FG attempt; instead Allen had to make a 44-yarder. He did, thankfully.
An MSU false start is missed on third and five; Glasgow is flagrantly held on the same play. Terry runs for a first down.
Then during special make 'em feel good time you have the ball that clearly bounced off the turf on third and long and Tackle Taco Tuesday.
On the other hand. That Bush hit was like super ultra targeting.
You might want to check yourself. One of the most dubious rationalizations coming from East Lansing is "Michigan loses everything next year and we're going to be huge favorites." Michigan is going to lose a ton, it's true. It's also barely more than MSU. Departures for MSU after this season:
starting QB
top two TEs and starting FB
two of top three WRs
three starting OL
three starting DL
one starting LB and (probably) (maybe) (definitely not) Ed Davis
two starting DBs
kicker
I guess the idea is that those guys don't count because they suck. I think I'd rather have the backups off a national title contender than the guys who couldn't beat out various jabronis headed for 4-8, but that's just me.
CHECK. Walking back to my car, I got the traditional Michigan State response to a loss: self-owning with "DID YOU GO TO MICHIGAN?" It's not a win over MSU without some guy who can barely stand asking you an irrelevant question and calling you a liar when you foolishly engage them.
Anyone who's heard an Alumni Association ad knows that Michigan has more living alumni than any school in the world. MSU fans think this number is zero. Their coach thinks 20 – 3 = 16, so they're a good fit.
Another reason to stop complaining. Ohio State was in a dead even game with Northwestern at home, ceding 400 yards of offense and squeezing out a 24-20 win. Michigan is now favored to win in Columbus by 8 points in S&P+. As far as off performances go, a road game against a rival on the same day your One True Rival does worse at home is a good time.
Ah, Spartan Stadium. If Ira and the Douche was a football stadium.
They're still using that thing from 300. In 2016. Also it looks like North Korea built it.
HERE
Photography highlights posted by Patrick Barron:
Lake Huron rolls, superior sings
In the rooms of her ice-water mansion

Old Michigan steams like a young man's dreams
The islands and bays are for sportsmen
Worst:  Garbage time

People complain that I try to drag professional wrestling and its fractured storytelling into this column too often, so I'll make it quick.  In the the mid-90's, WWF was infatuated with the idea of occupational wrestlers.  So you had the Repo Man, the tax collector Irwin R. Schyster, the cop Big Boss Man and his noted Canadian rival The Mountie, and Doink the Clown, amongst many others.  And one of the lesser-remembered characters was Duke "The Dumpster" Droese, a wrestling garbage man.  Well, guess what, a whole bunch of MSU's yards and points yesterday came during garbage time.


But yeah, that's it.

MSU entered the 4 quarter with 34 yards passing and 170 yards in total offense, trailing by 17. And hell, that was probably an overstatement of their performance; they finished the 1st quarter with 110 total yards of offense.  So for basically a half of football, while UM systematically marched up and down the field scoring on 5 of 6 drives, MSU was held to 60 yards total on 4 drives.  LJ Scott shredded UM on that first TD drive but was mostly held in check afterwards.
The State of our Open Threads:
User UMProud has assembled some schadenfreude for you. Brandon Lundberg breaks down some Speight plays. Tracking the championship game races.
ELSEWHERE
A Harbaugh Halloween, animated.
Speight with the dagger:
A TV reporter asked Speight about Michigan taking back the Paul Bunyan Trophy after the 32-23 win. The rivalry! The glory! The question came with the hopes of a sound bite.

Instead, there was this ...

"We came in here expecting to get it back," Speight said. "It wasn't like it was a surprise."
MVictors on Bunyan etiquette:
I assume thanks to my fondness for the Little Brown Jug, a few folks pinged me after the game about the Paul Bunyan Trophy.  To be clear: this trophy sucks.

Historically speaking, Michigan never wanted this to be a trophy game or for that thing to be the trophy.  Of course given circumstances where there is a trophy when you win, we'd just assume win and take the trophy. If nothing else you keep it out of the opponent's hands so it won't sit in their football building and get a Santa hat around Christmas time.

There is no sideline swap of the trophy.  There is no running across the field to take it back.  It stays in the locker room.  Spartan players like to bring it on the field – that's fine – but that's not what we do.
What tells the story of college football better than colors and sound?

The maize contingent in the crowd at Spartan Stadium stuck out more than usual on Saturday. Twice, a very clear and audible doooommmm rang out when Michigan's Eddie McDoom carried the ball, first for 20 yards and later for 33.
I wanted to believe.  I wanted to tell myself that the numbers were right and I was being needlessly scarred by the waning seconds of last year's game and that the computers had everything sorted out.  But data, for all that it can tell us, is retrospective.  It can only tell us what has happened, and potentially what may happen, but not what will happen.  That does not mean that data is not instructive, it's deeply so, especially if you take the time to study it and understand what it means.  It's just that "models are opinions embedded in mathematics."
Leave it to Dr. Sap to find out one of the NCAA's weirdest bylaws:
UNIFORM CHAMPION – I like the white Jumpman Towel the team is wearing on the road. Curious as to why Michigan has only been using white towels, I found out that the NCAA only allows white or pink. Leave it to the NCAA to restrict and legislate something as simple as a towel.
Harbaugh took in a World Series game on Sunday, and brought his glove. Because obviously.
Jim Harbaugh: "Gotta bring the leather." Good stuff from @Cut4 at the World Series. pic.twitter.com/QYHMgWxjcm

— Brad Galli (@BradGalli) October 31, 2016
This gave Angelique Chengelis an opportunity to remind everyone that Jack had talked about his son's obsession with getting baseballs last year:
"The ball comes, no matter who's around him, it's everyone for themselves. He will dive for the ball. He will get on the concrete and crawl on his hands and knees to retrieve the ball. We did this at San Francisco last year at the Giants game. A couple people behind us weren't as aggressive for the ball, and we had to apologize that (Jim) works on a different frequency."
The game was ESPN's best rated one of the season? Huh. Michigan opens –29.5 versus Maryland. Bill Connelly looks at some of the potential holes Michigan showed Saturday. Various bullets from Baumgardner, also a look at the fourth quarter. MGoFish recap. TTB. Wojo.
Kenny Allen bounces back. Maize and Blue Nation.