Preview: Wisconsin 2018
Essentials
WHAT
Michigan vs Wisconsin
WHERE
Michigan Stadium
Ann Arbor, MI
WHEN
7:30 Eastern
THE LINE
Michigan –9.5
TELEVISION
ABC
TICKETS
exist
WEATHER
clear, mid-40s
minimal wind
Overview
This was supposed to be The Year for Wisconsin. Returning senior quarterback with a sexy geography name: check. Eight—literally eight—offensive linemen to rotate in and out, including three of the best players in the country: check. This year's ore from the Inexhaustible Linebacker Mines Of Sheboygan: uhhhhhhhhh, check-ish.
Then half their defense got injured and someone named "Squally Canada" showed them their own intestines and their near-automatic kicker had a poorly-timed malfunction. Wisconsin lost to BYU and Tanner Mangum. Yes, that Tanner Mangum.
Relatively comfortable wins against Iowa and Nebraska have all but locked up Yet Another Big Ten West crown almost before the conference season began, and their offense is the steamroller you'd expect, but that defense is turning this from The Year to The Usual Year. Thus the two-score spread.
[Hit THE JUMP for THE USUAL, ON ONE SIDE OF THE BALL]
Run Offense vs Wisconsin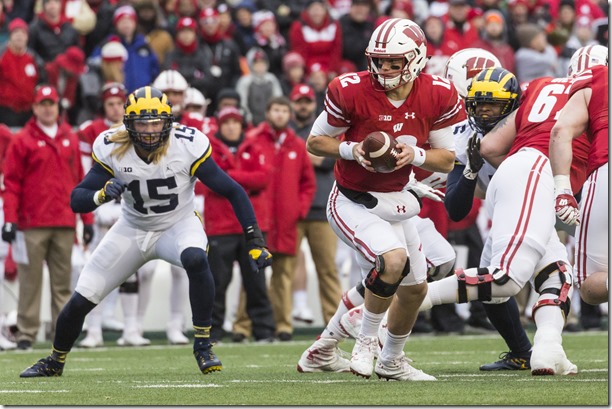 [Patrick Barron]
This has been the better half of the Wisconsin defense, but not by much. The Badgers currently sit 54th in S&P+; individual game results have not been encouraging. BYU ripped the Badgers for 6.8 YPC; Iowa and Nebraska hit 4.8 and 4.6, respectively. Against non-tomato-cans this has been a struggle. The Badgers are keeping things from getting out of hand by preventing big chunk plays—they're about average at ceding 10 yard runs and have only given up 4 of 20+ this year. The first five yards have been a struggle.
This is largely because their defensive line hasn't been up to snuff. Both of Wisconsin's 2017 DEs were excellent college players who graduated. Their replacements are both out for this game, per the strange document Wisconsin provides called an "injury report." Garrett Rand has been out all year; Isaiah Loudermilk has been limping through games as a shadow of himself and has been ruled out entirely this week.
In their stead are a 280-pound redshirt freshman walk-on (Matt Henningsen), a 320-pound nose tackle pressed into service elsewhere (Kayden Lyles), and a guy named "Pfaff" (David Pfaff). Even Olive Sagapolu, the planetoid nose tackle and backflip expert, has not had the gravity you might expect. Seth:
Iowa went right at Henningsen when he came on the field, and Loudermilk duly limped back. Hobbled as he was, Loudermilk was the only lineman generating any kind of pressure or TFLs on his own. It's a significant loss.

Rand's replacement is another RS freshman, DE Kayden Lyles, who was 207th on the 247 composite last year because 320-pound DTs are much sought after. Lyles may be the future at nose but right now he's way behind on technique and routinely gets planted 4 yards downfield whenever he meets an Iowa double team. NG Olive Sagapolu can still move faster than any 360-pound (the roster lies) human, but Iowa's OL really had their way with him this game too—I won't take away his star because he stayed in contact with his linemen and he can still move faster than any other 360-pound human
These guys are giving ground when doubled.
Unfortunately for Michigan, Wisconsin returns both of their inside linebackers. TJ Edwards is an All-American, or should be, who helped beat up Michigan's ground game last year by slashing through attempted Mike Onwenu pulls on power—which probably won't be happening this year. Ryan Connelly was about as good as Edwards last year but has suffered more with the problems on the DL. He actually checked in as one of the Badgers' worst players against Nebraska after missing three tackles. They are Wisconsin's leading tacklers but when they make tackles the opponent averages 4.4 yards. That is vastly different than last year.
Wisconsin is terrible at getting you to third and long; they're terrible at preventing third and short; they're terrible at stopping you on third and short. The thing they're good at is redzone defense; they're 18th in points per scoring opportunity allowed. This space thinks redzone defense doesn't really exist separate from, you know, defense and that Wisconsin has mostly been lucky.
Michigan should be able to move sections of the Wisconsin DL up to and including Sagapolu. There isn't a Cowart sort who looks likely to beat up on Runyan, but those linebackers are still knifing through when opportunities present themselves. Still, this looks like a good matchup for a Michigan ground game that's finding its way and has cut down on big exploitable errors well.
KEY MATCHUP: HIGDON and FRIENDS vs THE LINEBACKER LEVEL. Michigan will deliver their backs to the LBs frequently. Those LBs will be in good spots, probably better spots than the situation might otherwise suggest, and it'll be up to the backs to run through tackles to turn okay plays into chunks.
Pass Offense vs Wisconsin
[Bryan Fuller]
/opens mouth
uh
/makes sign of cross
So this should be a large to massive advantage for Michigan. Wisconsin's secondary is riddled with injuries and their pass rush has collapsed. The first bit: CB Travian Blaylock is out for this game; Caesar Williams and Deron Harrell are "questionable." Williams did not play against the Cornhuskers. Safety D'Cota Dixon was spotted in a walking boot immediately after the Nebraska game; corner Faion Hicks is operating with a thumb injury; safety Scott Nelson will miss the first half after a targeting call last week.
In the aftermath of all this, spectacularly-named freshman Rachad Wildgoose* got 52 snaps. Wisconsin's putting on a brave face but 384 passing yards from Adrian Martinez is making that a hard sell.
Wisconsin's most likely configuration is going to be Harrell, Hicks, Dixon, and then sophomore Eric Burrell until Nelson is eligible. That is a world away from last year's hoodie-wearing draftable CBs. Nelson is a true freshman who you may remember from a period last year when Michigan was flirting with an offer for him. It says something when a true freshman walks into a starting job; Burrell should get tested a few times. Seth:
Injuries, a transfer, and a targeting penalty that will force FS Scott Nelson (a redshirt freshman Detroiter Don Brown offered at BC) to sit the first half are testing an already shaky unit. Backup FS Eric Burrell was flat-out burned by a tight end on the one play he charted, and he's already behind the obvious weak spot of this defense.
Hicks might also have a target on his back:
The other two in the rotation are CB Faion "Handsy" Hicks and CB Deron "Handsy" Harrell, who both commit so much pass interferenceit even gets called(!). By Big Ten refs (!!!). Hicks does so because he's not fast and is a terrestrial small guy who freaks out if he gets put on a tight end. Harrell does so because he's a recently converted WR.
When he makes a tackle this year the offense averages a whopping 24 yards per play. Lavert Hill is the worst guy on Michigan's team in that regard and he's at 13.3. Also his tackle to PBU ratio is 7:5 instead of Hicks's 12:2.
Meanwhile the pass rush has been close to nonexistent. Wisconsin has two sacks from their front five (DL + OLBs in a 3-4) all year, one from Andrew Van Ginkel, one from Sagapolu. The two inside linebackers have the other three as Wisconsin checks in 115th in sack rate.  Van Ginkel remains on the injury report as questionable and saw limited time against the Cornhuskers. He's still working his way back from a leg injury suffered against BYU.
3-4 DLs don't often have a lot of pass-rush stars but this is extreme even for a 3-4. The Badgers are selecting from a bunch of NT types, a true freshman, and a guy named "Pfaff." Meanwhile Zach Baun is the only OLB to make much impact even in the"tackles" column; he's got two TFLs on the year.
The solution, such as it is, is going to be flinging blitzes at Michigan and hoping some get through. That was a much better bet last year, and if Michigan is able to pick those blitzes up an already vulnerable secondary is going to lose one or both of Edwards and Connelly, two of the better pass-coverage linebackers in the country.
It's not a pretty picture for the Badgers, and Michigan should seek to take advantage. Shea Patterson has proven extremely accurate when allowed time to sit in the pocket, and even if one guy gets through he can Forcier his way to the sideline productively. This is a real game against a top-15 opponent with a glaring statistical weakness that should be poked with sticks until Wisconsin says "uncle."
*[You may remember him from his recruitment, which naturally featured two separate decommitments as Wildgoose sent teams on an eponymous chase.]
KEY MATCHUP: SLOT DPJ vs Y'ALL AIN'T READY FOR THIS. Michigan should go after the non-Dixon safety, and rotating DPJ into the slot will help in their efforts to do so. Might be time for some TE-as-flanker snaps.
Run Defense vs Wisconsin
poor damn Jonathan Taylor's google image search
Wisconsin's pass defense is hanging by a thread thanks to a surfeit of injuries; so is Michigan's run defense. Rashan Gary is expected back after sitting out with a shoulder issue against Maryland, which will help. The projected absence of Mike Dwumfour after a non-contact foot injury that necessitated the cart won't impact the run defense directly—Dwumfour is a major dropoff from Kemp in this department—but combines with an injury to projected NT starter Aubrey Solomon to whittle Michigan's tackle depth down to alarming levels.
Michigan spent the bulk of the Maryland game rotating Bryan Mone, Carlo Kemp, and Lawrence Marshall. That's about two defensive tackles short of what you want headed into a game against a peak Wisconsin rushing offense. Solomon's mom posted a shot of him in his gear after practice this week, so it's possible he might be able to return. That would be a relief even if Solomon's likely to get clonked by the Wisconsin OL thanks to rust.
That Wisconsin OL is ranked second in the country by Pro Football Focus and will have more than one member of great interest to NFL teams in the 2019 draft:
Cole Van Lanen has only started one game this year but rotates in enough to have played 246 snaps through five games. In that span, he has allowed just one hit and one hurry on 93 pass-blocking snaps, and continues to improve, with this past week against Nebraska (96.8) his highest-graded game of the year. With center Tyler Biadasz (83.6) and right guard Beau Benzschawel (84.3) also delivering strong PFF grades, this is a unit well positioned to dominate throughout the rest of the year.
Yeah, you read that right: Wisconsin has an offensive tackle in the Mo Hurst "I don't start but I'm awesome" role. The mind reels.
Those dudes combine with super-powered-Rutgers-decommit Jonathan Taylor to form one of the most intimidating rushing attacks in the country. The Badgers have the #3 rush O per S&P+; they're middlingly explosive but an astounding 60% of their runs gain five yards; a similarly astounding 9% don't get past the line of scrimmage. They have failed to convert a third and short zero times. This is a run offense build to grind your bones into dust, and this year they have all the horses you could ever want.
I don't have to describe this offense to you, right? It's the Wisconsin offense. Jets and power and enough tweaks on the ground to keep opposing defenses off-balance and five slabs of ham with evil cartoon eyebrows drawn on them.
There are two blips here. One is Taylor's ball security. He's fumbled twice this year after a whopping eight last year. A well-placed helmet could do some work in this game. The second is tight end. Starter Zander Neuville went out for the year against BYU. His replacements have been hot garbage. Kyle Penniston checked in with a PFF grade of 50 in 48 snaps against Nebraska, a team that emphatically does not have Rashan Gary and Chase Winovich at DE. 80% of those snaps were run blocks. Freshman Jake Ferguson has been
The play for Wisconsin seems obvious: single up Michigan's DTs and get Devin Bush blocked. Maryland couldn't pull that off last week. The Badgers have a much better shot. This will be a game for slants and blitzes and the kitchen sink portion of the Don Brown playbook. Michigan should do as much as possible to force TE blocks to be relevant.
KEY MATCHUP: MICHIGAN vs PLAY COUNTS. A depleted DT corps means Michigan can't afford to allow Wisconsin an extended scoring march early, especially if they follow it up with a quick drive of their own. 
Pass Defense vs Wisconsin
the usual [Barron]
There is a giant gap between PFF's grading, which has Alex Hornibrook as one of the top quarterbacks in the country, and Wisconsin's results, which see them slot in 58th in S&P+.
What does that say? The usual: Hornibrook's arm strength isn't amazing and his receivers are coverage magnets, so big plays are few and far between (83rd in explosiveness) despite the priming effect of the Wisconsin run game. Hornibrook is really good at the throws he can make—thus the grade. The suite of options available to him is relatively small. Meanwhile the receivers are typically meh. Per PFF about a third of Wisconsin passing yards come after the catch, which is second-worst in the Big Ten. There is no separation.
But hot dang Hornibrook can fit it in some tight windows, as befits the most sensual of all geographic objects. Wisconsin pops up to 21st on passing downs and 20th when they try to convert third-and-long. When the Iowa Hawkeyes, who play a guy named Ojemudia at corner, rolled into town Hornibrook diced them, going 17/22 for 205 yards. Mediocre secondaries at BYU and Nebraska were able to stay in contact held Hornibrook under 7 yards an attempt.
The suspension of Quintez Cephus hurts Wisconsin badly; in his absence AJ Taylor has emerged into the top target. Taylor's the one guy on Wisconsin capable of getting over the top of the defense, with 18 yards a catch and 12 per target. Even he's not providing much that's truly deep. Wisconsin has just four 30+ yard passes on the year, which is near the bottom of the Big Ten. Freshman TE Ferguson is next with 16 catches; he is the most likely option to move the chains. Danny Davis and Kendrick Prior both have about ten catches. Nobody is a strapping fellow in Cephus's absence; all guys go about 6'0".
The other thing impacting the fancystats is Wisconsin's pass protection. The Badgers have—you should sit down for this part—a worse adjusted sack rate than Michigan. Michigan is in fact up to 29th(!!!). Wisconsin is 74th. For a team that throws so infrequently and has that kind of offensive line that's downright weird. Seth didn't catch any explanation for that against Iowa, when Wisconsin shut down what's probably the best set of DEs in the Big Ten West. It's possible that Wisconsin is just having bad luck in the pressure to sack ratio and they're not allowing an inordinate number of pressure events. It's possible Michigan's DEs will be able to win their touted NFL draft prospect matchup more easily than you might expect.
Wisconsin can go at Michigan's corners all they want; it won't go that well for them downfield. But like the last few teams on the schedule expect a focus on Michigan's underneath coverage and whoever the safeties are matched up against. Michigan will probably be buzzing slants, hoping to get a turnover. That is one thing Hornibrook has radically improved upon, FWIW: he's got just two on 74 attempts this year after 15 on 318 in 2017.
KEY MATCHUP: MICHIGAN SAFETIES vs SLANTS AND THE LIKE. Last year's game went south when Jaylen Kelly-Powell got toasted over the top on a slot fade. That was one of three big chunk plays on the same thing. Michigan isn't allowing those this year, exchanging slants for the big hits. Hornibrook is amazing at slants.
Special Teams
Rafael Gaglianone returns to kick after a 16 of 18 junior season. He's 5 of 6 this year, but the miss was a big one—it was for the tie against BYU. He's got range out to 52. A miss from him would be a major bonus. Their kickoff guy puts it in the endzone 84% of the time, FWIW.
Punter Anthony Lotti is tough to judge because 10 of his 17 punts have ended up inside the 20, so his 36 net yards a punt is more indicative of where he's punting from than how much leg he has. He's ceded just one touchback this year, so his pooch game is on point. He averaged 40 yards a kick last year, with 23 inside the 20 and just two touchbacks. Survey says: accurate guy without a ton of leg.
Wisconsin's return units haven't done anything this year. Nick Nelson, who provided the only thing they did last year on the bizarre TD return in this game, has graduated. Neither has Wisconsin given up a significant return.
KEY MATCHUP:  AHHHH YOU DON'T GET BLOCKED IN THE BACK AFTER A PUNT BOUNCES THUS OPENING UP THE POSSIBILITY OF A RETURN TOUCHDOWN
Intangibles
You know what? There is something. Seth charted the Iowa game and caught four(!) different punts on fourth and four or shorter in Iowa territory with 1) the country's top short yardage offense and 2) Alex Hornibrook's creepy accurate third down passing. If Iowa didn't fumble two of those punts...
Anyway:

Cheap Thrills
Worry if…
Wisconsin goes on a 15-play eon of a drive and then Michigan goes three and out.
Hornibrook is slanting with impunity.
The defensive tackles are on skates.
Cackle with knowing glee if…
Paul Chryst is making a bunch of dirt-stupid decisions to punt.
Shea Patterson can set up an Axis and Allies game in the pocket.
The Hornibrook accuracy thing is solved by Gary and Winovich.
Fear/Paranoia Level: 5 (Baseline: 5; +1 for Five Angry Hams, +1 for Michigan's DT Issues, –1 for Are At Least Matched By Wisconsin Injury Issues, –1 for Y'all Couldn't Push The Pocket If I Gave You A Bonafide State Of The Art Pocket Pusher, –1 for Puntosaur With A Great Offense And A Bad Defense, –1 for Home Night Game, +1 for Hornibrook Third And Long Conversions You Know Are Coming, +1 for Dumb Show Me Stuff You Still Kind Of Believe)
Desperate need to win level: 9 (Baseline: 5; +1 for League Game, Smoke, +1 for Good Lord The Divergence In Takes Based On The Outcome Of This Game Is Simply Enormous, +1 for Vengance!, +1 for Just Think Of The Various Record Versus Ranked Teams Stats Skip Bayless Will Cause To Be Emitted From His Human Interaction Device or "HID")
Loss will cause me to… get my face melted off by takes.
Win will cause me to… make little football men out of locally available cheese, defeat them with my son's toys, and theatrically eat them as they scream "nooooooooooo" all the way down my gullet before drowning in stomach acid.
The strictures and conventions of sportswriting compel me to predict: 
This can go pear-shaped in a very specific way: Wisconsin sustains some drives with help from Hornibrook's third down accuracy, Michigan's DTs are not quite up to the task at the beginning and get considerably less up for it as fatigue starts to set in, and Michigan has some familiar early wobbles that lead to quick punts. In that case the Wisconsin offense gets an advantage over a defense that's better than it statistically and stakes itself to a lead in what is almost certainly going to be a short game, in terms of possessions.
If Michigan's able to prevent that scenario from happening either by thunking Wisconsin or going on some long scoring drives of their own they should be able to pull away as the game goes along. Wisconsin's big play potential is minimal and despite some bend-but-don't-break aspects of the Wisconsin D they're just 60th in preventing explosive plays. With some flashing KICK ME signs in the secondary and a non-existent pass rush Michigan should get a couple of big chunk plays to Collins and DPJ that Wisconsin cannot match. Redzone efficiency could swing things in back to even, but it'll take short Michigan field goals for UW to keep up.
Unless, of course, the meatgrinder scenario comes into play.
Finally, three opportunities for me to look stupid Sunday:
Patterson has a TD pass of over 40 yards.
Don Brown throws the kitchen sink at Wisconsin and manages to keep Jonathan Taylor under 4 yards a carry.
Michigan, 25-16