Previously here: ACE FFFF! I check out VT's game against Duke: offense and defense. Seth provides corporate-logo-free bowl images.
Other stuff: BWS bowl preview archive. MZone's Know Your Foe.
Essentials
WHAT
Michigan vs
Virginia Tech
WHERE
Superdome,
New Orleans, LA
WHEN
8:30 Eastern
January 3rd, 2012
THE LINE
Michigan –3
TELEVISION
National on ESPN
WEATHER
It's a dome.
Yea, and it came to pass that a matured Michigan blogosphere had a month to survey an opponent for a BCS game, resulting in a flood of content that makes a preview superfluous. But lo, here it is anyway.
Run Offense vs Virginia Tech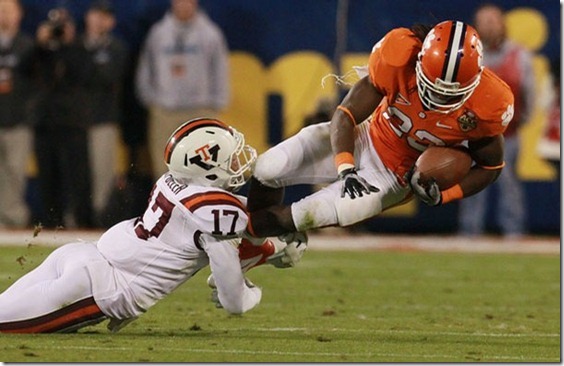 SS/rover/CB/nickel Fuller is doing this at or near the LOS
VT's season is frustratingly devoid of opponents comparable to Michigan. Trying to draw connections between Georgia Tech's flexbone triple option and anything else is foolhardy; no one else on the schedule had a run game better than average.
This is almost literally true. Once you get past the other Tech, the next ACC teams on national rushing lists are VT itself and Maryland, neither of which VT played. #54 Virginia is the next-most-intimidating rushing offense on the schedule. Their quarterback netted 20 yards on the year and as a team they rushed for a full yard less per carry than Michigan. Other than GT's Tevin Washington, Tajh Boyd is the only athletic-ish quarterback on the schedule; he finished the year with under 200 yards rushing. Michigan has Denard Robinson and the #12 rushing offense in the country.
So… like, we just don't know. But here are the conference numbers all the same:
| Opponent | Att | Yds | TD | YPC |
| --- | --- | --- | --- | --- |
| Clemson I | 34 | 128 | 2 | 3.8 |
| Miami | 35 | 252 | 1 | 7.2 |
| Wake | 27 | 94 | 0 | 3.5 |
| BC | 25 | 104 | 1 | 4.2 |
| Duke | 26 | 115 | 1 | 4.4 |
| GT | 44 | 279 | 3 | 6.3 |
| UNC | 33 | 143 | 2 | 4.3 |
| Virginia | 22 | 61 | 0 | 2.8 |
| Clemson II | 42 | 226 | 2 | 5.4 |
That's pretty good. You don't finish 15th in rushing defense without a number of quality performances. OTOH, in VT's four games against quality backs they got ripped three times by Clemson (The Sequel), Miami, and Georgia Tech with only one quality performance to offset that. Will that D be good enough against something not quite entirely unlike Virginia? This is the land of fan confirmation bias espectacularrrrrrr. Certainties are few and hope makes one vulnerable.
Given the way VT plays defense it seems like conventional zone reads and trying to get the edge will be sidelights to keep the Hokies honest if they're not shelved entirely. When opponents run a read, VT sells out on the tailback and sends their WLB/SS/CB nickelback rover guy at the QB. There is some debate about how good Kyle Fuller an d other VT safety sorts are in space. I'm on the "pretty good" side of the fence; Ace is less enthused. We'll see.
Presumably that evidence will come after Michigan tries the obvious thing to try: running it down Virginia Tech's throat. The VT DL is comprised entirely of underclassmen; their nose tackle is a freshman. Michigan has the Rimington winner, four returning starters, and the #12 rushing offense. Whenever anyone looks at these guys they come away with the same impression. BWS:
Defensive tackles. Soft. They were put on skates most of the game. Michigan's offensive line should manhandle these guys.
Ace:
…the defensive tackles both are shoved right out of the hole, and the linebackers just aren't there to pick up the slack—the middle of that defense looked soft all game.
I punted on the Duke game but have watched a couple more outings by the run D and agree; Georgia Tech B-back David Sims (essentially a fullback) ground out 32 yards on 8 carries right up the middle largely because his guys in the center of the line were getting push.
Observers generally trash the VT LBs as well, but I'm inclined to see what look like issues with overpursuit and block-eating as 1) playing Bud Foster's style of defense in which the backside is always covered by a member of the secondary and 2) not being done any favors by their defensive line. It's hard to rack up big tackle numbers when you're always fending off a lineman releasing into the second level directly.
The recipe for success here is threefold:
Crush the interior line. Make VT cheat to it. QB iso is the best way to keep VT from getting their numbers advantage and exposing those noobs up the middle.

Get Fuller blocked. This is not going to happen often but when you can do it Fuller does not react well—he's still basically a corner—and VT relies on the Fuller guy always tackling.

MAKE PLAYS in space. We have the technology. We can juke them.
This is strength versus strength here; Michigan is better proven against quality competition and has a major asset poised to strike at VTs main weakness.
Key Matchup: Denard in open space against Fuller. This will happen, and Fuller is going to make some tackles in the backfield. Denard is another world from anyone the Hokies have seen this year, however, and if he WOOPs the guy in the hole the nature of the Virginia Tech defense means there isn't likely to be anyone else close by.
Pass Offense vs Virginia Tech
In efficiency terms, VT's pass defense (15th) is almost equivalent to their run D even before you take the usual Hokie sack parade (2.9 a game, 12th) into account. SOS concerns are less of a problem here: UNC, Miami, and Clemson all finished in the same YPA ballpark M did. Tech against those opponents:
| Opponent | Att | Cmp | Yds | YPA | TD | INT |
| --- | --- | --- | --- | --- | --- | --- |
| Clemson I | 32 | 13 | 204 | 6.4 | 1 | 1 |
| Miami | 22 | 14 | 283 | 12.9 | 4 | 0 |
| UNC | 27 | 14 | 224 | 8.3 | 1 | 0 |
| Clemson II | 30 | 20 | 240 | 8.0 | 3 | 0 |
That's a lot worse than I expected.
Even so, this is where Borges will earn his money. Virginia Tech has quality athletes all over their secondary; Michigan has middling speed at receiver. Separation will be at a premium and zone blitzing will be frequent.
VT does run a lot of man and matchup zone concepts vulnerable to getting RPSed by, say, a veteran West Coast coordinator with a bunch of cool stuff in his bag of tricks. While Clemson OC Chad Wilson ground out a 23-3 win the first time around without much in the way of efficiency, the second go-round saw nearly 500 yards of offense thanks in part to plays like this where Wilson exploited the man/robber combos VT loves:
As Ace says, "oops." Tajh Boyd was 20 of 29 for 240 yards and three touchdowns and no INTs after a ND-era Denard performance in game one: 13/32 for 204 yards and 1-1 TD:INT.
This is going to be a scheme matchup where Michigan has to threaten with Denard's legs and break VT keys to get guys open. We've seen Borges pull out multiple flood concepts, that delay stuff with Hemingway, bunch concepts, a zillion throwback screens, and even some QB Oh Noes here and there. That variety deployed sensibly has the potential to expose some of the holes VT's aggression leaves.
One thing Michigan should probably not do much of is turn Denard's back to the line of scrimmage.
VT loves QB focused backside blitzes; Miami ended up handing off here but Duke was not so lucky on multiple occasions. Keep Denard in the gun and looking at those who would threaten him. There will be many of them coming from surprising places.
That is still a major concern. While Denard has flashed the ability to smoothly handle a blitzer up the middle over the last chunk of the season, the emphasis is on "flashed." Over the course of the season panic and bad decisions have been more common. A defense like this is going to test Denard's newfound ability to not throw multiple interceptions.
His late surge-type substance suffers from major sample size disclaimers. Setting aside the 21 attempts in the last 7 minutes of the Iowa game when Michigan threw the base offense out and Iowa's play was to bleed yardage, Denard threw 14, 16, 10, 18, and 17 passes the last five weeks of the season. His attempts have been largely comfortable ones in the context of the offense; his opportunities to throw interceptions have been massively restricted. If VT can expose him to crappy situations by shutting down the run game, there is a distinct possibility Michigan wakes the turnover demon.
Key Matchup: Borges versus Foster versus Denard's ability to figure out what's going on. We've seen plenty of hand-wavingly open dudes this year who have been ignored by Denard or Gardner in favor of fist-shakingly covered guys. If Borges can shake guys free Denard still has to find them and throw it to them.
Run Defense vs Virginia Tech
David Wilson is a scary tailback playing behind an iffy offensive line. When that offensive line can stalemate the opposition he slashes into and through the secondary. While I think highly of BWS's work, he cray if he thinks Wilson "doesn't have much speed" and isn't a damn good player. With Michigan's edge issues this year it will be a surprise if he doesn't bust someone to the ground en route to a 20 yard chunk.
Here we do have a couple of relatively close comparison points for the Michigan defense, which gave up 4.1 YPC over the course of the season. Miami and Virginia are very close to that average; BC and Clemson are a tenth or two worse. Those are the most comparable defense with conventional stats. In FEI Michigan (#17) is very close to North Carolina (#15). (FWIW, Clemson is 27, UVA 35, BC 41, Miami 67.)
Survey says:
| Opponent | Att | Yds | TD | YPC |
| --- | --- | --- | --- | --- |
| Clemson I | 35 | 166 | 0 | 4.7 |
| Miami | 38 | 172 | 2 | 4.5 |
| BC | 39 | 215 | 2 | 5.5 |
| UNC | 37 | 163 | 1 | 4.4 |
| Virginia | 42 | 188 | 3 | 4.5 |
| Clemson II | 27 | 78 | 0 | 2.9 |
Michigan should expect to give up about four and a half yards a carry with the bulk of the damage done by Wilson. If you think the Big Ten is significantly better than the ACC this year—something the Sagarin ratings believe and the Big Ten is busy disproving today, FWIW—you might downgrade that to Michigan's average.
That is the 1,000 foot view. From a matchup perspective, it seems like the interior of the VT OL is a weak spot that Michigan is well suited to exploit what with Ryan Van Bergen and Mike Martin hanging around in opponent backfields. Martin in particular has torn up substandard opposition in the back half of the schedule; he had a more even battle with Ohio Wesleyan's Mike Brewster in his last outing, but Brewster was a Rimington-finalist sort of guy. VT's interior line does not possess a similar player.
Ace highlighted the Clemson DTs' effectiveness in the ACC title game:
I noticed stuff like this against… like… Duke. Which is Duke. Wilson still ate up bunches of yards when he got to the outside and stiffarmed his way up to full rumble, but you've got to get there first. VT has shown some option and will undoubtedly try to find ways to avoid Martin's regular sojourns into the backfield. How Michigan handles that will go a long way towards determining who wins this matchup.
It is imperative that Van Bergen and Martin MAKE PLAYS; with Nate Brink out and Will Heininger likely sidelined Michigan will have to rotate Will Campbell and Quinton Washington at the three-tech spot. This weakens that slot and strips RVB and Martin of any possibility of relief. Expect a good deal of Michigan's nickel package with Ryan as a down lineman; VT runs three WRs out there most of the time.
Beyond Wilson there are two guys with more than a handful of carries. Senior Josh Oglesby is an uninspiring thudder averaging 3.7 YPC. QB Logan Thomas is 6'6" and relatively athletic; VT uses him on the inverted veer to pick up 5-8 mooseyards and deploys him as an automatic first down in short yardage. There's a big difference between third and one and third and two in this game.
Key Matchup: Ryan, Floyd, Countess, Avery, Kovacs, and other edge/alley defenders against Wilson in space. If Wilson's going to crack 100 yards it's going to come with two or three big chunk runs outside the tackles.
Pass Defense vs Virginia Tech
left bad. right good.
Logan Thomas is a huge dude with a big, accurate downfield arm. Think John Navarre, except driving around in a tank. When given time to survey he will set his feet and deliver strikes 15-50 yards downfield. On occasion he will throw terrible interceptions. This isn't a problem at the level Denard's errant throws are but it does exist.
Thomas's efficiency numbers are middling. He's 49th nationally; his YPA is slightly above average at 7.7. VT missed the three best pass efficiency Ds in the league but still played a ton of teams in Michigan's ballpark (37th). Results:
| Opponent | Att | Comp | Yards | YPA | TD | Int |
| --- | --- | --- | --- | --- | --- | --- |
| Clemson | 27 | 15 | 125 | 4.6 | 0 | 1 |
| Wake Forest | 32 | 17 | 280 | 8.8 | 2 | 0 |
| Boston College | 36 | 22 | 268 | 7.4 | 1 | 0 |
| Georgia Tech | 13 | 7 | 209 | 16.1 | 3 | 0 |
| Virginia | 21 | 13 | 187 | 8.9 | 2 | 0 |
| Clemson | 44 | 22 | 274 | 6.2 | 1 | 2 |
That is not much success against Clemson but good to excellent numbers against the rest of the reasonably good pass efficiency opponents. That may be because those teams all kind of suck. The datapoint we just got on Virginia (giving up 450 yards and 43 points to what was the nation's #104 offense) is not so encouraging for the ACC. Pay no attention to the Penn State behind the curtain or Braxton Miller going all Troy Smith last game.
The VT receivers aren't DeVier Posey and the threat posed by Thomas won't force Michigan into a one-off attempt to imitate Virginia Tech's defense, so hopefully the secondary will revert to its pre-OSU form in which big plays are rare and receivers are, like, covered and stuff. Thomas Gordon reclaims the starting free safety spot after Troy Woolfolk's torrid first half against OSU; he has been solid most of the year.
Even if that happens, Thomas has shown an ability to pinpoint seemingly covered receivers. Miami was totally horrible against the pass this year but 23 of 25 for 310 yards is eyepopping. The overall stats are misleading since Thomas's YPA is held down by VT's propensity for bubble screens. On actual pass plays he picks up big chunks.
Getting to Thomas is the best way to not get arcing deep balls rained on Michigan's face. While he has the raw arm strength to throw off the back foot, he is a large man with a long arm and slow delivery; he's not bad in motion but he's not lethally accurate.
Key Matchup: Martin/RVB/Roh/Ryan against the VT OL. While VT has not gotten much push up front, the line has kept Thomas clean much of the year. VT gives up just over a sack per game and that is with a ton of deep routes, a QB with a long delivery, and a healthy number of throws.
Special Teams
Virginia Tech's specialists.
This is a very strange thing to write in a preview about Virginia Tech, but after everything that's befallen the Hokies in the run-up to this game this probably should be a Michigan advantage. VT's first-string kicker got in jail and their second-stringer was sent home for missing curfew. The third string guy is all that's left; he was scheduled to take longer field goals tomorrow but now he's got everything. Brendan Gibbons isn't great shakes but he's at least got a decent track record under 40 yards this year.
At punter, meanwhile, Will Hagerup has struggled even when not immortalizing himself in the GIF seen round the world. He's still not a starting wide receiver, like Danny Coale. Coale will punt for VT tomorrow after their starter punted the Hokies into the triple digits. Coale's been surprisingly effective given the circumstances but has shanked a couple opportunities.
Returns… eh. VT and M are 99th and 100th in kickoff returns; they've been better on punts but both are still middling. While variance be variant, there's no reason to expect either return unit to have a huge impact on the game. Field goals and how far those punts travel will be bigger issues.
Key Matchup: Gibbons you have an advantage over the opponent?
Intangibles
first page of results for "Virginia Tech cat" for some reason
Cheap Thrills
Worry if...
Michigan gets stuck on the field for long drives; with the line down two guys M will be susceptible to tiring.
Logan Thomas has time to throw downfield.
Special teams is not an advantage for some reason. I know, weird.
Cackle with knowing glee if...
Molk goes dancing on underclassman chests.
QB Oh Noes returns with authoritah.
Denard gets past the filling safety.
Fear/Paranoia Level: 4 (Baseline 5; –1 for Third String Kicker And WR Punter, +1 for Aggressive Blitzing Defense Did Okay In M's Last Bowl Game, +1 for Secondary Just Imploded, Reminding Me Of 2006, +1 for David Wilson Is The Truth, –1 for The Truth Can Only Do So Much When He's Dodging Two Guys In The Backfield, –1 for There Is Denard, –1 for Massive Trench Advantage On Both Sides Of The Ball, +1 for General Bowl Game Paranoia, –1 for Hoke Uber Alles.)
Desperate need to win level: 8 (Baseline 5; +1 BCS Win So Sexy, +1 for Would Be Fourth Time Since 93 Michigan Loses Fewer Than Three Games, +1 for Preseason Top Ten Hype, –1 for Wait Actually That Sounds Like A Bad Idea, +1 for Makes Alabama Seem Like Way Less Of A Bad Idea, –1 for Meaningless Garbage Exhibition Designed To Bilk People Out Of Money, +1 for Winning Is Fun.)
Loss will cause me to... eat nothing but turkey for the next month.
Win will cause me to... squint at the returning members of the defensive line until they transform into a competent unit, proclaim Big Ten championship is on the table next year. Also enjoy life.
The strictures and conventions of sportswriting compel me to predict:
It's tough to get a grasp on Virginia Tech given their schedule, which is 78th by FEI's estimation. They played no one in the nonconference. They got blown out twice by Clemson. They missed the other winning teams in the Atlantic division. Their best wins are over 8-5 Virginia, 8-5 Georgia Tech, and 7-6 North Carolina. They played one-score games with Duke and East Carolina. They have the shiny record and a lot of shiny stats, but against who?
You can say something similar about Michigan, which missed Wisconsin and Penn State and played in a terrible edition of the Big Ten. They check in 55th. These are not teams that enter the Sugar Bowl atop a mountain of skulls.
We do have more evidence that Michigan is really genuinely good at a thing, though. Michigan's rushing offense was shut down by MSU and Iowa this year thanks to snap timing, an inability to combat blitzes up the middle, and a bunch of runs from under center. When this was not happening they killed people. Assuming these things do not recur, Michigan should grind out a solid day on the ground. Quality rushing offenses have gone for big yardage in three of four opportunities against VT's young, small DL. 
VT, on the other hand, has just come off a game in which an athletic interior line demolished their running game. I'm worried about turnovers and Logan Thomas testing Michigan's suddenly vulnerable secondary deep; I'm confident that Michigan has a major advantage along both lines. In a game that figures to be contested on the ground that should be enough. Michigan's tendency to turn the ball over is offset by the various third stringers and WRs kicking for Tech.
Finally, three opportunities for me to look stupid Sunday:
Michigan outrushes VT by 75 yards.
Denard passing attempts are under 20.
VT's goofy kicker specialists don't hurt them, because that's life.
Michigan, 25-18