Previously here: Ace FFFF! glewe looks at Ohio State's charmed existence so far. Lanyard program.
Essentials
WHAT
Michigan vs Ohio State
WHERE
Ohio Stadium
Columbus, OH
WHEN
12:00 PM Eastern
November 24th, 2012
THE LINE
OSU –3.5
TELEVISION
ABC
WEATHER
partly cloudy, dry, mid-30s
This preview assumes that Denard Robinson will play a similar role to the one he did against Iowa, still minus about all of the throwing.
Run Offense vs OSU
wall of fame sports describes Hankins as a "road grater"
Yerg. After weeks and weeks of struggles against mediocre or worse Big Ten defensive lines, Michigan is staring down the barrel at John Simon, Jonathan Hankins, and company. Ace: 
The front four is very, very good. Behemoth DT Johnathan Hankins demands two blockers on the interior; while he's mostly a space-eater, he'll make a few plays that show off frightening quickness, which is why he'll be a top ten NFL draft pick. Garrett Goebel is solid, not spectacular, at the other tackle spot—while he doesn't make a lot of plays, he holds the point of attack well. Nathan Williams is also in that mold—not a huge playmaker, but not a weak point. That allows Simon to do what he does, and Michigan would be wise to avoid him as much as possible.
Abandon all hope all ye who try to run between the tackles.
Ohio State has rebounded from some rough early outings to shut down the Big Ten's assortment of feeble offenses. In the league all comers have been crushed save Nebraska and Wisconsin. The Huskers got one huge play and an assortment of moderately-sized ones en route to 253 yards on 41 carries, 6.2 a pop. Taylor Martinez threw three interceptions and Nebraska still put up 38 points and around 450 yards. Wisconsin had a similar outing minus the huge play, grinding out 242 yards on 52 carries. This was almost all Montee Ball, who neared 200 himself and needed 39 carries to do so.
Michigan is caught between those teams' offenses, except when they try to run the ball from under center they get bags of despair instead of yards. This sucks, as Etienne Sabino's return has seen him move to SLB when OSU is in their base package with converted fullback Zach Boren—like, converted a few games ago—the starting MLB. Wisconsin profited from that weak spot, as Ace noted; it's doubtful Michigan can manage it.
So what does that leave? The inverted veer game from the shotgun and a satellite of plays around it, plus Denard jet sweep type action, Fritz-type action, and maybe just giving him the dang ball on conventional running plays because why not. Michigan showed a diverse array of stuff last week; this has no doubt sent the Ohio State coaching staff into a tizzy preparing for it; Michigan knows this and is preparing counters; Ohio State knows this and is preparing for counters they haven't yet seen but can probably guess at since there's little new under the sun in football.
They can get stuff here. Ryan Shazier is much better this year but still retains some of those Ohio State Defense Alcohol symptoms: he is the cause of, and solution to, all problems.
Using Denard as a jet/veer/option/whatever threat is imperative. He can't be in the game without Michigan faking a handoff to him and using him as a potential dumpoff threat to keep the heat off. So Michigan must run that stuff on the ground as well. I'm guessing Michigan debuts a Devin/Denard/FB-type backfield in this game and uses Denard as the veer back and just, like, you know, the guy who takes handoffs. Running back.
That exists separately from the snaps Michigan must hand over to actual running backs on downs where Gardner is operating from pro-style sets. Since the dawn of Gardner, Thomas Rawls has 27 carries; these have gone for an average of 2.4 yards an attempt. A lot of those have been short yardage, yes, but one of the reasons a lot of those have been short yardage has been Rawls's general inability to power out the yards a guy like him is supposed to. The difference in YAC between Rawls and Iowa pounder Mark Weisman was eye-opening; several times since Gardner entered the lineup Michigan has been reduced to third- and fourth-down Gardner run/pass rollouts.
A Rawls carry that gains more than two yards will be a pleasant surprise. Michigan's other options are Vincent Smith, who has 11 carries for 23 yards in Big Ten play, and redshirt freshman Justice Hayes, who has three carries for –2 yards in all games not against UMass and Illinois. This is where millions of voices cry out for Dennis Norfleet and are suddenly silenced, but if you're going to put your miniature true freshman on the field that's pretty much putting Denard out there—he's not blocking anyone, so you might as well just go with Denard.
So, Al, what can you do with Fritz and friends?
Key Matchup: Borges vs seeming mismatch up the middle. No one's going to blame the guy if the run game can't make any headway given the relative NFL prospects of the offensive and defensive lines here, especially without Toussaint. If Borges can get some big plays out of this Devin/Denard combo by winning rock-paper-scissors matchups and confusing the opponent that'll be a bonus.
[HIT THE JUMP FOR erm]
Pass Offense vs OSU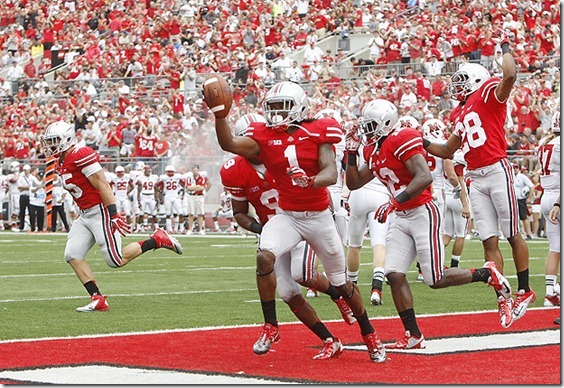 Bradley Roby is their Braylon Edwards, except he exists.
Devin Gardner's slashed a blaze through some iffy defenses the past three weeks and now gets to stare down Ohio State's mercurial unit. If Michigan is going to win this game it's going to be on Gardner's arm, and scrambles, and defense.
The first priority is dealing with John Simon, who's coming off a four-sack performance against the Badgers. He is healthy now after suffering through some injuries that hampered him but did not force him off the field, and is approaching full-out rampage territory. His nine sacks are by far the most on the team; his 14.5 TFLs are tied with Shazier for the team lead. Michigan will want to have him run at Taylor Lewan, but that's not up to them. Michael Schofield may get an acid test but Simon is more than capable of tearing through a guard up the middle and the bigger worry is Ohio State occupying the tackles with outside rushers and trying to get Simon through the interior.
The rest of the OSU pass rush is a mélange of blitzes, most prominently from Shazier. Senior WDE Nathan Williams is a Beyer-like figure with two sacks in nine starts. Goebel and Hankins are pocket-pushers, not true rush threats. True freshman Noah Spence will figure in nickel packages.
When Gardner isn't being harassed into running, he'll face down a couple of quality corners in Bradley Roby and Travis Howard. Ohio State corners are aggressive in-your-face types; Howard in particular is a route-jumper with four picks this year. The OSU folk on my twitter feed have repeatedly grumbled that he has never met a double move he hasn't fallen for, which conjures images of Gardner hitting Gallon in the numbers over and over again the past three weeks. JT Floyd isn't the only guy who should be worried about getting beat deep.
I assume that Gardner will not be nearly as clean as he has been the past three games, and this will negatively impact his performance. Those aforementioned pocket-pushers are a quality option against a QB like Gardner, as they'll be able to annoy him without necessarily giving him running lanes. Gardner's eerie accuracy will drop.
Even so, Borges is running a lot of huge drops with max protection for his new toy, and if token fakes don't do a whole lot to slow down the defense neither do they slow down the quick Gardner. He eats up yards on his drops and comes up quickly, well away from his offensive line. If he gets time at the right time he will be able to hit it deep, and the short stuff will be there with Michigan's suddenly-reliable receiving corps.
Ohio State has a fancy pass efficiency defense like everyone else in a league that can't throw, but overall they're middling—sixth in conference. If Gardner is the guy he has hinted he may be the last few weeks, Michigan can get these guys. If that, and if Simon is less than rampant, and if if if.
This is hard to predict without knowing how real Gardner is, and how well he handles the pressure of being The Guy in The Game in Columbus, and how good the OSU secondary is, etc. I don't know, man.
Key Matchup: Keeping Simon at bay versus allowing him to feast on the flesh of our precious Devin. To run a double move you have to give your quarterback time.
Run Defense vs OSU
SURPRISE IT'S A PICTURE OF BRAXTON MILLER SURPRISE
Braxton Miller is a lot like a 2010 version of Denard Robinson: capable of doing something amazing on every play but still miles from a finished product. Denard never got there for a lot of reasons; we'll see about Miller. But that's another game.
In this one, Michigan has an opportunity to confuse Miller's reads and get him running into lots of guys, like the Badgers did. Fulton:
Miller also seemed confused in his reads. Miller would keep, only to find an oncoming safety waiting. For instance, here he does so on a speed sweep.

…Miller's in-game decision-making exacerbated matters. Miller clearly became frustrated by his relative lack of rushing success. As he has in the past, it appeared he began pre-determining that he was going to keep on read plays in an attempt to make a play. While it is ultimately a positive that Miller wants to put things on his shoulders, he continued to keep when it was playing into Wisconsin's hands, even when the inverted veer sweep to Hyde was open. Wisconsin also always kept outside leverage on Miller. Miller had multiple situations where he could have gone directly up field and gotten four yards. But he instead tried to give ground to bounce outside, which was what the Badgers were playing him to do.
How much progress OSU can make on the issues that have plagued Miller all year—Fulton has passages that read like this in many of his OSU offensive breakdowns—in a week is unknown but probably not huge.
That's the thing, though. Sometimes the Jesus takes your piece away from you and pulls the trigger until it goes click.
Hello variance. Containing that guy is job one for the Michigan defense, and it's a scary one given their performance against Kain Colter. Colter is the nearest equivalent on the schedule and multiple times he escaped pressure to scramble productively. He ended up with 103 yards rushing on 22 carries. Miller is a notch above that guy. Erm.
Miller is half of the OSU rush offense. The other half is mostly Carlos Hyde. If you're looking for an RR-era spread 'n' shred comparable, Brandon Minor is a pretty good one. Hyde is a 230-pound bruiser with quality straight line speed and little wiggle. OSU uses him as the interior complement to Miller, mostly, with veer back duties and the occasional option mixed in.
OSU has obviously seen Northwestern's success with the option, but chances they try to emulate it are slim. Hyde is precisely the opposite of Venric Mark, a lot of Michigan's failings were unblocked DEs not stretching the play out—a weakness Ohio State has no control over and should assume will be mitigated—and they probably also saw Mark rip up the middle a couple times with Michigan's defense spread across the field. Going heavy outside option is not playing to the strengths of Hyde and has a tendency to take the ball out of Miller's hands, which is not desired behavior. Edge weaknesses will be tested by designed Miller runs like that fake veer they broke out against Wisconsin.
The edge will get tested, and Michigan will have to respond. The move seems to be playing the corners way off and going bend but don't break against the pass while hammering the run game, hoping to get Ohio State into passing situations they remain uncomfortable with.
Key Matchup: Jake Ryan and WDE-du-jour/Kovacs keeping Miller inside, bleeding yards instead of exploding in grisly fashion. Michigan was a big-play-free defense last year, too, until this game.
Pass Defense vs OSU
Michigan fans are naturally jumpy after Braxton Miller unleashed the dragon last year, hitting bombs of 43, 54, and 36 yards while narrowly missing a back-breaking 80-yard touchdown on OSU's final drive. Miller's 9.4 YPA, if repeated, would be a ball of doom for M. Much of that came from an adjustment to Michigan's scheme designed to get the safeties involved against Miller on the ground. The corners couldn't cope, Michigan blew some coverages and had a hard time coping with Devier Posey; Miller had a good day with his erratic accuracy.
While Posey isn't walking through that door, OSU does have a deep threat in Actual Devin Smith (as opposed to Devin Slevin Mevin Smith AKA Vincent Smith), a sophomore who you may remember from his Avant/Walker-level catch in the OSU opener:
If it's going to Smith chances are it's going a long way. Corey Brown is far and away OSU's leading receiver with 52 catches to Smith's 28, but Smith trails his yardage by only 19. He's averaging a Hemingway-like 19.8 yards a catch.
I have been fretting about a hypothetical Smith-JT Floyd matchup in the UFRs for weeks now as Floyd has just barely kept his record clean—or clean enough—against deep balls. That Minnesota still is summoned forth to state the case:
On the other hand, Floyd is a gamer now, a guy who has become part of a good secondary. Every opponent has gone after him, and no one has actually hit him for something big. He's going to have his deep speed challenged all day. I'm guessing the dam breaks at least once; once is okay. Once we start talking three times we're in trouble.
The rest of the OSU passing game is short-to-moderate stuff to Brown, who gets a lot of screens and is the most likely target on a third down, and tight ends past and present. Jake Stoneburner is now a WR; he's a frequent redzone target. Jeff Heuerman and Nick Vannett have 17 catches between them. Everyone's around ten yards a catch; it's Smith and the chain-movers.
A combination of Miller indecisiveness and crap recruiting—OSU's starting right tackle is converted TE Reid Fragel—sees Ohio State give up a lot of sacks. They're 88th in raw numbers and 111th in sacks as a percentage of passing attempts. This weakness faces off with a mediocre pass rush. Michigan's defense is 66th in sack percentage; they generate much of their pressure in obvious passing downs when Jake Ryan moves down to DE and Mattison dials up the okie zone blitz packages that see Kovacs or whoever blaze into the backfield untouched.
As mentioned, I think the play here is to be conservative with three guys and hammer it with the rest. Ohio State's offense sputters when running Miller is not the thing all other things derive from—all of this is about to sound very familiar—and another thing that Fulton has harped on all year is the same thing I have until the last three games:
OSU never fully forced Wisconsin to adjust to account for the underneath flat. Instead whenever it seemed the Buckeyes would use these plays to move the chains they would eventually revert to their default, which was designed or read runs by Miller, and then vertical downfield option routes on third down. In particular, the Buckeyes continued to try to used designed runs for Miller on third down, but Wisconsin was primarily concerned with taking this away. Nor was the Wisconsin secondary going to allow Buckeye receivers to get behind them …

the Buckeyes are not punishing defenses that cheat off their wide receivers to play the run. Yes, they use wide receiver screens and the like, but they are not using them consistently enough to force defenses to adjust.
If that doesn't sound familiar, welcome to MGoBlog! We are very complicated.
Of course, it's not so easy as rolling out the Badger gameplan and high-fiving. Both teams will be deploying rafts of things they have not put on film. OSU has just had a wakeup call on offense and will seek to defeat the blueprint Wisconsin laid down. Michigan will have to find their own way to attack the staples of the OSU offense.
The previous games do provide an outline. Contain Miller in the passing game by playing three-deep in an effort to get rid of the BOOM HEADSHOT touchdowns that plagued Michigan last year. Live with WR screens, and pack the box. Adjust as necessary.
*[Yes, the Reid Fragel who dissed M for OSU because he was afraid Rich Rod would make him an offensive tackle in a spread offense. Years from now he will meet up with Evan Smotrycz in a bar and they'll swap stories about how they tried to outrun fate and failed.]
Key Matchup: Floyd vs Smith. Welcome to game 11 in which all shots are taken at JT Floyd. All shots.
Special Teams
Ohio State has not been good at any aspect of special teams save the one Michigan would really prefer them to not be good at, punt returns. FEI has them second nationally in that department, and it's pretty obvious why: Corey Brown is averaging over 13 yards a return and has scores against Wisconsin and Nebraska.
The rest is a push. Ohio State has blocked a couple kicks this year but also had a couple blocked. Punter Ben Buchanan is a hair over 40 yards a punt; kicker Drew Basil barely exists. Ohio State has attempted just six field goals this year, making four. That's dead last nationally. Last year Basil was 16 of 19 so this is just a weird anomaly, not a vote of no-confidence in the kicker.
Usual for Michigan: no production out of the return game, worrisome lack of coverage on kicks and punts, especially punts, outstanding field goal kicking and Will Hagerup blasting the leather out of the ball, exacerbating the punt coverage issue.
Key Matchup: COVER THE GLABDANGED PUNTS
Intangibles
someone is going to be like this at 3:30 tomorrow
Cheap Thrills
Worry if...
Devin Smith is breaking over the top of JT Floyd.
Simon is entering the backfield with regularity.
Michigan tailbacks get more than ten carries.
Cackle with knowing glee if...
Michigan's figured out a way to get Denard on the field for most of the snaps.
The wacky play Ohio State knows is coming still works. And there are like four more.
Ohio State's getting away from running Miller over and over.
Fear/Paranoia Level: 8 (Baseline 5; +1 for Braxton Miller Is Not Only Scary, He Is Unkillable, +1 for I'm Not Sure If You've Heard But We Have Had Some Struggles Against This Team Recently, +1 for Especially On The Road, –1 for But Seriously They've Been Outgained Four Times And Needed OT To Beat Purdue, –1 for Devin Is Obviously Tom Brady With Legs, +1 for LOL Michigan Non-Denard Run Game, +1 for OL/DL Matchup)
Desperate need to win level: 10 (Baseline 5; +5 for Obviously)
Loss will cause me to... thanks, Gene Smith!
Win will cause me to... be happy.
The strictures and conventions of sportswriting compel me to predict:
I hate this section sometimes. All the time, and sometimes I hate it a lot. This is one of those times. Here you've got a newfangled offense coming off three games in which it was half-fangled and a single fully-fangled outing against a tire fire of a team that anything could have rolled over. How will it perform? Leave me alone.
One thing that does seem certain is that Michigan will not be able to run the ball in any conventional sense. That has been true the entire year. It's Denard or nothing, and how much can you squeeze out of him when you've got the other QB in the game or are announcing "THIS IS AN INVERTED VEER" to the world when he takes a shotgun snap?
Not as much as Miller can, probably, but then again we are talking about an offense that could barely cross the street against terrible Purdue and cranked out seven points in regulation versus Wisconsin. This is a team that struggled with Cal and UAB and Indiana and put up 63 on Nebraska. The real Buckeyes have yet to stand up.
Similarly, Michigan could do just about anything and it's like "oh." You'd think the D would be something to rely on, and then you think about last year. The offense is a total wildcard.
So I don't know, leave me alone. I do think OSU has the edge what with the home game and a more than faint hope a tailback run will pick up four yards.
Finally, three opportunities for me to look stupid Sunday:
Denard gets 20 touches as other M running backs are incapable of moving the ball, cracks 100 yards, throws once.
Floyd finally cracks, twice.
Special teams set up an OSU short field.
Ohio State, 23-22