Preview: Notre Dame 2014
Essentials
WHAT
Michigan vs Notre Dame
WHERE
Notre Dame Stadium
South Bend, IN
WHEN
7:30 Eastern
September 6th, 2014
THE LINE
ND –3.5
TELEVISION
NBC
PBP: Not Tom Hammond : (
Analyst: Mike Mayock
TICKETS
Starting at a whopping $316
WEATHER
Clear, mid-60s
0% chance of rain
Via NDMSPaint, obviously.
Overview
right: RIP Chesterton Lep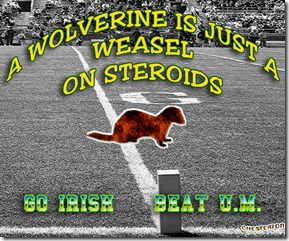 Well, here it is. Thanks to the shortsightedness of mankind, this is the last Michigan-Notre Dame game for the foreseeable future. It is only appropriate that the winner of this game, then, will lead the all time winning percentage battle. Michigan has the opportunity to send the Irish off having lost 5 of 6, with multiple stabbing-chest-wound finishes. They have the opportunity to send 'em off right, that is. 
Note: we are assuming at this point that ND will be without their five suspended players. Those guys are WR Davaris Daniels, CB KeiVarae Russell, LB Luke Moore, DE Ishaq Williams, and S Eliar Hardy.
Run Offense vs Notre Dame
Sheldon Day is in our base
This figures to be the most pillow-fight-y section of the game, with Michigan's noob-laden offensive line taking on an Irish front seven that's Sheldon Day, Jaylon Smith, and five question marks.
Actually, six: in addition to the five non Day/Smith starters, new DC Brian Van Gorder installed a 4-3 after Bob Diaco and his preferred 3-4 left to run UConn. As Brian Stouffer mentioned this morning, this does actually seem a better fit for their personnel—Day excels at getting penetration and DT running mate Jarron Jones is a 6'5, 315 pound guy. That's big, but it's not the right shape to be a 3-4 NT.
Even so, it does make for some uncertainty. Sophomore Isaac Rochell is an awkward fit for 4-3 DE at 6'3", 287; Rice starter Romeo Okwara is about right at 260, but nobody really fits the rangy edge speedster role the 4-3 requires at DE.
Notre Dame did keep a 4-3 on the field against Rice's spread, with converted WR(!) James Onwualu split over the slot and Smith and walk-on Joe Schmidt on the interior. Onwualu looks shockingly thin for someone who purports to be a linebacker, and Schmidt is limited athletically. He is very instinctive in the run game, though, and that's what this section is about.
And now we have to talk about Day. Day is a problem. If you pull the guy over him he will be in your base. If you leave him for a trap blocker he will be in your base. If you try to block him straight up there is a decent chance he will be in your base. And while Rice handled him pretty well in pass protection, last year he whipped Kyle Kalis and was in Michigan's base on play after play. Oh and here he is kind of successfully covering a wheel route, via Ace:
Rice scraped out a bleah 3.5 yards a carry with a long of 19, that from their quarterback, though. Normally I would say that Michigan should be able to improve on that production. Now is not that time. It does seem that runs should generally go forward unless Day is getting involved, and if Michigan can start grinding on the Irish they could experience a positive feedback loop: ND's backups are mostly freshmen, and they looked pretty shaky when they got in.
As for Michigan, this is a chance to be competent against a defense that gives you that chance. Get Day blocked and no one else is a dynamic player. Smith is good but I haven't seen him become the ninja panther everyone expects just yet. That's no surprise: linebacking is hard. Even guys who end up terrific struggle early, and it's still early for him.
Against App State Michigan was an inside zone offense that mixed in OZ and power and generally executed their assignments against a team that could not fit a run play to save its life. Their tailbacks looked better, but still average-ish in a world where they have to make cuts and stuff before they get 60 yards; I'm not expecting great things. Mediocre ones would be nice.
Key Matchup: Interior line, all of 'em, against Sheldon Day, especially on stunts. ND loves to take advantage of Day's quickness by looping him around the guys next to him. A young OL needs to ID and deal with these because if they don't, Day will be in their base.
[Hit THE JUMP for secondary holes, no pass rush, an actual running game, and the Golson factor.]
Pass Offense vs Notre Dame
Is Shumate going to be in the right position?
Down Hardy, Russell, and senior quarterback-of-the-D Austin Collinsworth, the Notre Dame secondary suddenly looks vulnerable. Onwualu is often their nickelback—they tried him at safety this spring—and will go out to cover slots and the like, usually in zone. When they do sub it's Mattias Farley coming in, a veteran who's okay.
Starting safeties Max Redfield and Elijah Shumate were shaky at best against Rice; Shumate is the guy likely at fault on a massive coverage bust that turned second and 17 into a Rice TD. He also bit hard on a third consecutive WR screen, opening up a shoulda-coulda touchdown for Rice that was poorly thrown and took the WR off his feet. Another post route should have been 30 yards until it went doink off the Rice WR's helmet. (Rice was atrocious in this game. Their QB can't throw, their WRs can't catch, and nobody has field-stretching athletic ability.)
Starting corners Cody Riggs, a Florida transfer who started for two years in Gainsville, and Cole Luke are solid. Riggs is a bit of a mighty mite, though, at 5'9"—not sure Notre Dame feels too good about matching him up on Funchess. Luke is decently sized at 5'11" either way straight man against Minitron seems inadvisable.
Underneath, Schmidt is ponderous in zone coverage; Rice repeatedly picked up nice gains by running drag routes across his face and having the WR run away from him; he also popped up on a short hitch to open up a deeper throw. Smith is super fast; the other guys not so much.
The ND pass rush is weak. Without a natural edge rusher or a dynamic NT, it's up to Day and blitzes. Rochell is particularly poor; his main "move" is to try without success to bull rush a guy. That may work a bit better against Mason Cole than it should, unfortunately. Okwara did have a sack off some laughably bad LT play and a QB who hung in the pocket forever; other than that ND was rather impotent in this department.
On the other side of the ball, Michigan flashed excellent potential before the game got out of hand and it was run run run time. Devin Gardner was 13/14, Funchess looked unstoppable, and Michigan caught everything they found. Tomorrow is an obvious step-up in class.
Still, this feels like a matchup Michigan should win clearly. ND pressure on plain old shotgun passes was nonexistent against Rice; Michigan should be able to match that. And if Notre Dame comes after Gardner someone's band is going to play. With Michigan's threats on the edge, it figures to be the Wolverines.
Key matchup: Gardner versus The Devil On His Right Shoulder Telling Him To Spin Around In The Pocket. There's no Shembo or Tuitt this year, so hopefully this won't come up much.
Run Defense vs Notre Dame
Greg Bryant is a threat
Historically something you could ignore save for the odd second and ten rush, Brian Kelly's run game may be, like, extant this year. ND threw only 22 times against Rice to 42 rushes, and the three-headed tailback combined for 28 carries that went for 182 yards. Golson chipped in a good hunk as well, including the eyebrow-raising draw touchdown Ace included in FFFF:
This is not Tommy Rees. I miss him already.
This is a spread offense all the way but Notre Dame's favorite run play is power O, where they'll hope to crack open defensive ends headed for the quarterback and the DT. After last week's game a dose of zone belly might be in order as well.
ND's primary backs are:
Cam McDaniel, who you may remember from last year. He is a moderately quick, not-that-big guy who is good out of the backfield and has more experience than the other guys. He will be described as heady, because he is white.
Greg Bryant, a big time recruit with the best physical package of anyone available. A true sophomore, he's still prone to blow assignments, and his pass blocking is untested.
Tarean Folston, another sophomore who runs the meanest.
The ND OL generally overwhelmed the Rice defensive line and the additional threat provided by Golson's legs prevented the Owls from ganging up on the tailback (except when they decided safeties were optional, as discussed in the next section. Spoiler: it went poorly.)
That OL returns three starters and a guy who look over at right guard for four games last year due to injury; all of them are large and highly touted. Nick Martin is a captain and a very good center; Christian Lombard is a quality guard. The tackles are a little shakier, with Steve Elmer moving into the RT job after those four starts a year ago and Ronnie Stanley moving over to LT. If they're vulnerable it's on those edges.
Michigan's run defense was mostly quality last weekend, with bouts of linebacker screwups and over-aggressive DL opening up some avenues for App State. With Desmond Morgan out, Michigan loses their best and most instinctual linebacker. Can Jake Ryan take on a block like a MLB? Will Joe Bolden be the breakout star the offseason chatter exclaimed he would be? I am doubtful on both of these items.
So the best way to mitigate those issues is for the DL to win. Willie Henry, Frank Clark, and Ondre Pipkins are all powerful mofos who can drive the opponent backwards and provide free hits to the linebackers; each one of those instances will be worth its weight in gold.
Key Matchup: Henry/Wormley/Glasgow/Pipkins versus ND interior OL. The opponents are good, but Michigan has some enormous pocket pushing types with the raw strength to not only compete but win. On the other hand, none has fully pupated into a monster—all have technique issues they are still working through save maybe Glasgow, the least physically dominant of the bunch. Winning the run game starts with winning one on one matchups here; leave it to the linebackers at your peril.
Pass Defense vs Notre Dame
Golson's explosion against Rice was impressive and strange. It was impressive because it was impressive. It was strange because Rice often decided that it was a good idea to run cover zero against a much more athletic team, with predicable results.
What in the blue hell did you think was going to happen there? That WR had time to slow up and spin around and still score a touchdown. The very next play after this was a post to Corey Robinson with no safety in sight after the cornerback played inside leverage. So… yeah. Rice may not be real good.
The loss of Daniels hurts this WR corps significantly. Robinson is a rangy downfield target whose speed isn't a wow experience—expect Michigan to press him and force him to the sideline and fades. He may catch a couple but that's a low percentage play. Will Fuller caught the above bomb and three other balls for ten yards; no other ND WR had more than two catches. Amir Carlisle, a tailback last year, is now the top slot receiver, and is pretty good in that role.
And Notre Dame has a Notre Dame tight end. This one is named Ben Koyack for some reason. Look, we know you have a cloning facility inside the stadium. Just name it Eifert Rudolph Niklas II and end the charade.
ND's offensive line is veteran, but Ace detected some wobble in them when Golson wasn't being presented with guys open by ten yards:
I was impressed with the interior of ND's line, especially the right side, both in pass protection and (especially) run blocking, but they had some issues on the edge, especially with new left tackle Ronnie Stanley, who started all 13 games at right tackle last year. This is not good:

Stanley got beat to the inside in similar fashion on a few other runs, and generally looked uncomfortable in space. On the other side, sophomore right tackle Steve Elmer—who filled at at RG for Lombard when he went down for four games last year—gave up Rice's lone sack on a pure speed rush around the edge; Golson didn't have a chance to avoid the pressure. ND backs also blew a couple blitz pickups, so Michigan should be able to turn up the heat a bit on Golson in a way that Rice—which finished 92nd in adjusted sack rate last year—simply could not.
This needs to be a game where Frank Clark makes his presence felt on every other down.
For Michigan's part, the new Teddy KGB alignment gets its first serious test. Michigan is going to align nose to nose with ND's outside receivers and dare them to complete fades over the top. Appalachian State could not come within several feet of doing so, for what little that's worth.
Notre Dame has experienced this before, when they played  Michigan State last year and were the beneficiary of a pile of pass interference flags that were, to my eyes, legit. It'll be a Big Ten crew for this road game, and that'll be interesting to watch. Last year's game was put out of reach when the officiating crew threw two critical PI flags on Michigan's final touchdown drive. One was a no-doubt call; the other was far murkier.
And as mentioned, Michigan has to get to Golson, and get to him responsibly. Vacating a rush lane against him is at best an eight yard run and at worst a big play on your face. Clark and Beyer/Charlton are the key players, and expect a number of blitzes where someone drops out into what I've been calling the "spy" zone. That's not so much an attempt to cover anyone; it's more to clean up when the quarterback flushes.
Key Matchup: Frank Clark vs. Elmer/Stanley. Clark was kept quiet by the nature of the App State offense. Even so he still flashed his power on a couple of occasions. This is a big game against a shaky tackle pairing. It's time for him to put his stamp on something.
Special Teams
Kyle Brindza returns for the Irish. He does everything for them, and mostly well. He was 20/26 on FGs last year with three of over 50 yards, he takes their kickoffs, and he punts. His punting is eh—41 yards an attempt—but there are worse problems to have.
Notre Dame's return units have been dormant for a while but had a very nice game returning punts against Rice. Bryant and Riggs combined to average 16 yards on 5 attempts. Michigan's going to have to get good play from their gunners if long punts from Hagerup are going to stay long.
This looks like a small advantage to the Irish, as their kicker is considerably more proven than Matt Wile.
Key Matchup: YOU PUT THE BALL THROUGH THE UPRIGHTS
Intangibles
Cheap Thrills
Worry if...
ND gets anything resembling a pass rush with four guys.
Sheldon Day is destroying Michigan guards.
ND OL are getting to the M linebackers on rushes.
Cackle with knowing glee if...
Elijah Shumate or other guy forced into action is ten yards away from where he should be.
Golson is wearing Frank Clark like a backpack.
Funchess is unstoppable.
Fear/Paranoia Level: 7 (Baseline 5; +1 for Creepy Notre Dame Stadium JuJu Jinx Stuff, +1 for Hey This Is A Real Opponent, +1 for Oh God Our Offensive Line, –1 for ND's Front Seven Kind Of Seems In The Same Situation, +1 for Oh God A Dual Threat Quarterback, –1 for We Finally Have The Kind Of Corner Depth That Matches The Spread Well, +1 for Linebacker Worries, –1 for They Seem More Likely To Explosively Decompress In The Secondary)
Desperate need to win level: 10 (Baseline 5; +1 for One More Night, +1 for To Hell With Notre Dame, +1 for Good Feelings Are Good, +1 for This Is The Last Time Ever For Now, +1 for Seriously, To Hell With Everything That Had Anything To Do With Ending This Series.)
Loss will cause me to... be accosted by a choir of darling moppets wishing me good game and a nice life, mister.
Win will cause me to... linger in stadium until band exits, eat at Chili's and love it, get irrationally optimistic about upcoming season.
The strictures and conventions of sportswriting compel me to predict:
I like the matchup between Michigan's passing offense and Notre Dame's defense quite a lot. They're down two starters, they have issues both underneath and deep with guys who are not ideal fits, and their edge rushers are impotent. Michigan should pass to set up the run, and fire the ball deep at Funchess quite a bit, and then futz around with Norfleet to exploit what should be a healthy fear of Minitron.
On defense, I expect Notre Dame will get some yards, but they will be of the hard-fought variety. I don't like the matchup between Michigan's linebackers minus Morgan, and their line is good enough to make that relevant. I do think you're going to see Clark and Henry burst into the backfield enough to set up some passing downs that don't go so well for ND; Golson will pull some of those out of the fire. But not enough.
Finally, three opportunities for me to look stupid Sunday:
Funchess goes over 100 yards with ease.
Frank Clark levels Golson twice.
Gardner is sacked once.
Michigan, 33-24