Preview: Northwestern 2013
Other stuff here: Ace FFFF: Offense(!), Defense(!)
Essentials
WHAT
Michigan vs Northwestern
WHERE
Ryan Field
Evanston, IL
WHEN
3:30 PM Eastern
November 16th, 2013
THE LINE
Northwestern -3
TELEVISION
BTN
WEATHER
mid 50s, cloudy, rainy
20 mph winds
why am I going to this
Overview
Two teams will play a football game.
Run Offense vs Northwestern
After last weekend it doesn't seem like the opponent matters here. Be they Alabama or an irregular unit of limbs blown off in World War I, eleven entities set in opposition to the Michigan rushing offense will bludgeon it with whatever is handy until it lets out a final wet squeak and collapses in a pile of hypocrisy and charlatanism six inches from its starting point.
ARTIST'S RENDITION
But I suppose we have to evaluate. Northwestern's rush defense is middling at best, clubbed for 248 and 286 yards by Ohio State and Wisconsin but able to hold Northwestern in low-scoring games against Minnesota, Iowa, and Nebraska. Those opponents all piled up 150-ish yards with Nebraska approaching 200 themselves but they required piles of carries to do it: 49 for Minnesota, 41 for Iowa, 50 for Nebraska. Sack adjusted YPCs start out ugly and then are mostly respectable:
OSU: 5.3
Wisconsin: 6.4
Minnesota: 4.3
Iowa: 3.5
Nebraska: 4.8
As of last week, Northwestern was just about dead average in the Big Ten at giving up sack adjusted yards on the ground with 4.7 on the season. They didn't play last week, so that holds. They're just flat middling.
The catch, of course, is that all of the teams they've played so far with the possible exception of Iowa can, you know, run the ball. Forward. Michigan patently cannot.
This is the point at which I say things like enormous outliers, no one's had back-to-back negative rushing games since 2008, things are bound to turn around, it just takes a little bit of elbow grease and derring-do. And I do kind of believe bits of that. At some point Michigan will try to take the ball forward on the ground and do so. Northwestern's not that much better than Indiana statistically and Nebraska was… well, it was a series of unblocked blitzes that Michigan never found an answer to.
At some point the dam has to break, at which point a sickly green trail of algae feeding on the broken dreams of Michigan fans will charge forward for three yards a carry. Is that going to be this game? If they want to do it this year, that would be advisable.
Key Matchup: You versus Your Liver. You hate your liver and want to drown it; your liver feels the same way about you, buddy.
[Hit THE JUMP for IT'S NOT YOUR FAULT]
Pass Offense vs Northwestern
Here at least when not going backwards Michigan tends to go forwards. Except the backwards parts are getting ludicrously out of hand. Devin Gardner has been sacked seven times in each of the past two games; adding insult to injury, two Graham Glasgow snaps have sailed 10-20 yards downfield over Gardner's head.
A combination of blocking-optional pass blocking from Fitzgerald Toussaint, deep routes with no short options, and Gardner's increasing reluctance to just get rid of the damn ball has resulted in Gardner's ribcage taking more hits than is legal, in all probability. 50-50 the Northwestern game ends in the third quarter when cops swarm the field, arresting anyone in a winged helmet with a number between 50 and 79.
Toussaint gets to be King Arthur, at least.
Northwestern has not been much for blitzing this year; DL have 16 of their 19 sacks, and their biggest threats are ends Tyler Scott and Ifeadi Odenigbo. If that trend holds that's good news for Michigan, as blocking ends in pass protection is by far the #1 blocking-related business they do. Chances are Northwestern has bothered to glance at Michigan's last two outings, however, and will take the obvious invitation to transmogrify into a pack of Viking berserkers. They will drink blood mead and fling themselves through the chest of Toussaint and into Gardner's, all for the glory of Odin.
this seems to go here now
When passes do get off, Northwestern has been middling at defending them. OSU and WIsconsin wend for about 8 YPA between them; Minnesota neared nine but on only 14 attempts against a million runs and suffered three sacks; Iowa and Nebraska sputtered to around 6.5 YPA.
Really, it hasn't been the defense this year for Northwestern. Aside from a tough game against an elite OSU offense and the team-wide clubbing suffered against Wisconsin, Northwestern's given up 20, 17, and 21 –plus a Hail Mary against the three middling Big Ten offenses they've faced. Describing Michigan's offense as "middling"… well, try it and see if you can keep a straight face.
Key matchup: Fitzgerald Toussaint versus For The Love Of God Put Him In A Pass Route. That Toussaint is still trying to pick up blitzers instead of leaking into the flat or going on wheel route after wheel route is boggling. If you get blitzed and he's out there, throw him the ball and watch him pick up more yards than your average run… even if he drops it.
Run Defense vs Northwestern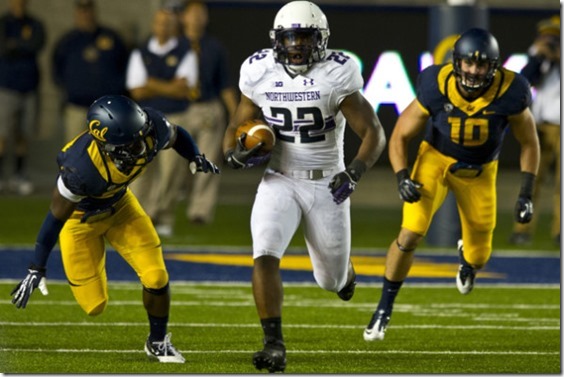 Treyvon Green is the new Venric Mark but hopefully not.
Venric Mark is out for the season with a broken ankle, and that is a bummer. For him. And Northwestern. And fun. Not so much Michigan. Last year he went for 104 yards on 23 carries as Northwestern rolled up almost 300 yards rushing, much of it by being fast and attacking the edge in ways that Michigan just demonstrated they weren't particularly good at last week.
Despite the bad news on Mark, the bye week did get Northwestern healthy here, and various other places. But especially here. After being down to their sixth-string guy against Nebraska, everyone other than Mark is back. Treyvon Green, Mark's primary backup, left the Nebraska game after eviscerating them in the first half, and he'll get the the bulk of the work Saturday. Green hasn't gotten much work against decent defenses, with almost all of his carries against Cal, Syracuse, WMU, and Nebraska. (I know, I know. Against non-Michigan offenses, Nebraska has been terrible.) He has flashed impressive burst in his opportunities, but he's not Mark or Ameer Abdullah; he's about midway between them and a between-the-tackles grinder like Derrick Green (hypothetically, anyway).
Northwestern also brings Kain Colter to the table. He's been injured on and off all year; after the bye he too is supposed to be 100% healthy. With Trevor Siemian struggling badly (about which more in the next section), Colter's ability to keep folks on their toes on the ground and good-enough passing ability is a major asset to a struggling outfit.
Northwestern also hands the ball to superback type Mike Trumpy, who will get some YAC if you hit him from the side but is mostly just a mooseback who needs the play design and blocking to get him his yards.
Michigan's defense has been pretty good in this department until such time as the fact that their offense is their offense overwhelms them with ennui and they spend the fourth quarter listening to "Frankly, Mr Shankly" and crumbling. This just makes them humans. Don't judge them.
Michigan's options scheme seemed pretty dodgy last week and since it hasn't changed much if at all from previous outings it'll probably stay the same; a second consecutive week of defending it may bring wrinkles or just defensive ends overplaying the pitch more, which might hopefully work some. Their issues in that department have at least come with compensations: by stacking the box and playing single high a pretty good Nebraska offense came up with very little outside of the edge.
Key Matchup: Defensive Ends versus Good Luck Storming The Option. Assuming M does the same thing this week, there is a ton of pressure on the ends to delay QB decisions and finally to prevent pitches entirely. It's a hard job.
Pass Defense vs Northwestern
UNSTOPPABLE THROW-D'AWWWWW
Northwestern spent a large chunk of this year looking amazing in this department (10 YPA against their first three BCS foes with 11.1 against Ohio State) and then imploded spectacularly. They managed a respectable YPA against Iowa by only throwing 14 times in a 17-10 loss; their other three Big Ten games have been unambiguous debacles. Collectively:
17 of 39 against Wisconsin, 197 yards, 5.1 YPA, INT
25 of 46 against Minnesota, 234 yards, 5.1 YPA, TD, 2 INT
8 of 21 against Nebraska, 81 yards, 3.9 YPA, INT
Colter bouncing in and out of the lineup is part of this since he is not only one of Northwestern's quarterbacks but is probably their #3 or #4 WR when healthy; he had 16 catches a year ago despite playing quarterback more than half the time and has been limited to one this year.
More problematic has been Trevor Siemian falling off a cliff, probably because the last Northwestern game I saw a snap of was Ohio State. When I watch Trevor Siemian, he's an unstoppable throw god. When I don't, as I didn't for the last four games, he is collectively 42 for 103 for 4.2 YPA. (He did not throw a pass in the Iowa game.) And that's on the heels of 13 for 18 and 245 yards against Ohio State! I don't know, man.
If recent bad Siemian shows up he'll club a few drives into the ground and give way for Colter full-time. Since I am watching expect him to lead a laser-munitions two minute drill at the end of the first half to make us all sad. Please do not poke out my eyes with brooches if this starts happening. Going blind is not a punishment these days.
When Colter's in, Northwestern is an extreme dink and dunk team. He's averaging 7.3 YPA and completing 78% of his passes; last year those numbers were 5.9 and 68%. This is a Denard-esque spread 'n' shred with a lot of screens and short stuff designed to exploit linebackers overreacting. It has been decently effective; Michigan should play things tight when he's in the game.
As for Michigan, their secondary shakeup was weird last week; this week we'll see if Thomas Gordon's ankle is healthy and if Jarrod Wilson can reclaim a full-time starting job. Against a run heavy team that will force you to use your safeties, he should. Courtney Avery is always going to be a guy who tackles by getting run over; Wilson brings some steam to the occasion and hasn't been any worse at not making the tackle entirely. At corner, Blake Countess should be back after a mild injury in the Nebraska game; Northwestern will hope to hit short stuff against Stribling and break tackles or find Taylor playing too deep.
Either way, Michigan should be pretty good at putting Northwestern in downs they don't want to be in, and if recent history is any guide that will result in punts.
Key Matchup: Me versus Theory That My Viewing Of Trevor Siemian Makes Him Unstoppable. It would be really nice to get the guy from the last month of Northwestern football instead of the first month.
Special Teams
Northwestern is a totally average special teams outfit; they are terrible at punting and good at kickoffs and average at everything else. Their kicker is excellent once you get inside about 44 yards. That's his long over his career, but he was 19 of 20 last year; ESPN says he's 14 of16 this year but their game log has just one miss. So… yeah. He is the perfect kicker: automatic but weak-legged so your coach goes for it in the go for it zone.
Michigan refuses to field punts, can't quite spring Norfleet on kickoffs, got a monster punt from Matt Wile last week and has generally used his hang time to obviate their coverage issues, and now has a kicker who is about two inches from being seriously on the fritz after years of steady consistency.
Key Matchup: YOU PUT THE BALL THROUGH THE UPRIGHTS EVEN IF IT HAS TO GO OFF ONE OF THEM
Intangibles
INTERNET
Cheap Thrills
Worry if...
Gardner drops back to pass and every single defensive end on Northwestern's roster charges at Fitzgerald Toussaint, Gardner is hit from every direction at once, causing an inversion of space-time that causes eleven balls to pop into existence, all of which are intercepted for touchdowns by Northwestern. Dennis Norfleet picks up the original ball and runs it into the endzone only to be told that it doesn't count.
Oh look a run
Northwestern's getting the pitch man open again and again.
Cackle with knowing glee if...
Trevor Siemian is not in fact activated by my observations of him.
You find a time machine and decide to live the rest of your life in a loop that starts two days before the Notre Dame game and ends two days after.
You don't like me and therefore do like the idea of me sitting in the cold rain watching this Michigan team possibly lose to 0-5 in the league Northwestern. 
Fear/Paranoia Level: 7 (Baseline 5; -1 for Hey You're 0-5 In The Big Ten, +1 for And You're A Three Point Favorite, +1 for Weather Projection Favors Running Team Over Passing Team, +1 for And Calling Michigan A Passing Team Is Like Calling Jason Whitlock An Author Because He's Marginally Better At That Than Cleaning Bathrooms, –1 for This Isn't Really A Road Game, +1 for But It Probably Is Now)
Desperate need to win level: 2 (Baseline 5; –1 for Who Cares, –1 for I Certainly Don't, –1 for Oh Boy This Means We Could Go To Some Different Bowl Game No One Cares About, +1 for I Guess I Am Going, –1 for I Would Never Root Against Michigan But At Some Point There Has To Be A Staff Turnover Breaking Point And That Would Be Something Of A Silver Lining, +1 for But I Don't Think Anything Is Changing No Matter What, –1 for It's Henri The Otter Of Ennui Time)
Loss will cause me to... tape message to Caris LeVert, insert it into fan most resembling R2D2 within eyeshot, put hair in double buns, try to get away from R2D2 fan before he can positively identify me.
Win will cause me to... find a devastated Northwestern fan and give him the ol' It's Not Your Fault. Then he can do it to me. This started out as a joke but now I'm seriously considering it. It sounds like what we both need.
The strictures and conventions of sportswriting compel me to predict:
Michigan wins! On some bulllllllllshit that causes Northwestern fans to self-immolate.
Finally, three opportunities for me to look stupid Sunday:
Positive rushing yards. You guys.
Siemian is almost a non-factor as Northwestern tries to grind it out on the ground with the weather conditions and whatnot.
I have a fun time with good friends in the Big City and enjoy a football game without worry about anything except my circle of friends, who I love. I do not spend the entire four hours in the stadium envisioning POW camps I would rather be at.
Michigan, 18-13