Previously here: Ace FFFF! jonvalk wallpaper.
Essentials
WHAT
Michigan vs Nebraska
WHERE
Memorial Stadium
Lincoln, NE
WHEN
8:00 PM EST
October 27th, 2012
THE LINE
Nebraska -2
TELEVISION
ESPN2
WEATHER
cloudy, dry, around 40
Is that corn in your pocket or… oh, I see. It's corn.
Run Offense vs Nebraska
COME TO NEBRASHHHHKA STATTE
Last week Michigan kept its head above water against an excellent run defense on the strength of two big gains. One of them came when MSU's crappy defensive tackle got creased on a run blitz. The other was a quarterback draw late when Michigan State backed off, uncharacteristically, and paid for it. With those two runs, Michigan crested 5 YPC against a top ten—maybe top five—defense. Without them, they barely exceeded 3 YPC.
Is that good? Bad? Ah hell I don't know. Denard is Denard and will rip off big gains if you keep feeding him the ball, and Toussaint's big run is the kind of thing that happens to super aggressive defenses when they get creased (and a walk-on WR gets his block on). In the end, 5 YPC is fair. Nard gonna Nard.
The good news is that Nebraska's defense is emphatically not Michigan State's.
| Opponent | Att | Yds | TD | YPC |
| --- | --- | --- | --- | --- |
| UCLA | 51 | 362 | 0 | 7.1 |
| Wisconsin | 37 | 96 | 3 | 2.6 |
| OSU | 46 | 379 | 6 | 8.2 |
| Northwestern | 37 | 182 | 2 | 4.9 |
Except when it is sometimes I guess? Nebraska blew it badly on one 80-yard Venric Mark touchdown. Other than that, Northwestern muddled along at about the same rate Wisconsin did. In half of Nebraska's games against BCS competition, they're Michigan State. In half, they're roadkill.
If there's a pattern you can draw from four games, it's spread 'n' shreds leaving tread marks all over the Cornhusker D. UCLA QB Brett Hundley is a run threat (9 carries for 66 yards) and opened Jonathan Franklin up for a 216-yard blitz. Braxton Miller almost cracked 200 himself and opened it up for Carlos Hyde to hit 140. Though not included in the table above, even winless Southern Miss saw quarterback Anthony Alford hit 84 yards on 15 carries… before getting pulled because he was also 1 of 5 for six yards. The Eagles hit 4.6 YPC on the day.
In a bizarre move, Northwestern all but abandoned the Kain Colter running game in favor of having Trevor Sieman throw 35 times, so they fit more in the Wisconsin mold than UCLA/OSU:
Nebraska made it very clear that they'd sit back in man free all game, and the Wildcats tried to beat them over the top time and again even though the Husker corners were locking down the Northwestern wideouts and quarterback Trevor Siemian lacked accuracy on his deep ball. The Wildcats threw 37 times and ran 38 times despite (1) playing against an awful run defense, and (2) holding a lead for most of the game.
WTFitz. Nebraska did hold Colter down on his few carries, FWIW.
Will Nebraska be able to do the same to Denard? Well… I'm doubtful. Ace saw Nebraska blitz twice in the first half and lay back in a bend-but-don't-break shell, likely because the shell-shocked Huskers were going back to basics after the OSU debacle. Nebraska's safeties, like Michigan State's, are active hitters in the run game, though, so if they're lining up nine yards off the LOS and coming down hard in an effort to replicate MSU's gameplan, trouble may ensue.
Emphasis on "may"—MSU's aggressiveness was effective instead of disastrous because Denicos Allen and Max Bullough are fast as hell and the MSU safeties are pretty good, as well. Nebraska only avoided a couple of long Denard Robinson touchdowns last year because Lavonte David played the same role as the MSU linebackers did last week: guy who makes shoestring tackle just as you're standing up to yell "GOOOOOOOOO." Lavonte David's not around anymore, and the Nebraska LB corps misses his athleticism. They're not bad—except when they are of course—but if a gap gets vacated or the sideline is tested they are less likely to be able to mitigate that damage with a super fast tackling machine. Stafford is a boom or bust SS, too, and could at any time wander off in the wrong direction as Denard screams upfield.
Key Matchup: Denard's ankles versus opponent's outstretched arms. There are going to be two or three moments in the game where Denard is setting sail for the endzone. Where you at, Will Compton? Are you Lavonte David walking through that door?
[Hit THE JUMP for WHAT THEY CAN SCORE THAT AIN'T RAIGHT]
Pass Offense vs Nebraska
This has been a strength for the Huskers, but like Michigan's defense that strength has gone virtually untested. Nebraska's three Big Ten opponents to date are 107th, 101st, and 110th in passing yardage. Wisconsin and OSU are around 50th in efficiency, Northwestern is 99th. UCLA's doing pretty well for themselves but Brett Hundley went for 305 yards on 33 attempts with 4 TDs and 0 INTs, so a large part of the reason they are high up the passing efficiency charts is smoking Nebraska.
The little-used passing offenses of Wisconsin and Ohio State averaged a collective 8.7 YPA with two TDs and no INTs, so the only BCS opponent they've held down is Northwestern's extremely terrible passing offense.
Unfortunately, Michigan's got one of those too. The Nebraska passing defense is set to go untested again. The only thing keeping Michigan's YPA afloat the past few weeks is a 71-yard throwback screen against Illinois. Before Michigan hit Big Ten play there was of course Interception Armageddon against the Irish, and whatever happened against Alabama.
You would expect that Nebraska will be able to replicate what Michigan State's corners were able to do to Michigan's outside receivers, which is play them aggressively and virtually remove them from the game. Then you're left with Michigan hitting slot guys like The Threat and Jeremy Gallon. The problem with that is that Nebraska will be looking for that business; this may be the week to actually run some speed outs and force those linebackers to run with the little darty guys.
If Nebraska isn't playing hyper-aggressive and Michigan's ground game is going at a better clip, Denard's passes should descend from the 29 he threw against MSU to the 15-20 range Michigan prefers after Interception Armageddon. Hopefully the ones that aren't on third and long will be built to exploit Nebraska's run defense, but at this point I'm skeptical.
FWIW, Nebraska's impressive sack rate (over three a game, eight nationally) is built on the schedule. The last two weeks they've had three sacks for a total of ten yards and Ace specifically noted how the Northwestern offensive line held the Nebraska DL at bay:
I wasn't very impressed with Nebraska's front seven, which couldn't generate a pass rush all game. Compton had a relatively quiet day, and the most active players against the run were safeties P.J. Smith and Daimion Stafford, both of whom tackled well and played very aggressively. Three-tech Baker Steinkuhler is an above-average lineman; strongside end Cameron Meredith is solid but undersized, and the rest of the line didn't do a whole lot. I'm honestly not sure how this team is eighth in the country in sacks, except that the secondary is stellar in man coverage.
If the Huskers aren't blitzing, Denard should be able to set his feet and fire. To guys wearing defensive backs like capes.
Key Matchup: Denard versus huge interception death. As always.
Run Defense vs Nebraska
The same cast of characters that Michigan faced last year returns with the possible (probable?) exception of Rex Burkhead, who's been battling a strained ACL for much of the year and strained it again last week.
While Burkhead brings gritty grit grit and certain wildcat QB aspects to the Nebraska offense, if the season to date is representative there is no or negative falloff to primary backup Ameer Abdullah. What Abdullah lacks in tackle-crunching power and ability to take a pitch and also pitch it…
…he makes up for by being damn fast. He's averaging almost 5.9 YPC and has kept that output above five even when only Big Ten opponents are considered. Martinez remains Martinez, an extremely fast north-south runner with not much wiggle but plenty of zoom.
As a result, Burkhead's injury status has had little effect on Nebraska's rushing output:
| Opponent | Att | Yds | TD | YPC |
| --- | --- | --- | --- | --- |
| UCLA | 34 | 278 | 3 | 8.2 |
| Wisconsin | 42 | 274 | 1 | 6.5 |
| Ohio State | 41 | 254 | 4 | 6.2 |
| Northwestern | 41 | 225 | 1 | 5.5 |
Wow. I know you're thinking "loldefenses," but Wisconsin is good; OSU and Northwestern are 29th and 30th in rush defense, giving up around 3.7 yards between them. Nebraska took those defenses to the woodshed. UCLA, too, has been okay. There is no way to look at NU's numbers and not be impressed.
So this will be a test. Nebraska offensive coordinator Tim Beck is a mad tinkerer who loves folding in weird wrinkles—earlier this year several goal-line plays saw Martinez motion out so Burkhead could take the snap, pitch back to Abdullah, and then lead block after a pitch(!). He's got at least two playmakers, and they're dedicated to this offense. The results are obvious, and will only get more so once we hit the next section.
But wait, there's more!
Aw shiii, that's the flexbone last year and you know Tim Beck has seen that Air Force tape. If NU comes out on this they'll be testing to see what Mattison is doing in response. If the answer is still "making Jordan Kovacs be both the deep middle and pitch defender," fireworks will happen. Bad ones. Probably not, though. Mattison uber alles.
This will be Michigan's biggest test since Alabama, and is a make-or-break game for the proposition that Michigan's defense is elite, Dallas notwithstanding.
Key Matchup: Mattison vs Beck, option style. A fascinating article came out this week from the Nebraska side of things detailing how Mattison shut down the Huskers last year…
Nebraska had wanted to run outside zone reads and a good dose of option football around the strength of the Wolverines' interior defensive line. Mattison countered by placing his ends outside the offensive tackles and angling them toward the backfield. Quarterback Taylor Martinez sometimes had to run around those ends, which bought UM's faster linebackers and safeties more time to make the tackle.
…he'll be looking for any schematic deficiencies he can find in that Air Force tape, of which there were lots, and anticipating counter moves and folding in stuff that he hopes will gameplan Nebraska big chunks of yards. That's probably how it's going to have to go down since without Burkhead the guys running the ball are great once they've got a lane but not liable to run over or juke the pants off some guy.
Pass Defense vs Nebraska
NUMBER ONE BAYBEE
Look, man, that youtube video about Taylor Martinez's passing motion is funny. But I'm not posting it—at least not embedding it—until such time as Nebraska isn't leading the league in passer efficiency by a whopping 25 points. The gap between Taylor Martinez's wonky passing motion and #2 Ohio State is equivalent to the gap between #2 Ohio State and #11 Michigan State.
/mindblown.gif
/several more mindblown dot gifs
/huge fornicating pile of mindblown dot gifs all rubbin on each other ohhh grosssss
Nebraska is 15th nationally in passer efficiency; no other Big Ten team is in the top 50. Gobble gobble gobble.
Nebraska's fervent desire to run the ball helps, with just 190 passes to 328 runs. So too does a wide receiver corps that suddenly seems like it may be the Big Ten's best unless that honor goes to the Penn State WR/TE corps.
/ALL THE MINDBLOWN GIFS
Martinez still throws a weird looping ball that takes forever to get where it's going, even on WR screens, so Michigan should be more afraid of the deep stuff, where the looping is an asset, instead of the short stuff, which they've blown up all year anyway. Like a team going up against Michigan's offense, the biggest threat is a safety-committing run fake that leads to a guy getting loose over the top. Ask Thomas Gordon about that—Nebraska's 54-yard touchdown in last year's game was tough for him.
Michigan's pass efficiency defense is even better than Nebraska's—15th—against an even worse slate of opponents. Since Alabama barely had to throw, you're looking down the pipe at Notre Dame, Purdue, Illinois, and Michigan State as M opponents. They haven't been tested; they can't really get to the QB; they may be playing it relatively safe since Martinez can tear you up if you screw up a lane. There's going to be a lot of watching passes loop towards their targets; hopefully the incredibly tight secondary coverage Michigan has displayed all year remains in effect.
Key Matchup: This section of the preview versus your ability to perceive the world as a logical place where effects follow from causes.
Special Teams
Nebraska is 116th in FEI special teams efficacy this year, which whoah. The major reason: punt returns. The NCAA lists them 20th in average yards per attempt; FEI sees the muff avalanche and is like no sale. Also bad: punting (112th) and kickoffs (97th). Michigan should have a tangible advantage in the field position battle.
Brett Maher is a pretty good kicker; Michigan's got a reliable short yardage guy and Matt Wile just booted a 48-yarder. Probably a push here as well.
Key Matchup: COVER THE PUNTS FERGODSAKES
Intangibles
OH MY GOD THIS IS ALSO NOT A CAT.
So, Nebraska is 110th in turnover margin despite not throwing the ball much. In last year's edition of this game the Cornhuskers shot themselves in the foot, leg, pelvis, chest, and finally face en route to a 45-17 defeat. Last week against Northwestern they nearly did the same and eked out a one point win despite outgaining the opponent by 200 yards.
It's to the point where "Nebraska beats themselves" is a real thing and not inane color commentator keys to the game hokum. Actually, it is both of those things. But still… given past histories if there's a team that throws two pick-sixes and manages to lose a fumble when it clonks off the back of the returner's helmet somehow, it'll be the Cornhuskers.
Also a cat: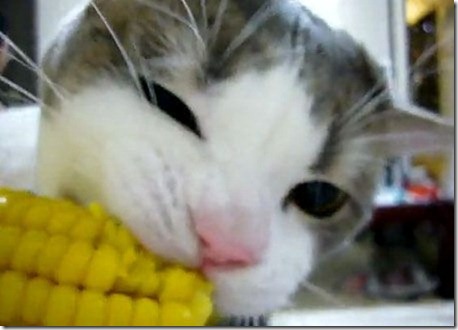 Cheap Thrills
Worry if...
Nebraska tries to implement the MSU gameplan and it pretty much works.
The defense is so unused to facing an opponent that can move the ball three yards without falling over that they get confused and leave a bunch of open gaps.
Michigan plays it as close to the vest as they did against MSU.
Cackle with knowing glee if...
Denard hits the second level against linebackers who are a step slower than Bullough and Allen.
The Michigan DL puts up a NOT FOR SALE sign on the interior.
Nebraska muffs a punt and gets the collective yips.
Fear/Paranoia Level: 7 (Baseline 5; +1 for I Wonder What Happened The Last Time Michigan Had A Night Road Game, +1 for Oh Now I Remember, +1 for Could You Get Me Some Bleach To Drink, Honey?, –1 for Nebraska Is A YOU SHALL PASS Defense For Mobile QBs, –1 for Also Nebraska Tends To Dissolve In A Heap Of Their Own Body Parts Not Infrequently, –1 for Mattison Must Break You, +1 for It's Almost Like You Can Construct An Offense Around A Mobile QB That Makes Sense, +1 for Taylor Martinez Passing Efficiency Mayans Explosion)
Desperate need to win level: 10 (Baseline 5; +1 for WIN THIS DAMN CONFERENCE, +1 for GO TO THE DAMN ROSE BOWL, +1 for GUARANTEE YOU ARE IN THE DAMN CHAMPIONSHIP GAME, +1 for ROSE BOWL, +1 for Hi Nebraska Welcome To Our Conference SURPRISE THROAT SLASH)
Loss will cause me to... never eat corn again! OH GOD IT'S IN EVERYTHING. /omnivoresdilemma'd
Win will cause me to... spend rest of regular season scouting Wisconsin.
The strictures and conventions of sportswriting compel me to predict:
For a game eight weeks into the season this is quite the mystery. Michigan's defense goes up against an offense that will test it seriously for the first time since Alabama ran them over in the opener, or I guess Air Force took them to the limit thanks to their flexbone.
I lean towards the defense proving they're for real. I've seen them do many things against many opponents and ever since Mattison got those DTs absorbing doubles and robbing opponents of linebacker blocking angles it's been smooth sailing for M. Nebraska should hit some stuff here and there when guys get pulled out of position; I'm banking on Nebraska coming out of this game with a considerably less shiny YPC than they've achieved so far. That doesn't mean another 13 point outing is coming—this team is on another level from the offenses Michigan has shut down so far.
Unfortunately, on the other side of the ball it seems doubtful Michigan is going to be able to replicate the UCLA/OSU torchings. Running backs played big parts in both of those outings, and Michigan hasn't been able to get those guys going for whatever reason. Borges and Hoke are now terrified of their quarterback, perhaps with justification, but it seems like the last three weeks were spent spackling over holes instead of adding anything genuinely new.
Michigan's WRs are finally revealing themselves to be towards the bottom of reasonable expectations and Nebraska's DBs are high quality; it's going to be a battle to make those linebackers vacate gaps with plays to the sidelines, plays over their heads, and etc. Haven't seen Michigan do that consistently yet.
Michigan will bust some long stuff, yeah, but enough? In the end, Nebraska's ability to grind up whoever they face game in, game out—even good defenses—is the best thing either team has going for it.
Finally, three opportunities for me to look stupid Sunday:
Nebraska does not implode like they have in the past, because I have no reason for this assertion.
Denard breaks something > 50 yards.
Jake Ryan tackles Martinez or Abdullah about sixty times.
Nebraska, 27-22