Other stuff here: Ace FFFF: Offense! Defense! Lanyard program! I casted a pod with Black Heart Gold Pants!
Essentials
WHAT
Michigan vs Iowa
WHERE
Kinnick Stadium
Iowa City, IA
WHEN
Noon PM Eastern
November 23th, 2013
THE LINE
Iowa -6
TELEVISION
BTN
WEATHER
mostly sunny, mid-20s 0% chance of rain
20 mph winds
Overview
When the native Iowans realized their state had been abducted by a race of soulless aliens attempting to figure out how our morality worked, they banded together in rebellion. Praying to the great old ones, they struck a terrible bargain: in exchange for freedom and return to Earth and music videos with hot Korean girls making out with Iowa paraphenalia, they would offer up the fecundity of the land. The great old ones were big Mouse Davis fans and thought three yard runs were boring, so they demanded the finest tailback in all Iowa, delivered semiannually.
Eventually, the Greatest, Oldest One was hired as the offensive coordinator. Also, Iowa's defense is much better this year after a flailing period in the immediate aftermath of Norm Parker's departure.
Run Offense vs Iowa
Anthony Hitchens finishes tackles with devastating obituaries of his victims
This existed against Northwestern! Let the sweet taste of reasonable output from tailbacks dissolve on your tongue. And then try to remember it, forever, in case it never happens again.
Iowa is an odd team to read here, as they've been mostly permeable on the ground but utterly crushed Purdue (okay, no surprise there) and Big Ten Power™ Minnesota. The Gophers were held to 30 yards on 27 attempts, and while you should remove sack yards that gets them to about 2 yards a carry, which is completely terrible. Purdue did… it does not matter what Purdue did. Never mind.
In between these dominating bookends, though, Iowa has been kind of bad. Sack-adjusted numbers:
vs Michigan State: 37 attempts, 135 yards, 3.7 YPC
@ OSU: 49 attempts, 283 yards, 5.8 YPC
vs Northwestern: 46 attempts, 234 yards, 5.1 YPC
vs Wisconsin: 44 attempts, 223 yards, 5.1 YPC
Ace tracked Iowa's performance against NW inside zone plays and found that the same Northwestern offensive line that couldn't move Michigan at all found quality output against the Hawkeyes:
The Wildcats amassed 69 yards on 14 inside zone runs (4.9 ypc) and gained at least three yards on all but one of them.
Dare we cock an eyebrow at what statistics say is the #29 YPC rush defense in the country and suggest that Michigan might have success against them? We might. There's a huge divide between traditional stats (in which Iowa is 9th in total yardage) and advanced ones, where Iowa's defense is slightly better than as Michigan's offense. Yeah… think about that.
Michigan achieved its success against the Wildcats by dumping the idea of a pulling lineman, going primarily with inside zone, and frequently threatening the bubble screen to keep Northwestern's slot linebacker out of the picture. This gave Michigan the opportunity to execute extended double teams on the Northwestern DTs and resulted in a lot of five, six, seven yard runs as Michigan got a hat on everyone in the box.
Iowa is a team that this can work on as well. They prefer to slide their linebackers and play zone, and they like to keep their safeties deep—both of them. Assuming that Iowa puts their top corner BJ Lowery over Gallon, that would leave a box comprised of a not-very-good defensive line, two linebackers, and freshman corner Desmond King, and then it's on James Morris and Anthony Hitchens to make very good plays unless the DTs can hold up. They are pretty good, those two guys, but Michigan can keep their scheme from the most recent game and succeed with it unless Iowa makes a significant change to what they do.
Which is totally possible, because Kirk Ferentz pulls out all the stops against Michigan and Ohio State. But even when he does that, the defense remains the defense. Here is a note of cautious optimism that Michigan's run game will function.
Key Matchup: Michigan guards versus executing doubles well. Michigan should ride with the inside zone against a DL that can get pushed around; getting depth there opens up other possibilities, like the stretch and those throwing things
[Hit THE JUMP for MORE HOT KOREAN GIRLS (actually just more of this year's football team) BUT PROBABLY HOT KOREAN GIRLS]
Pass Offense vs Iowa
every picture of Hawkeye CB BJ Lowery on the internet is a different angle of this badass interception against an NBA D-League team
This is where Iowa will seem its most immutably Iowan. Parker's retirement hasn't done much to the standard Hawkeye approach to football: throw a 4-3 out there, play cover two, and whatever happens happens. Ace:
It's hard to emphasize enough how vanilla this Iowa defense is; they're going to sit back in zone coverage and dare opponents to beat them over the top for big plays.
The possibly good news for Michigan: Iowa's not much for sacks, with 17 on the year, ten of which came in games against Minnesota and Northwestern. The Hawkeyes are blitzing a bit more than they used to—LB James Morris is their leading sacker with 4.5—but that seems to be an issue of necessity rather than desire, since no lineman has more than two and Iowa sacks seem to come only after an extended period of running around towards the line of scrimmage: as Ace noted, Iowa's six sacks against Northwestern netted a total of nine lost yards, and Iowa's only got 64 sack yards on the year.
One dollars says that Iowa watches Michigan's game film and loads up on passing downs, but it's not really in their DNA to go nuts on standard downs, which should give Michigan a chance to protect Gardner, for all that will be worth with the wind and such.
Iowa's top cornerback is the guy pictured above, BJ Lowery. Iowa's starting true freshman Desmond King, a native Detroiter, at the other spot. He's averaging over six tackles a game and may be vulnerable to that high/low business this site goes on about.
For Michigan's part, five sacks and zero snaps sailed over Devin Gardner's head represented progress last week; five-count-'em-five WHAT ARE YOU DOING passes from Gardner did not. Gardner was a lion on Michigan's third overtime drive, putting the team on his legs, but his decision-making has been shattered almost as badly as his sternum. Michigan can do nothing about this except keep throwing the ball when it makes sense to and hope things come together.
Key matchup: Devin Gardner versus Breaking The Fingers Of His Opponents.
Run Defense vs Iowa
SOON, CANZERI – AIRBHG
Iowa has become much more of a stretch team this year instead of the inside zone outfit they were a year ago, when Mark Weisman was pointed down the throat of the defense and told to put his fist through it. Hawkeye left tackle Brandon Scherff—projected as a top-50 pick if he comes out early—is the best thing Iowa has going on offense, so they have gone stretch-heavy to get more mileage out of their great tackle*. This cuts against Weisman's strengths and got him buried plenty. BHGP's Patrick Vint explains:
Michigan State did this [slanting playside] all day against Weisman and Bullock (who also never, ever, ever cuts back), using Iowa's formation and motion to guess at where the stretch would go, slanting toward that side, and watching Iowa's running backs run valiantly into certain death.  The lack of a cutback took away the biggest constraint against what Sparty was doing.  The only other constraint -- the downside of guessing wrong on the slant -- was both rare, due to Iowa's unbalanced lines and tendencies out of motion, and not particularly threatening, because Mark Weisman isn't going to outrun anyone.  If Iowa gets zero yards the four times in five that you guess right and ten yards on the one play you guess wrong, they're still averaging two yards a carry.  They're still punting.

This played out again and again over the next four weeks, as Ohio State, Northwestern, and Wisconsin did the same thing to shut down Weisman.
The numbers here are also dominating in Iowa's first and most recent Big Ten outings and middling to bad in between. After pounding Minnesota for 246 yards in the Big Ten opener, Iowa had 23 yards on all of 16 carries against MSU and did not crack 150 the next three games before blowing up for 318 against Purdue.
Iowa turned to Jordan Canzeri against the Boilers and found a lot of success, and while yes lolpurdue, Vint is a careful observer of Iowa; that's a real thing. Meanwhile, Michigan is a team that will find their ends and linebackers slashed to the ground on the backside of a stretch from time to time. Expect inside zone with Weisman and the stretch with Canzeri; expect both to be tried out and for Iowa to go with whichever one works better; expect that to be the stretch.
Michigan, meanwhile, is rounding into form as a rather fine rushing defense. The only team to crack five yards a carry in Big Ten play against them was Indiana, because of course it's Indiana. Against teams that play like humans and not demons hopped up on goofballs, Michigan has been near great. Sack adjusted numbers:
Minnesota: 40 attempts, 139 yards, 3.5 YPC
PSU: 40 attempts, 101 yards, 2.5 YPC
Indiana: 31 attempts, 184 yards, 5.9 YPC
MSU: 38 attempts, 158 yards, 4.2 YPC
Nebraska: 42 attempts, 141 yards, 3.4 YPC
Northwestern: 47 attempts, 166 yards, 3.5 YPC
In the land of sack adjustments anything under four yards a carry is very good. Michigan isn't on par with the slavering MSU defense but they can claim near-parity with Wisconsin and Ohio State for runner-up in the league.
*[Yes, this was undoubtedly the idea behind Michigan's early-season foray into the stretch as their base running play. Iowa is not running out any temporarily-warm body on the interior of the line, however, and they've been a zone zone zone zone team for years. So it works.]
Key Matchup: Backside tackles versus getting cut. Michigan should stack up the front side of the zone pretty well; given what I've seen this year on erratic stretch plays and the above I am worried about the cutback.
Pass Defense vs Iowa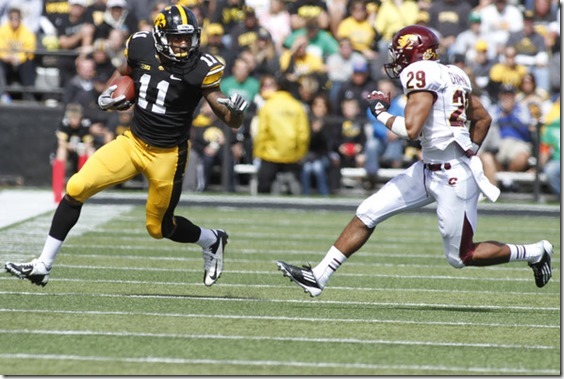 I'll hyphen in the morning / I'll hyphen in the evening / all over the first nine yards of this land
This department has been rough for the Hawkeyes. First-year starter Jake Rudock was scuffling mightily before Purdue gave him a chance to get his numbers a little healthier, and even after that he's at 6.9 YPA with 14 TDs to 9 interceptions on the season. Iowa's trust level with him is not high.
Kevonte Martin-Manley is this year's Decent But Unremarkable Iowa Receiver With A Hyphenated Name, and he is their primary target. True to a Greg Davis offense, he's averaging under nine yards per catch on 35 attempts; as a team, Iowa averages just under 12 yards per catch. (By contrast, Michigan's top three guys are all over 16.) "Polish Hat" tight end CJ Fiedorowicz and running mate Jake Duzey are also featured, with a total of 35 catches between them, and then there's a trio of guys at WR who get involved:
Damond Powell

looks like a deep threat

in the stats because he ran upfield for 74 yards without having to change direction on a screen pass against Minnesota. He is averaging almost 20 yards a catch even without that, so I guess he is a deep threat. For the Iowa definition of deep threat, non-Tim Dwight edition.

Don Shumpert is destined to sell insurance after his graduation. He is on a run of making nice catches that cause Iowa twitter to blow up about how they didn't expect DON SHUMPERT OF ALL PEOPLE to do that.

Tevaun Smith exists.
Rudock also dumps it down to Damon Bullock quite a bit; in general, Iowa spreads the ball around, because short passes are a family affair. None of these guys terrifies; Martin-Manley is still somewhat slight and will drop more than the usual number of balls.
The good news for Iowa is that they're flabbergastingly good at preventing sacks with only nine ceded on the year. Greg Davis has a lot to do with that, of course—see "leading receiver averaging 8.7 yards per catch"—but Scherff is a top-end NFL prospect and the rest of the line is veteran and selected from a larger group of players, some of which are not as good. Wouldn't it be nice.
Michigan is perpetually coming on as a pass defense. Raymon Taylor is playing well to give Michigan two quality corners; Frank Clark, Jibreel Black, and Brennen Beyer are generating decent amounts of #right2rush4 pressure, and the safety shakeups haven't caused the defense to implode in a shower of sparks and touchdowns. The main issues have been blown coverages from the linebackers—Michigan got away with another one against the Wildcats—their freshman nickel guys taunting gypsies or phasing out of this reality, and three man-rushes that don't get home. And tackling sometimes. And getting tempoed.
Despite those issues, their numbers are high quality. Teams are acquiring a quite poor 6.5 yards an attempt, with only Indiana (of course) achieving numbers that are flat-out good; meanwhile Michigan has almost as many interceptions (13) as passing touchdowns ceded (16) this year. The pass rush isn't even that awful at this point. With 20 sacks to their name Michigan sits dead average on CFB stats.
Key Matchup: Michigan secondary versus Tackling. Tackle, and ye shall receive punts.
Special Teams
Mike Meyer is still Iowa's kicker and is still a highly reliable guy who will miss occasionally outside 40 yards.
Iowa's kick return game is shrug-worthy; punts much less so. Martin-Manley has two touchdowns this year and is averaging almost 20 yards a pop, albeit on just 14 opportunities. This could be an issue if Wile kicks a line drive; of late he's been able to mitigate Michigan's punt coverage issues with a lot of hangtime.
Iowa punts and kickoffs are basically average; Iowa's Mike Meyer has a touchback rate of only 48%, though, which is low in the new era. With the projected win on Saturday that won't matter much, though: kickoffs into it will be short, kickoffs with it will be out of the endzone.
Key Matchup: AHHHHH WILE YOU HANG TIME THE PUNTS
Intangibles
Cheap Thrills
Worry if...
Gardner drops back to pass and throws an interception to three generations of Iowa secondary playing cover two on the same play. Dennis Norfleet looks on from the bench, because he's a loose cannon the mayor told to hand in his gun and badge for breaking a tackle in practice. 
Michigan can't inside zone Iowa willy-nilly.
Henry and Clark and others are getting cut to the ground on the stretch.
Cackle with knowing glee if...
Michigan has a third part of their bubble/zone thing they use for big yardage.
Two yard hitch on third and eight remains in the playbook for Iowa.
Pants!
Fear/Paranoia Level: 8 (Baseline 5; -1 We Can Run Now, And It Should Work Against Iowa, +1 for Shut Up I Said We Can Run Now, –1 for Dinking It Isn't Going To Get You Many Points Against This Michigan Defense, +1 for Dinking It Is All You Might Be Able To Do With The Wind, +1 for Not Through The Chest, Devin, +1 for This Is Not A Good Football Team, I Mean, +1 for Maybe There's Something To Road Disaster Disasters)
Desperate need to win level: 3 (Baseline 5; +1 for Eight Wins Really Does Seem Better Than Seven Wins, –1 for That Was The Most Depressing Desperate Need To Win Item Ever, –1 for I Actually Like Iowa A Lot And Don't Mind Their Fans, –1 for If You Play A Game At Noon In Iowa City, Does It Even Exist?, +1 for It Was Nice To See The Players Happy Last Week, +1 for Vague Flicker Of Hope Going Into OSU Game?, –1 for lol no)
Loss will cause me to... 24 HOUR STAIND MARATHON
Win will cause me to... seriously consider breaking the no drinking before games rule at the OSU game, because lord, that is going to be miserable. Except won't that make it just a different flavor of miserable? There are no victories here.
The strictures and conventions of sportswriting compel me to predict:
A grim slate-gray Big Ten game played in windy conditions: last week's Northwestern game 2.0. This one probably does not feature as many flat dropped interceptions, and that'll be the item that costs them in the end.
Finally, three opportunities for me to look stupid Sunday:
Positive rushing yards. Again! You guys. In fact, I will venture that the IZ/bubble setup continues to work well because it is not a gimmick but rather a piece of a cohesive offense.
Gardner turnover bug returns with a vengeance.
oh man seriously that staind song is terrible please win
Iowa, 16-11