Previously here: ACE FFFF! Mini-program. More detailed Game Day Weather.
Other stuff: MZone's Know Your Foe. Midnight Maize Google image searches Ron Zook. Daily interviews AJ Jenkins. BWS preview.
Essentials
| | |
| --- | --- |
| WHAT | Michigan vs Illinois |
| WHERE | Memorial Stadium, Champaign, IL |
| WHEN | 3:30 Eastern, November 12th 2011 |
| THE LINE | Michigan -1 |
| TELEVISION | ABC regional/ESPN reverse mirror |
| WEATHER | clear, upper to low 50s, windy |
Run Offense vs. Illinois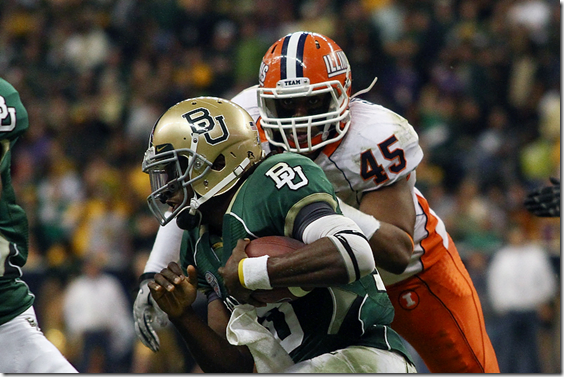 Jonathan Brown via Brad Meyer photography
This blog's assumption since Denard Robinson burst onto the scene almost two years ago has been that a non-elite defense will not slow Michigan's ground game because it has Denard. That assumption is now out the window after Michigan took its place on this list against Iowa's then 69th-ranked rushing defense:
| Opponent | Att | Yds | YPC | TD | Nat'l Rk |
| --- | --- | --- | --- | --- | --- |
| Iowa State | 51 | 197 | 3.9 | 2 | 43rd |
| Pitt | 33 | 157 | 4.8 | 0 | 67th |
| PSU | 44 | 234 | 5.3 | 0 | 56th |
| NW | 37 | 175 | 4.7 | 1 | 33rd |
| Indiana | 46 | 225 | 4.9 | 2 | 54th |
| Minnesota | 38 | 181 | 4.8 | 2 | 72nd |
| Michigan | 35 | 155 | 4.4 | 0 | 14th |
Iowa actually improved to 63rd after last weekend. Our world has crumbled.
For its part, Illinois's run D looks very shiny (15th, yielding 2.7 YPC) thanks to a huge number of sacks. When you drill down into the stats the bloom comes off the rose… a little.
| Opponent | Att | Yds | YPC | TD | Rk |
| --- | --- | --- | --- | --- | --- |
| ASU | 28 | 129 | 4.6 | 1 | 70 |
| NW | 47 | 186 | 4.0 | 1 | 35 |
| Indiana | 36 | 135 | 3.8 | 1 | 54 |
| OSU | 46 | 237 | 5.2 | 1 | 23 |
| Purdue | 40 | 140 | 3.5 | 1 | 44 |
| PSU | 36 | 137 | 3.8 | 1 | 55 |
They got beat up pretty good against Ohio State and fail to keep opponents under three YPC once their many, many sacks get excised but those are still good numbers against quality competition. The only comparable defense Michigan has played this year is Michigan State. That did not go well, though the special circumstances surrounding that game (trash tornado, lizard brain) mean you shouldn't read too heavily into the results there. You can stick with the Iowa table above if you'd like to furrow your brow about likely events this weekend.
Illinois is a blitzing, confusing defense that will see various linebackers enter the backfield at unpleasant times. Uber-DE Whitney Mercilus is more of a threat in the passing game (11.5(!) of his 16.5 TFL(!) are sacks—already) but does get some penetration against the run; past that the Illinois TFL leaders are their three linebackers. Those guys have 5-7 TFLs each to go with their sacks. Jonathan Brown leads the team in tackles by a wide margin despite missing the Indiana game after turning heel against Northwestern; he will be a guy to watch. Possibly for funny business.
Michigan's best shot may be a reprise of last year, when they had a lot of success reaching then-freshman Akeem Spence with David Molk in the wacky 67-65 game I hardly have to describe to anyone reading this. Blitzing stretch plays can be dangerous business if your linebackers get caught in the wrong gaps—earlier this year when I was flailing about for an answer to constant double-A gap blitzing, multiple folks told me the reason RR didn't suffer the same fate is fear of the outside zone. Michigan's new version of the outside zone is speed option—it might be a bridge to success against an intimidating unit. That, or Borges bringing out some new tricks.
Key Matchup: Denard checking at the line/Molk providing time to diagnose blitzes. I'm leery of an MSU repeat. Michigan has a road game against a blitz-heavy opponent. Lessons need to be learned: vary snap counts to help Michigan diagnose what's happening pre-snap.
Pass Offense vs. Illinois
How good could Whitney Mercilus be if he had all of his fingers and crazy eyebrows?
Denard spent last weekend surveying the erosion of rural Iowa. Plays developed around him at the same rate empires rise and fall; in a world of change the sole constant was Denard Robinson sitting in the pocket, wondering where all the dudes trying to kill him were. While this worked for Iowa it led to Denard's best passing day of the year, Minnesota excepted, in UFR.
Now for something completely different:
DC Vic Koenning is a lot like Greg Mattison in that he likes to throw out a lot of different looks to confuse the quarterback, and his favorite way to do this is to switch up the fronts and zone blitz. He doesn't always bring huge pressure—in fact, he'll often just bring four rushers, just not always the ones you'd expect—but you're never exactly sure where to look for blitzers.
The Illini get to the quarterback, and then they get to the quarterback, and then they get to the quarterback some more. The aforementioned Mercilus has the aforementioned 11.5 sacks, which puts him on pace for a Lombardi trophy at the end of the year. LBs Michael Buchanan, Ian Thomas, and Jonathan Brown have combined for 13 more. Past that no one has more than one but that is still sufficient to see Illinois sitting third nationally in sacks acquired. The prospect of Denard back-footing some throws looms. Passing downs are to be avoided since zone blitzing is considerably tougher when the run is a threat.
When Michigan does get a pass off things don't project to get a whole lot better for them, but sample sizes are restricted. Illinois is 19th in pass efficiency D; their last four matchups have come against Matt McGloin (wsg Rob Bolden), Caleb TerBush, Braxton Miller (who had four attempts), and Dusty Kiel (wsg Tre Roberson). I feel like I say this every week: the opponent has an impressive pass efficiency number thanks to all of the quarterbacks in the league being total suck at passing.
That includes our guy, unfortunately. It's hard to envision things getting much better than they've been. Even when left unmolested a combination of poor WR play, poor planning, and some Denard being Denard plays saw Michigan finish under 50% completions and turn the ball over twice. This was against a team that treated pass rush like kryptonite. Against more aggressive teams Michigan turned the ball over… twice, or more. I'm in wait 'till next year mode when it comes to an effective passing offense. Expect a crappy completion percentage, two picks, and a highly variable YPA depending on whether the downfield jump balls are brought in.
Key Matchup: Huyge versus Mercilus. I assume Illinois is going to match up their best DE on Michigan's somewhat shaky right tackle instead of Taylor Lewan, who I don't think has a single pass protection minus this year not attributable to a biffed blitz pickup.
Run Defense vs. Illinois
When I think Illinois rushing offense these days, I think this:
Pistol triple option. You may remember this from such plays as "aaargh who has the pitch man," "aaargh who has the pitch man," and "you cannot be serious about that tackle Jonas Mouton" from last year's game. (All of which I would have linked if not for the DMCA fight from earlier this year getting my previous youtube account shut down.)
According to Ace, Illinois shelved this look for the entirety of their most recent game against Penn State, but since Michigan has been weak on the edge and specifically showed a vulnerability to shotgun triple option against Northwestern, the bet here is M gets a dose of this early just in case they still can't stop it. Survey says… stopping it, actually. I am surprised as well, but Illinois has been mediocre at best against non-horrible rushing defenses.
| Opponent | Att | Yds | YPC | TD | Rk |
| --- | --- | --- | --- | --- | --- |
| ASU | 40 | 149 | 3.7 | 1 | 60 |
| NW | 34 | 107 | 3.1 | 2 | 84 |
| Indiana | 52 | 332 | 6.4 | 2 | 117 |
| OSU | 33 | 128 | 3.9 | 0 | 27 |
| Purdue | 27 | 155 | 5.7 | 2 | 92 |
| PSU | 48 | 209 | 4.4 | 0 | 24 |
Aside from blowing up Indiana and Purdue their best performance was a decent day against Penn State. The other three outings are stinkers, and not even against particularly good opposition. After Michigan re-enacted the Kids in the Hall intro a week ago by having an average weekend, they qualify as Not Indiana Or Purdue and can expect to hold Illinois to reasonable totals.
A major reason for this expectation is a dropoff at the tailback spot. While I have a soft spot for Jason Ford, he is the poor man's Marcus Coker and a far cry from the NFL first-rounders Illinois has inexplicably gotten to deploy the last four years. Mendenhall he is not, Leshoure he is not. He is Just A Guy and he's got the 3.9 YPC to prove it. Smaller, dreaded Troy Pollard has a great YPC thanks to the vast bulk of his caries coming against SDSU (not that SDSU: South Dakota State), Western, and Indiana. In serious games he hardly touches the ball. Freshman Donovonn Young is another backup with moderately shiny numbers thanks to carries heavily distributed towards bad defenses. The last three weeks he's picked up 49 yards on 20 carries. The running back situation is uninspired.
That leaves just one Nathan Scheelhaase. He's Illinois's leading rusher even including large swathes of sack yardage. Chop those out and:
If you take out all the sacks Illinois has allowed this season—they also randomly insert freshman Reilly O'Toole at times, so this may be generous to Scheelhaase—that average jumps to 5.9 yards per carry.
Not Denard but pretty good; I think Ace declaring he doesn't have "breakaway speed" is in comparison to our guy. He's a fast bugger and will be the home run hitter unless Michigan busts something.
A thing I'm curious to see: Illinois does not have right and left on their offensive line, they have strong and weak. IE: they will flip their line down to down. I have never even heard of this.
Key Matchup: Ryan/Beyer/Roh/Black versus the immediate edge. I think we'll see a lot of Michigan's nickel package with Thomas Gordon deployed as an edge containment guy. For things to get to him Michigan will have to correct the issues that caused the unblocked DE to plunge down on the dive back. Michigan's mission on the option is clear: get the ball out of Scheelhaase's hands.
Pass Defense vs. AJ Jenkins
There are rumors of other Illinois receiving threats. They remain unconfirmed at press time. Jenkins is 8th in receiving yards per game on a team that runs 60% of the time, which means he has some ridiculous share of total receptions, like, say, having more than three times the catches and five times the yardage of Illinois's #2 option. They like throwing to Jenkins.
Jenkins is good, a shifty speed merchant equally capable of turning a drag up for big yardage and beating a safety over the top. He's in the running with a few other guys for title of "best WR in the Big Ten," but he's more of a Manningham than the hulking Floydbeasts Michigan has gone up against much of the year. Even Marvin McNutt, who doesn't seem like a Floyd or a Cunningham or a McKnight is 6'4" and lacks that "oh shiiii" deep speed. Jenkins has it. This is a situation where either Floyd gets a bracket or Countess gets a stiff test, because Floyd doesn't have the speed to even be in NOBODY CARES WHEN WR LOOKS FOR THE BALL position.
So that's the good bit of the Illinois passing game. The bad bit is everything else. Despite running the ball most of the time and having a mobile quarterback, they give up a ton of sacks (100th). Scheelhaase has been efficient overall but is on a serious downswing: 4.9 YPA against OSU, 6.2 against Purdue, 3.9 against Penn State. He contributed to the torchings of the Northwestern and Illinois secondaries but back it a bit farther and you get 133 yards against WMU, 135 against ASU—in limited attempts and efficient, granted, but the implication is clear. Illinois will run and run if they can and then hit you for the deep ball. If they can't—and they haven't lately—it's flailing time. Sounds familiar.
Illinois's other WRs, if they exist, are not serious threats. Spencer Harris is the #2 guy; he's averaging under ten yards a catch. Slot type guy Darius Millines has –6 receiving yards in Big Ten play. They do have a couple tight ends they'll throw to and Ford gets the ball a bit; none of these things are going to do anything except maybe move the chains on a third and medium.
Key Matchup: Could possibly be AJ Jenkins versus JT Floyd. The War of the Initials goes down this weekend; more realistically it's The War Of The Initials And A Safety Over The Top. Woolfolk's speed should be of use… if it still exists.
Special Teams
If you hadn't given up on the Penn State-Illinois game in favor of Golden Girls reruns two weeks ago, you may remember Derek Dimke plinking the game-tying field goal off the uprights. Do not get your hopes up based on that. That was his first miss of the year; in 2010 he was 24 of 29. He's good.
The rest of the Illini's special teams are unbelievably terrible. Illinois is 105th in net punting, 118th in punt returns (averaging an incredible 1.7 yards an attempt) and 119th in kick returns (an even more incredible 16.2). Some of the crap net punting stats can be blamed on Ron Zook's belief that punting from inside the opponent 40 is winning, but this looks like one of the few games this year where Michigan will get a field position advantage from the kicking game.
Key Matchup: Gibbons you put it through the uprights?
Intangibles
photography by Zook. SO FUNNY
Cheap Thrills
Worry if...
Ming the Merculis is destroying Denard's confidence and giving him happy feet.
The usual happens against a quality defense.
Illinois is getting the edge, whether via option or otherwise.
Cackle with knowing glee if...
Jason Ford runs are ending in the arms of Mike Martin.
Ron Zook sends out the punt team on third and one from the Michigan 15. It could happen.
We have a plan on offense.
Fear/Paranoia Level: 6 (Baseline 5; +1 for Easy To See Denard Getting Crushed For Killer TOs, +1 for Hey Option Football We're Good At Defending That Except We're Not, –1 for Ron Zook's Puh-Puh-Puh-Poker Face, –1 for Generalized Ron Zook Scorn, +1 for Is Anyone Going To Be Surprised If Michigan has 150 Yards At The Start Of The 4th Quarter?, +1 for Road Suck Suck Road, –1 for This Defense Is Decent And That's Apparently All You Need Against Illinois.)
Desperate need to win level: 7 (Baseline 5; –1 for Division Goals: We Do Not Has Them, +1 for Boy Am I Tired Of Never Winning Against Anyone In November, +1 for Seriously We're Playing Ron Zook, +1 for I Like Eight And A Half Wins And I Cannot Lie, +1 for Hard To Keep Any Optimism About OSU Up If We Biff This One, –1 for I Feel The Stirrings Of Henri Deep In My Heart.)
Loss will cause me to... put on a smoking jacket, fill a snifter with brandy, sit in an opulent chair in front of a roaring fireplace, and read Beckett until the camera has reached an appropriate zoom level. At this point I will slide my reading glasses down my nose, look into the camera, and say "Life? Don't talk to me about life."
Win will cause me to... experience extremely unwise feeling… hope.
The strictures and conventions of sportswriting compel me to predict:
I HATE THIS SECTION THIS SECTION CAUSED ME TO SAY SOMETHING ABOUT FERENTZ BEING A STUPID STUPID PERSON LAST WEEK AND YOU SEE WHERE THAT GOT US LENNY I AM GOING TO CHOKE OUT THE PERSON WHO FIRST THOUGHT PEOPLE WRITING ABOUT SPORTS SHOULD ACTUALLY TRY TO PREDICT EXTREMELY RANDOM ACTIVITIES THAT THEY DON'T EVEN KNOW ABOUT
Ahem.
So… Illinois is on a hell of a tailspin in which they have 28 points over three weeks. In that time they've hardly given up more points: 17 to OSU, 21 to Purdue, 10 to Penn State. The OSU touchdown drives were 12 and 22 yards. One of Purdue's was 14 yards. Michigan has the aforementioned difficulties against pulse-bearing defenses.
I predict this.
I predict an offensive explosion in which Ron Zook makes razor-sharp decisions, Denard runs 24 times, Illinois's special teams are awesome, and turnovers are a theoretical concept best left to the MAC.
Finally, three opportunities for me to look stupid Sunday:
Teams combine for six turnovers.
Scheelhaase is the game's leading rusher with around 80 yards.
Denard is sacked five times. 
Michigan, 9-7