Preview 2017: Offensive Line
Previously: Podcast 9.0A. Podcast 9.0B. Podcast 9.0C. The Story. Quarterback. Running Back. Wide Receiver. Tight End And Friends.
traaaaaaaaain [Bryan Fuller]
Depth Chart
| LT | Yr. | LG | Yr. | C | Yr. | RG | Yr. | RT | Yr. |
| --- | --- | --- | --- | --- | --- | --- | --- | --- | --- |
| Mason Cole | Sr. | Ben Bredeson | So. | Patrick Kugler | Sr.* | Mike Onwenu | So. | Jon Runyan Jr | So.* |
| Andrew Stueber | Fr. | Stephen Spanellis | Fr.* | Cesar Ruiz | Fr. | Chuck Filiaga | Fr. | Juwann Bushell-Beatty | Jr.* |
| Grant Newsome | So.* | Andrew Vastardis | Fr.* | Phil Paea | Fr. | Joel Honigford | Fr. | Nolan Ulizio | So.* |
[Ed. note: Newsome is actually a true junior but we are assuming he redshirts this season so the listed year is more accurate spiritually. Also Paea is probably a DT this year but I ran out of OL anyone's heard of.]
Michigan lost three starters to graduation and will be without left tackle Grant Newsome after his scary injury midway through last season. And… eh. By the time the graduated had played out their eligibility it was clear that there wasn't much anyone could do to turn them into a crew of firebreathers. Ben Braden (-9.4 to PFF) was willing but the very definition of stiff. Kyle Kalis(-6.3) was a missed assignment machine to the last. Erik Magnuson(+9.1) was a solid player but never an impactful one. None were drafted, and they collectively plateaued three years ago:
| Year | Adj Line Yards | Opportunity Rate | Power Success | Stuff Rate | Adj Sack Rate |
| --- | --- | --- | --- | --- | --- |
| 2013 | 118th | 11th | 120th | 126th | 112th |
| 2014 | 50th | 55th | 32nd | 67th | 72nd |
| 2015 | 53rd | 107th | 50th | 33rd | 13th |
| 2016 | 64th | 82nd | 50th | 81st | 28th |
Advanced line stats are a bit wonky because they also depend on the running back and style of offense, but the whole set tells a story. That story: mediocre players hitting their ceiling.
At some point it was clear they were playing mostly because Michigan didn't have any alternatives. When Newsome went out there was a brief dalliance with Juwann Bushell-Beatty at left tackle that went so poorly that Michigan flipped Braden out and brought in a true freshman in his stead. Everyone else other than Patrick Kugler, who was stuck behind Mason Cole, was some flavor of freshman as well.
So, they're gone and the replacements are incapable of voting. It's the end of the Hoke as we know it, and I feel fine. Except about the Newsome thing. That sucks.
TACKLE: COLE AND THE RANDOS
RATING: 2.5.
there and back again [Eric Upchurch]
Last year MASON COLE moved to center because it was clear he was not a tackle. This year he returns to tackle because it's clear nobody else is.
Despite the somewhat awkward fit with Cole's body type, this foray should be mostly successful. At tackle, Cole was a near-elite run blocker, capable of overpowering and outmaneuvering defensive ends and linebackers. At center Cole's lack of oomph left him vulnerable to planet-sized nose tackles he couldn't move and gents like Malik McDowell who just wanted to bulldoze him.
Mason Cole.

Oooof. pic.twitter.com/aST5DuXjS5

— Due# (@JDue51) October 30, 2016
Cole was better at the mental aspects of being a center. At the same time he was getting plowed by McDowell he was instrumental when MSU turned to their double A gap twist blitz. That blitz bedeviled Michigan for years under less competent coaches; Cole (and Harbaugh) throttled it:
The trademark MSU defensive playcall was comprehensively beaten. Finally. All of these plays feature the extreme aggression of the MSU linebackers being used against them, something that Michigan hasn't been able to do in forever. Can't block 'em? Run right by 'em.
The line just about maintained its very good adjusted sack rate with Cole at center despite suffering an injury to Newsome they simply could not afford. A large part of that goes back to Cole's ability to make the line calls. Bredeson's freshman biffs aren't on Cole's ability to organize, and Michigan was pretty dang organized in pass pro:
Zone running not so much, but more about that in Five Question and Five Answers. Michigan's frustrating inability to identify first level blocks on stretch plays all but removed those from the offense, so we never got to see if Cole could get his David Molk on. Getting a reach block is really hard and really good if you manage it and Cole had some promising upside in that department that never came to fruition.
[After THE JUMP: LARGE ADULT SONS, except not quite adult.]
Cole's game was neatly defined by one of Scout analyst Mike Spath's consistently useful anonymous quotes from Big Ten Media day:
"I've never seen an offensive tackle play center or vice versa. Cole is impressive. He's not super strong but he's really good at everything. Smart. Doesn't have MAs [missed assignments]. You're not going to beat him by outworking him. You have to hope that you can overpower him, but he's just such a good all-around player."
A return to the outside portends excellent things for the ground game. As a true sophomore Cole was the #16 tackle nationally in the ground game, per PFF, and he had a whopping 76% success rate in Upon Further Review charting. That is by far the best number in the last few years, one to rival Molk and Lewan. At center he was… fine. Good even. Not outstanding. Your author's take after the Illinois game:
Mason Cole hasn't been great at center. I chalked up early issues to a bunch of 3-4 defenses featuring mondo NTs that are bad matchups for him. By this point it's clear that's not the only issue. He's not getting out in space as much as he did as a tackle and he's not doing a great job finishing blocks even when his guards help him out significantly. …

Michigan has not played to his strengths much. Since they're gashing folks on the ground this is not an actual issue, but I was struck on another offset draw when Cole did a great job to block a linebacker for ten or fifteen yards downfield.
That kind of stuff is why Cole was one of PFF's top run-blocking tackles in the country last year, and it hasn't been frequent.
A lot of the great stuff Cole was able to do as a center looked exactly like the plays that got him that shiny ranking the year before: erasing folks on the second level. Or third.
Mobility unparalleled. That's Mason Cole.
Cole's pass protection at center was fine and mostly irrelevant for his ability at tackle. As a sophomore pass protection came in two flavors. Against anything short of an elite NFL prospect he was outstanding. He had eight protection minuses in 11 games. He had 13 in the other two. (Every two protection minuses work out to a sack or severe, play-crippling hurry.) Those were outings against Maryland's Yannick Ngakoue, a third round pick of the Jaguars who had 8 sacks as a rookie, and OSU's Joey Bosa, who is Joey Bosa. While it's understandable that Cole's performance would dip against the two best DEs he played, that's severe.
Last year's preview also noted that PFF gave him a negative mark as a pass protector and said it "felt like there was no way for Cole to fix that."
The accuracy of that statement is one of the biggest X factors for Michigan's season. Let's hope I'm an idiot and that Cole has improved in this department, especially because he's a year younger than most senior OL. Staying static will be fine against most of the schedule, but OSU has another Bosa. And like three other guys.
At right tackle is a GIANT COMPUTER-ANIMATED QUESTION MARK [recruiting profile]. Normally this would be a terrible situation, but Giant Computer-Animated Question mark has the kind of body type that Greg Frey has been successful with historically. That's the ticket.
Runyan, I guess? [Bryan Fuller]
The question mark's avatars in reality are a quintet of gentlemen. Two are freshmen. Three have scanty experience. Literally any of them could start without causing more than a mild stir amongst close observers. Our best guess, and it is a guess, is that JON RUNYAN JR [recruiting profile] will maintain the lead he had coming out of spring, at least to start the season.
Runyan is his father's son—Michigan OL—and also not. Runyan the elder is the platonic ideal of a world-engulfing Michigan right tackle; his son is… not that. That is good news and bad news rolled into one. The bad news: Runyan lacks ideal tackle size. He's listed at 6'4". He's just now getting up to 300 pounds, and in situations like this there is a tendency to inflate the real numbers slightly. He might be ready, and he might be a tackle. He might need one more year, and he might be a guard.
I must admit some trepidation when Runyan talks about his transition to tackle:
"On the interior, it's all so much close-contact. On the edge, there's so much more patience," Runyan said. "For me, it's been all about developing some of that patience that you lose at guard or center. 

"Going up against (Rashan Gary), you take your licks now and again. But it's great to work against." 
If the leader-type substance at right tackle wasn't playing it before this offseason that's a worrying thing. It implies that Michigan didn't look at Runyan as a tackle previously, and probably for good reason. And that they moved him, probably for good reason. The Newsome injury threw some stuff off, but Michigan knew they needed a new tackle even without that injury. The heebies, they are jeebied. Compounding that feeling in your gut is an injury that cost Runyan three critical months this summer.
The good news is that Runyan the younger can really move. He just about swept the OL section of Michigan's winter combine, winning every category except the pro shuttle. He came in second there. His powerball throw was best on the team. Beating out Mason Cole, one of the most mobile Michigan linemen in the last decade, is a meaningful achievement. If it is Runyan, Michigan's tackles aren't going to be huge and they aren't going to be elite pass protectors but by God they'll block 30 yards downfield on screens.
Survey says… maybe? Midway through fall camp that was the expectation at 24/7, with Bushell-Beatty mentioned second. Trieu had a source saying it would be Runyan. (Also that Frey was "earning his money," which could be interpreted as "Frey is good" or "oh God not in the face.") Rivals had some reports that JBB was in front but they aren't talking to coaches but rather getting takes from sideline observers who have a tendency to associate first team reps on a particular day with depth chart positions. Anyone in competition for an open job is going to get his at-bats on the top line.
Meanwhile Webb, who does talk to a bunch of people inside the program on the regular, has been repeatedly mentioning Runyan and Ulizio as guys getting reps with the ones, all while repeatedly emphasizing that is not a sure sign of anything. 247 just now said that "if forced" they're still picking Runyan, which... yeah. The vibes are not great.
This isn't the worst situation in the world. Michigan does have a lot of options; they're not forced to throw a true freshman in at left tackle like Cole three years ago. The persistent uncertainty, lack of ready blue chips, and injury issues for the two presumed leaders make this bar-none the scariest spot on the team.
BACKUPS... OR STARTERS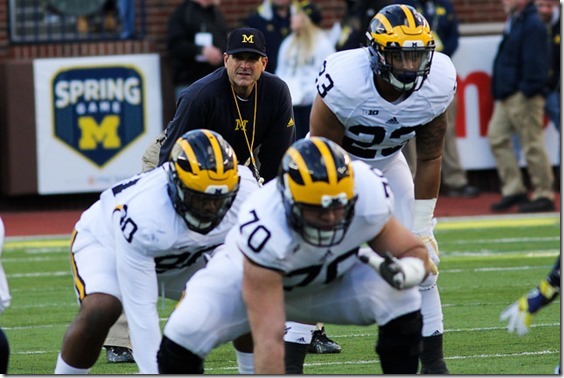 Harbaugh's eyes are on Ulizio [Upchurch]
Apparently running second, or possibly first, is redshirt sophomore NOLAN ULIZIO [recruiting profile]. Ulizio apparently suffered through a bout of mono last year and found himself way short of a plausible weight; it showed when he got playing time against Rutgers. He ended up –3.8 at PFF and –1 in UFR. That and other scattered garbage time snaps were the whole of his season.
Ulizio was a late flier during Harbaugh's immediate post-hire scramble for warm bodies and didn't come in with a ton of accompanying optimism. Last year Lorenz did say he was a guy to "keep an eye on going forward" after a strong spring game last year. Afterwards it was largely radio silence until a couple weeks ago when Webb started talking him up as a guy getting first team snaps. Ulizio has been a total nonentity on this site since last year's preview; the only mention he drew was that mono thing in a UV segment.
Isaiah Hole had an article this summer noting his bounce back to a "noticeably bigger and noticeably thinner" weight somewhere in the vicinity of 300, and Drevno's response when asked to talk about Ulizio feels encouraging:
"Nolan is very physical ... He has very quick twitch with his hands.  He can put his hands on you very quickly and I just love the way he plays the game because it is all out.  He is trying to finish somebody, which is a great mentality to have as an offensive lineman."
247 just joined the "maybe Ulizio is happening" bandwagon, noting that a source says he "made a strong push during fall camp."
JBB is the most tackle-shaped vet [Fuller]
Redshirt junior JUWANN BUSHELL-BEATTY got his shot last year after Newsome went down. It didn't go well.
He came in halfway through the Wisconsin game, started against Rutgers, and was then booted from the lineup by the Braden-Bredeson switch. That was barely over 50 snaps, and in that time he picked up two illegal formation penalties for aligning too deep, a holding call, and was the only Michigan player to not humiliate the Cable Subscribers:
Bushell-Beatty gave up pressure on 17% of his opportunities?

More or less. That protection number is alarming and Bushell-Beatty's performance was most of it. Other starting OL gave up one hurry-type substance when Braden had some difficulty with a blitzer. Bushell-Beatty was beat clean twice. One time he managed to hold a bit and get away with it on a pass that Speight missed on. The second time he did get hit with the hold.
That's two ole blocks on just 15 pass protection snaps against Rutgers. I am really skeptical he can put it together and strongly prefer a move back to Cole at LT with Kugler coming in. Cole did struggle against top end rushers last year. He did not struggle against Rutgers.
He exited, with Michigan preferring Ben Bredeson's freshman errors. He re-emerged as a "tight end" a couple weeks later; I had him down for 4 protection minuses on two pass pro snaps against MSU:
…he completely blew a protection, as per Harbaugh in the postgame presser. He totally blew a blitz pickup on another snap as well. The sheer number of errors in scant playing time is simply too much for him to continue seeing the field.
And that was that.
Bushell-Beatty probably needed a big spring to stay in the conversation, but just a few practices into this year's session he came down with an injury that prevented him from competing and paved the way for Runyan's emergence.
While he's still drawing mention from the coaches and has fielded a fair amount of fall camp talk...
appear[s] to have turned it on this fall ... Bushell-Beatty's upside at RT is higher than Runyan's, but he has yet to put it together all the way.
...it would be a major upset if he managed to push his way through. Veteran players usually improve by increments, and Bushell-Beatty has to get a lot better, not a little, to see snaps. This is not a situation where fall camp chatter convinces me, because I have clips. Not that the chatter has been that encouraging anyway.
Filiaga and Stueber are "huge dudes" per Runyan
The other two guys Drevno asserted were part of the mix are true freshmen CHUCK FILIAGA [recruiting profile] and ANDREW STUEBER [recruiting profile]. They have what Runyan lacks: sheer size. Filiaga in particular is enormous, currently cracking the scales at 325 without looking sloppy. He had the biggest hands at the Army game and is widely regarded as an ideal physical specimen. Highlights from his recruiting post:
…a massive, physical offensive lineman… exceptional 6-foot-6, 335-pound frame and wears his weight well.
…outstanding combination of height and bulk on a big frame. … physical tools to protect the edge.
… will simply punish his opponent. While his size sticks out for obvious reason, his "motor" or "drive" is by far best feature
He got worked at the Army game by speed rushers and will have his rough points if forced onto the field this fall.
Even as a true freshman he brings more ground-and-pound upside than any of the other candidates, and that might give him the edge. He is the most physically imposing tackle on the roster. Both 247 and Scout reported that he is already pressing the starters. Per Webb, he's already the strongest option at RT and 100% physically ready. Lorenz had a bit of an odd update that "total beast" Filiaga was making his "biggest push" at both guard spots. Lorenz acknowledged that those spots seemed pretty locked down, and it's difficult to envision a Michigan OL where their best option is to play two of the competitors at RT. Maybe if there'd been any talk about Bredeson at tackle, but there hasn't been except for one tossed-off aside from Webb.
Filiaga talk has died down as camp progresses, portending a redshirt.
Stueber isn't quite as jumbo but is a bonafide left tackle candidate. He's closer to 6'7" than 6'6" and was an up-close camp offer. He isn't as powerful as Filiaga; he is more agile. He won four of five athleticism events at Michigan's Big Man camp when he got his offer, and he's likely underrated because of his state of origin, Connecticut. Lorenz has been high on him for a year-plus, and I'm guessing one source of that optimism is the coaching staff. Drevno:
"very athletic … possesses great initial quickness. We love his athleticism. He has a great frame and going to put the right kind of weight on … will play with great strength and can be a force for us."
He could be Taylor Lewan; he could be Ben Braden. Year one might be a little early for a guy who's still getting up to 300 and is experiencing a shocking rise in the level of competition. There's been some conflicting talk about how physically ready he is; 247 named him one of the freshmen who looked in the part… and then took that back a couple weeks later. He's had a "really good camp session," but talk has turned more towards his long-term potential.
until next year gents [Dave Nasternak/Isaiah Hole]
Two other true freshmen are hypothetically in the mix; since they're not drawing presser mentions it's safe to project redshirts for both. JARAYMOND HALL [recruiting profile] and JOEL HONIGFORD [recruiting profile] are both Frey-friendly OL types who need a year of weights and protein before they're thick enough to compete. Hall enrolled early but didn't generate much chatter, thanks in part to an injury of his own. Honigford is a farm boy and future mechanical engineer who is this site's Sleeper of the Year.
Michigan's also moved JAMES HUDSON [recruiting profile] here, at least temporarily. That could be taken as yet another sign it's panic time at right tackle, if you're the last man on Earth that needs one. Hudson did get talked up as an OT prospect early in his recruitment and has the requisite size, but an explosive 34-TFL senior season saw him shoot up the rankings as a DT prospect and OT talk receded.
The optimistic view of that move—DT is fine, let's see what happens—is the more likely to be true since things don't seem nearly dire enough at RT that Hudson would be expected to win a job immediately. So Michigan will redshirt him and see what happens.
Redshirt-junior-to-be GRANT NEWSOME had a terrifying injury midway through 2016 and is not expected to play this year. If he can make it back he was a promising sophomore starter a year ago. Lorenz reports that he's "making significant progress" and a happy ending is a strong possibility.
INTERIOR LINE: MY LARGE NOT QUITE ADULT SONS
RATING: 3.
Kugler is the last man standing from his 6 OL class [Patrick Barron]
Michigan is about to have a preposterously large interior OL, but they've got some seasoning ahead of them. With Runyan competing at tackle, fifth year senior PATRICK KUGLER [recruiting profile] is the only interior OL on the roster with more than one year on campus. Not coincidentally, he's the only player in a six-man OL recruiting class to even make it to year five.
And what Kugler possesses in longevity he lacks in actual on-field experience. His only non-garbage time snaps have come at guard when guys got dinged up the last couple years. One of those dings led to a start against Hawaii, where he was clean in pass pro and barely positive as a run blocker against a horrendous defense. Also I had him +3.5 in extended garbage time against Rutgers. That is the very definition of "necessary but not sufficient," I know. Too little data so I make big. 
I clipped three plays where Kugler did something of note: a –2 when he missed an assignment on the second level and a couple of +1s late in blowouts against dubiously motivated DTs.
There's barely more to go on than insider chatter, then. FWIW even last year there were reports he'd be "very capable," though the way the OL fell out after the Newsome injury rather brings that into question. Kugler could have been the pick at guard instead of a true freshman who looked far from ready. He was not, despite the fact that when the two split snaps during the opener this space thought he was "the clear choice." If Michigan was prepared to put up with the frequent mental errors Ben Bredeson threw up, the implication is he was flat-out better. It's unlikely that Kugler is going to have a Jake Rudock-style fifth year renaissance, and therefore Michigan fans should gird themselves for a gent who will aspire to average.
As far as new starters on the OL go that's not the worst thing in the world. Many OLs have been glued together by veteran tryhard centers. The fact that Kugler's fended of Cesar Ruiz thus far is more of a feather in his cap than "doesn't get beat out by true freshman C" would normally be; Kugler is likely to be functional, and only functional. If he's not, he won't last.
Bad... but relatively good? [Bryan Fuller]
True sophomore BEN BREDESON [recruiting profile] returns at left guard and has a death grip on the job, per every insider type. Also Harbaugh, who listed just Cole and Bredeson as "mainstays" a couple weeks ago.
Bredeson competed with Newsome through spring and fall before losing the left tackle job; with Braden dinged up to start the season he was moved back to guard and immediately saw playing time. This was not only a true freshman forced to play on the OL, but one who spent his offseason not even playing the spot he ended up getting some 500 snaps at.
Results were predictably dismal to start. He blew blitz pickups that the opponent had barely disguised. He'd get halfway through doing something and then suddenly change his mind:
He changes his mind in the middle of the play. That's Layman's Blocking Axiom #3: Never Change Your Mind Halfway Through A Play. If you're wrong, you're wrong. You might block someone relevant all the same. Football's weird. Turning around means you're not blocking anybody.
He'd take bad angles and get run around by DL, he'd run right by guys on zone plays, and so forth and so on. That was the opposite of surprising. True freshman OL get worked unless they're top-ten five star sorts. And even then they kind of get worked.
Bredeson flashed some things as the season went along but there was no rhyme or reason to his performances. He'd go up and down in UFR, alternating okay performances with ugly ones; PFF's rating's were just as jittery and rarely agreed with mine. His season ended with a thud, with three consecutive ugly performances against Indiana, OSU, and FSU. Even deep into the season he was running by guys he obviously needed to block:
He did have his moments. He had a solid day against Illinois—and here we should note that their DTs last year were mediocre, not terrible—during which he got movement that belied his years:
There were also hints that he was picking up some of the intricacies of football by popping guys who were someone else's poorly-executed job to give his RB a crease or successfully nerfing a stunt. By Maryland things were coming together a bit:
Bredeson had a couple of big mental errors that cost Michigan chunk run plays but was solid otherwise; Michigan ran successfully off the left side about as much as the right. … Braden and Bredeson repeatedly passed guys off to each other and various tight ends and the like; even with the usual level of freshman stuff from Bredeson this is going about as well as can be expected.
His pulls were quick and downhill; he was good at keeping tight to the guys to the inside of his gap and engaging on the defense's side of the line of scrimmage:
Bredeson looked very good when he knew what he was doing. Almost all of the errors above are Bredeson not knowing what to do well enough; few see him get wrecked by an older, more physically advanced opponent. He more or less paid off on the scouting reports from his recruitment:
He's very technically sound at this point in his development as a run blocker. He plays with good pad level and drives his feet on contact. His hand placement is good the majority of the time and he works to finish. … effort to sustain blocks is something that really stands out about his game.  … violent pop at the point of attack. … He moves well to get to the second level. Really does a great job engaging and driving linebackers.
A few times per game he'd draw a –2 for dorfing. When not dorfing he did look the part of an advanced freshman physically capable of fending off guys like Jaleel Johnson.
His pass protection was very good considering the circumstances. I got him for only occasional minuses, many of which were busted blitz pickups, and PFF had him essentially even on the year. He should emerge into a real positive in that department this year.
Bredeson will endeavor to leave his freshman year behind. His struggles were far from atypical, except insofar as they were less severe than those of your average 18-year-old. Per Pro Football Focus he coped much better than OSU freshman OG Michael Jordan, who was –16 through the regular season, and four-star Indiana freshman Coy Cronk, who was –25 11 games in. Bredeson was just –5, albeit in about 20% fewer snaps. By the standards of freshman OL Bredeson did well.
He will improve, and probably a great deal. Bredeson doesn't get talked about much, if at all, which is oddly encouraging—nobody talks about Cole, either. 247 said the left side was "performing up to the staff's expectations." It is comforting that nobody has, say, taken a flamethrower to him in a press conference. Not every sophomore can say that.
Bredeson should emerge into a solid Big Ten guard in year two. He'll be a B- player tracking rapidly upwards.
outstanding "why you lyin" face [Eric Upchurch]
The final starter here, MICHAEL ONWENU [recruiting profile], is what happens when Zuul asks a bunch of defensive linemen to choose the form of the destructor and one of them is Ray, only, like, into grapes.
WHAT DID YOU DO RAY [via Seth]
Maybe, anyway. Onwenu is a unique person, a normal-seeming 6'3" gentleman who is improbably dense. Even last year his roster weight was firmly in the realm of fiction. He was listed at 350; Ryan Glasgow asserted that was 25 pounds light. Bryan Mone, who knows his way around a pile of meat, thought he was even heavier:
"He's a big boy! Man, he's really quick for being 385. He has a fast first two steps. Just imagine -- if you dropped him down to 350, that would be scary."
A year later that is still Michigan's charge. Onwenu has been penciled in as the starting right guard almost since his arrival but that mark has remained stubbornly erasable because of Onwenu's size. There is a place at which the force Onwenu brings meets the endurance to play 80 snaps, and getting there has been a challenge. The coaches did some grumbling after spring.
Fast forward a few months and Onewnu's taking shirtless selfies…
#Reinforcement pic.twitter.com/cRi71rLjar

— Michael Onwenu (@_MXKEY) July 27, 2017
…and various persons related to MGoStaffers are taking wild hacks at his weight:
None of these people went over, but none made the Showcase Showdown. Onwenu is nowhere near even the top end of the terrible guesses above but neither is he 385 any longer. Per 24/7 Onwenu has "more than reached" the goal weight the staff set for him after spring, losing around 15 pounds and still headed for more. That might put him at 340, or 350, or 360. He is still "an immoveable object" even if he's better able to voluntarily relocate. Drevno:
"You've probably seen him walking around, he looks really good, he's really moving well ... he's understanding what it takes. He's really, really doing a great job, and he's really worked hard at it."
He's not 385; he's not slim, either:
"I've coached guys that have been 380-plus pounds, and you don't want to fixate on the weight because they'll start to fixate," Drevno said. "(A more important measurement would be) 'How well can you move at this particular weight?' and build from there."
Michigan is set to start him, because obviously.
We do have a little bit of data. Onwenu did see a fair number of garbage time snaps a year ago. He acquitted himself well in them. He was the key block on the your-name-is-Reek fullback trap against Rutgers and had sufficient awareness to pop off on a linebacker on yet another touchdown in that game. Against a more-competitive Hawaii squad he tended to win on sheer mass…
…but he also displayed some fancy feet to work around a DT on a Hill touchdown:
That popped up on a touchdown later in the season against Illinois. Onwenu is the right guard and this is a straight-up reach block:
The potential is there. Onwenu graded out at +3 in just 91 snaps to PFF a year ago; UFR had him +6.5 and +3.5 against Rutgers and Hawaii, respectively, in his most extensive outings. Sure, his average opposition was real bad. The things he could do were still impressive, and that was as a true freshman. He too has been more or less locked in since spring; 247 just related that he has "turned it on this fall."
Some refinement, a little bit more quickness, and the ability to get through a game without needing a grape juice IV and there's no plucky band of misfit scientists in the world stopping him. (Also, Rutgers: this is not a good pool of humans to draw your football team from.) Onwenu will suffer some of the slings and arrows of relative youth; he'll be more variable than Bredeson but will probably end up in the same B- range as he clobbers some folks and apologizes to Speight for some other folks.
BACKUPS
BEEFCAKE [Eric Upchurch]
Tick tock the youth don't stop. There are no upperclassmen here and the interior backup most likely to see the field is true freshman CESAR RUIZ [recruiting profile]. Ruiz is not your average true freshman after two years playing center at IMG Academy. Most D-I linemen are shoved out to LT for obvious reasons even if they're fated for a college career on the interior; Ruiz not only got to play his college position but fought some of the top DL prospects in the country day-in, day-out in practice. This was very good for him and, eventually, for Michigan. His coach at IMG:
…he's made to play center. I don't remember the kid ever having a bad snap. … He's got the right mentality and the perfect personality for the position. … He's a real student of the game and then he has the physical skills to go with it. … He's been making line calls and he can really step and snap. … Most guys we bring in we try to cross train them as guard-centers but we didn't really do it much with him because he was just the ultimate center and we knew he'd be there.
Ruiz dominated his opposition at the Opening ("looked like a total star… dominant … only lost a couple reps the entire weekend") and the UA game ("shined … displayed impressive extension and solid power"), enrolled early, and started generating college-level hype soon thereafter:
Your author received a report that "the Ruiz hype is real" and that "people expect him to push his way into the starting lineup sooner or later." Webb singled out Ruiz and DPJ when asked about early enrollees standing out; Lorenz reported back that Ruiz is "college ready" and a potential four-year starter.
This fall Drevno asserted he's been "really outstanding" and "does a really nice job when we're teaching concepts"; insider folks swearing up and down that he left side of the line is set but C and RG are still in question are essentially asserting that Ruiz might be too good not to play this year. Kugler appears to be holding him off, but barely. He appears to be the rare freshman OL who would not be a total disaster if he got on the field. This is quite a statement from Cole:
"Cesar's going to be a really good ballplayer.  … He knows the game inside and out, better than I did as a freshman. Probably better than most kids do as freshmen, and I think that's what sets him apart."
Even if he doesn't start he will almost certainly play, whether that's in garbage time, as a guy who can give Onwenu a breather, or because of injury. He's as holy a lock to start at center next year as any untested redshirt freshman can be.
Spanellis twitter game on point. Vastardis a walk-on to know [Fuller]
The other candidates on the interior do have a modicum of experience. Redshirt freshmen STEPHEN SPANELLIS [recruiting profile] and ANDREW VASTARDIS, a walk-on, were on the second unit with Ruiz at the spring game, and acquitted themselves well. Part of that was the fact that Michigan's backup DTs were a couple of converted DEs and a walk-on, but at least there was no question who won a battle the OL definitely should have won.
Spanellis is not quite in Onwenu's class but is nonetheless a very huge dude, one listed at 335 on last year's roster. Harbaugh praised him as the team's top student after Michael Jocz's departure before touching on his progress:
"He's also really reshaping his body, he's really coming around. One of those guys who is going from year one to year two. … Did some really good things this spring."
247 just related that folks inside the program say "he has a future"; after spring Lorenz related that a current player believe he's "probably the strongest player on the team" and that it's "hard not to envision him as a starter at some point."
He'll always be a fascinating guy to follow because Michigan more or less straight up traded Erik Swenson for him. Another year in the oven is mandatory before we see what Harbaugh OL yeast have wrought and yes that was a metaphor that should never have seen the light of day.
Vastardis, meanwhile, was a walk-on to keep an eye on last year and so far he's tracking well, making the two-deep and producing in spring. There hasn't been a lot of talk about him of late; Ruiz is sucking up the already-scanty interior OL oxygen. He did have a brief moment in the sun after the spring game. Lorenz:
Ace Anbender at MGoBlog picked out former PWO Andrew Vastardis as a guy who stood out today and I'm inclined to agree. Vastardis was one of three or four PWOs last cycle the staff believed would, not could, be a difference maker sooner rather than later. He's not going to start this season, but he was a good indicator that a lot of guys have improved this off-season.
Yours truly:
Vastardis looks on another level from Myers and Marshall, necessary but not sufficient for PT.

— mgoblog (@mgoblog) April 15, 2017
Nobody's really talked about him this fall; next year will be the test to see whether he's got the chops for the major college level of competition.
That concludes declared guards. One or two of the four tackles Michigan brought in this year will slide to the interior eventually. Smart money is on Hall and Filiaga for those moves. Also DT Phil Paea may be in for a move to OL as well, but that hasn't been announced yet.