Preview 2017: Defensive Tackle
Previously: Podcast 9.0A. Podcast 9.0B. Podcast 9.0C. The Story. Quarterback. Running Back. Wide Receiver. Tight End And Friends. Offensive Line. Defensive End.
in ur base [Eric Upchurch]
  Depth Chart

| STRONG DE | Yr. | NOSE TACKLE | Yr. | 3-TECH | Yr. | WEAK DE | Yr. |
| --- | --- | --- | --- | --- | --- | --- | --- |
| Rashan Gary | So. | Bryan Mone | Jr.* | Maurice Hurst | Sr.* | Chase Winovich | Jr.* |
| Carlo Kemp | Fr.* | Aubrey Solomon | Fr. | Mike Dwumfour | Fr.* | Luiji Vilain | Fr. |
| Ron Johnson | Fr.* | James Hudson | Fr. | Donovan Jeter | Fr. | Kwity Paye | Fr. |
Here too the departures don't really start to bite until you dig down into backup snaps. Mo Hurst was the best interior DL on the team last year and one of the best in the nation despite being a very nominal backup; Bryan Mone was productive late and as a fourth-year player with plenty of recruiting and post-recruiting hype he projects as an above-average starter.
Backup snaps do happen, especially when your starting nose is a mountain, and those are all going to freshmen. The right kind of freshmen, at least.
NOSE TACKLE: TONGAAAAAAAAA
Rating: 4
splat [Upchurch]
Now is the time for BRYAN MONE [recruiting profile] after two injury-hampered years. He missed the entirety of 2015 and went down in the opener last year. While he did return, he saw scanty snaps behind ironman Ryan Glasgow. When he did get in his play was indifferent for much of the season.
This was quite a comedown. Mone was famously—or infamously, depending on how this year goes—named one of Michigan's best three players at the dawn of Harbaugh's first season by the man himself:
"He was one of our top players last year. We ranked the team going into training camp from one to 125 and Mone was three."
That's a great googly moogly right there. At the time it would have been totally rad if Mone was one of Michigan's three best defensive linemen, let alone players. Mone was so hyped up that last year's edition of this post had a fusty paragraph about how you should stop bothering the author when he projects Ryan Freakin' Glasgow as the starting NT.
One thing is for certain: Mone is a tank. Here's the starting DL:
Gary says he's 288, and Hurst is probably pushing 300. Mone has 30 pounds on those guys—maybe more. That could be good; it could be bad. It's probably fine. Last year he told Scout that he was 330 when he was hewed down the first time, i.e. at maximum hype volume. He can play at that weight. He probably can't play as much as Glasgow, though, and given Michigan's depth that's a little concerning. Michigan's saving grace may be the fact that if an opponent wants to test Mone's endurance first they'll have to stay on the field.
As befits a tank, when Mone got on the field he did one thing consistently: clobber single blocking backwards. He did it early, against Hawaii, midway through, against Rutgers, and late, against Ohio State. He personally kicked OSU off the field on a second-quarter drive, first shedding a block from freshman Michael Jordan to set up a third and short:
And then whoopin' Isaiah Prince to force a punt:
He returned to the bench soon after that because Glasgow was still around; he'd made his point. A healthy Bryan Mone is going to pick up opposing offensive linemen and dump them in someone's lap.
With the talent around him Mone's main job is to demand double teams. Early returns are positive there, obviously. Mone demonstrated his clobbering last last year and when Michigan provided a glimpse into this year's version of the Oklahoma drill he did it again:
he's battling Cesar Ruiz FWIW
Yeah, the running back went around the carnage; Greg Mattison doesn't care one bit about that, as his reaction to Mone's bulldozer approach demonstrates. If Mone deposits an interior OL yards in the backfield the linebackers will clean up for him.
He's not Glasgow. He's not going to be much of a pass rusher—he pretty much does the same bull rush thing no matter what—and he's not going to force the QB to pitch on speed option. That doesn't mean he can't be effective in his own way. Mone is in fact perfect for this DL, which is stacked with one-gap pass rush terrors already and could use a beef machine.
Mone needs to draw and then stand up to doubles; his ability to do so is still somewhat in question. Mone got blown out some last year. Sometimes he was not:
Mone is the player just below the box, not the player in the box
How much the injury was responsible for that, and how much Michigan can expect him to improve at full health, is unknown. FWIW Webb asserted Mone was "never 100% last year and it showed."
Fall chatter has been positive, thought not incessant. Webb:
Bryan Mone is looking like the pre-injury Mone… He not just a space eater. Right now he is making plays.
"I've just seen a lot of really great things out of Bryan Mone. I've seen power, I've seen quickness, and I've seen speed. I think I have seen what Michigan fans had hoped to see for a couple of years now."
Hurst told the media that Mone is "by far one of the best nose tackles I've seen play" at Michigan. He's been locked in as a starter just like everyone else, and radio silence there is just fine.
Mone certainly has the attitude necessary. When they asked him where he was playing a year ago he answered enthusiastically:
"Strictly nose, baby! I enjoy playing nose. It's the gutter! You've got to play like you're in the gutter. Really me and Glasgow started that. We call each other 'the gutter boys.' That's our motto: play like we're in the gutter."
The injuries are the only thing that's holding up the hype train here. Mone did play well late in the season against some high-end teams; he's got plenty of time in the program and the recruiting hype to expect a high ceiling. If he's not at least decent it'll be a major upset. He'll probably be better than that. He's not going to get any of the glory except in the nitty gritty numbers from PFF and this here site because everyone else will be racking up TFLs; he should be one of the better nose tackles in the Big Ten.
[After the JUMP: Mostly freshmen; also one 300-pound jetpack person.]
BACKUPS
a happy ending to the weirdest story
There is almost literally zero experience behind Mone. There is a hell of a lot of hype. Five-star freshman AUBREY SOLOMON [recruiting profile] didn't escape the south, and give us one of the weirdest recruiting sagas in history, to sit. Ben Bredeson has been made aware of this fact:
@AubreySolomon91 Competing! pic.twitter.com/RDcW24lZ0r

— Aaron Bills (@AaronBDesigns) August 6, 2017
No wonder then that fall chatter has been exactly what you want to hear if you're all but forced to play a freshman nose tackle for a bunch of snaps. It's "pretty clear" he's going to be a factor per Webb; Gary described him as "a beast" and told the assembled media that he has the temerity to wake Gary up if he doesn't get something in the playbook; Hurst asserted he's "been really impressive" and will help "right away." Mattison told Webb that "you're going to see some great things from him" and "he's going to be an outstanding player"; 247 asserted that Solomon and Kemp were clearly the two top reserve DL right now. The proverbial light is on.
All of the above is encouraging and critical. Mone does not project to be an ironman. Other than maybe Mike Dwumfour there's nobody on the roster who's even a little nose-shaped except Solomon's fellow freshmen. Michigan needs him to hit, and hit immediately.
Survey says... for some definition of "hit," sure. Solomon blew up his senior year because he was able to get healthy and slim down into a five star version of Ryan Glasgow. Just like Rashan Gary is a version of Wormley with an absurd edge-rush add-on pack, Solomon is a version of Glasgow who can beef up as a two-gap NT if the situation calls for it. From the recruiting profile:
His coach had a line down pat when asked about his protege: "there are not many guys like him who have his size but also the flexibility, explosiveness, and most importantly, the ability to play with leverage."

A version of that line hit three different sites, and was not contradicted by any of the scouts. 24/7 praised his "twitchy first step and natural strength"; Mike Farrell described him as a "gap-shooting athletic DT"; Sam Webb saw him in person and reported back that he was "a load" for anyone to take on one-on-one and that he "could excel as both a one-gap pas rusher or a two-gap nose"; Rivals called him a "big body that can move and create problems as a pass rusher as well as stop the run."
There will be an adaptation period. It will mostly be the same stuff that afflicted Gary a year ago: going the wrong way on a slant, not getting a particular call, not having the playbook downloaded into your brain. Physically, Solomon is in approximately the same ballpark as freshman Gary and should be able to cope in 20-40% of Michigan's meaningful snaps.
This is not ideal, but the universe where Solomon's recruitment is slightly less weird and he ends up in the SEC is much, much less so.
ask again next year [Blade/dunno]
The exact positional dispositions of the other DTs on the roster remains unknown. If Michigan needs a third nose tackle it's almost certainly MIKE DWUMFOUR, who's addressed in the next section because he might be the #2 three-tech.
This preview is going to toss JAMES HUDSON [recruiting profile] into the nose tackle bin since he's the beefiest of the freshmen aside from Solomon. Lorenz relayed that Hudson was one of the freshmen who showed up this summer looking like he was ready to go; Webb asserted that Jeter was probably ahead of him, which is another reason we're sticking Hudson here.
A third: Hudson is taking a test drive on offense. Long term this is fine. A number of scouts thought he had excellent potential at OT early in his recruitment. That drumbeat faded once he turned in a stellar senior year on defense but that didn't make him a different shape. Might as well take a look.
Short-term a look on offense torpedoes his shot at early playing time. It also signals that Michigan is relatively content with their options at DT behind the starters.
Finally, freshman PHIL PAEA [recruiting profile] is one of the lesser lights of this year's crop largely because of his location—tiny Berrien Springs, Michigan. He's a super raw two-way lineman who does the weird football thing well...
…ability to get out of his stance and fire off the ball make him a dominant athlete in the trenches. He's got the knee-bend and fluid movements you like to see from big lineman. He generates good power from his legs and hips. … comes out of his stance with good bend, pad level, and explosion into his opponent.
...and is a lock to redshirt. Check in next spring to see if he's got a definite position and any talk coming his way. Mattison did say he's been "showing signs" that he's "going to be a good player someday." As far as this edition of the preview is concerned, "someday" is the operative word in that phrase.
THREE-TECH: ONE MORE TIME WE'RE GONNA LOOK AND GO YAY
Rating: 5
GET IN MAH BELLY [Eric Upchurch]
I'm confident you could go back to the very dawn of Michigan football and not find a "backup" defensive tackle better than Maurice Hurst. Hurst was ceremonially behind Matt Godin a year ago, but it was Hurst who had a very serious NFL draft decision to make, not Godin. Now that he's decided on one more run in Ann Arbor you can't poke an NFL draft analyst without hearing that he's the top senior DT in the country and a potential top ten pick. You can't poke PFF without someone shouting "I LOVE MAURICE HURST AND HATE PUNTERS" at you. And you can't poke this section of the preview without getting this Friendship Is Magic-ass quote for the fifth and unfortunately last time:
"I think probably the first indication to me was my defensive coordinator Al Fornaro said, 'You've got to see this guy come off the ball.' I looked and went yay."
Mo Hurst's high school coach was the first (probably) cigar-chomping hardass to be reduced to a ChuChu TV character in the presence of the trademark Hurst burst; he was far from the last.
The problem with Hurst is trying to figure out which of the insanely explosive things he does have to hit the cutting room floor. It is a slightly less ancient tradition when talking about Mo Hurst to start it by simply embedding the more ridiculous things he did. This one made it:
So did this one:
And this one made it over from his sophomore year:
And now we're out of room for random clips if this preview is getting done before week three. Oh fine one more:
Hurst had a bust-out sophomore year that saw him pick up a whopping +38 mark on PFF, which started ranking him as a future first round pick and top 30 player in CFB afterwards. This is because Hurst's productivity is unmatched nationally:
His 34 total pressures in 173 pass-rush reps last season ranks him first in pass-rush productivity among 2017 defensive tackles, and his 18 run stops on 155 run downs ranks him eighth in run-stop percentage within the same group.
His recruiting profile was one of the most accurate in the genre, as the industry collectively labeled him an incredible first step looking for a body worthy of propelling. Hurst did so, emphatically. Webb talks to JT Rogan:
"There's been several occasions where we've been in the shotgun and right at the point where the ball was snapped, he could've back there in the quarterback's lap and received the ball himself. His get-off is amazing."
Hurst's explosion allowed him to consistently disrupt gap-blocked plays away from him, which is extraordinarily tough to do. I usually don't bother evaluating  backside DL in these situations. Hurst demands your attention all the same:
That is not supposed to happen even if you are really good. Hurst goes from zero to 60 faster than any 300 pound man has a right to. Sometimes that means he slices through the line before anyone can get in his way; sometimes it means the poor bastard who managed to do so gets his butt delivered to the ballcarrier.
Hurst's main weakness two years ago was a tendency to rush straight upfield against outside zone teams. He got repeatedly reached in that barn-burner of an Indiana game because he was exploding directly upfield. He did better last year, but that tendency did not entirely evaporate. Indiana, naturally, was the best at testing him:
That is not a weakness that Hurst can entirely wipe out without losing much of his essential Hurst-ness. His penetration necessarily carries with it an element of risk. He's been trapped here and there, and outside zone does continue to pose some problems. Michigan will gladly make that tradeoff for the chaos he causes.
Hurst's also not great at holding up to doubles, or at least he wasn't as a sophomore. Teams barely attempted to double him a year ago because he was surrounded targets who were about as high priority. He did okay on the rare occasions an opponent tried:
He is not Mone and there might be a few runs this year that have a crease because Hurst couldn't hold his ground. Here ceases all possible criticisms.
Hurst has played like an All-American for the last two years and will continue doing so; with significantly increased snaps his per-play rate might drop as he has more snaps where he's tired. He'll still be the most explosive three-tech in the country and the best interior pass rusher before he sets sail for the first round of the draft.
BACKUPS
Nobody other than Hurst has much, or any, experience. There's enough depth and positive talk here that someone's likely to be a functional backup. One of the three gentlemen below is going to be a critical second-string option, a second is going to get some meaningful snaps as he strives with the first guy, and the third is going to be waiting for next year. Who's who is anyone's guess.
Dwumfour is not just a Gary sidekick [Aaron Bills]
Redshirt freshman MIKE DWUMFOUR [recruiting profile] got a few snaps very early before injury hewed him down; he was unavailable for the spring game. Information on him is limited to his recruiting profile and insider chatter.
That recruiting profile is amongst the most modest in the Harbaugh era. Dwumfour was a generic three star with a four-digit ranking on 24/7 who a lot of people though was only around to help secure Rashan Gary's signature. Dwumfour drew a Mo Hurst YMRMFSPA because he was a 6'2", 280-pound three tech who drew the most praise for his first step…
I like how sudden he is off the ball for a player that's around 300 pounds. He's got the ability to shoot the gap between the center and the guard and penetrate the pocket. Dwumfour has the quickness to play the outside shade of the center or the inside shade of the guard and not just a nose-tackle.
…but nobody really knew what to make of him.
A Penn State commitment was the main argument in his favor, since Penn State has had some Hoke-level whodat finds on the DL over the past few years. That and some other guys:
…the best argument in Dwumfour's favor is the set of defensive coaches who wanted him. Boston College was an early contender; Dwumfour initially decided between Pitt and Penn State. That's Don Brown, Pat Narduzzi, PSU's outstanding DL coach Sean Spencer, and Don Brown again—not bad.
A year in Dwumfour remains nearly as mysterious but the overall vibe is much better. So far it sounds like he's a point for "trust the coaches, as long as they are Sean Spencer, Greg Mattison, and Pat Narduzzi."
A few months back when we talked with someone close to the team about up and coming youngsters, Dwumfour was brought up first and foremost. That talk has been reinforced since. Sam Webb relays that Dwumfour is the talk of the defensive line's next generation, Non-Gary division. Because you may remember him from such players as:
The same explosive get-off [as Hurst], but with a bigger frame. His teammates love his athleticism and think he has definite future pro potential.
Mattison said more or less the same thing. Hurst himself joined the party:
"Mike's been great. He's one guy who's really stood out during summer and spring. He's someone who's always been athletically talented and I think he'll be someone who will really be able to help us this upcoming season."
And, somewhat miraculously I got a Dwumfour clip where he looks maybe a little Hurst-like if you squint and fast forward a couple years:
So we'll go with that, I guess?
There's been enough unprompted positive talk about Dwumfour to expect that he'll be decent this year and has significant potential going forward. The next two guys have a shot; he's the favorite to be 3-tech #2. He may also be in line for nose tackle snaps since neither of the next two guys is likely to be able to hack them.
[Eric Upchurch]
Second up is true freshman DONOVAN JETER [recruiting profile]. Jeter enrolled early and had a productive spring. Even before that he was your favorite recruit in this class because of his killer Harbaugh stories...
"I got in the van and was like 'you know what coach? You're my guy, I'm going to commit tonight. He pulls the van over, jumps out and gives me a big hug. In the morning I kind of forgot that I committed and he ran up to me and gave me a big hug and was like 'I'm glad to have you aboard.' Then I thought 'oh yeah, I committed.' So, I had to go run and tell my parents."

"Not too many head coaches would go out at 12 in the morning and pick up recruits."
...and his tendency to bomb Notre Dame, where he was once committed, as he told them.
Jeter became a big-deal recruit by slashing 50 pounds off his 300-pound body before his senior year. After that he started building himself back up the right way, and the scouting reports flipped from relatively tepid space-eater takes to something considerably more exciting:
…a combination of size, strength, uncommonly great feet for such a big man, and an active, physical defensive end who can slide to a three-technique when the situation dictates. …He's gone from a guy uncertain in his three-point stance with an average first step to a locked-and-loaded, quick-off-the-snap, get-up-the-field big end with a fast-running motor. He runs very well in the open field for such a big man. He has great not good feet in short space.
Yes, that does sound like Mo Hurst. No, not everyone can be Mo Hurst, not even people who really sound like him. Having two shots at 2.0 is better than one, and Jeter is another shot.
Spring and fall have only enhanced his reputation. He was one of those guys who get brought up in the answers to open-ended questions about young guys stepping up:
"Donovan Jeter has showed some things. He's showed us that he can do some things. I think those are the ... guys, really, that kind of have stepped forward at times. Now we've got to bring some of the other guys along."
After the spring game Brown called him a "very, very interesting guy":
"Jeter played very well out there in a limited role, and you never know how that's going to go when you first go, but he really exceeded expectations of mine today."
At the time he was competing for snaps behind Gary at SDE; Kemp's emergence and Jeter's ability to bulk up in a hurry quickly saw him move to the three-tech spot he was always destined for.
Jeter's continued to draw encouraging talk through fall. Per Webb he's has already beefed up to 290 and has "really come"; Lorenz says "don't sleep" on him as a year-one contributor since he's "in great shape" and had an excellent camp. Michigan expects him to be somewhere in the rotation... but after all that he's likely to settle in as a third-stringer in year one, and even at DT that means sparing snaps.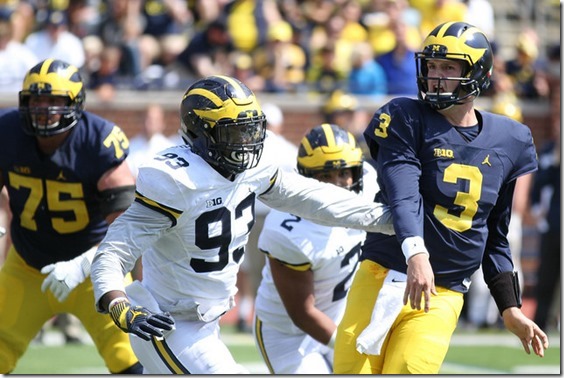 [Eric Upchurch]
Finally, redshirt junior LAWRENCE MARSHALL [recruiting profile] has suffered one too many moves for anyone to be optimistic about his shot. He enrolled as a WDE, moved to SDE, and is now playing at three-tech. He got virtually no snaps a year ago and the world went radio silent on him until a week or two ago. The latter is more relevant than the former since there's no shame in getting stuck behind last year's DL.
Hopes for Marshall rather fled during the spring game when he was part of the backup trio at DT along with Carl Myers and Ron Johnson. Those guys got worked by the backup interior line. Myers is a walk-on and Johnson went back to DE; Marshall didn't have those mitigating factors.
That and falling behind two freshmen in the talk department looked like the end of the road, and then Mattison popped up saying he was finally up to 290 and was about to push for a rotation spot:
"I hate saying this because you jinx them sometimes… I've been waiting for this for three years… Lawrence Marshall has had a very, very good camp. ...he's a lot stronger, his weight is up where it should be to play in there, and I think he's bought totally in. Let's be real honest… he's always been a guy that has played a little bit, and now I think he's bought in."
Marshall was dogged by rumors—check that, public statements from the coaches and Marshall himself—that he had a certain lack of maturity and dedication. If he's finally addressed those there is an obvious opportunity to play. A few weeks back Harbaugh brought up Marshall amongst the chasers on the DL, and it sounds like the coaching staff is rooting for him:
"Pull hard for a guy like Lawrence Marshall. This weekend'll be big for him. Getting to where he can cement a spot."
Projecting what Marshall might play like four years and 60 pounds after he was a touted recruit is an exercise in futility. Hopefully for his sake and Michigan's interior line depth the talk is real. The Hudson move suggests it might be.