Preview 2017: Cornerback
Previously: Podcast 9.0A. Podcast 9.0B. Podcast 9.0C. The Story. Quarterback. Running Back. Wide Receiver. Tight End And Friends. Offensive Line. Defensive End. Defensive Tackle. Linebacker.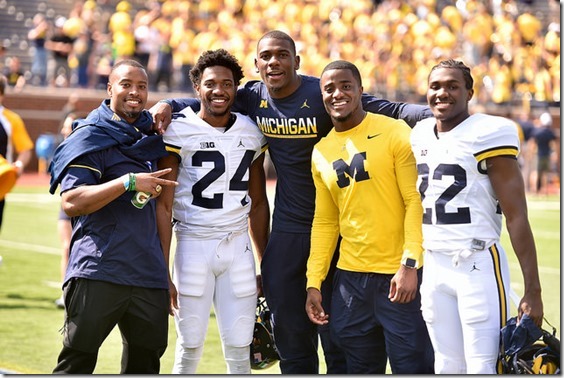 osmosis for the win please [Bryan Fuller]
Depth Chart
| Boundary Corner | Yr. | Field Corner | Yr. | Nickelback | Yr. |
| --- | --- | --- | --- | --- | --- |
| David Long | Fr.* | LaVert Hill | So. | Brandon Watson | Jr.* |
| Ambry Thomas | Fr. | Brandon Watson | Jr.* | Ambry Thomas | Fr. |
| Drake Harris | Jr.* | Benjamin St Juste | Fr. | Jaylen Kelly-Powell | Fr. |
This spot has gotten steadily wobblier as the offseason has worn on. Talk of an open competition went from fanciful to deadly serious. Coaches made grumbling noises about player availability. One of Michigan's only experienced wide receivers was added to the mix after spring practice. The ideal scenario where Long and Hill are second year players just like sophomore  Jourdan Lewis seems unlikely at the moment.
Things probably shouldn't be bad. If you're not a little nervous you're braver than this preview. There is a distinct whiff of job-by-default here. If the two highly-touted second-year players aren't up to it the alternatives are either true freshmen, a couple of modest recruits with little on-field track record, and a guy who flipped from WR in spring.
But it'll probably be fine? Maybe?
CORNERBACK
RATING: 3.
[Fuller]
The #1 spot here was an open question even after the insiders had several cracks at making projections. Then Mike Zordich evacuated LAVERT HILL [recruiting profile] prior to the Dresden portion of his recent press conference. Nobody can accuse Zordich of being a coachspeak robot after this:
How are those young corners coming along?

"Not fast enough." [/laughs] "Not fast enough. They show flashes. I'll say this: Lavert has, since his injury, he's been pretty consistent and you can see him increasing every day and getting better. ...

So Lavert's responded to whatever challenge you—

"He has. He absolutely has. He came back. He didn't practice much in the spring. We were very disappointed about that and we expressed that with him. This summer he really worked hard, then unfortunately he gets injured. But he came back and just picked up and the arrow's going up. The arrow's going up. Can't say that about the rest of the guys."
In a way this might be good news? Seriously? Zordich clearly wasn't around to spare anyone's feelings and he was fairly enthusiastic about Hill, who entered as a massive wildcard. If he's putting it together enough to spare himself from a coach on the warpath... I might take that and run. One wonky spot is easier to fill if you have a bonafide War Daddy who can man up an X receiver aligned away from trips.
Hill can be that guy. He is a high ceiling, low floor gentleman. During high school he was either in Lewis-level coverage or watching a long touchdown from the next county. Current Belleville head coach Jermaine Crowell, who was at one time the position coach for both Hill and Lewis, laid it down:
"Vert is more athletic than JD [ed: Lewis's nickname]. He's faster than JD ... His vertical is better. But JD has always had that edge, he doesn't care who you are, he's coming at you. JD will line up against a seventh grader and treat him like he's the best receiver in college.

"Lavert might not necessarily do that. He rises to the challenge. He wants to go against the best of the best to prove himself. You have to be more consistent. Once his consistency gets there he's going to be unreal."
That take has been spot on so far, with Hill reports alternating between marvels at his "hip pocket coverage" and worries about his compete level. Webb cited an anonymous rival coach comparing Hill to Ambry Thomas:
"If Vert had Ambry's intensity he'd be the #1 corner in the country. Hands down."
Elsewhere in that post is an assertion from another Detroit-area high school coach that Hill, not Lewis, not Thomas, not Desmond King, is the "most talented corner in recent memory to come out of the city." Janus looks both ways. The duality of man, man.
In limited time last year (about 60 snaps) Hill came out at essentially zero to PFF; he was not frequently mentioned in UFR. He did have a couple moments where the incessant Lewis comparisons seemed pretty on point:
He had a couple of similar plays in garbage time; in the bowl game he was in good position and got hit with a dubious PI flag after mutual handfighting between DB and WR:
This is largely encouraging. When Hill was targeted he was in a good spot and able to make a play on the ball. Pass interference savvy can be developed. Being close enough to need it is a good start.
But inconsistency has continued to dog Hill, at least until recently. After spring practice the coaches were openly frustrated with his tendency to take a knock and then miss reps. Zordich:
"Lavert is a natural at it. LaVert has got to get better at finishing, straining, more effort, but talent – he has it. He just has to make up his mind on how he wants this to roll."
Similar grumbles persisted through the first half of fall camp, and then they cleared like smoke. Webb started talking him up a few days before Zordich confirmed Hill's rise to the world at large, saying he is the lone "fixture with the first group" and that he "stepped up his game significantly"; Rivals reported that Hill has "finally stepped up, big time."
Webb has also asserted that Michigan trusted Hill covering the slots last year and might be the guy sliding inside when Michigan goes to a dime package. That opens up the sixth DB spot to any of the competitors and is a valuable thing in one of your corners. It's also a Lewis comparison point.
Hill could be anything from sophomore Jourdan Lewis...
...who was already an All Big Ten guy at that point in his career, or he could be a version of Jourdan Lewis who gets lost way too much and sees a bunch of TDs go over his head. Finding out will be fun! Or possibly not fun!
[After THE JUMP: lock no longer]
[Fuller]
This preview projects that Hill's running mate will be redshirt freshman DAVID LONG [recruiting profile], and has been saying so for a year. Last year's edition of this post:
In year two he will be starter-quality and on a stardom track. Dude is a lock, a lock, a lock.
Apparently not so much? Long was not excepted from the Zordich press conference and has been unable to separate from his challengers for the duration of fall. No offense to those challengers but that's not a great sign. Brandon Watson's been iffy so far and the other options are either new to college or defense. A highly touted second year player still on a stardom track should be dusting those guys.
The hope is that Zordich was mildly peeved and executing a motivational gambit in public and that Long has some wobbles to smooth out but is only a little behind where he'd be in an ideal world. That might be the case. Long was one of the players who did not go on the Rome trip, and he was amongst the accused this spring when coaches grumbled about cornerbacks sitting out with minor dings. He may have been in for a wakeup call kind of fall. Webb reported that post-bombing, Long had an outstanding practice:
"...sticky in coverage all practice. He appears to be rising to the challenge issued by Mike Zordich earlier this week."
He's repeatedly mentioned that he is getting reps with the ones, in a way that emphatically does not invite you to read between the lines. And yet: the lines, we read between them.
Long still has the physical ability that made him such a lock as a high school recruit, and per Isaiah Hole the Rome absence wasn't a trend. He's indeed the kind of guy Harbaugh wanted to sell on being an "ambassador" for the program:
...spent a lot of time practicing while in Ann Arbor. Whether it be with the 1s, the 2s or even at nickel, Long got in as many reps as he could. "He was everywhere," one source had told Wolverine247 this summer.
Long still has the most recruiting hype of any veteran on the roster and likely has six games before he encounters a dangerous passing offense, so hopefully he'll consolidate the job by midseason and resume being a lock. We can put this behind us.
BACKUPS
Keith Washington's abrupt departure is unfortunate since he looked like a plausible option during the spring game and anything resembling that is an important piece for a secondary that lost its top five contributors from a year ago.
catch and tackle has been the prescription [Patrick Barron]
In his absence there is just one corner on the roster with even a lick of experience on defense: BRANDON WATSON. Watson enters year four as a contributor and seems destined to remain just that. At his best he will press you like Juicero:
THAT'LL BE SIX MILLION DOLLARS WOO STARTUP JOKEZ
This is all he did in high school; an early move to safety was alarming for his long-term upside. A press corner who gets moved to the back end kind of feels like a guy who doesn't have the athletic package to cope.
After returning to corner Watson settled in as a nickel guy. He would have played about zero meaningful snaps last year if not for Jeremy Clark's torn ACL; as it was he got just over 100. He was bleah in those snaps, mostly drawing UFR mention because he'd tackled immediately after someone caught an uncontested slant. Or not tackled.
PFF had him –2.5 on those snaps, which feels about right.
Watson might have a role as a nickel corner who comes in to play on the outside as (probably) Hill moves inside. At this point it feels like if he starts over Long that's not great. Watson's topping out as a guy who is trying to survive. Fall chatter has mostly mentioned him in various groups of defensive backs vying for a starting job; he's gotten some time with the top unit, but it sounds like everyone except St Juste has by now.
Recruiting rankings aren't everything but they're something, and they have the most fidelity at spots where you either have the raw athleticism or you don't. CB is the most athleticism-dependent spot on a football team, and Watson was a middling recruit immediately moved to safety upon enrollment. He's not likely to have much upside left to explore.
well, let's try this [Seth/Barron]
If Watson's the boring, almost-certainly-mediocre option, DRAKE HARRIS is a swing for the Richard Sherman fences. For a minute there it looked like Harris had emerged from the balky hamstring woods that claimed three years of his career and was set to start delivering on his considerable recruiting hype. Michigan started putting him in the slot and bombing it at him deep; he was consistently open and just as consistently missed. When Speight did put it on him he got nailed with an iffy offensive pass interference call:
This was as expected. Mothers, don't name your kids "Drake," because they'll have weird limbs and floppy ligaments and get run over by forklifts and get hit by iffy OPI calls.
Anyway. The move to corner was and is weird. It's less weird now that wide receiver seems impossibly stacked, if young. It's still a little weird. Harris is the sort of beanpole it's hard to see being an effective tackler, and he's never seemed like a quick-twitch kind of direction change specialist. But I guess Sherman made it work.
Early returns aren't great for Harris. There was an initial burst of optimism about Harris's move that's faded. Don Brown at the beginning of fall camp:
"Drake Harris had a nice interception yesterday. I love those guys, when they put their hands out, and they're nice and long, and then he goes up and high-points the ball -- it's fun to see. Hopefully he'll continue to take steps, move forward, learn the concept and play fast -- because that's the biggest piece.
As Brown is wont to do he was bluntly honest about the downsides, though:
"'Okay, I know the concept,' but it's like mud. Stammering around. It's no quick twitch, move forward, make adjustments, technique and fundamentals, play fast, all those things."
Webb discussed him in depth and even after a bunch of flashy picks in practice the word from within the program was that "technique wise he is still a work in progress" and that he was not going to surge into a starting role and solve all of Michigan's problems.
He does still retain the excellent length, leaping, and ball skills that once made him a coveted wide receiver recruit, and these are not inconsiderable assets. Like Watson he's best deployed as an extra DB on passing downs, where his certain deficiencies against the run will be irrelevant and he can give up underneath stuff and tackle (probably) while daring folks to try fades on him.
[Patrick Barron]
Sophomore NATE JOHNSON [recruiting profile] just got moved from slot after Washington's departure. He had the only truly weird burned redshirt last year as he played in games that he could not possibly move the needle in; this year he looks set to return punts and, apparently, try to learn various corner things. He's got a decent shot given his recruiting profile:
…one of the best route-runners in the country, has great hands, fantastic body control and he has a much bigger catch radius than his 5-11 size would suggest. … reminds me some of Christian Kirk down at Texas A&M.
That's a good start towards being a corner. It's not nearly enough to expect he can play mere weeks after changing which side of the ball he's playing on. Getting that redshirt would be an obvious move unless he's clearly the best punt returner, in which case whatever.
long lanky young [Fuller/Barron]
Finally, freshmen AMBRY THOMAS [recruiting profile] and BENJAMIN ST JUSTE [recruiting profile] both enrolled early. St Juste was the guy getting torched by Black towards the end of the spring game and has barely drawn mention this fall; a redshirt seems all but certain. This is fine. While he is a 6'3" guy who shuttles like an NFL corner, he is also a Canadian who spent his high school years playing goofy 12-man football against the HMS Poutine Machine and the like. An adjustment period was inevitable.
Thomas, on the other hand, does have a shot at seeing the field immediately. Per recruiting types he may be the best corner to come out of Detroit in a minute, and that's saying something after the litany of names above. His main problem is that he needs to eat several hundred hamburgers:
The Harder Way Took My Heart Away.. pic.twitter.com/bGX3ZRBj99

— Ambry Thomas (@Tavonn_) August 1, 2017
Thomas looked downright waif-like in the spring game. He'll be working at a significant strength disadvantage against most receivers and is likely to be a problem in run defense.
Talk about him this fall has been limited to assertions he is in the running for the starting job along with a few other folks and things like "his time is coming" that rather imply his time is later. 247 did say that Thomas was pushing for a job and "would definitely see the field" this year, with the coaches pumped up about his acquisition.
Thomas will vie to be the nickelback; he's got a lot of competition. St Juste will wait until next year.
NICKELBACK: POTENTIALLY EXTANT THIS YEAR
RATING: N/A?
Michigan more or less did not have a nickelback a year ago. When they wanted to add a sixth defensive back they brought in Tyree Kinnel and relied on Delano Hill's man to man skills. That is unlikely to persist with almost no experience behind the starting safeties. Michigan looks set to have a defined role for a bonus cornerback.
JKP is swiss army DB [Fuller]
This could be just about anyone. Hill's quicks give Michigan a slew of options. He should be a natural as a slot corner, so Michigan can slide him inside and bring in a press specialist like Watson or a fade obliterator like Harris. Or they could leave Hill outside and bring in JAYLEN KELLY-POWELL [recruiting profile]. Kelly-Powell was a jack of all trades in high school and that has only continued in college. Michigan's playing him everywhere a defensive-back-shaped person fits:
"He's been working with the safeties, the corners, kind of all over. A little Viper, nickel. A great addition to the defense."
Harbaugh just this week:
"Jaylen Kelly-Powell is on the rise. An ascending player both as a safety, a corner, and a nickel."
He's a hybrid, then. He's more of a hybrid CB/S than an LB/S; when it came time for Cass to try to cover Ambry Thomas, they went with JKP instead of 2018 four-star Kalon Gervin. That did not go so well, as Thomas racked up over 150 yards receiving.
Even so wen JKP's name comes up the coaches immediately talk about his man-to-man skills. Both Brown and Brian Smith have done so this fall. This says 1) he's good at man coverage and 2) he's 30 pounds lighter than Hudson or Glasgow and won't be turning any heads by lighting up tight ends. This site projected him as a true nickelback in the above recruiting profile thanks to a bunch of other folks talking about his skills in man coverage; if he does find the field this year it's almost certainly going to be as a dimeback a la Kinnel a year ago. This should be fine. Covering in the slot is a different deal than having to deal with a really fast guy on the outside; you have backup.
Webb's been talking him up more and more late in camp. He's "definitively in the mix for the nickel and dime roles" and maybe moving up the pecking order; on an impressive INT later in camp he "fought through a pick attempt" and wrestled the ball away. That's good nickebackery, right there.
This could be talk and JKP will end up taking a redshirt as a more experienced player grabs the snaps; he could be a 150-250 snap bonus DB. Ask again later.