Preview 2016: Special Teams
Previously: Podcast 8.0. The Story. Quarterback. Running Back. Wide Receiver. Tight End And Friends. Offensive Line. Defensive End. Defensive Tackle. Linebacker. Cornerback. Safety.
[Eric Upchurch]
Depth Chart
| Kicker | Yr | Punter | Yr | Kickoffs | Yr | Punt return | Yr | Kick return | Yr |
| --- | --- | --- | --- | --- | --- | --- | --- | --- | --- |
| Kenny Allen | Sr* | Kenny Allen | Sr* | Kenny Allen | Sr* | Jabrill Peppers | So* | Chris Evans | Fr. |
| Quinn Nordin | Fr | Quinn Nordin | Fr | Quinn Nordin | Fr | Jourdan Lewis | Sr. | Jehu Chesson | Sr.* |
John Baxter fled back to California after one Michigan winter and will get what's coming to him in the next ice age. Baxter is a uniquely good special teams coach and there wasn't an obvious replacement available; also Rashan Gary existed. So Michigan promoted Chris Partridge to a full-fledged assistant spot and split special teams duties between him and Jay Harbaugh.
There's probably going to be a dropoff in effort applied. Last year Michigan took timeout in a squib situation so they could insert Dymonte Thomas; they lined him up at the spot a squib should go and lo, he returned it to midfield. If that creativity persists it's evidence Harbaugh is pushing every available angle. I don't expect it to. John Baxter appeared to be a rare commodity: a difference-making special teams coach.
Even so, this should be a strength.
KICKER
Rating: 4
[Bryan Fuller]
The dread was palpable last year when scholarship freshman Andrew David wasn't even in the conversation. A couple of walk-ons vied for the job and were by all accounts somewhere between vexing and terrible. So of course when KENNY ALLEN locked the spot down he hit 18/22, with one miss a bad snap and a second due in large part to a downright supernatural gust of wind that pushed a probable make wide. Allen was also 46/46 on PATs.
The catch, such as it is, is that Allen rarely attempted a field goal from outside 40 yards. Just six of his attempts were in the zone of mild difficulty; he went 3/6. He did hit a 47 yarder and he's a booming punter so the leg strength is likely there.
Even if Allen is unproven at longer distances, I will take a #collegekicker who is near-automatic from 40 and in every day of the week and twice on Saturday. Some additional range is the only improvement required.
If that range is not forthcoming, QUINN NORDIN [recruiting profile] also lurks. Harbaugh is uncomfortable with having Allen take every last kicking duty so it's possible Nordin gets some longer kicks. If Michigan does decide to spread the load out, kickoffs are a more likely deployment for Nordin.
PUNTER
Rating: 4.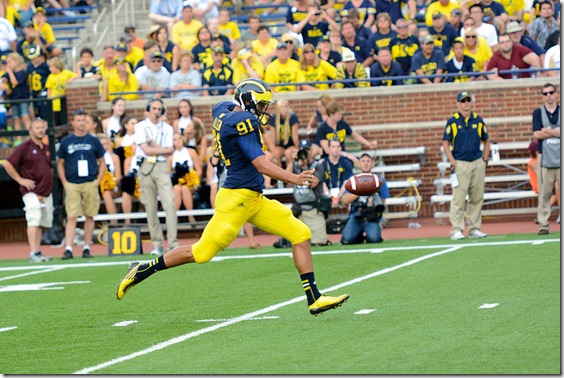 [Bryan Fuller]
KENNY ALLEN, yes that Kenny Allen, figures to win this job too. Allen in fact came to Michigan a punter, and a booming one at that. He's had two punts in games, both of which went 50+ yards, and since Brady Hoke's reaction to "you have to have an open practice" was to turn it into a special teams exhibition your author has seen Allen punt a ton. He's really good. He could challenge Will Hagerup and Monte Robbins for the all-time gross average, which currently sits at 45 yards even.
One department that figures to have a decline is pooch punting. Blake O'Neil's feathery touch on punts inside the ten was remarkable and unlikely to be repeated by any non-Aussie. When I caught Michgian's open practice at Ford Field, Andrew David was tasked with that nose-down pooch punting stuff that's all the rage. David's left the team since; that might signify Allen's not great at pinning the opposition deep.
QUINN NORDIN is also an option here.
RETURN UNITS: CANNAH GET A HOT TUB TAKE TWO
Rating: 5
Chris Evans is elusive!! Best rep in this drill so far: pic.twitter.com/2XJao1xvGc

— Allen Trieu (@AllenTrieu) May 31, 2015
Evans should get some touches here
This was very good a year ago and figures to maintain a high level of performance. Happily, it sounds like Michigan is going to run out some of its freshmen on kickoff returns:
Assistant special teams coach Jay Harbaugh said Wednesday that Michigan's tried out several freshmen in the return game: Safety Khaleke Hudson, corner David Long, receivers Eddie McDoom, Nate Johnson and Kekoa Crawford, as well as running back/receiver Chris Evans.

"All those guys are capable of it," Harbaugh said. "Sometimes you don't want All-American guys returning kicks, but you also like it because they're electrifying and can give you a big play."
I say "happily" despite the fact that Jehu Chesson took one back for a touchdown, Jourdan Lewis did this…
…and Jabrill Peppers exists because none of those guys need to expose themselves to the extra wear and tear when the guys Harbaugh mentioned above are available. Kick returning is a low-downside activity where the worst that happens if you drop one is a touchback. As long as the guys taking it back have good ball security it's a good idea to spread out the reps. And with people raving about literally all those dudes, one of them—probably Evans—can give you just as much big play potential as the veterans.
Against MSU and Iowa and OSU, sure, run out the starters. The new kids will be all right the rest of the way.
LET'S GOOOOOOOO [Fuller]
Punt returns are another matter. Harbaugh said that "sometimes having a freshman out there catching a punt doesn't give you the best feeling in the world." Yes sir. Unless it's redshirt freshman JABRILL PEPPERS, who managed to make fair catches spectacular last year. Ace in fact put together a supercut of Peppers fair catches. He did this because this was the phase when Peppers was gently setting the ball on the ground after the whistle in a hilarious fashion, but amongst some rather nondescript plays were a huge source of hidden yardage for Michigan:
I used to get mad at Jeremy Gallon for fielding punts, and then mad at Jeremy Gallon for not fielding punts, and so forth and so on. I cannot remember a bad thing that has yet happened when Peppers fields a punt except for a scary moment when he booted one out of bounds against BYU. On the other hand, this is a 30 yard swing on a ball almost everyone else lets go:
Peppers was able to get to and field a huge number of punts mortals let roll for another 15 or 20 yards, and he did that without exposing Michigan to an inordinate muff danger. (No, commenters, we're not doing "phrasing" any more.) Plenty of guys would have dropped one of dozens of regular-ass fielding attempts. This is the special teams equivalent of Peppers against a wide receiver screen: a unique and excellent skill.
That skill alone is worth putting him back there, and then when he actually gets to rip off a return:
Sometimes he combined the ability to field punts at a dead run with actual returns:
Even when he doesn't get a ton of yards he is making two or three or four guys miss:
Or six:
It's just a matter of time before he breaks one. Or five.
I mean, probably. The ubiquity of spread punting is much to Michigan's detriment. Since 2005 fair catches have skyrocketed and yards per punt return plummeted. Getting a return of any kind is now a rarity:
@mgoblog last year 3 out of 4 punts ended in either a touchback or no return/fair catch

— Brett Thiessen (@The_Mathlete) July 28, 2016
This is a low sample, huge variance area. Michigan could get little more than some yards saved on fair catches, or they could have multiple game-breaking plays. I lean towards the latter.
Kickoff And Punt Coverage
Rating: 3
The stats are deeply annoying here. One missed tackle, one… event, and three missed flags on one play resulted in touchdowns for the opposition on Michigan punts a year ago. Thus their punt efficiency fancystat (82nd) barely budged from the flagrantly incompetent Dan Ferrigno years. Ten man punt coverage goes here.
Ferrigno punt return efficiencies: 97th, 97th, 60th, 91st, and 83rd.
The numbers are similar; the differences to an observer were stark. Gone were the days when most Michigan punts were fielded with nobody in the same zip code:
The Mitchell Paige touchdown is instructive since he's got to deal with five guys almost immediately and only manages to bust it thanks to a very very bad Channing Stribling tackle attempt:
As a special teams coach you can't do much more than that. Meanwhile Rutgers got several gifts on their punt return touchdown, including a targeting overturn that rivaled the Joe Bolden ejection for worst call of the year.
All other punt returns totaled 54 yards, an average of four a pop. There were just 15 returns all year on 55 punts, down from 21 on 54 the year before and 28 on 62 in 2014. (Keep in mind that many of these punts are not fielded or go into the endzone, so that's a bigger percentage decrease on fieldable punts returned than the raw numbers show.) It was a clear and significant upgrade on par with what's happened nationally as spread punting becomes ubiquitous.
Meanwhile nothing of note happened on kickoff returns all year except a Rutgers touchdown on which Wayne Lyons was spectacularly held. When not giving that touchdown up they were quite good. Kenny Allen had a bunch of touchbacks and the return teams were good enough to get Michigan to average nationally despite the large bad thing.
Michigan should be able to maintain the gains that Baxter provided in this area. While I don't expect Michigan to pull out the squib return play going forward, moving into the modern era of punt coverage should stick. There were some reports Michigan was set to return to pro-style punting this spring, but those appeared to be false. Michigan was mostly spread punting at Ford Field. They occasionally lined up in a pro-style set; my assumption is that they want to have that in their back pocket in case the opposition has a reason to go for an all-out block. You know, for reasons.